Publish content to your screens directly from Microsoft Teams
Learn More


We all recognize the familiar tropes of the festive period. Beauty bloggers everywhere sharing advent calendars. Stores descending into Black Friday chaos. Children more sugar-crazed than ever before. There are only two thing you can do to ease the festive burden: embrace it and prepare for it.
So we're here to help you do both. Starting with the type of content you can put on your digital signage screens over the holiday season. Each idea takes but a few sleigh-bell tinkles to be implemented and the output? Very impressive.
So check back here throughout December and on our Twitter @ScreenCloud for all of the festive content ideas you need to impress more than just your marketing team. Your students, colleagues and customers will thank you for it.
1st of December - 24 days Until Christmas
We're starting the countdown to Christmas by, you guessed it, using the Countdown Timer app to share just how many days to go until the big day. How meta is that? Things we love about the countdown app:
It take seconds to setup. Seriously, add your date (25/12/18 if you were wondering) choose your colors and your celebration graphic and boom you're done.
The great thing about a countdown is that it simultaneously excites and puts the pressure on. Our kind of app.
Anyone can use it - if you're a store it's perfect to help sales. If you're a school or company, it helps buoy up staff and students during those last few precious weeks.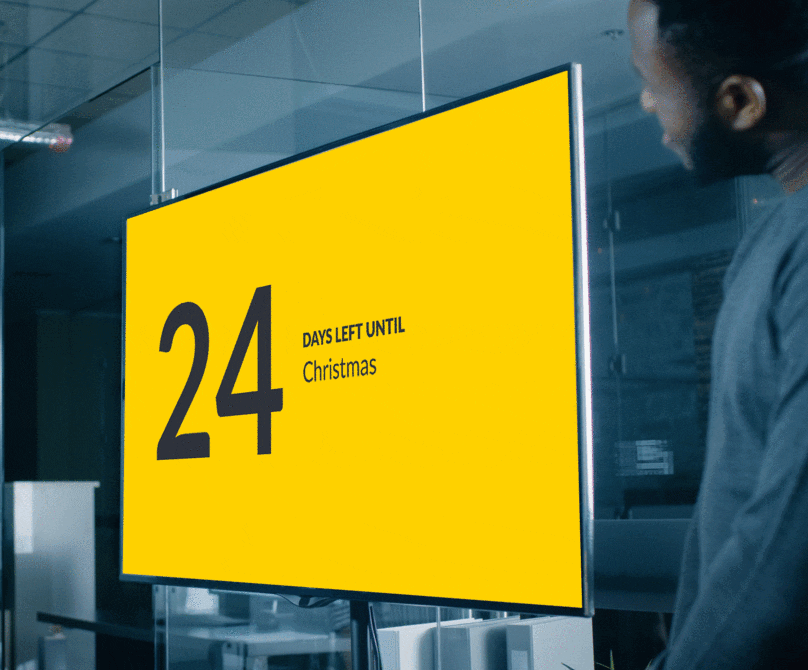 2nd of December - 23 days until Christmas
Who doesn't love a good Christmas Party? Food, alcohol and good mood are aplenty. To build anticipation (or to set some ground rules - Ben you're banned from white wine) Noticeboard app is your guy.
Choose a custom background like a nice photo from last year's party, add your text and Noticeboard app will dynamically scale your board to fit the screen. This makes it super quick and easy to share details like the location, the date, an attendee list or (we weren't joking), a list of guidelines from HR. Best of all, when it's up on screen everyone is privy to it and no one can cry that they missed the email. Party problems = solved.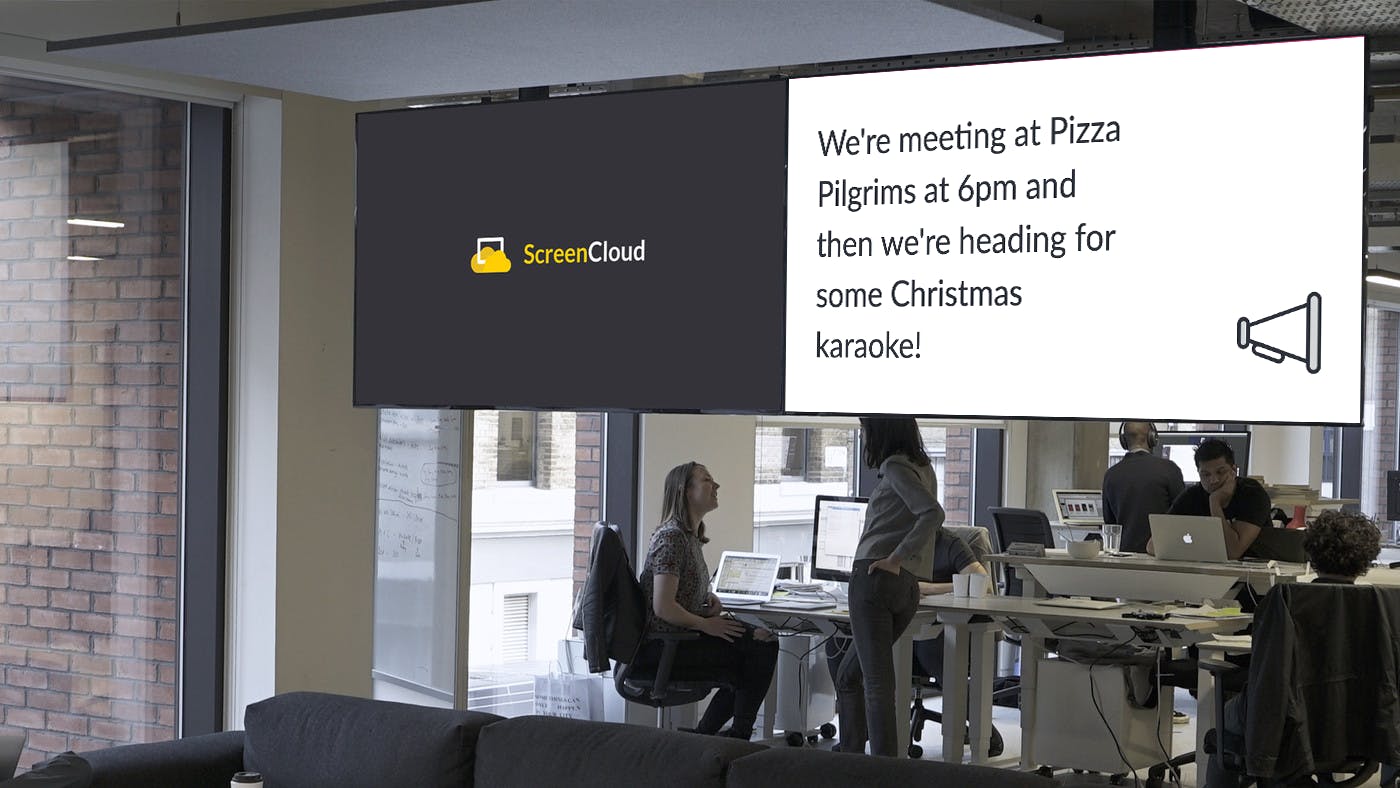 3rd of December - 22 days until Christmas
If this year's Christmas TV adverts were a bit of a disappointment to you, you can always create a hashtag throughout the festive period. Here are some we've been loving:
#ChristmasARockSong - turn your favorite rock song into a Christmas jingle
#KickoffToChristmas - American TV service Freeform is sharing a whole month of Christmas film line ups for any TV lovers.
#TisTheSeason - a hashtag used by the Twitter community to share frolics that happen just because it's Christmas.
#YourHashtagHere - why not make your own? A ploy many brands and influencers use is to come up with their own hashtag and contribute a series of tweets using that hashtag to keep consistency.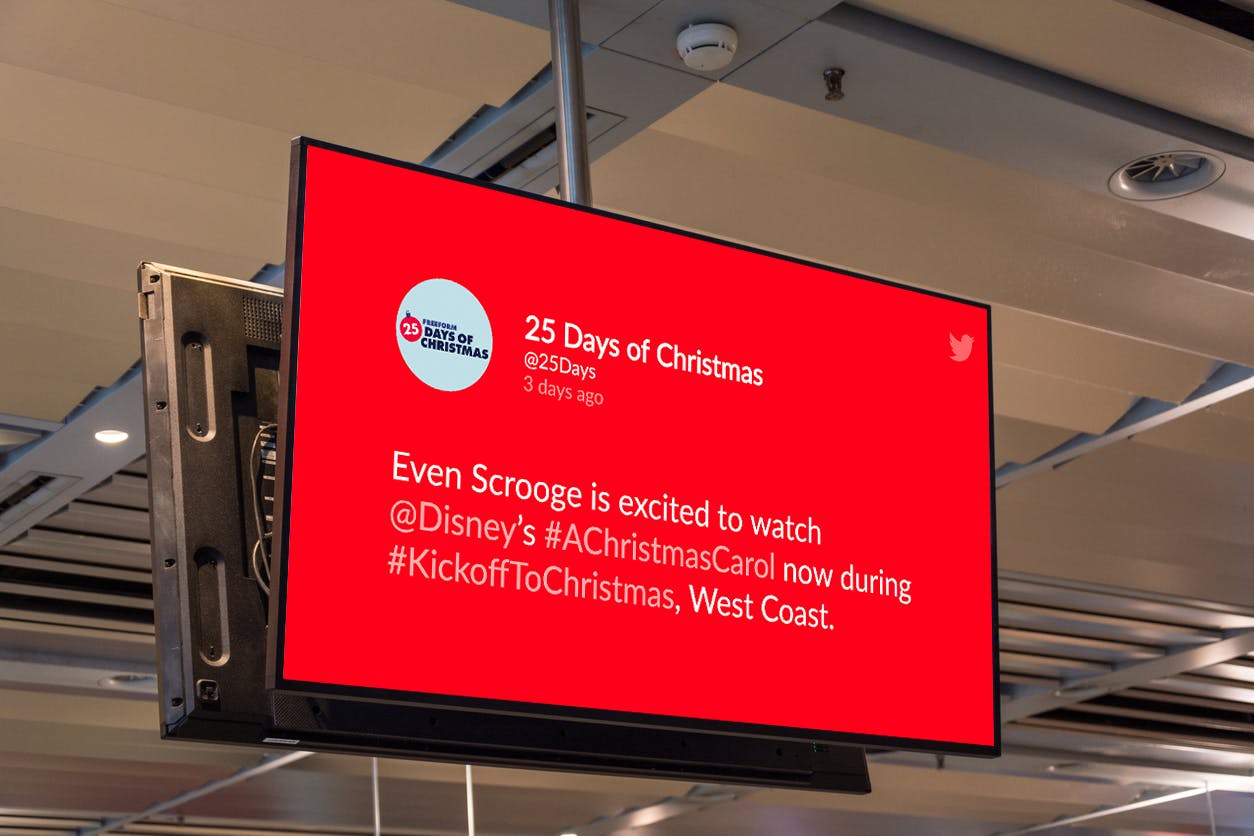 4th of December - 21 days until Christmas
How are people rating your business this holiday season? From your Christmas Special Menu to how festive the atmosphere is at your restaurant, there's plenty of good stuff that your customers may be talking about online. Show everyone how you do Christmas in your restaurant, café or bar by showing your customer reviews on your screen.
We've got plenty of digital signage review apps to choose from, so take your pick between Yelp, Google Reviews, Tripadvisor and Facebook Reviews.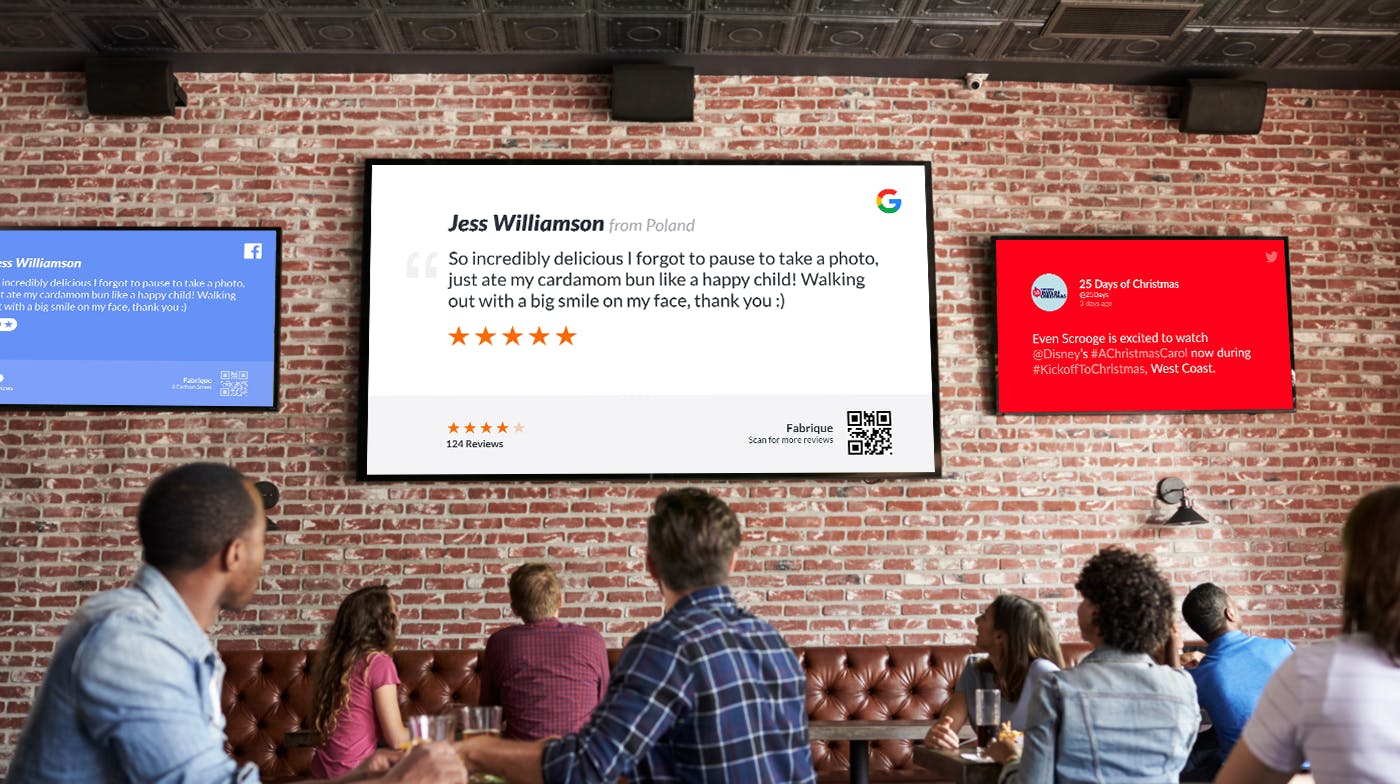 5th of December - 20 days until Christmas
Many staff, customers and employees will be heading overseas for the holidays. Help get them ready for what's in store by sharing details of the latest currency conversion using Currency app.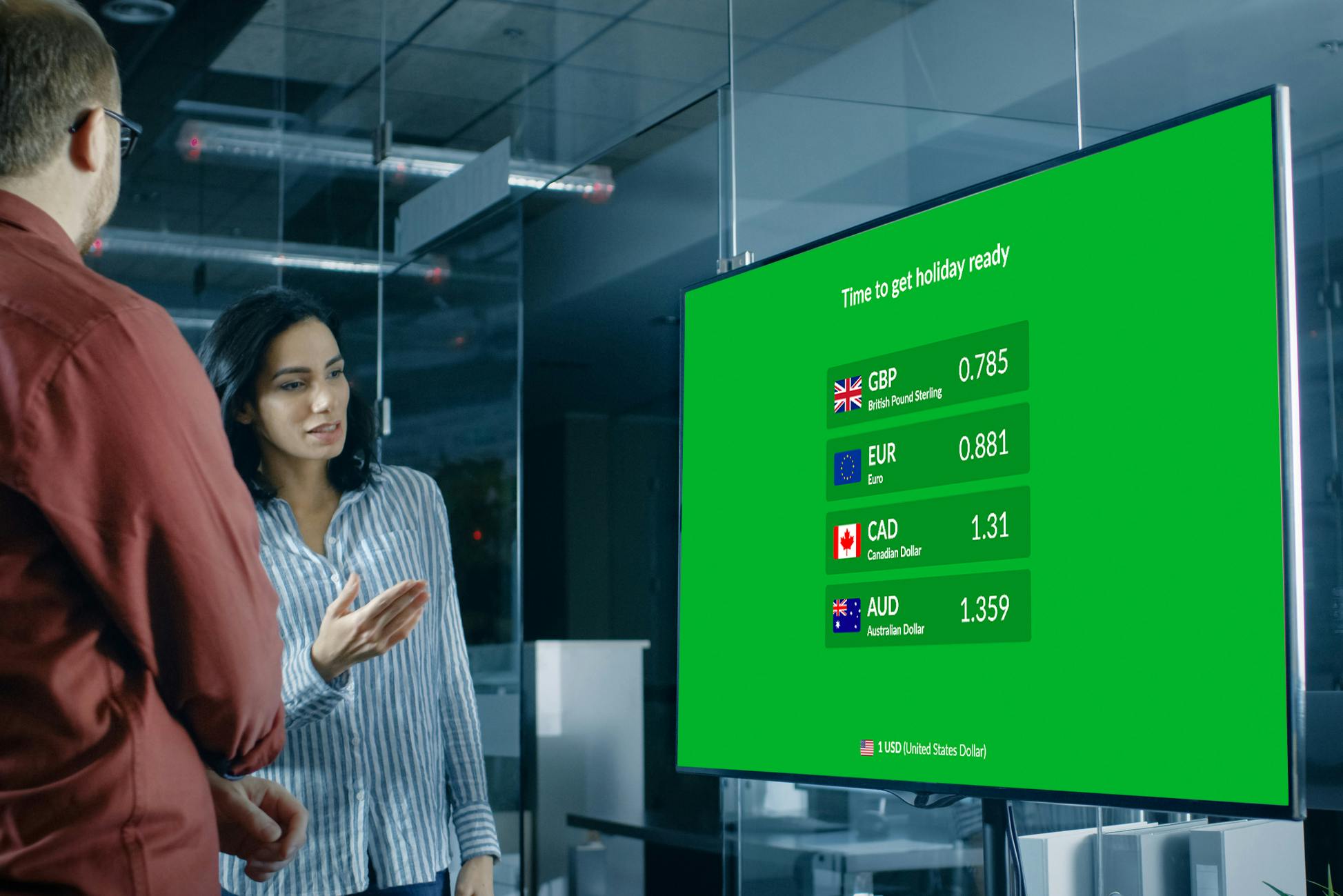 6th of December - 19 days until Christmas
If you haven't heard the opening bars of Mariah Carey at least fifty times already is it even the 6th of December? It's time to click that YouTube app and add all of your favorite Christmas tunes to your digital signage screens.
You can also choose a Christmas playlist, to keep those toes rocking all afternoon.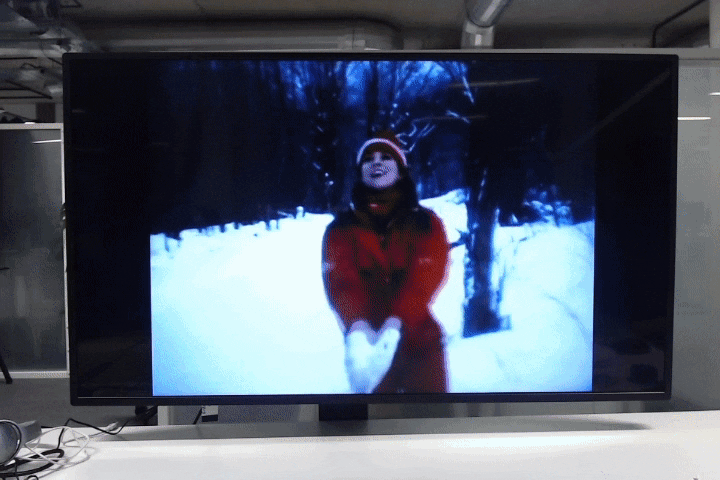 7th of December - 18 days until Christmas
18 days to Christmas, which means 14 days until the last day of week - oh crap you haven't bought your Secret Santa gift yet! Use Noticeboard app today to remind everyone that Secret Santa is fast approaching and that the 2008 bottle of Baileys you've had under the cupboard just won't do.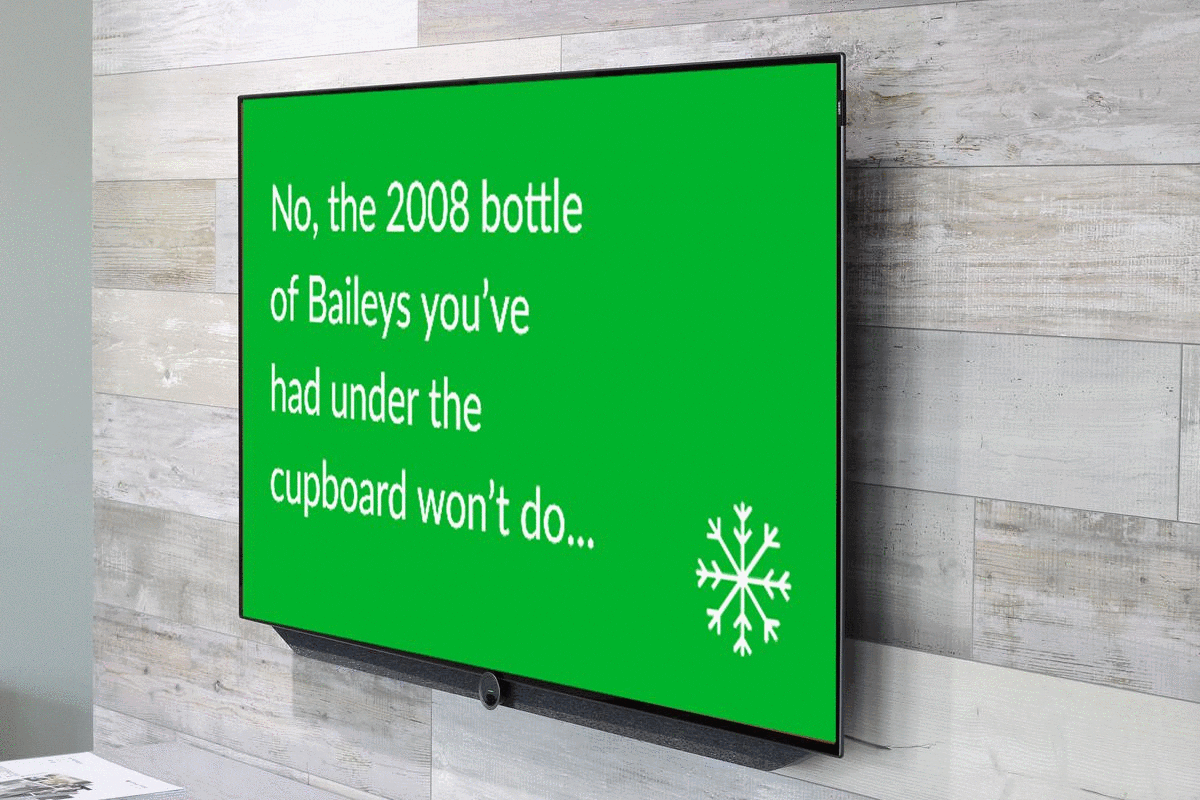 8th of December - 17 days until Christmas
If you're doing a special Christmas offer this year, maybe a set menu, a discount or a special product, you aren't alone. So is everybody else. Which means you really need to shout about it if you want to be heard above the noise.
Google Slides app is a great way to create all of your Christmas offers and very quickly get them up on screen. A few quick psychology sales tips to keep you on top:
A countdown, either to Christmas, or to how many products/seats/dates you have left will build anticipation.
Customer photos and quotes all help provide visual social proof to those viewing the screen.
Keep information updated regularly. If a customer spots a date that's past, or an offer which they can't get in store it'll only build bad feeling.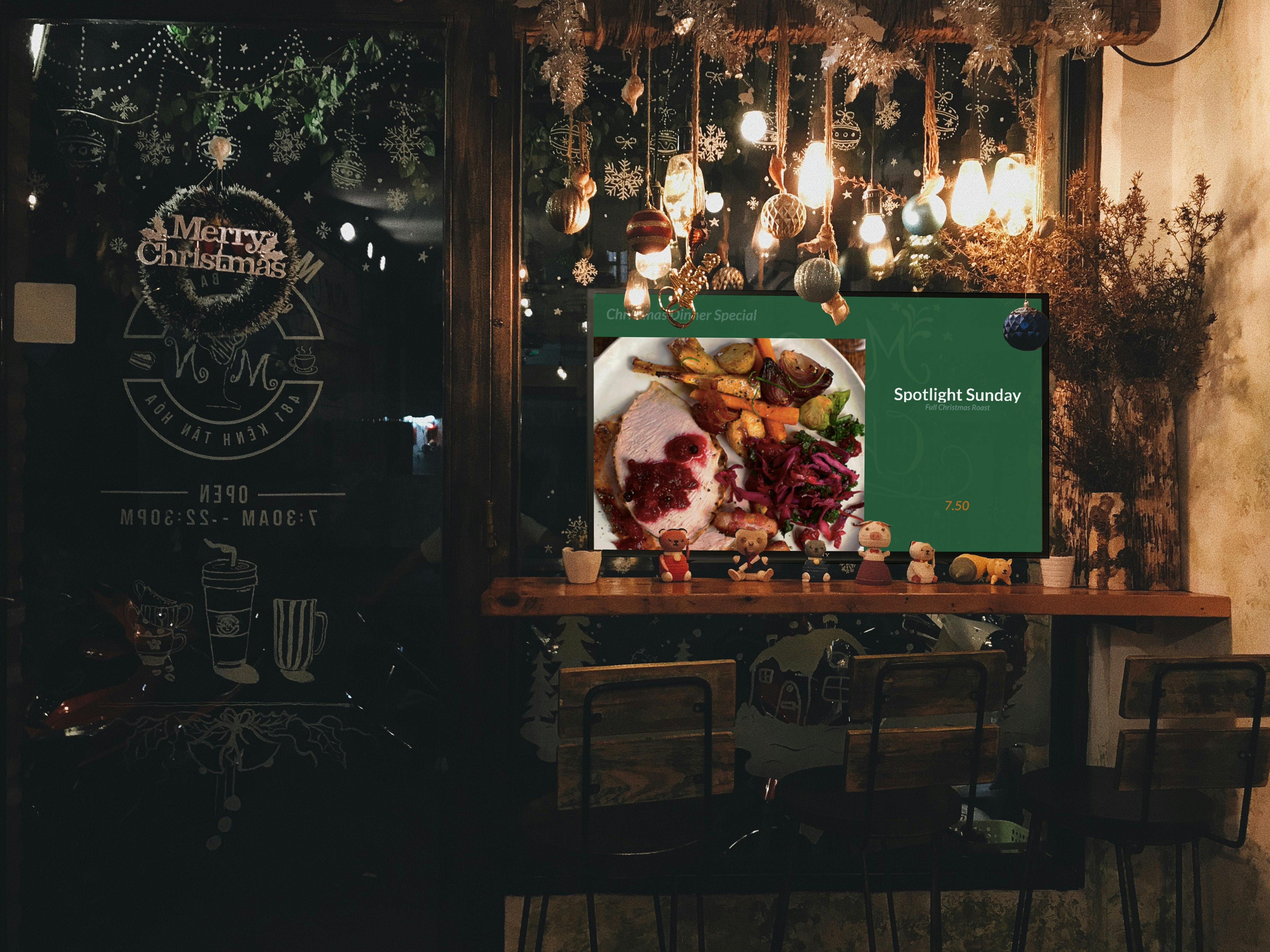 Good luck!
9th of December - 16 days until Christmas
Christmas is one of the times when social media gets really festive. The online community are busy sharing gift guides, Christmas memes and photos of everyone from the dog, to the teacher, wearing their Christmas jumper best.
There are plenty of ways you can share those Christmas social media posts to screen with our social media apps. Twitter Search app helps you find tweets, hashtags or handles to show, Instagram gallery gives you a window into the perfect festive flat lays and Social Feed for Facebook allows you to share your company posts throughout December.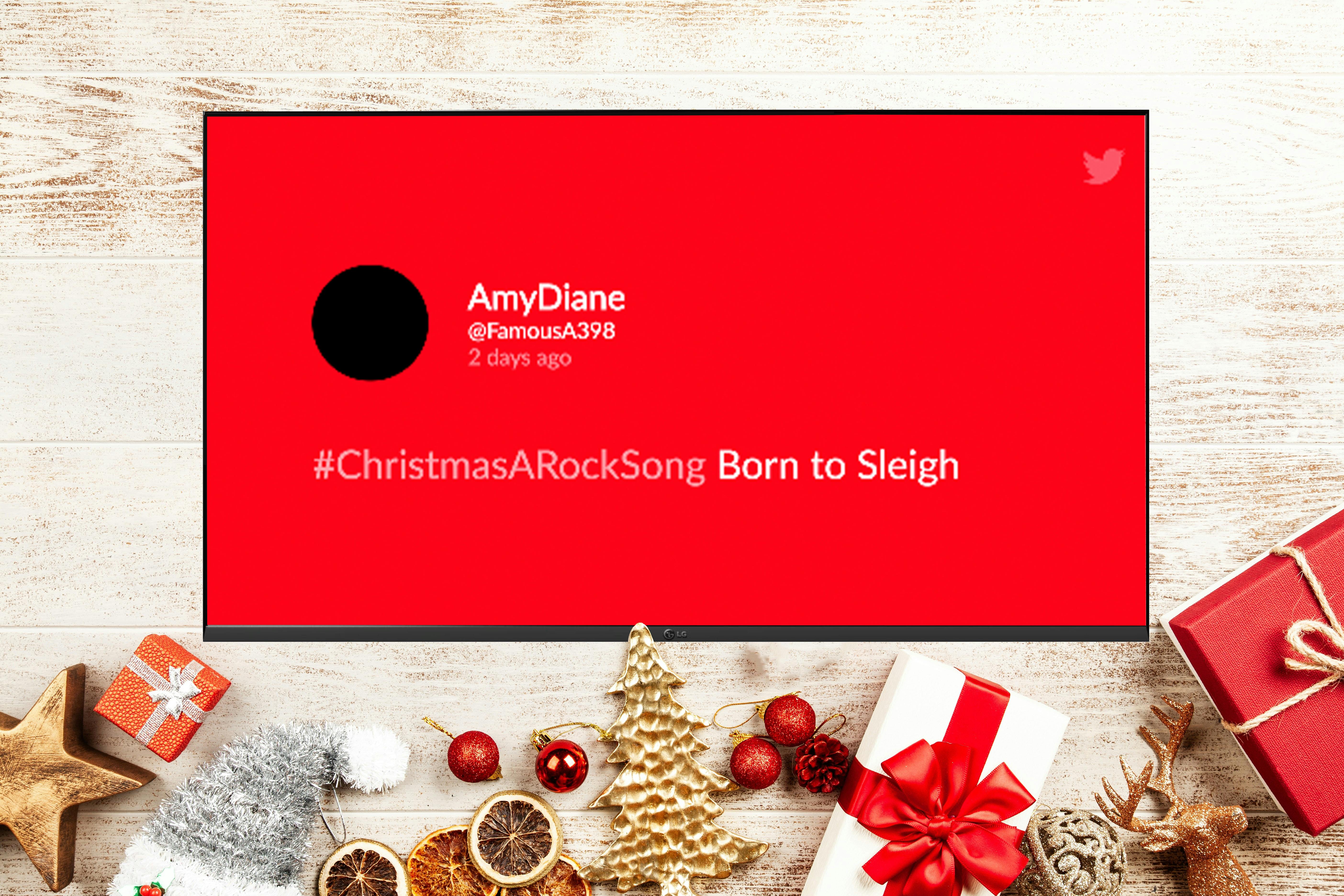 10th of December - 15 days until Christmas
Introducing an app that's had more reinventions than Ebenezer Scrooge, it's Google Slides app. Why not use the app to share all of your favorite Christmas movie recommendations? All you need is a few images of the movie, your favorite quote and the name.
You could also use Google Slides to share Christmas trivia, "name that song" quizzes and votes on your favorite Christmas fare.
Feel free to use our Google Slides templates if you want to create something truly extra.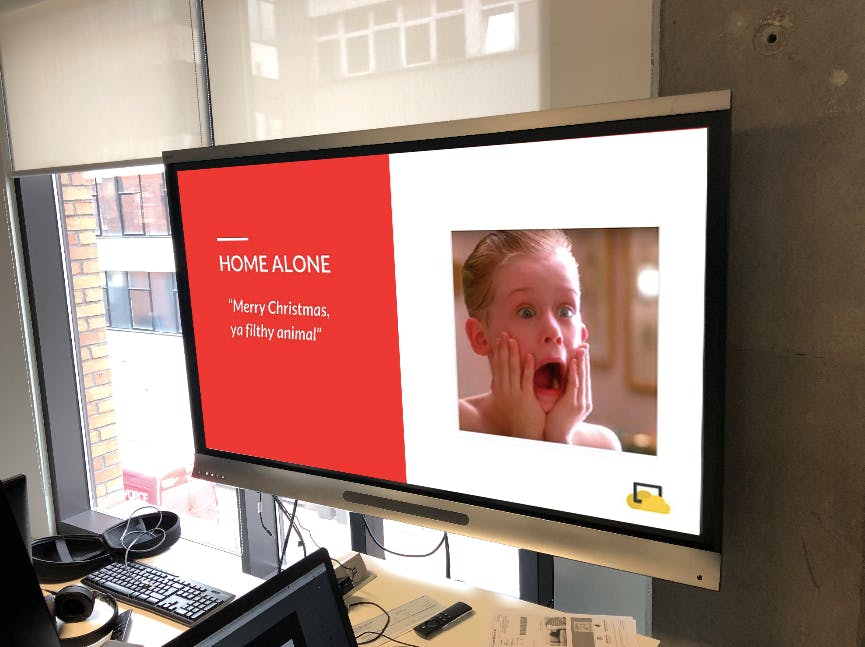 11th of December - 14 days until Christmas
The "Christmas come down" is all too common in December. It's the feeling of too much mince pie, too much fun and well, probably not enough work. That's why it's time to get your Christmas campaign metrics up on screen.
Use Geckoboard, Cyfe or Microsoft Power Bi app to track how well your Christmas campaigns are working and where they need to get to before the end of the month. Visualizing data is one of the fastest ways to help your team align on goals and to go "all in" before the campaign ends. If you're not using our third-party apps, why don't you start experimenting with Google Data Studio?
Your data dashboards are also a great way to review the year, and plan for the next one. Where were your peaks and where were your troughs? Were sales successful overall? Analyzing past trends will help you to predict future ones.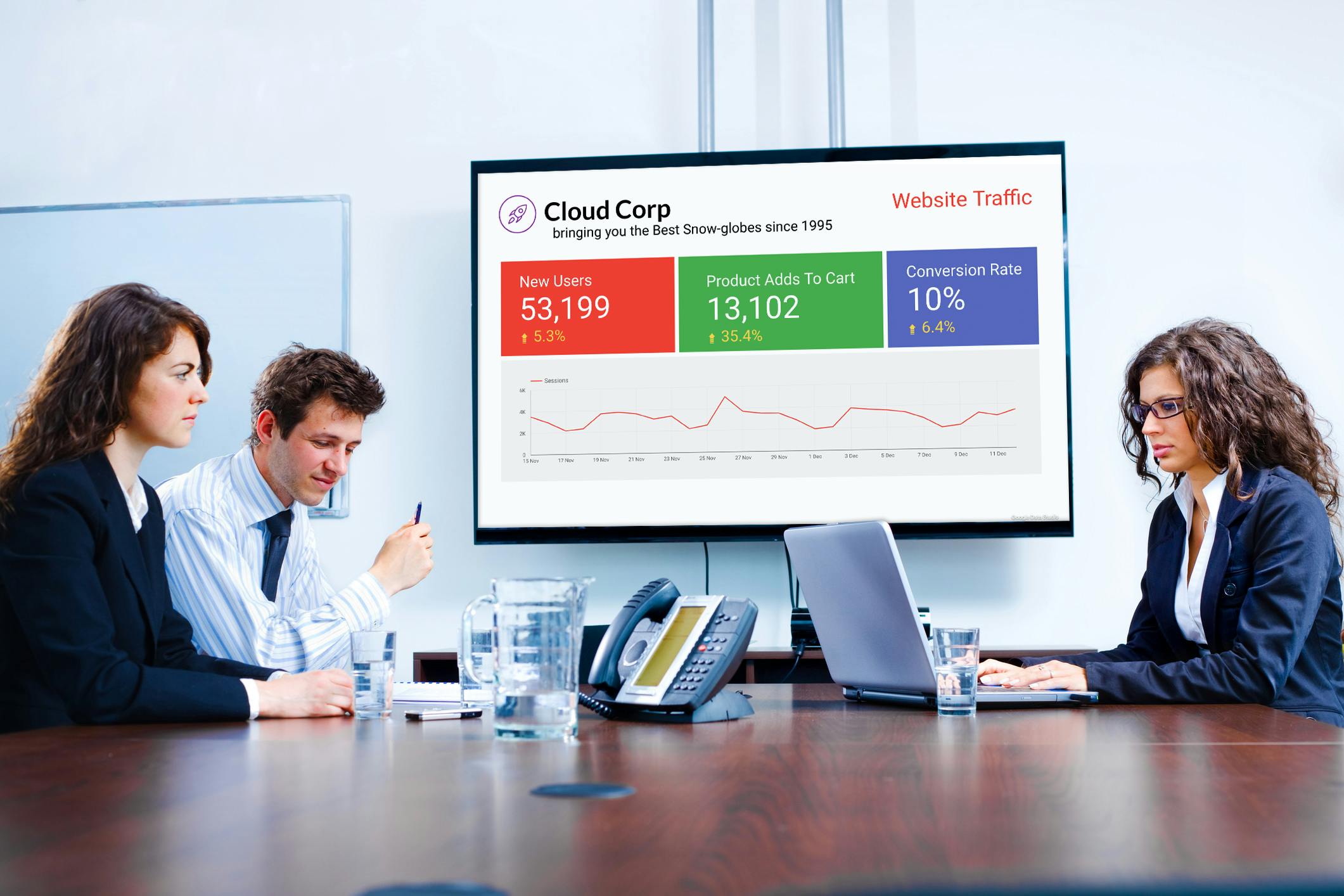 12th of December - 13 days until Christmas
As a warm up to those Christmas games nights it's time to get people voting. A couple of apps we love for using with ScreenCloud (as they automate the votes) are Poll Everywhere and Slido.
You could also integrate a special Christmas Slack channel and use Slack app to share answers and debates on screen.
Here are some poll questions to help get you started:
What's your favorite Christmas film?
Would you rather have to: dress like Buddy the Elf for an entire month or have The Grinch's voice for an entire month?
Which age did you first realize Santa wasn't real?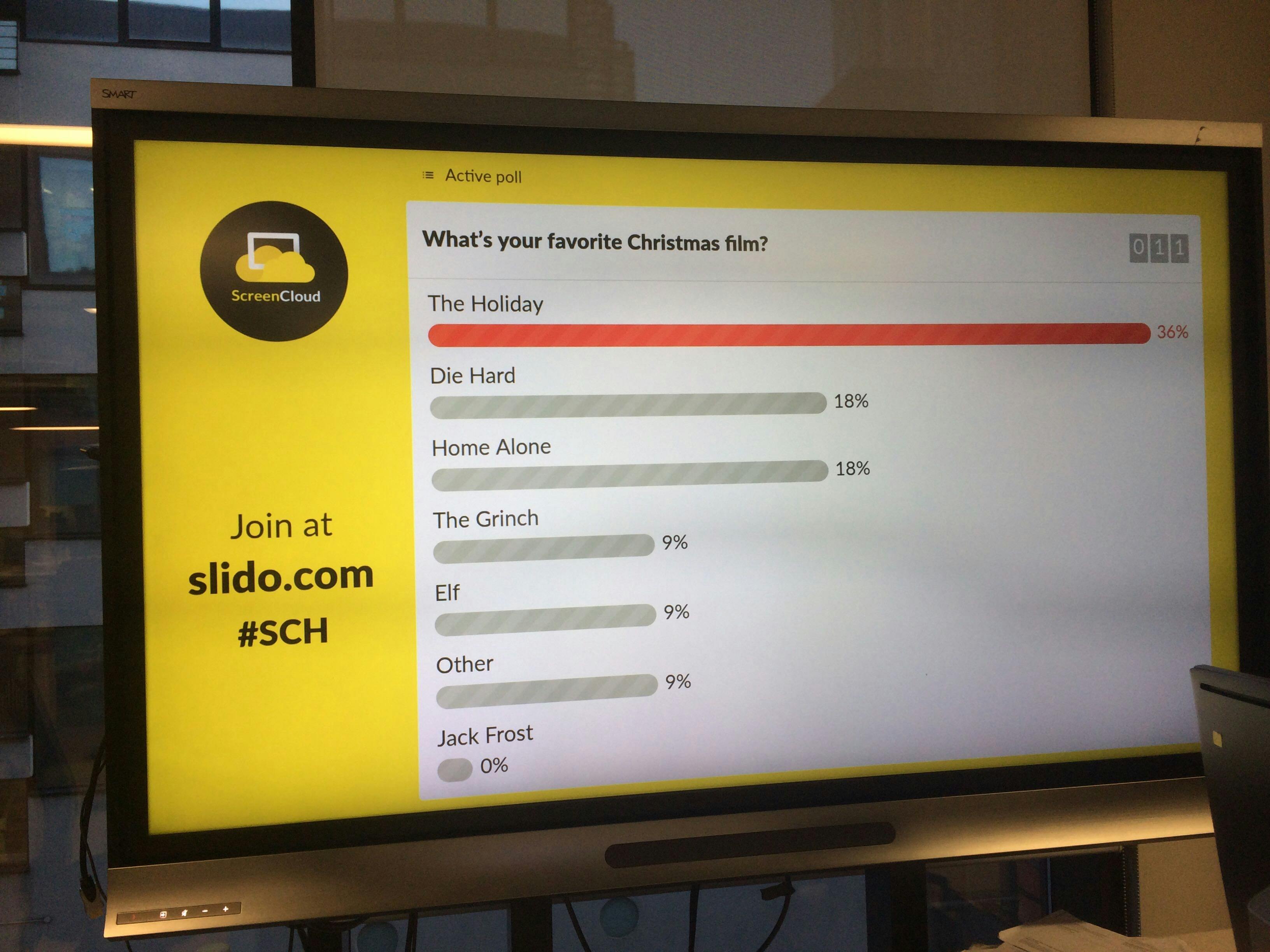 13th of December - 12 days until Christmas
12 days until Christmas, which means it's officially acceptable to begin talking about food. From the Christmas Moist Maker sandwich, to your annual Christmas dinner and your "Pigs in Blankets" flavor crisps: Digital Menu Board app is about to have its moment.
Use Digital Menu Board app to share all of the details of your Christmas set menu or speciality items in the run up to Christmas, to ensure you make the most of the sales period. Most restaurants and bars order in special items for Christmas so you want to ensure they also sell out before the big day.
And if they do? Digital Menu Board app has a handy "sold out" sticker setting which means you don't need to redesign your board or remove the item.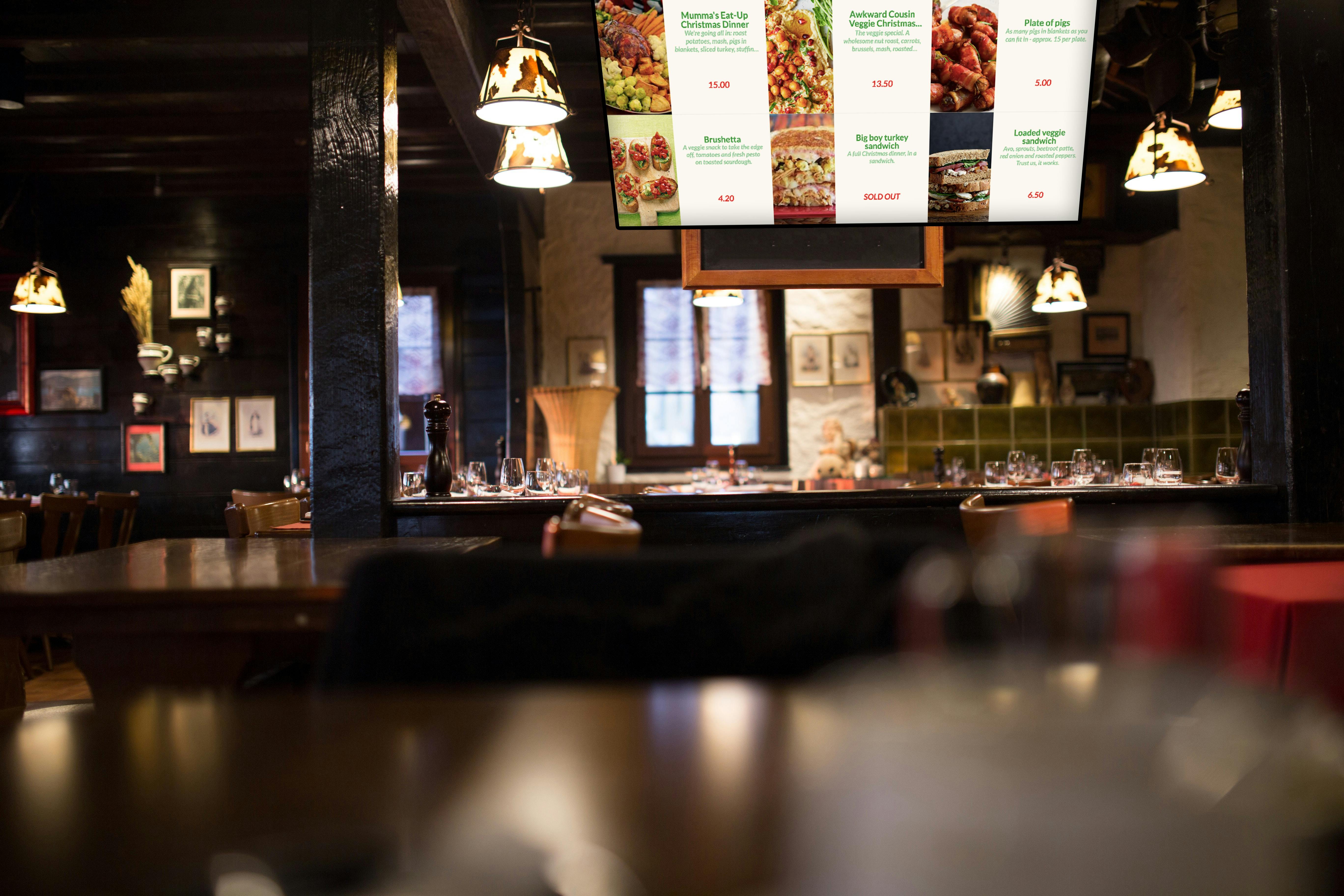 14th of December - 11 days until Christmas
In the UK, where bad Christmas jumpers are a dime a dozen, today is Christmas Jumper Day. Most companies use this as a day to raise money for the charity Save the Children and get everyone to turn up in their most hideous (or lovely) Christmas jumper.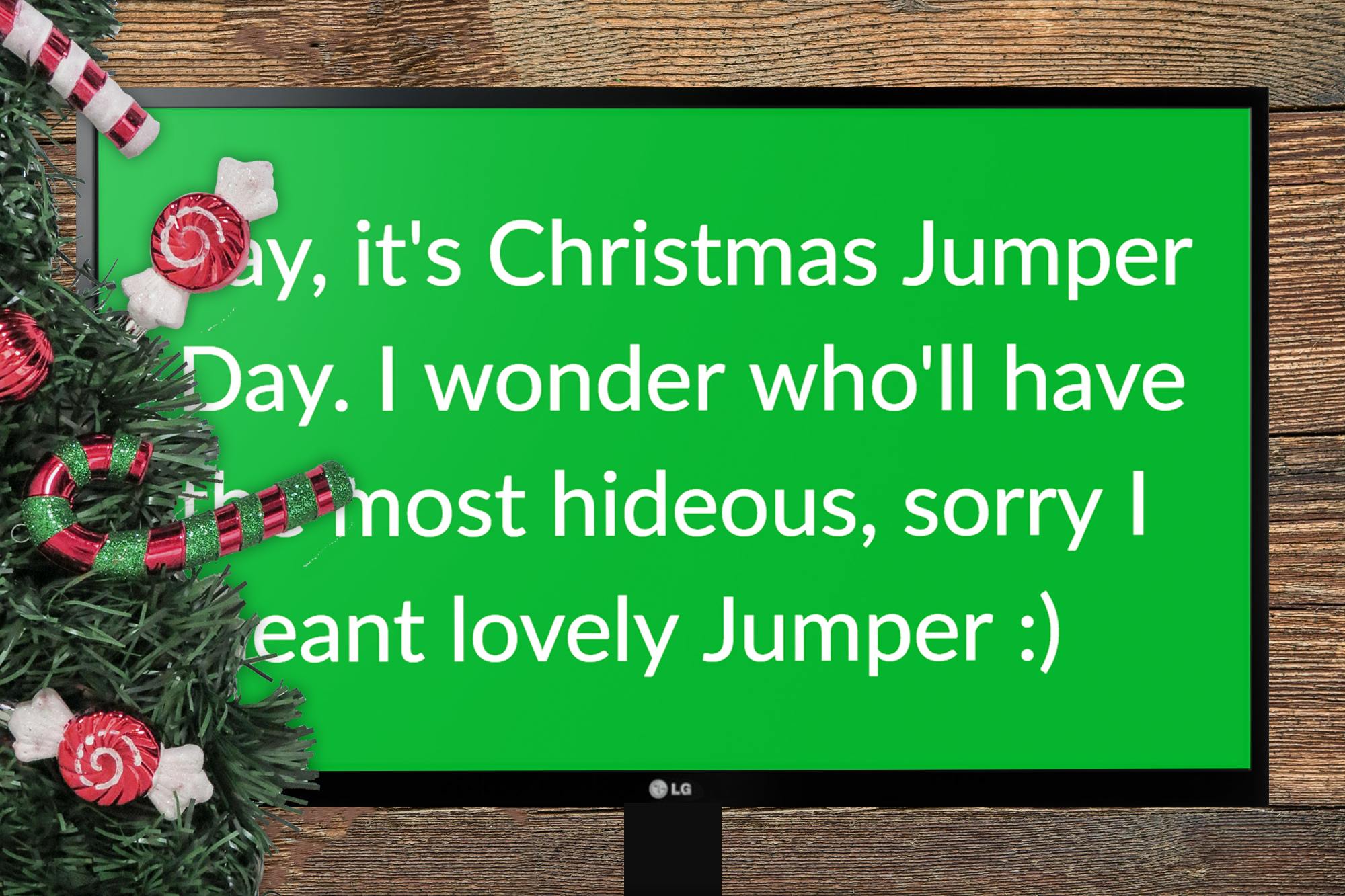 You can use Noticeboard app to create information and reminders about Christmas Jumper Day and you can share details on screen throughout the day by connecting your social media profiles.
15th of December - 10 days until Christmas
You know that poll you did back on December 12th? It's time to release the results.
Use Google Data Studio to visualize the results of your polls and add them to your screens. By using simple equations in Data Studio you can easily share the results, helping your team to get to know each other better.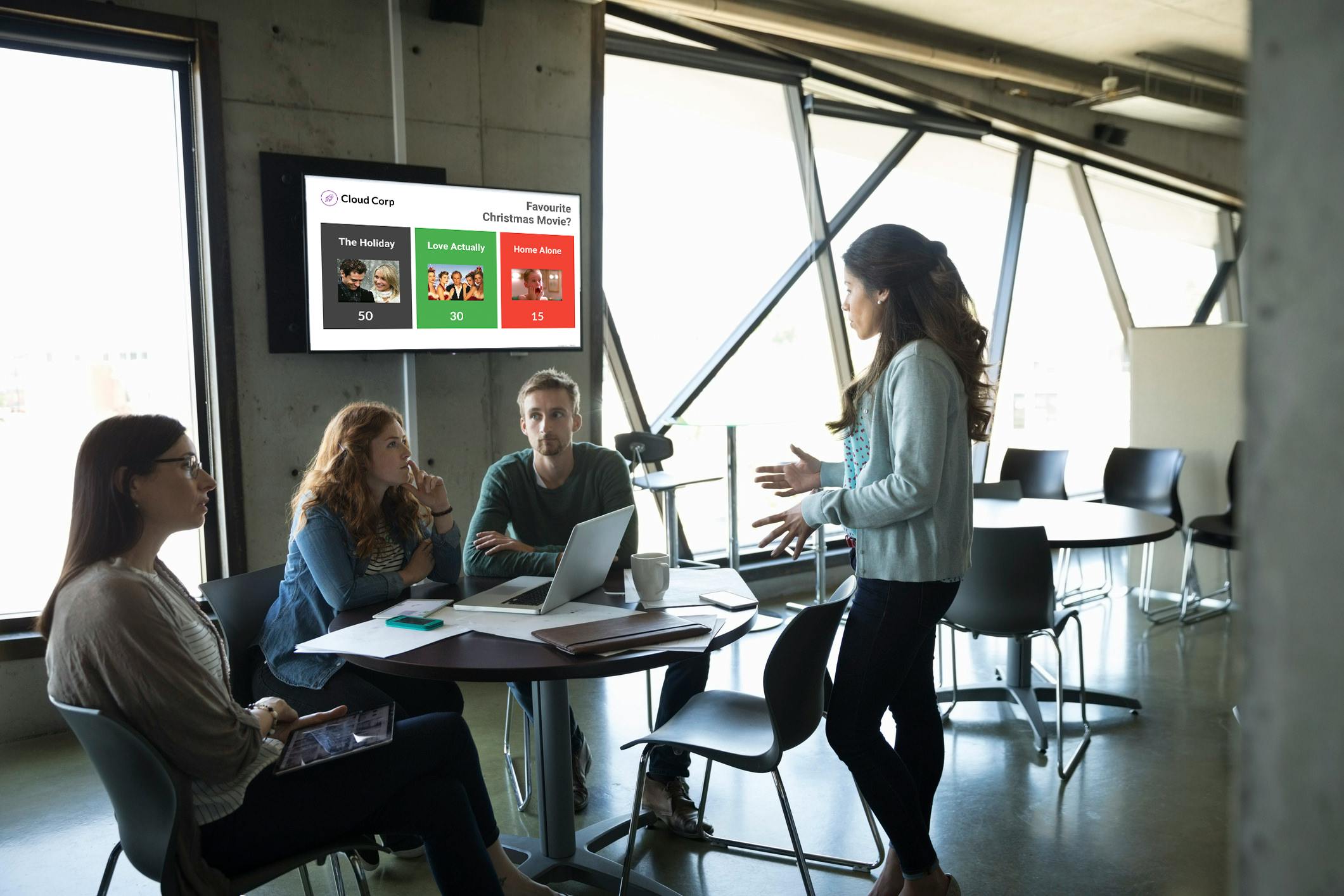 16th of December - 9 days until Christmas
It's time to release the evidence. If you all took to Christmas Jumper Day with aplomb, add your photos to a Dropbox folder and easily share them to your screens in a shared Dropbox folder.
Shared photos build a sense of camaraderie and will help all of your employees to connect to what's being shared on screen.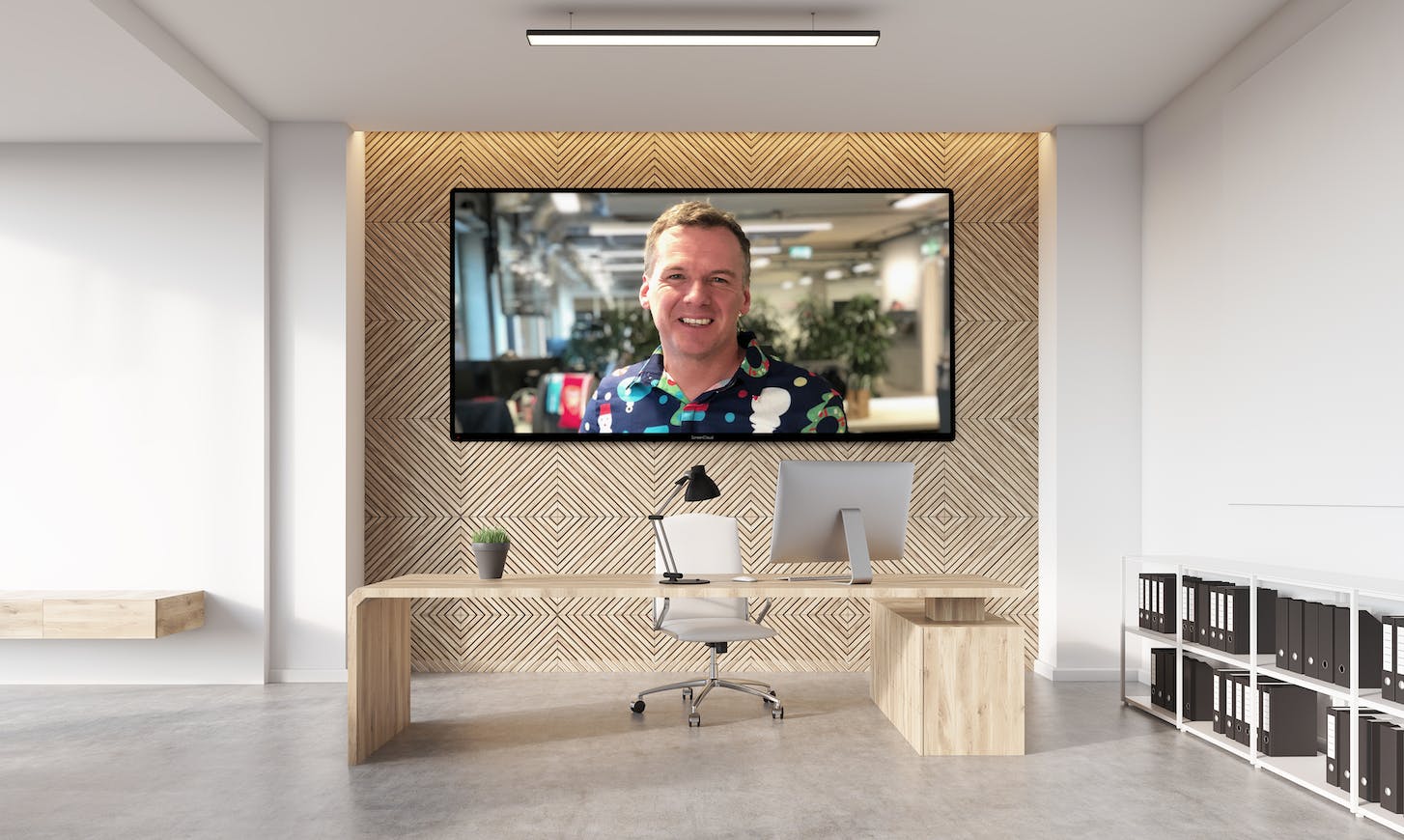 17th of December - 8 days until Christmas
With just a couple of work weeks left, meticulous planning of your time is totally acceptable. Book all of the rooms you need from now until January, with our Meeting Room Scheduling Software.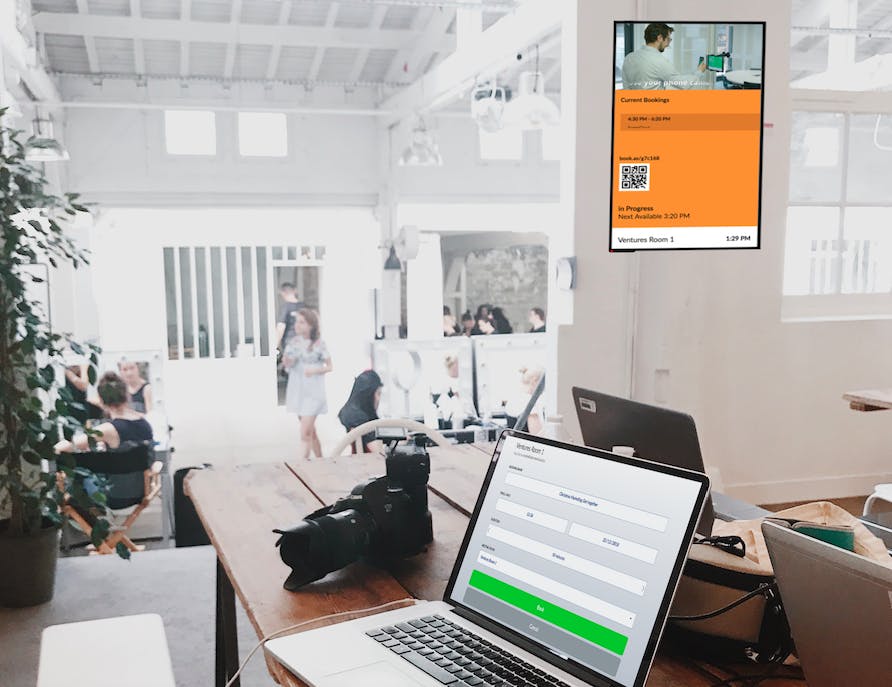 This will ensure you (and everyone around you) has a frictionless run up to the festive period and that all of your meetings, meetups and post-Christmas-party naps can be made in peace.  
18th of December - 7 days until Christmas
There are two types of people in the world: those who love Christmas shopping and those that can't stand it. Help your customers and staff ease into the shopping period by providing real time travel information that's going to help them get around faster.
19th of December - 6 days until Christmas
What do you mean you don't have a Christmas Slack channel? Time to get in on the action my friend. To discuss holiday plans, festive frolics, or just to stitch everyone up with those Christmas party photos, share your Christmas Slack channel to your screens using Slack app.
If you have staff staying put over the holidays, or a scaled back customer support setup this is also a great way to make that information more visible to those in the office.
20th of December - 5 days until Christmas
If you're still working hard right now, we salute you. Keeping focus as we hit the 20s in December can be difficult. That's why today is the perfect time to set up a Christmas Scavenger Hunt with our Building Directory app.
As you may know, Building Directory app can be used to share information on different rooms or buildings and is super easy to configure. To set up your Scavenger Hunt, use it to share clues that will lead your employees or customers to the special Christmas swag waiting for them.
21st of December - 4 days until Christmas
Ready to get trendy? Find out how many people are searching for "Rudolph the red nosed reindeer" this Christmas with our Google Trends app.
Google Trends app lets you easily share trend patterns to your screens. You could also use it to see how your key terms or brand name trended and whether there were any months that fell flat.
22nd of December - 3 days until Christmas
If, like us, you love a company All Hands, the Christmas special may be pretty spectacular. Share it with the entire office using a live broadcast on YouTube Live. If you want to share a prerecorded message, you can do this using the regular YouTube app.
23rd of December - 2 days until Christmas
There are only two days left until Christmas which means you're likely feeling one of two things: stressed or excited. Perhaps both, but either way it's natural to feel a little scrambled as we get closer to the big day.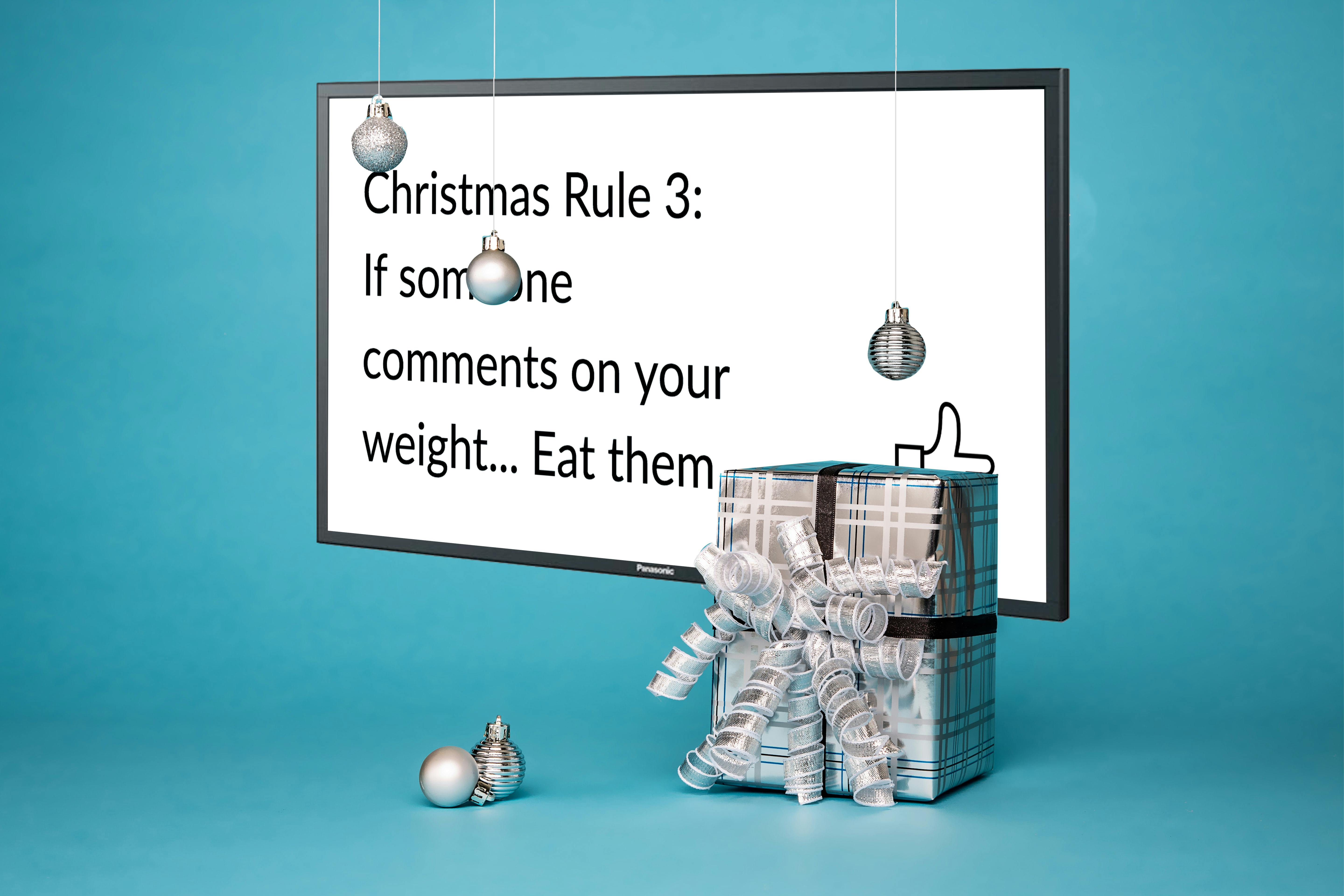 Help customers and staff to reconnect to what's important by using Google Slides app to share key messages of support or meaning. This could be statistics around how others in disadvantaged countries celebrate Christmas, how your company's charity work has helped make a difference or messages of support with hacks on how to get through the festive period.
24th of December - 1 day until Christmas
If you were super clever and you used our Countdown app then your screens may be jumping for joy celebrating one day until Christmas today. If not, then you need to help create this manually.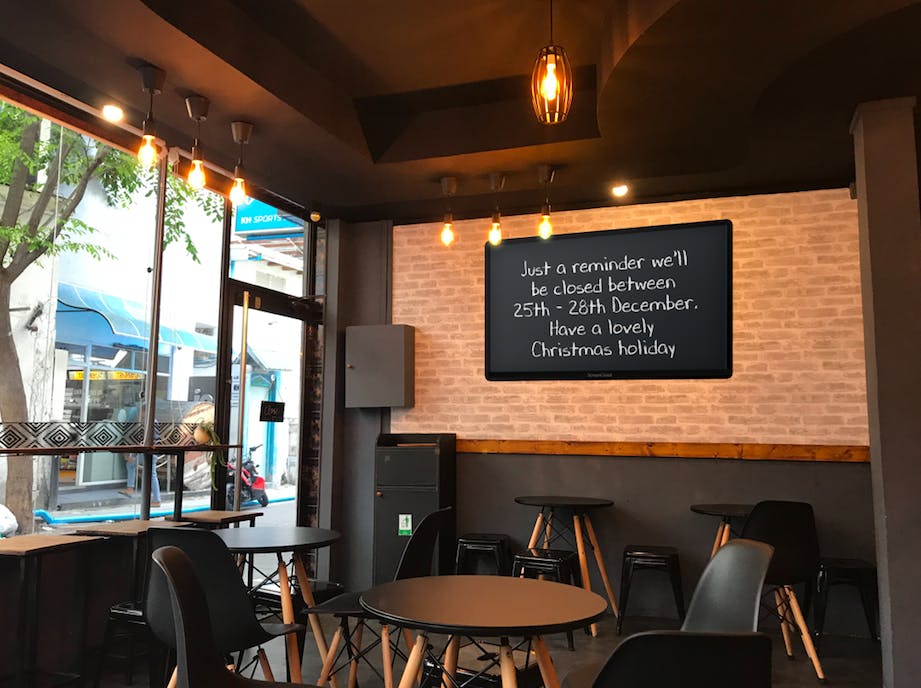 Use Noticeboard app to mark the celebration and easily create a graphic announcing the impending celebration. You could also use it to remind staff and customers of opening hours over the Christmas break.
25th of December - Christmas
If you're seeing this, turn left, go straight, get out of the office. We wish you a Merry Christmas from everyone at ScreenCloud.
Ready to get your organization connected?
Connect your first screen today with our 14-day free trial