Digital signage (which is a fancy way of saying the digital screens up on walls showing content) is big business in the world of restaurants. In fact, we're pretty surprised when we see a restaurant without it.
It makes providing digital menu boards, a visually attractive way to showcase products, offers and menu items really simple. Not only that, but digital signage can also be used in the restaurant environment to share other restaurant titbits like your Instagram feed, or next month's events.
In this guide we walk you through the benefits of digital menu boards, how to create one and the examples and learnings from others who have walked the path before.
Whether you have a QSR or a fine-dining experience you're always in competition when it comes to attracting your customer's attention. Not only are you competing with the social aspect of a meal, getting in the way of conversations between diners, you're also fighting against the smartphone sitting in the customer's hand.
It's far too easy for customers to be focused on their own agenda (emails, social media, meetings), than for them to see the amazing offers and services right in front of them!
We know that digital signage can help.
Easily change digital signs and menu boards
If you're particularly innovative, or a QSR or fast food restaurant, you'll rely on rapid iteration to keep customer interest. Take McDonalds, one of the kings of QSR, as an example. How many times do you see the same products on display, or the same menu boards for that matter? Even if you visit fairly frequently, say once per week, you're still going to see a different visual each time.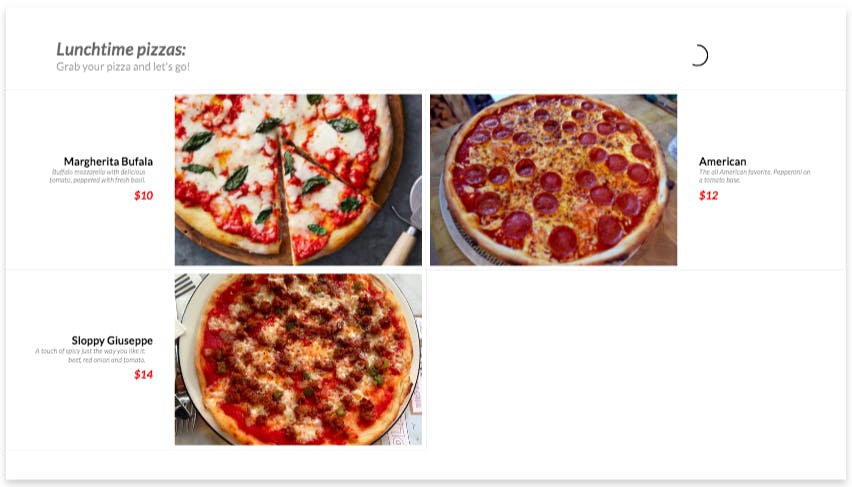 Products change quickly in QSR and your menu boards should be able to do the same. When you have restaurant menu boards, this becomes a no brainer. Products can be changed by anyone, not just your design team. On a busy day, boards can be adapted to show product volume, even when patrons are already in the restaurant. Designs can be made seasonal or adjusted in the moment to show product shortages. Our Digital Menu Board app makes that really simple. Edit, copy and repeat menus or create as many new ones as you like. Suddenly, Christmas, Thanksgiving, Summer and Winter menus are all easy to create and throw up.
When your menu boards are hyper targeted to time of day, product on offer and time of year, you're guaranteed to make more sales.
In fact, 29.5% of customers find digital menus influential for purchase of product.
Create menu automation
Digital menu boards can also tie into point of sale (POS) software, to activate instant updates and alterations. When this is automated, it makes the job of your staff much easier.
Digital signage can also be used for wayfinding and to tell customers how many seats are still available in each area, when paired with a simple foot tracking or sensor system.
Smaller, portable digital displays such as iPads and tablets, served at the point of purchase, can upsell based on buyer behavior. Showing information such as, "go large for just $2 extra" or even "have you tried our new side salad?" can all be great incentives to upsell more products.
Digital signage displays can also be used to share allergy and calorie information to patrons. If a customer has a specific allergy, they can view the allergy information without holding up the queue which can cause embarrassment for both parties. Instead of hastily trying to push the sales counter for information (which they may not have) digital screens give in-depth information long before the point of purchase.
Digital displays can also update calorie information by the minute, helping customers to make more informed decisions based on live data and not an out of date paper chart.
Improve customer perception and experience
What's the biggest annoyance in a restaurant? Waiting for your food.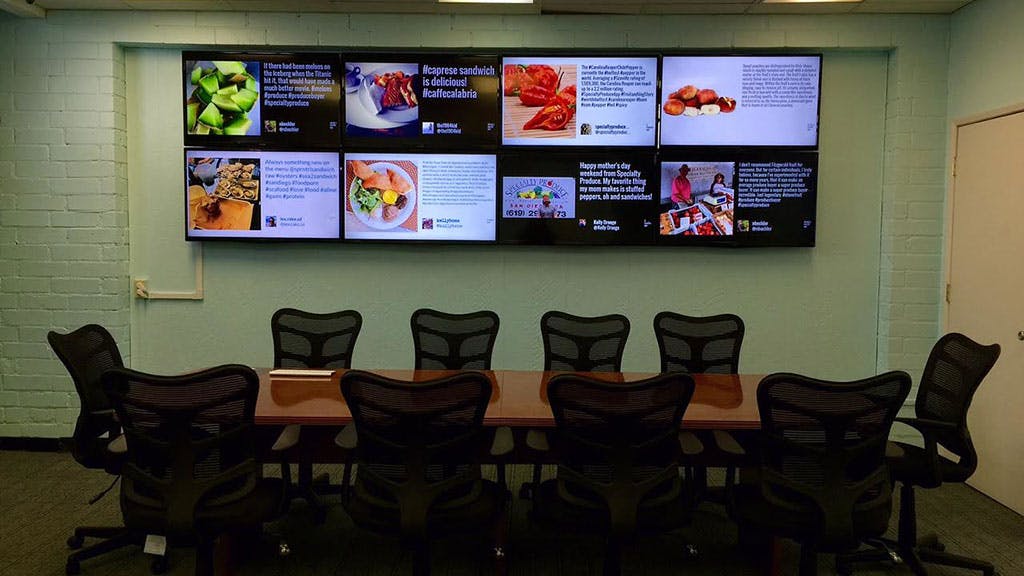 Digital signage knocks down a few of those hurdles in one. Firstly, it makes the ordering process quicker and gives information to customers as soon as they walk in, from digital menus positioned anywhere in the store.
Secondly, digital signage can actually reduce perceived wait time by up to 35%. Handy, eh?
Lastly, digital signage doesn't just have to share digital menu boards and information on food. Using the playlist method, it's easy to switch between a ton of different content sources. From social media dashboards, to train times, weather reports, live news, sports scores and images or videos. All of which, we'll chat more about below.
In this section we'll walk you through what you need to get your content ready for its debut on the big screen.
Digital menu apps that do the hard part for you
At ScreenCloud we've developed the Digital Menu Board app to allow you to create clean and easy digital menu boards for your products. The menu app is insanely easy to use - type in your products, add information such as pricing and the app pulls it into an awesome menu for you.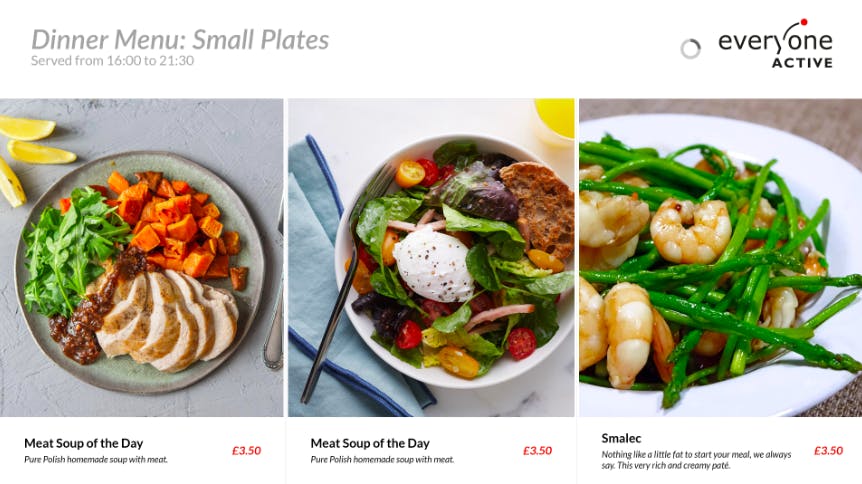 This saves the need for any design skills and lets you update your menus as often as you need without having to start from scratch. You can even customize the menu board with your brand colors and backgrounds.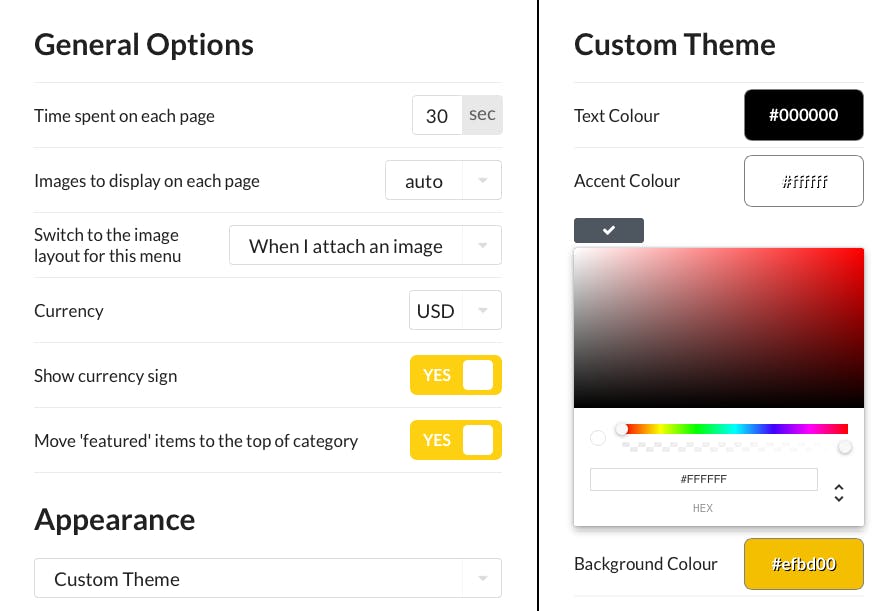 Digital Menu app is included in the price of ScreenCloud, so you can create as many menu boards as you like, for free, and keep your digital menus updated with items each and every day. Use it here.
Creating a template
If you're designing from scratch, the best place to start when creating a digital menu board is the template. Whether you have a design team or not, digital menu board templates come in handy as they help you discover the spacing and format which works best on screen.
Unlike our personal PCs and phones, digital signage screens are often viewed from a distance and through the crowd. Viewers need to be able to make a split decision on the information to hand and unlike on the web, they don't have the liberty of clicking through, or searching for more information.
This makes clarity key, and a good design essential to success.
If you're a bit of a design-whiz and want to create your own displays from scratch, a few free tool options you could use are Adobe Illustrator using the free trial, Inkscape or even Powerpoint, Keynote or Google Slides.
Or, if you need some help or want to get set up quickly, check out one of our partners who are making it really easy to create great looking digital menu boards.
DSMENU App - 199 restaurant templates
DSMenu allows you to create and manage a menu board directly from the cloud. With a ton of different menu board designs to choose from such as "grill", "fast food", "pizza", "burger", "beverages", "festivals", "snacks" and "offers" to name but a few! The DSMENU user guide takes you through how to get set up in a few easy steps.
Firstly, you pick your menu board template (up to 199 to choose from), or decide to start from scratch. The menu boards are fully customizable, allowing you to add your own menu items, change colors and upload images.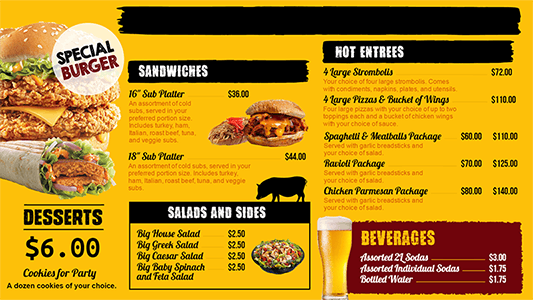 Once happy with your masterpiece you can download it as a PNG or JPEG file, or grab your unique URL. Load this into ScreenCloud and you're ready to begin showing great digital menu boards on to your screens.
We also have a 10% discount code just for ScreenCloud customers - enter SCREENDS10 to get 10% off your menu designs.
So once you've created all of this beautiful content how do you get it up onto your screen? The simple answer is ScreenCloud. Our digital signage software allows you to upload content onto your screen display in seconds - as easily as you might upload an image to Facebook.
Set up your account at screencloud.com/getstarted.
We've set up a few screens and menu boards in our time, so if you are designing from scratch here are some must know tips from our designers.
1. Adding color
As you will see from most templates, grid systems work well in digital signage menu boards as they allow users to clearly separate out each item. Once you have your grid or layout in place, the next step is to decide on a color scheme.
This will depend largely on your restaurant decor. What does the space look like - is it light, dark? Are there lots of bright colors everywhere or is it minimalist and plain?
A dark screen against a white wall, can be a great way of attracting attention. Similarly, a white screen in a brightly colored space will do the same job.
As a rule of thumb, stick to just three primary colors to ensure the displays don't detract from the main message - your food!
Hint: For more help choosing complementing colors check out this guide.
2. Use video and movement
Adding an element of video to your screens is a great way to attract the eye. Us humans are naturally attracted to movement and if you have video content to hand, you can easily swap an image out for a great looking video.
This is the premise behind the cinemagraph - a popular method used in hospitals, as well as advertising, where one movement parallaxes against a completely still screen. A steaming hot cup of coffee, or juicy dripping burger against static pricing will do wonders for hungry tummies and thirsty mouths!
3. Choosing fonts
When choosing fonts you want to stick to your brand guidelines to fit in with the overall look and feel. However, how large you make the font and how clearly the headlines stand out against the text will be key considerations.
How far will the screen be from the furthest point of your audience? If they can't read it, you're wasting the opportunity of a long queue time to help you sell more products.
Use sans-serif fonts in large sizes so that viewers can read your message at-a-glance. Avoid multiple fonts, or fonts in bright, garish colors if you already have color throughout your design. This will ensure pricing can be read and names understood. Reducing queue time and helping your customers get to their food much faster!
4. Creating action
The purpose of a digital menu board is to entice customers to act. If they already know what they want, this is easy. But if they don't, you should use your boards as a way to get them to ask.
From "ask us about our specials" to "visit our website for a money-off coupon", there should be a resulting call to action that allows them to embrace more of your company message.
Leave the call to action on screen at all times, or repeat it regularly enough that it sticks in the mind of readers. If you can create one that gets them to act there and then while in the queue, or directly after their meal, even better.
5. Use realistic images
One of the big faux pas in restaurant menu board design is using heavily filtered or stock images. If your images are of a generic burger or coffee cup, customers can't connect with what you're actually selling and you're probably doing your great products an injustice. If you need imagery for your commercial menu boards, try to take your own. To get the best photos of your food and drinks as possible, photograph in natural daylight so you can avoid using the flash, as this can flatten your dishes and remove natural shadows.
Also think about the backdrop - a clean white plate and a patterned or lightly-coloured table cloth can do wonders for the look and feel of your meal. Lastly, think about your angles. Websites like Instagram and Pinterest are a great place to get inspiration for how to style and photograph your dishes. Some dishes or drinks look great photographed from above, whereas others might need a lower angle. If you have the budget, a food stylist could also help take professional images which would be perfect for your restaurant TV menus.
If you don't have your own images, some free stock sources we love include:
6. Add extra space
When you have a lot of food items it can be difficult to create a restaurant menu board without using up all of the space. But this can make your design feel crowded and noisy. The last thing you want to do is overwhelm patrons, so try to account for some breathing space. If need be, create two or three menus, where you can split courses and rotate menus, rather than cramming them all into one display. Use negative space around each list of menu items and your content will be much easier to read for customers.
Hint: Check out our digital signage design tips for more ideas on how to create screen-perfect content, or as a useful guide to send to your designer to help them determine the size and dimensions of your TV menu.
Examples of digital menu boards and learnings
Of course the best way to set up your digital menu boards for success is to look to learnings from others. Here are some examples of digital menu boards that work well and the reasons why.
1. Fast-casual Polish restaurant Mamuśka's super targeted digital menu boards
Our customer, fast-casual Polish restaurant Mamuśka!, were on a mission to implement digital signage that could show menu items with ease, in a system where non-techie staff could update content.
After some experimentation, they found the best results were when they got super targeted.
We've talked a lot about ensuring you know your digital signage audience. When Mamuśka! began to break down the different cohorts in their audience, they very quickly worked out which products to push and when.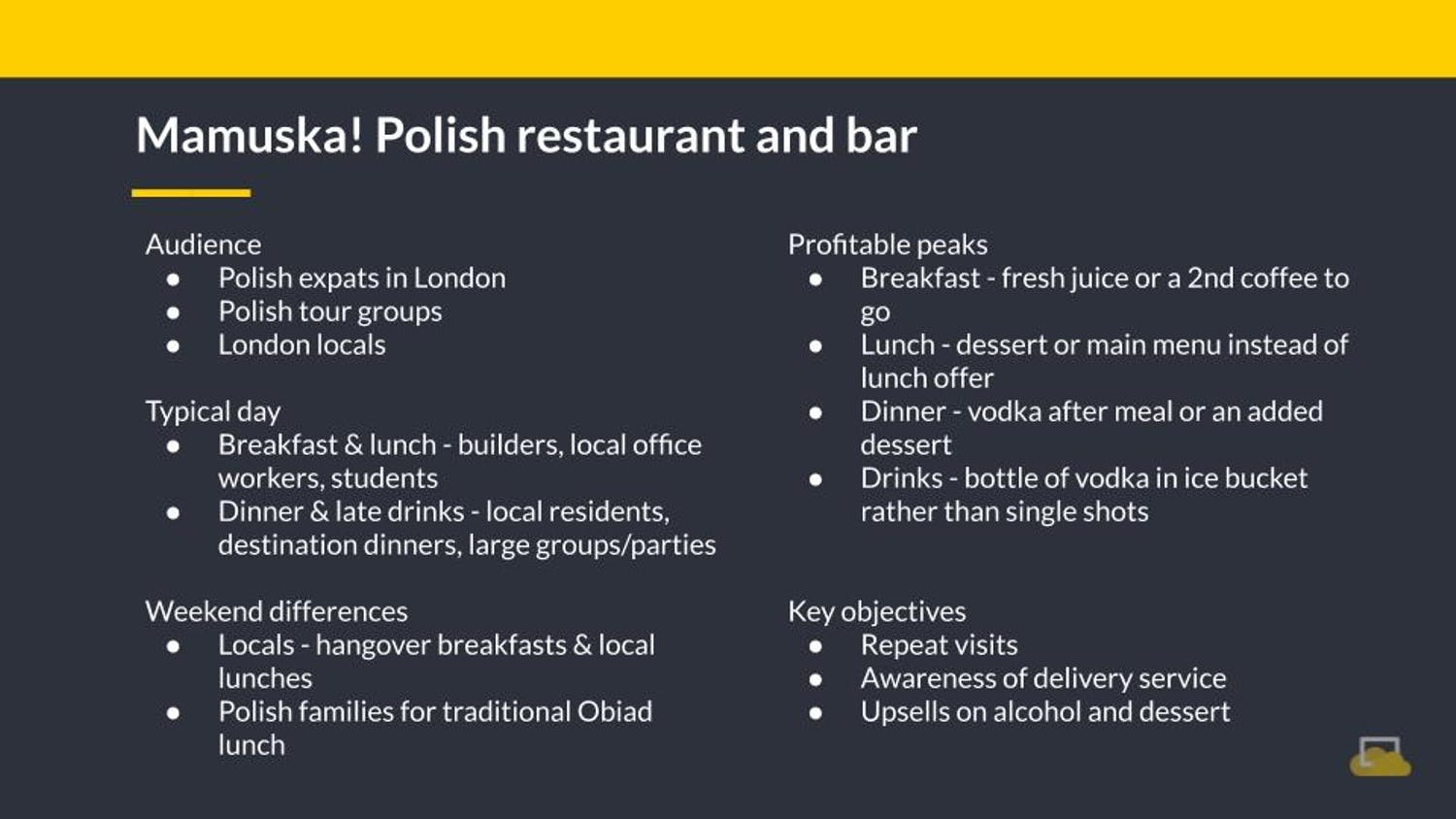 As a result, they are able to upsell more products, push promotions and achieve more sales in key areas, with new and existing audiences.
Getting super targeted with content, rather than showing the same digital menu items again and again, is what takes a great digital menu board to a seriously effective digital menu board.
2. Measuring results at Mitchell's Deli
Yes digital signage looks great. Yes it adds something extra to your deli or restaurant. But does it work? For us, it's not enough to whack a couple of screens up, add a few slides or social media feeds and leave it there.
You need to measure your results.
This is more simple than many think. Take our customer Mitchell's Deli. They were making delicious hot smoked chicken, fresh out of the oven and into their hot counter. They were selling 4 out of 12 of those chickens per week at best.
They hired a content creator who filmed the process of their smoked chickens being made. They used ScreenCloud to play the video on their digital signage screens. A month in and they're selling out of chickens. They've even had to make a "sold out" sign for their hot counter.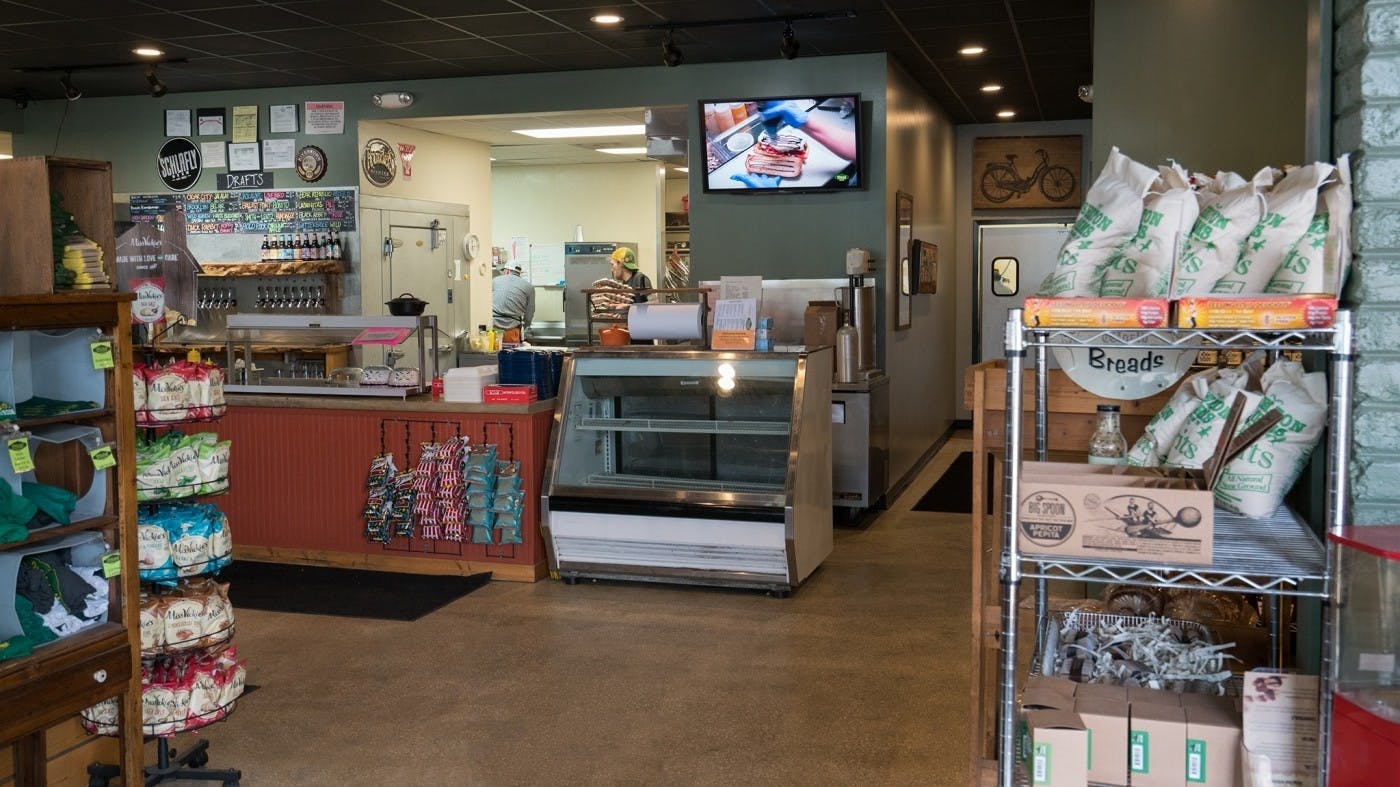 This is not a drill. It is a really, really good example of what happens when you find a tangible way to measure the effect of your digital signage boards.
You could use the same principle to upsell items, share specific promotions or showcase speciality items, as they did. If you have faith in your products, perhaps your customers just need a push.
Digital menu boards do the pushing for you and are more easily measured for ROI than you may think.
3. Fun digital menu boards
These fast food restaurant hacks that will save you money have been viewed and shared thousands of times. Why? Because fast food becomes even more great when it's cheaper than usual.
Why not take some of these ideas to create digital menu boards that help the person viewing them? From ways to save money, to upgrade "hacks" that will make their meal even tastier, this is a great way to grab attention and make your brand memorable.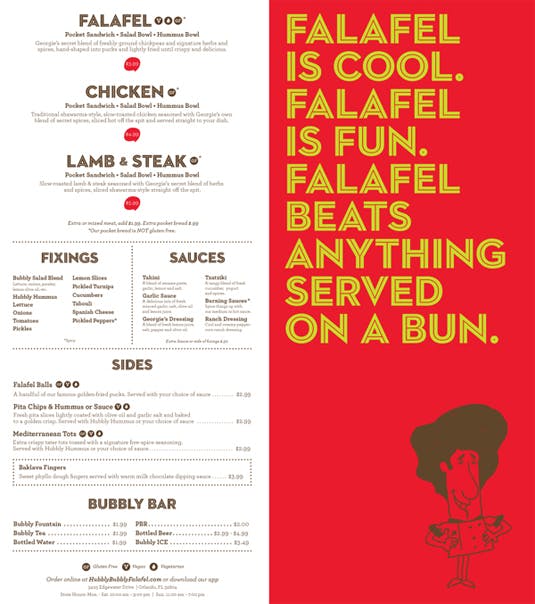 This menu designed by Mark Unger for a new restaurant in Orlando is another example of a fun way to do fast food menu design. Using bright colors and a fun poem, the menu board becomes both memorable and instagrammable.
4. Joint menu board efforts
Want to know McDonald's' biggest issue with a digital menu board roll out? Communication between their headquarters and their team. In this article where McDonald's shares its digital menu board lessons it details challenges that all rely on better communication between those dreaming up the digital menu boards and those actually deploying them.
With smaller businesses this often isn't the case.
That's because the step from CEO or store owner, who usually has the idea for signage, is not far from the person whose job it is to manage it. We've seen everyone from chefs to store managers, to store assistants manage digital signage displays and do a great job of it!
If you are attempting to roll out a digital menu board system at scale, communication needs to be a core part. This also means giving all of your stores the tools they need to run their digital menu boards autonomously. For example, why not create one Google Slides digital menu template, but then let your in-store team manage what menu items go onto it?
Or provide a promotion design, but allow store managers to determine which products will have the best effect.
Communication around what your digital menu boards should be showing and why, will contribute to greater success. Autonomy and allowing the people who know the store best to manage it, will also help.
5. Simplified digital menu boards by 7-Eleven
7-Eleven convenience stores in Denmark saw sales of coffee rise by 30% when advertised on their digital signs. Prime Burger, a fast-food chain, increased sales by 50% like-for-like by replacing their static signs for digital ones.
Yet 74% of customers say an easy to read menu is their top priority. Here's where you need to pair the two; digital menu boards have a huge effect on customer behavior but they have to be easily accessible.
It's no good creating a digital menu board that no one can read because it's too far away or the text is too small. Customers are naturally drawn to digital signs and it's easy to play around with the content. Don't let font size and layout be detriment to the effectiveness of your campaigns. Check, check and check again to ensure you have the optimal design setup.
In our Connected Spaces series we've discussed in depth, the effect of internet enabled devices on traditional hospitality, including restaurants and QSRs. Truth is, this technology is coming to retail and restaurants and will make a big difference to those who dominate the market over the next 5-10 years.
Digital signage is one of the easiest ways to plan and adapt your restaurant to the internet of things (IoT) and plan for future campaigns where customers will be talking to objects and systems within your stores.
Digital signage ties in with beacons, which are able to communicate special offers, news and updates to a customer's smartphone. They're also adaptable and can be triggered by events in-store. Advertising panels can change depending on how many products a freezer has in stock (running low = shift the ads to a different product). Smart fridges and shelving can count stock, automate ordering processes and reduce food waste.
Socially-activated drinks and vending machines can release products or prizes when activated by a tweet or Facebook post.
Interactive screens can be used to order food, play games and collate customer feedback.
Setting up digital signage displays now, is the first step towards owning a sophisticated, internet-enabled restaurant that tailors its food, products and staff timetables to what the customer actually wants and needs, based on real data.
Get started today
To begin creating and using your digital menu boards with digital signage, sign-up for our free trial at screencloud.com/getstarted.