Publish content to your screens directly from Microsoft Teams
Learn More


How Digital Signage and User Generated Content Is Transforming Hospitality
How to use the content of your customers to help promote your business and build community.
This article is a guestpost written by our friends at TINT
When people are on vacation, they take pictures everywhere and of everything they come across. I'm not even a picture person (if you look on my phone, you'll only see pictures of my dogs), and when I went on a beach vacation with my best friend last year, we took pictures of everything. We had pictures of the pool, the resort's bar, our drinks, the beach in front of the resort, and the bug-free balcony with a beach view. Quite a few of these pictures went up on one of our social media accounts, and while we were sharing our vacation, we were unintentionally promoting the resort, too. 
Guests don't need to be taking pictures of their rooms in order to promote your business; even if they share a picture of themselves having a great dinner at your restaurant or post a snapshot of their pedicure from the resort spa, that's marketing potential for your business. 
You can turn this user generated content (UGC) into a powerful marketing tool for your brand, boosting business and sales in the hospitality industry. With 70% of users updating their Facebook while on vacation, there's so much potential here that you don't want to lose.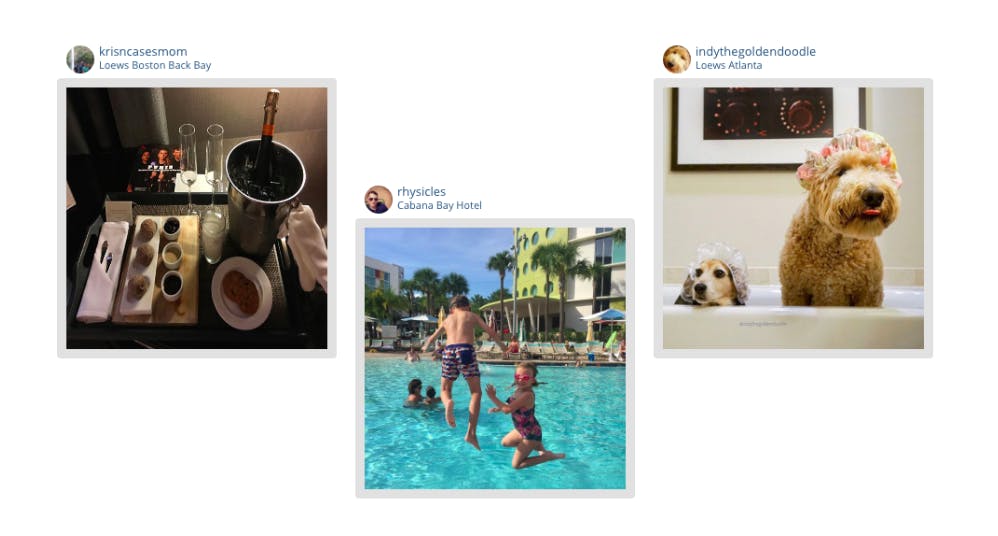 When you combine this particularly valuable UGC with digital signage that's placed on your physical property, you can send guest engagement skyrocketing and promote more on-property sales. In this post, we're going to take a look at how digital signage is partnering with UGC to transform the hospitality industry, and how you can use this to your advantage. 
Showcase Your Products & Services
Let's say you own a resort. When people are on vacation, they're taking pictures of everything, and your resort and its services are likely to be in a lot of those pictures. When they share this UGC and you display it on digital signage on-property, other on-property guests will get a great look at everything your resort offers.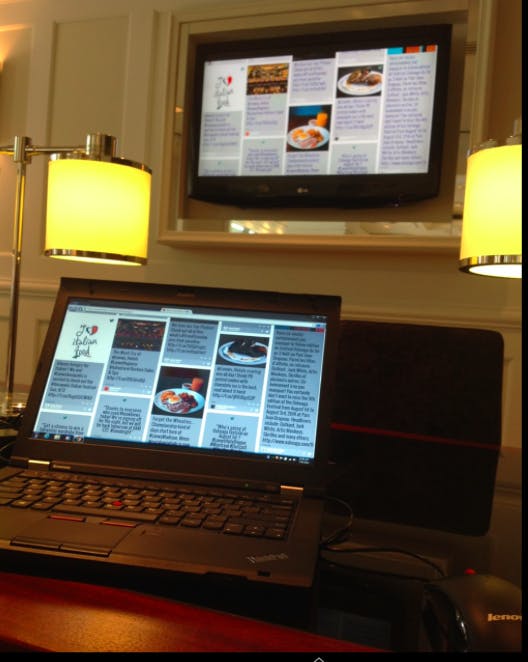 Using TINT, you can moderate your UGC displays to ensure that it's highlighting your products and services, which can increase conversions. Image source: http://gallery.tintup.com/Hospitality/i-4gQNLjv/A
With UGC display tools like TINT, you can moderate the feeds on the digital signage to feature your products and services. While a resort's main appeal is the pool and the rooms, many offer additional services, offering on-site restaurants, room service, gyms, spas, daily activities, and childcare centers. This UGC can encourage users to "get the most out of their vacations," spending more with you and increasing the average monetary value of each guest that visits you. 
Users will be much more receptive to UGC displays showcasing your services and products than the brochures you hand them when you first see them, even if they're advertising the same thing. If you don't think they'll pay attention, remember that: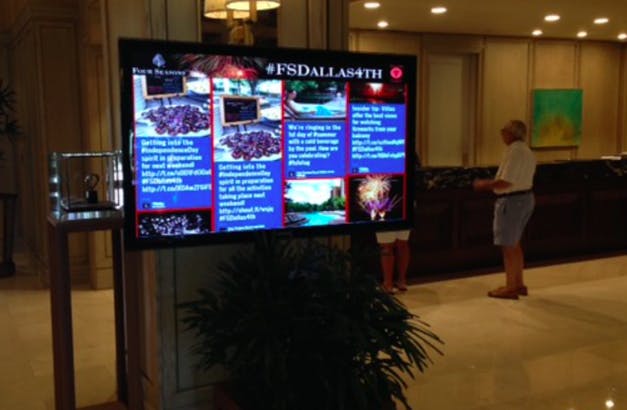 Highlighting UGC that features your brand's products can drive both sales and engagement amongst on-property customers, increasing the overall purchase value per customer. Image source: http://gallery.tintup.com/Hospitality/i-4gQNLjv/A
Since consumers are now more heavily inclined to trust UGC than traditional marketing materials, this is a great way to drive additional sales from warm, interested customers that are literally on the premises already. 
Use UGC to Tell a Story 
All businesses have a brand, and they know how they want to be represented to their customers. When posting on social media and through all of your online marketing campaigns, you're crafting a brand's story. Everything counts towards this narrative, including what special events you have, what charities you work with, and how you go out of your way for your customers. 
When you use carefully moderated UGC, you can tell the narrative that you want to. Since the UGC comes from users, it's seen as more authentic, and your brand-- and its story-- will be trusted more because of it. 
When you use displays like TINT to feature UGC on digital signage throughout your property, your story not only becomes more authentic, it becomes interactive. Guests can become part of the narrative-- part of the community-- with just a few clicks.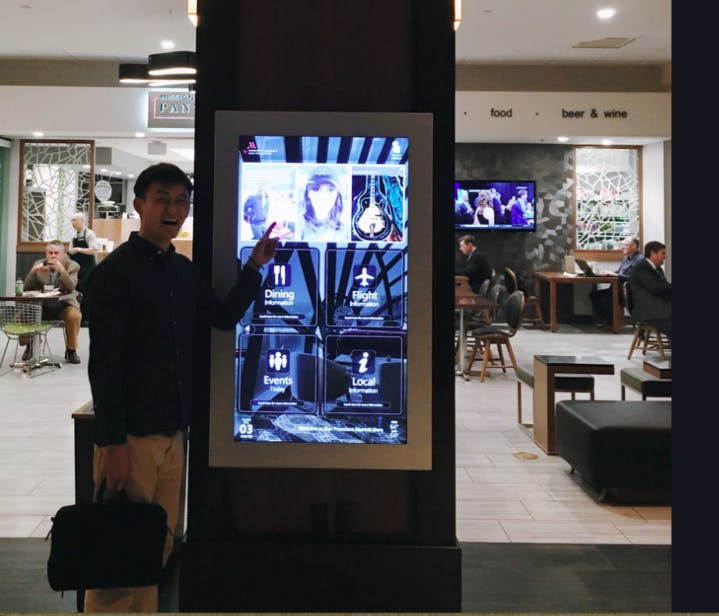 By using on-site UGC through digital signage, your customers can become part of your brand's narrative. Image source: http://gallery.tintup.com/Hospitality/i-NsWvwXz/A
Multiple experts, including Neil Patel, believe that interactive content is the future of marketing. It's exciting, it's engaging, and it encourages you to take action and interact with the brand and its content right now, boosting results. Since you'll never have a more relevant audience than the current guests who are standing on your property, using the signage to encourage users to share content that will fit into and help shape your narrative is exceedingly valuable. 
How to Encourage Guest UGC
In order to display your guest UGC on site, you'll first need to get that content flooding in. There's a few great ways to increase on-site UGC that can get you all the results you want.
The first thing you need to do is place your hashtag everywhere; attach it to the digital signage, the welcome packet you hand your guests, on menus, everywhere, and add in a CTA to let them know what to post. 64% of Millennials want more ways to share their opinions online, and asking them to share their experiences with hashtags gives them that opportunity in a way that will directly impact your business. This will make it easier to find the content, and giving users instructions on how to share UGC will increase the likelihood that they'll do so.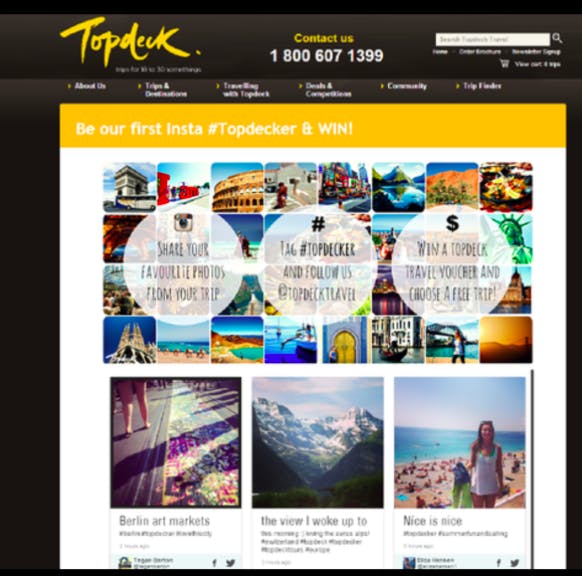 Encouraging users to tag you in their posts and use a specific hashtag will make it easier to find and share their UGC. Image source: http://gallery.tintup.com/Hospitality/i-9FN7V34/A
You also want to make your feed updates as instantaneous as possible. If a guest shares UGC and is able to see it right away, they'll be more inclined to share. This will also help keep the display fresh, so every time your guests walk past it, new content is at the top of the list, showcasing even more of your amazing business. 
If you're looking to ramp up engagement quickly or want a flood of new posts, holding contests-- especially photo contests-- is a great strategy, especially when it's advertised throughout the hotel. Provide specific instructions and remind them to use the hashtag, and offer a prize like a resort gift card, dinner at your restaurant, or a free round of drinks.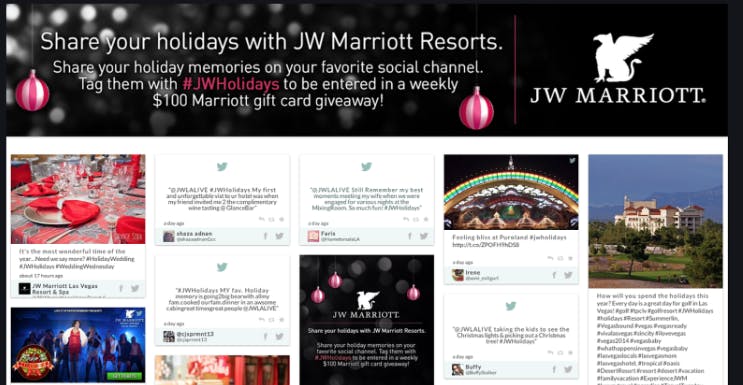 Broadcast your holiday contest everywhere! JW Marriot resorts offered a $100 gift card as a prize for UGC of their brand. Image source: http://gallery.tintup.com/Hospitality/i-QxzDzWH/A
Final Thoughts
Digital signage can increase the amount of UGC that your business is getting, which can be used online to convert more leads into customers, driving more sales and engagement on your actual website, too. Digital signage is transforming both retail stores and the hospitality industry thanks to tools like TINT; make sure you stay ahead of the curve with this relevant, interactive marketing that's transforming in the industry. 
Want to learn more about how to get started with User Generated Content? Drop us a line for a free strategy session!
Ready to get your organization connected?
Connect your first screen today with our 14-day free trial
innovation