Publish content to your screens directly from Microsoft Teams
Learn More


5 Key Trends Affecting Hospitality
Applications for the future trends of the hospitality industry.
Here at ScreenCloud we like to gaze into the future and think about how things may change for the key sectors we serve for example looking at the smart hotel of the future, where everything is served from a single key, monitored by RFID stickers and serviced by robots. And okay, maybe that sounds a little "out there," but the truth is, we're not that far off. Like every industry, key trends in technology and marketing are changing the way we think and do business. Here we look at five big trends affecting hospitality now and into the future.
1. Chatbots
Chatbots are assistants with virtual intelligence, meaning that they can be programmed to think for themselves and respond to customers without the assistance of a human. While this sounds sophisticated, it's actually super simple and something that has arrived in hospitality without too much fanfare.
If you've used the Domino's pizza app or ordered from a flagship Burger King or Taco Bell in the States, it's likely you've met the bots already. Customers here can make the most of chatbots, whose aim is to get the customer what they want more quickly.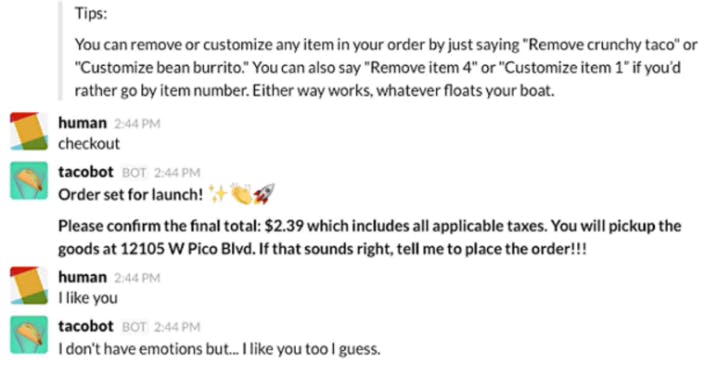 Chatbots are best when they mirror real human conversation and can work independently, by looking at inventory, predicting order times and so on. Here are a few other applications:
Bots that act as a travel concierge, helping travelers to find hotels and answer questions like "where is the nearest beach from here?"
Customer service chatbots that answer questions and help visitors with queries.
Hotel chatbots that can service the individual traveler: sending them an iron, helping them to work out the safe, turning the air conditioning down, and so on.
2. Virtual reality and augmented reality
Virtual reality and augmented reality, or VR and AR as they're more easily known, let you see worlds through a different lens - literally. These technologies re-cast the customer experience. They take showing someone a picture of your holiday or hotel suite to a new level. Brochures are great, but what if the customer could actually be there instead? It opens up a whole new world and helps to convert more sales from a customer who feels like they are already there.
Applications include:
A hotel customer wants to know what day trip to go on. Staff give them a VR headset and allow them to "look around" the island to see if it's somewhere they'd want to spend a day at.
In the same way that we snap holiday images to share online, consumers will soon be able to create virtual tours and share those to Facebook 360 or YouTube.
Tourists visiting a specific landmark can slip a headset on and see historical figures or events appear in the space before them through AR.
3. Digital signage
Digital screens in hotel receptions (plus across airports, restaurants, landmarks, tourist points, etc.) solve many of the problems a tourist or visitor faces in another country. From predicting check-in time and checking what the weather will be like, to seeing key information in an emergency, digital signage is a simple way to do all of those things.
Digital signage offered in hospitality now has a range of benefits and options. Throw a few screens up on the wall and you have a quick and easy way to display any information you like. (Quick plug: ScreenCloud makes it incredibly easy to get any digital content up onto your digital screens).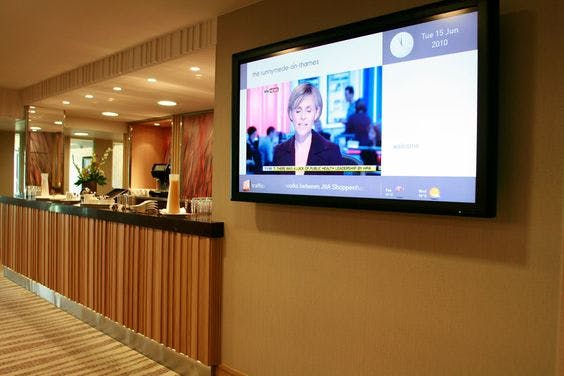 Applications include:
Personalized welcome messaging within a hotel.
Travel information, weather reports and news.
A restaurant might share the latest digital menu boards, allergy info and special offers.
Tourist attraction screens that can provide queue time, social media links, historical videos and images of people having fun.
Voice-activated digital screens that the visitor can speak to and ask questions.
Screens that "talk" to other smart, connected systems and react by providing updates on stock inventory, emergency information and data on queue or wait times.
More personalized screen experiences where content can change based on footfall, proximity to screen, time of day and more.
In the future of hospitality, we see digital signage moving from a read-consume-reach format to a speak-touch-gaze one. Screens are no longer standing as static noticeboards for visitors; they're becoming voice-activated or gaze-activated - a system that visitors can navigate themselves and use for optimal benefit, choosing only the information they want to see.
4. Blockchain
Blockchain is often associated with currencies such as Bitcoin but the truth is, it's attempting to radically change the technology systems we use every day. The idea is to create more trust and neutrality in transactions such as money exchanging hands or even votes being made. If that sounds confusing, check out this video:
So what does that mean for hospitality? Blockchain will become hospitality's partner in crime because it serves the customer better. It could allow you to pay a hotel directly, without having to use a bank or anyone else that's going to charge for converting a currency. It could also allow individuals to regulate what hotels are charging, e.g., it could get rid of the annoyance where you look on a travel site one day at a hotel that's $100 a night, then see it's $150 the next night because they know you're interested.
Here are a few other applications for anyone in the hospitality industry to be aware of:
It could join up different aspects of the travel experience and make payment more fluid (for example, being able to pay for your coffee with air miles or your dinner with Uber loyalty points).
Book with hotels directly without a middleman required.
The ability to book day trips, meals and museum entry without money or currency changing hands through digital currencies such as Bitcoin.
5. Internet of things
What if every single object or "thing" around you became smart? That's the internet of things (IoT). We've heard it described as "a wild fire across a dry prairie" because that's how quickly IoT is hooking up the things around you into one smart, connected system.
Within hospitality, the focus is on ease. Within a restaurant, if your fridge could talk to your stock inventory system, your cash register and your ordering point, it could easily work out what you need more of and when.
For the consumer, these devices focus on personalized experiences. A hotel room that knows just how you like your coffee in the morning and how early you want to wake up has a huge competitive advantage. In a market where it is often dog-eat-dog or hotel-eat-hotel especially due to the rise of self-service models such as Airbnb, these smart things make all the difference.

The future smart hotel room?
Applications include:
A hotel room tablet which can be used to change temperature, screen content, lighting, with the ability to save preferences and learn from them.
Devices which measure efficiency across hotels or restaurants and adapt to cut down on waste, energy use and carbon output accordingly.
Restaurants that need fewer workers due to chatbots, smart ordering systems, stock management and digitized menu boards.
Where do you see the future of hospitality taking us? Let us know @screencloud.
Ready to get your organization connected?
Connect your first screen today with our 14-day free trial
ideas