There's a secret ingredient that restaurants are talking about. It's not matcha tea or cayenne pepper. It's called Instagram and it's probably a channel you love and use every day. 
Instagram has been big news in the food industry for a while. When we get a tasty meal what do we almost always do first? We take a picture on our phones. Next, we send it to our friends, post it in Snapchat and of course, upload it to Instagram.
The question, is how you can maximize on the hundreds of customers already doing this to help promote your restaurant and spread the word of your amazing cuisine and ambience? In this guide, we'll help you find out.
Restaurant Marketing with Instagram
Instagram's reach is huge. With 500 million monthly active users, up from 400 million just last year, it's growing fast. Its tie in with Facebook also helps extend reach, with around 95% of the images and videos posted on Instagram also making their way onto Facebook.
So are your ideal customers thinking about their tummies whilst browsing social media? Of course they are! A recent survey showed 50% of participants became aware of a particular meal through social media. Here's how you can increase the chance of that happening for your own restaurant, bar or fast food chain. 
1.Maximize your own account
You have to be in it to win it as they say, so the first step to creating a strong Instagram presence for your restaurant is to set up a great account that entices people in. Use an obvious name, create a hashtag that's easy to remember and ensure that you interact with customers using both.
Many customers will 'check in' to your restaurant, so a simple location search will help you to see who's been by and when. Take a look at all of the customers below who check in to Mamuśka, a client of ours on a mission to introduce Polish food to the mass UK market. Now who wouldn't want to head down for some kotlet schabowy after seeing that?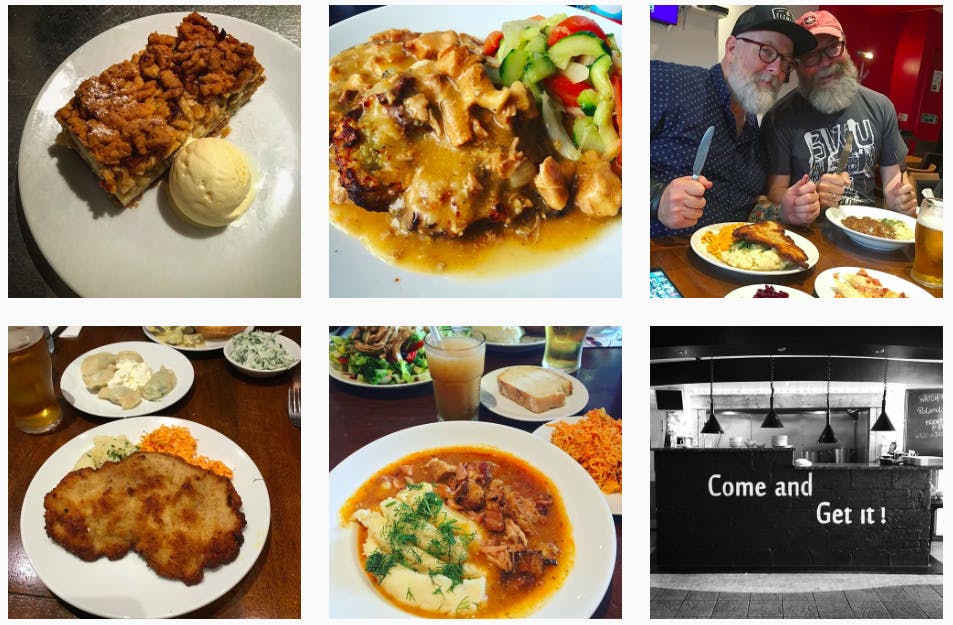 2. Connect with customers
Your customers have networks that you want to utilize. In every business this is a benefit but in hospitality it's even more valuable. Just think, your customer snaps a picture of their ice cream and posts it online. It's a hot day and most of their friends want ice cream too. Not only has this image attracted their attention, but it's likely that your patron's compadres are all within the local area.
Customers also inform the dining experience as they help restaurants to understand what dishes are popular (or most instagram-worthy) and entice local users in through the doors. The power of social proof is vast - no one wants to waste money on a bad meal, so it helps customers know that they're in safe hands. Especially when it's an image that speaks for itself in all of its #foodheaven glory. 
3. Provide visual prompts
This is where your digital signage screens come into play. By utilizing the screens you already have in your restaurant (or the tablets or screens you might be able to invest in) you can create easily changeable content that entices customers to snap away and post online. 
Social media walls are a gentle visual reminder to share feedback, images and connect with your restaurant's community. They nudge people who might not usually engage online and allow the build up of conversation between customers - perhaps the opposite of what we envisage when someone takes their phone out of their pocket in a restaurant. 
Our digital signage software makes it really easy to not only get your Instagram content up onto the screens, but to create digital menu boards, social media dashboards and any other display of content that visually prompts your audience to get involved. 
Below is a social media dashboard of images pulled in from the very Instagram-worthy Sketch restaurant in London. This took us around two minutes to setup using our awesome partner TINT. We simply pulled in the correct handle, hashtag and geolocation, added the URL to our ScreenCloud Signage dashboard and voila! Picture-perfect Instagram feed ready to go up on the screen within your restaurant.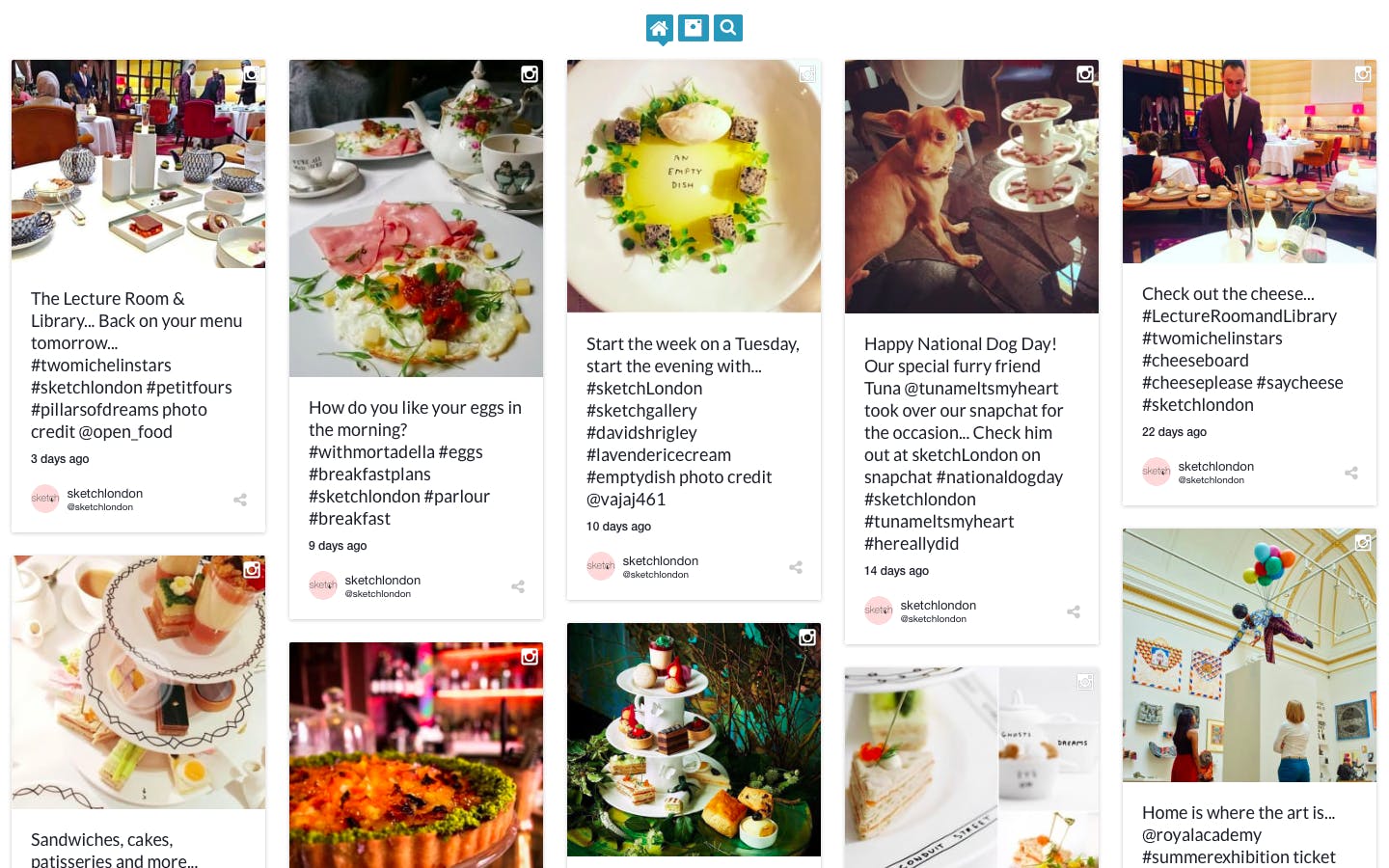 Top tip: Checkout this post for more ideas on how you can use digital signage to be more awesome, reduce perceived waiting times and build community between diners within your restaurant setup. 
4. Make digital part of your DNA
Take Seamore's restaurant in Manhattan, NYC. According to its owner Michael Chernow, Instagram marketing was taken into account when originally designing the physical identity of the restaurant. This involved using whitewashed wood, slate, zinc and concrete surfaces (ideal canvases for Instagram snaps) and ensuring that the restaurant is flooded with light, pops of color and interesting artwork. 
Or how many times have you seen an Instagram shot of Bob Bob Ricard's 'press for champagne' button floating its way around social media? Of course, it's not a real button but this Soho restaurant in London understands that the gimmick will attract customers, who end up spending time and money within the space while getting the perfect shot.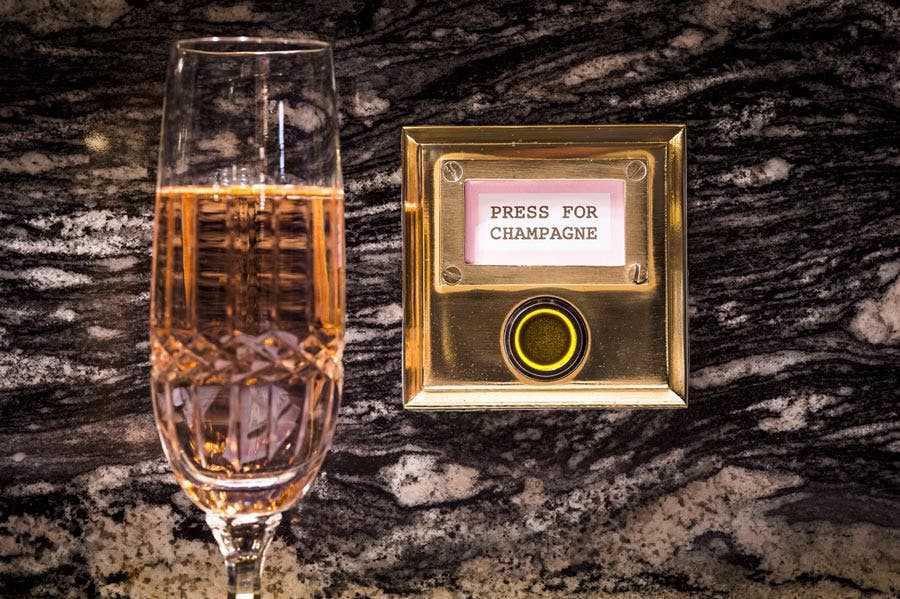 Breeding elements that work well online into your physical set up helps increase your popularity online. Often without you having to do a thing!
Digital signage and restaurant marketing with Instagram
We believe that when you're doing really great Instagram marketing, when your customers are talking and are showcasing your main meals across the internet, it should be present for everyone to see.
To create Instagram as part of your restaurant's marketing strategy through powerful digital signage displays, start our free trial today by signing up right here.