Publish content to your screens directly from Microsoft Teams
Learn More


6 Essential Areas for your Restaurant Fit Out
The lists, ideas, ​and checkpoints you need to fit out your restaurant with style.
Fitting out a new restaurant can seem daunting right? You may have the dream (oh you so have the dream) but between equipment, research, rents and staff, the reality can seem seriously far away.
Like anything, it's all about getting started. Grab some paper, take out your pen and begin making notes and lists that you can later organize into a master business plan. Here are six of the key areas anyone looking to fit out a restaurant should consider:
1. Researching your restaurant fit out
If you listen to the naysayers you'll already have been warned how most restaurants fail. Okay, this might be true but there's no reason why your new restaurant will. This is where the research phase comes in handy. Truth is, you want to find out as many problems before the restaurant opens as possible. Because when you know the problems, you can plan ways to avoid them.
Conduct as much research as you can, from the point of view of your restaurant manager (which might be you), to customers, other restaurants in the area and direct competitors.
You'll want to find out your potential customer footfall which is the amount of customers who could walk by at any moment. Remember this could change between weekdays and weekends, mornings and afternoons and even seasonally or at different points of the month.
Visit as many competitor restaurants as possible and sink as much information as you can. How do they greet you? What do you think of the menu choices? Is the timing right between courses? Every tiny element contributes to the overall customer experience so no part is too small.
Then research your niche. If it's pizza, look at everything from big pizza chains such as Pizza Express and Pizza Hut, down to tiny street food stalls and one-off Italian independents. When you know your market inside out, or fat-crust thin, it'll be much easier for you to nestle your business right in there.
2. Equipment for a restaurant fit out
What many don't realize is that food safety begins from point of fit out. You want a set up which is clean, easy to use and easy to maintain (especially on those busy Saturday nights). Most retail fitters or tradesmen can advise you on the best space setup or the equipment you might need to consider to keep your restaurant running. But to get started, some of the key areas you'll want to think about are:
That you have enough space for all of the equipment needed such as ovens, refrigerators, storage and disposal
How you'll integrate basics into your equipment plan such as running water, waste disposal, light and ventilation for your kitchen staff
The right equipment to ensure you meet health and safety standards (think refrigeration and storage with pest-control features)
A plan for the easy cleaning of your equipment - this is taken into consideration by food safety organizations but is rarely considered by restaurateurs!
Equipment you might need for staff members such as seperate sinks or lockers
Seating, flooring, lighting and waiting areas for your customers
Below is a list of specific kitchen equipment you may need for a new restaurant fit out. There may be items you don't need, or items that aren't on this list that you do (spiralizer anyone?) but this is a good base to get started.
Chilled storage such as refrigerators, cold rooms or cool store rooms (usually needed at 5°C or less)
Frozen storage (-15°C or less)
Ovens and stoves
Grills
Hot food storage (60°C or above)
Deep frying machines
Food passes
Storage racks, systems and cupboards
Pots and pans
Utensils - spatulas, tongs, prongs etc.
Crockery (for different courses such as entree and desserts, as well as different types such as plates, side plates, bowls etc.)
Cleaning equipment (cloths, buckets, mops, sanitizers)
Safety equipment such as fire extinguishers and fire blankets
3. Floor plans
There are two key floorplan areas to a restaurant fit out. First, is the health and safety one. To prevent food contamination and sickly patrons, you need to work out a flow of food that moves in a single direction.
This means working out where food travels from the point it arrives in the restaurant through to it being stored, prepared, plated, served to customers and eventually disposed of.
It's important that this flow travels in one direction, to prevent any contamination and this will likely give you the design of your kitchen and preparation area.
Secondly, is your diner floorplan. This means working out the number of square metres you have available for dining and how many people you can fit into that space.
4. The customer journey
As British chef Heston Blumenthal once said "food is as much about the moment, the occasion, the location and the company as it is about the taste".
If customers can't enjoy their environment then even the most delicious delicacy will become bland and unenjoyable.
The way visitors experience your restaurant is called the customer journey. When we plan an online website the customer journey is always mapped out. You literally practice what things would look like from the point of view of your customer - from first arriving on the website, to clicking a section, ordering an item and going to "cart" to complete checkout.
Carry out this same process, but pretend you are the physical customer within your restaurant. As you walk in, what will you see, smell, hear and taste? How long until you are seated? Once seated, what will you be presented with?
Think of each part of the dining experience as blocks of time. Some of the ones you might want to consider are:
Arrival
Seating
Serving
Drinks
Starters
Mains
Desserts
Check
Goodbye
How will your staff and the environment, interact with customers at each point of this journey? Also consider the ambience; from restaurant music (with research showing that different melodies can affect sales), to where you place families and lone diners and the type of lighting; all will have an affect on customer experience.
For some restaurants, this journey starts even before patrons enter the door.

Take Olive Garden as an example, who partnered with a nearby gym chain, to offer parents free babysitting. The parents dropped the child off to the My Gym center on the way to their meal, picked them up afterwards and received the babysitting for free by showing an Olive Garden receipt.
This works because it isn't just a ploy to get customers to spend more, it actually considers their journey from door-to-door.
5. Communication
A customer can go anywhere and grab food. From gas stations, to food trucks, airport lounges and even pop ups in retail stores, the choices are endless.
When a diner chooses your restaurant, the food will come into consideration but so will their feeling towards you as a brand.
Wendy's is a great example of a brand that does online communication really well. Their iconic Twitter account is known to "roast" other fast food chains on the channel as well as interact with customers in an informal way.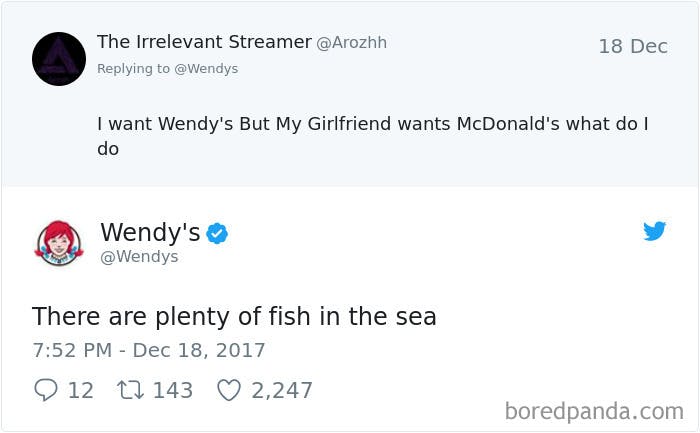 While a snarky tone might not suit all restaurant brands, it is an example of how to get noticed and connect with customers in a more authentic way.
As well as social media, consider physical branding across your restaurant real estate as well as digital signage that feeds information into the floor.
Restaurant digital signage is a great way to communicate with customers and has the additional benefit that once a screen is up, you can change content as often as you like without having to pull down or reprint paper signs.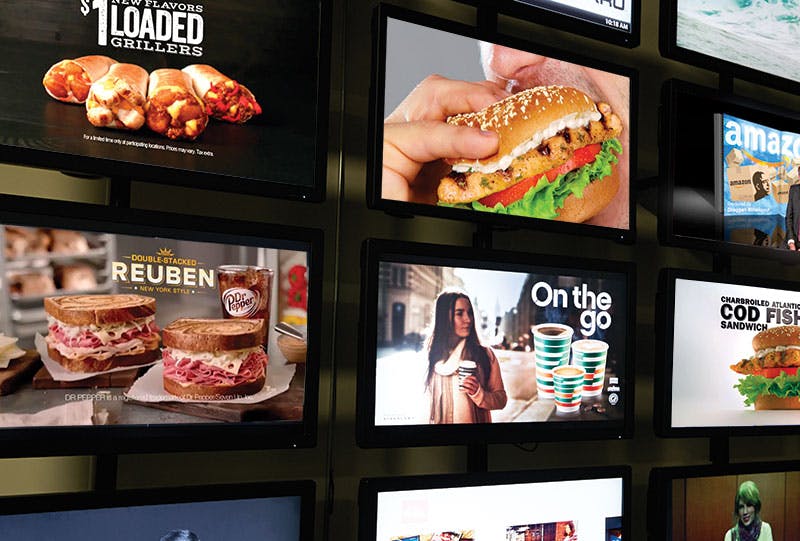 Digital signage channels can be used to share digital menu boards, social media feeds, images, videos, presentations, live news and well, anything you like really.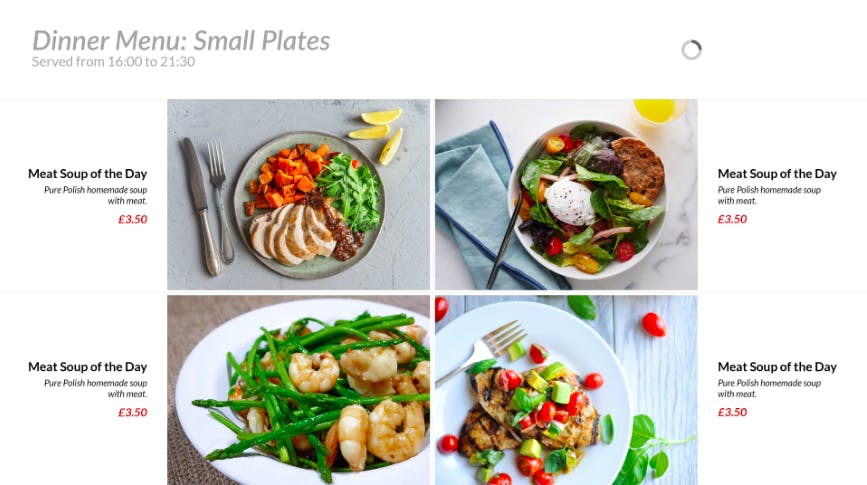 A dinner menu created in a few minutes using ScreenCloud's Digital Menu Board app.
Think about internal communication too. Restaurant employees can become overwhelmed with changing health and safety information, notices and staff rosters. If you can make communication between managers and employees simpler, chances are, your restaurant will run easier too.
6. Brand themes
Over 90 percent of information processed by the brain is visual. How many restaurants make the most of this to entice more people in? The rise of Instagram means that choosing "instagrammable features" within the restaurant fit out could drive traffic alone, regardless of what's on the menu.
Take London's Sketch, a restaurant famous for its "egg-shaped" toilets, bejewelled ceilings and pink interior which has led to thousands of check-ins and user-generated posts across social media.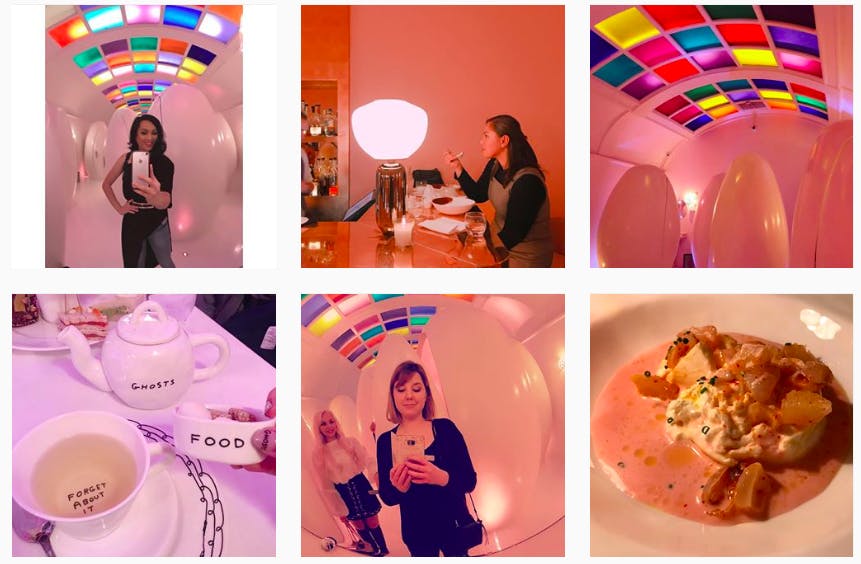 These types of unique features can ensure a restaurant gets fastracked to success. Other popular examples include restaurants with lightbox messages, "bottomless brunches" that ride on the latest Prosecco crazes, make your own gin classes, themed afternoon teas, flower walls and "inside-outside" dining.
You only have to check Instagram to find examples of the brand features in restaurants which keep patrons coming back for more.
Alongside physical features, the way your staff interact with customers can also have an effect on your branding and the amount of visitors talking about their experience.
Take coffee chain Starbucks, that has become so notorious for its failure to get customer names correct that it has become the basis for comedy sketches, social media posts and threads detailing just how it gets them so wrong.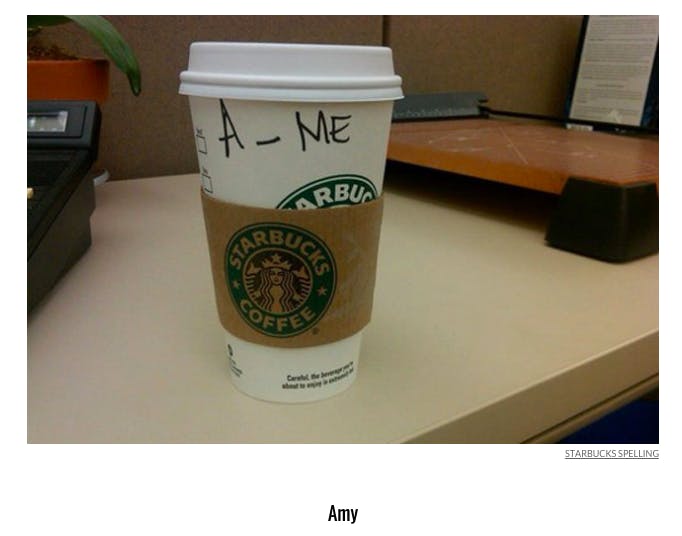 Funniest Starbuck Mispelled Coffee Cup Names
Thinking of brand themes you would like your restaurant to be known for, whether physical or transactional, will set you apart from many other "food places" and ensure that customers tell their friends where to find you.
Looking for a simple digital signage solution for your restaurant? Check out ScreenCloud Signage - we're helping tons of restaurateurs, bars and cafés like yours to create simple menus and messaging for customers.
Ready to get your organization connected?
Connect your first screen today with our 14-day free trial
ideas