Publish content to your screens directly from Microsoft Teams
Learn More


How to Create Menus for your Restaurant's TV Screen
Here are three simple steps to creating digital menus to share with your customers on your restaurant's TV screens.
Editor's Note: Updated July 2021
Digital menus are great for business; for both customers and staff. From providing visuals of your products to promoting special offers, a digital menu can enhance a customer's overall experience. 
While we've written more about the benefits of digital menu boards, in this guide we'll be showing you how easy it is to get your content up on your screens. 
We'll cover:
How to create a menu board design easily
How to put your menu board design onto the TV screen in your restaurant or café
How to schedule different menu boards for different restaurant sittings
And if you're looking for more inspiration, take a look at how Smoky Boys used ScreenCloud to attract more customers to their restaurant pop up.
How to create a TV menu board for your restaurant or café
There's nothing worse than hearing the words "unfortunately we have run out of…" just after you have spent ten minutes deciding what you want to eat from the menu. And for servers, having to repeat special offers, dishes and ingredients can take up a lot of time. 
Digital menus can solve both of these pain points, and more. (Run a franchise? Take a look at our guide about digital signage for franchises.)
The benefits of digital menu boards
Digital restaurant boards allow you to change content as simply as entering a new product, or deleting an old one. The benefit of this is if you run out of a dish, you can remove it from all of your screens in just a few clicks. 
Digital menu boards can also show restaurant favorites and delve more into the ingredients, or even the preparation methods. If you have a special offer or promotion, then  you can schedule this content to show at particular times or on particular days without having to manually change anything.
(For more content tips and ideas, check out this guide to digital menu boards).
How to create your own restaurant TV menu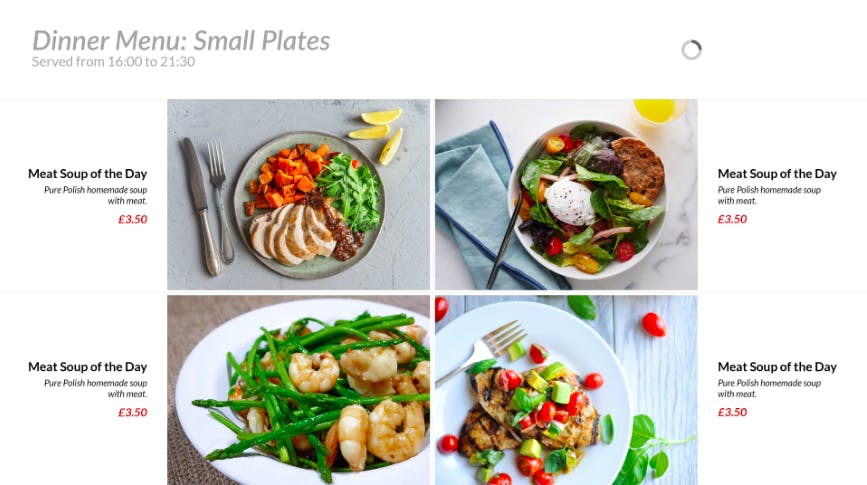 Your own design software
If you want to design a menu from scratch (or mimic your printed menu design) you can use a design tool such as Photoshop, Indesign or You have two options when it comes to designing your digital menu boards with ScreenCloud: Canvas, and the Digital Menu Board app. 
Canvas
Canvas is an easy-to-use design editor tool that allows you to create screen-ready content quickly. It's also one of the most-used apps on ScreenCloud. If you need inspiration, ScreenCloud has pre-loaded a series of templates for you to edit.
Digital menu board app
If you don't want to use a design tool, or you don't have design skills, you can use ScreenCloud's Digital Menu Board software to create your restaurant menu easily.
The benefit of using our Digital Menu Board app is that it already contains templates for laying out your digital menu board. It's also already connected to ScreenCloud (which lets you control your content on screen). 
When you need to change a product, you simply enter ScreenCloud, edit your template and the information changes on screen. 
Read the full guide to the app here. 
DSMENU App - 199 restaurant templates
DSMenu allows you to create and manage a menu board directly from the cloud. With a ton of different menu board designs to choose from such as "grill", "fast food", "pizza", "burger", "beverages", "festivals", "snacks" and "offers" to name but a few! The DSMENU user guide takes you through how to get set up in a few easy steps.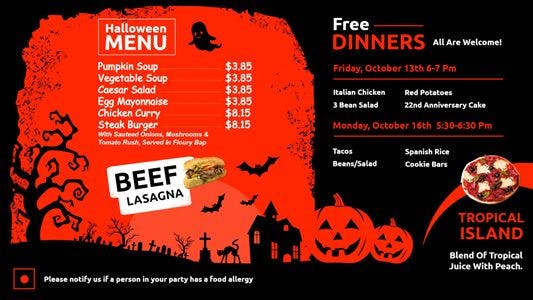 Firstly, you pick your menu board template (up to 199 to choose from), or decide to start from scratch. The menu boards are fully customizable, allowing you to add your own menu items, change colors and upload images.
Once happy with your masterpiece you can download it as a PNG or JPEG file, or grab your unique URL. Load this into ScreenCloud and you're ready to begin showing great digital menu boards on to your screens.
How to show your digital menu screen
Once you have your menu and your screen, you need an easy way to connect the two.
1. Pair your screens with ScreenCloud
If you're new to digital signage, then you'll need to connect your screens to a ScreenCloud account. Take a look at how to get your screens ready with the quick video below.
If you don't have a smart TV, all you need to invest in is a cheap media device, like an Amazon Fire TV Stick 4K (around $40) or Chromecast with Google TV (around $50), and plug it into the HDMI port on the back of your TV. Or if you are looking for a more robust device that has business features, we suggest our Station P1 Pro device or an Intel NUC Celeron. Once it's connected, you can use the same process to download the ScreenCloud app and get your menu onto your TV screen. You can find out which media device is best for your restaurant's screens by using our Hardware Selector Tool.
2. Upload or create your restaurant menu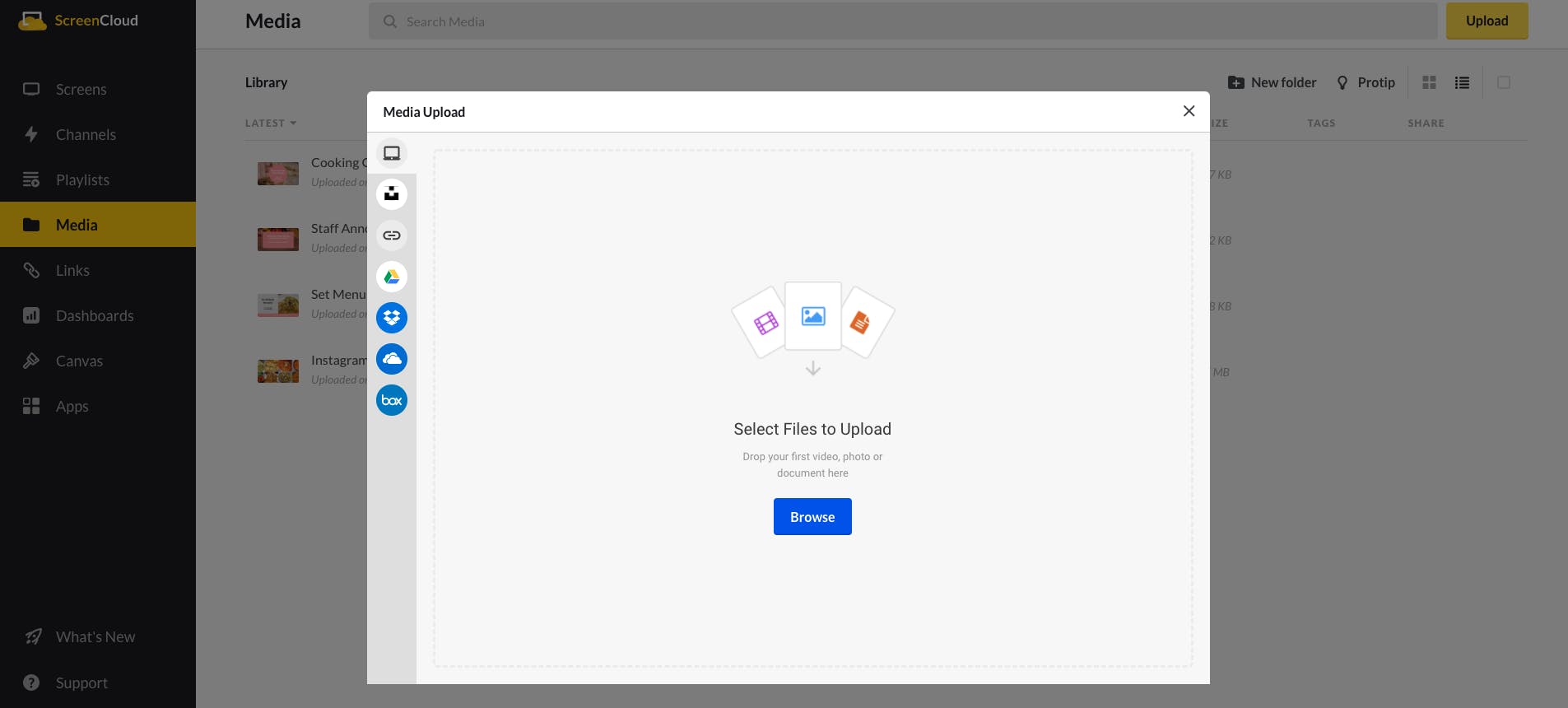 Once your screens are paired you can add your digital menus. If you have designed a menu elsewhere, click on Media and then Upload. 
Now you can upload your files from wherever they're saved - your computer, Dropbox, Google Drive, OneDrive and so on. ScreenCloud supports the majority of file types including jpeg, gif, png, and svg, PDFs and Office/iWorks formats to make uploading your content easier.
Anytime you need to make a change, or you update your restaurant menu, simply re-upload an image or make your changes within Canvas or your Menu Board app. This will change the content on your screens in real-time.
If you have multiple screens across multiple locations, as long as they're connected to the same ScreenCloud account you only need to follow the steps above once; any changes made will be reflected on all selected screens. This makes it easy to manage all of your restaurant TV screens from one system.
3. Schedule menu boards for your restaurant
Once you have created your restaurant menus they'll be present in your Media Library within ScreenCloud.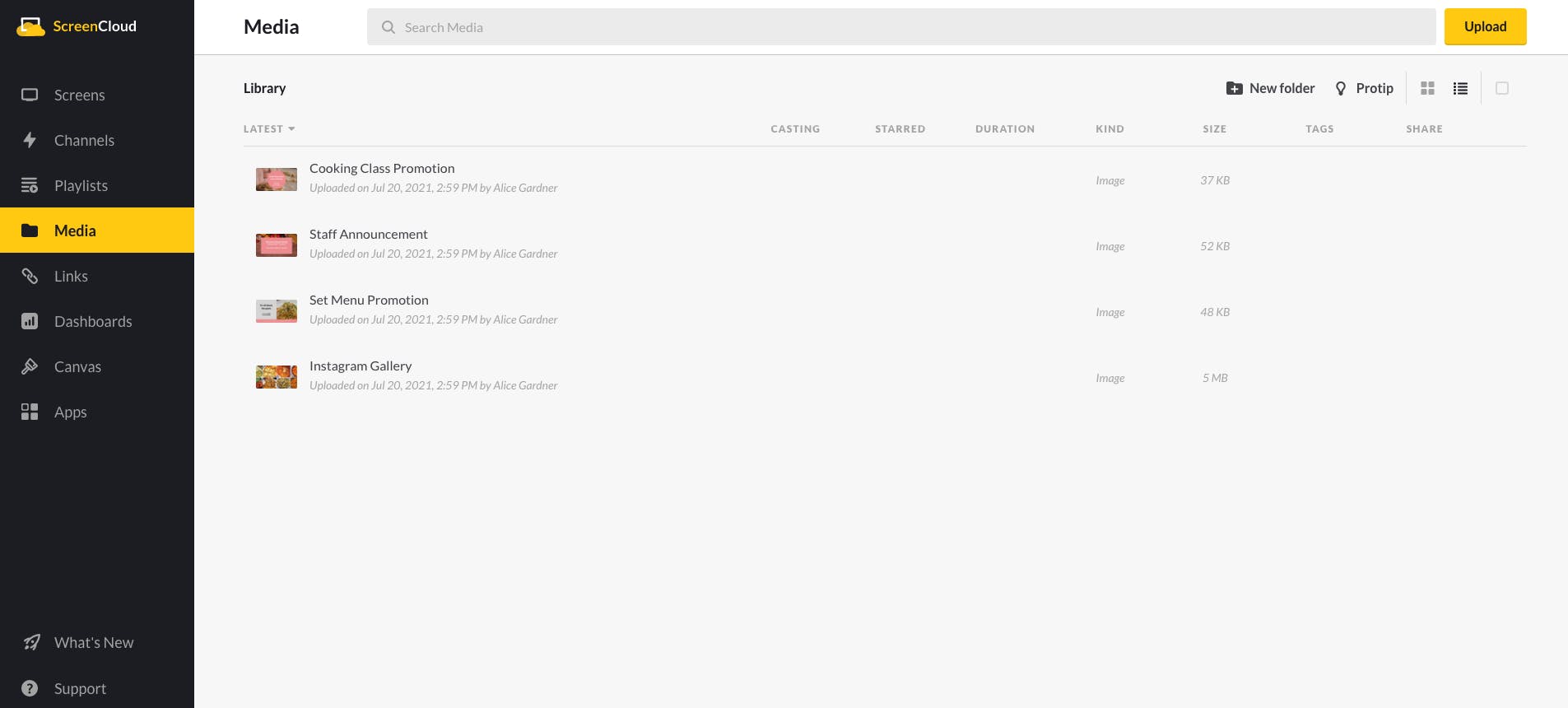 As an example, you could create different menus to cover breakfast to dinner, including happy hours and meal deals. Add these menus to a Playlist and set them to your screen.
As you don't want your breakfast menu to show during dinner service, or your cocktails at breakfast, you can schedule what content shows when.
Click into the menu you wish to schedule, then Availability. By clicking on Enable availability you can then set the date and time you wish that content to show on your screen. This is great for scheduling on-going yet time-sensitive promotions without having to manually remember to take it up and down. 
Our restaurant customer Mamuśka! is an example of this done really well. They have designed each menu to attract a specific audience at a specific time of day.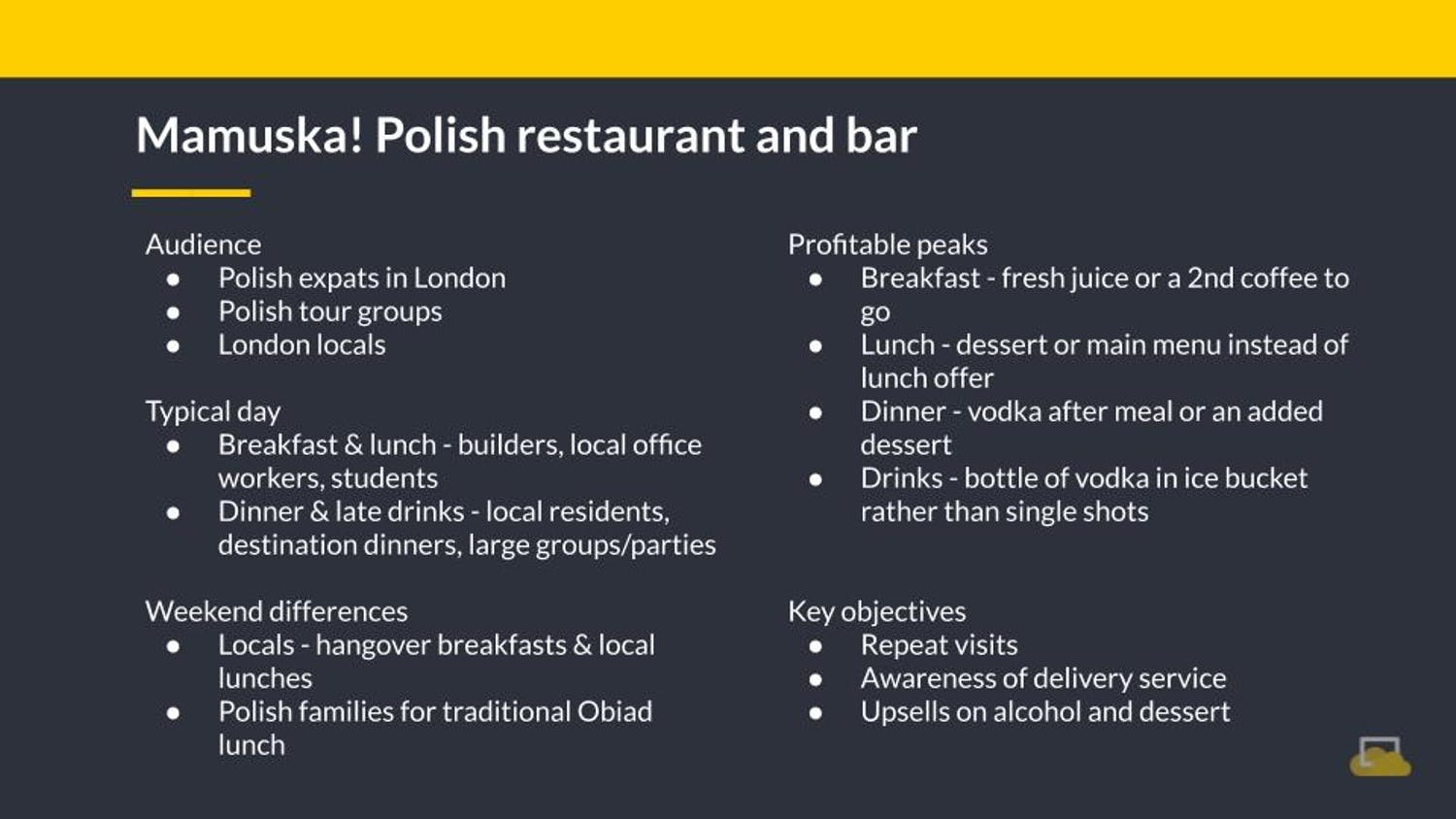 Mamuśka! split their target audience into three groups and two different time slots. Breakfast diners (builders, local office workers) are shown different content to evening diners (local residents, destination diners). Those eating during the week are shown different advertisements to those eating at the weekend (sports, special drinks offers).
When you know your audience, it's easy to tailor your restaurant digital menus to fit.
You can also schedule ambient content to play in between menus, such as your Instagram feed, a photo gallery or other marketing content. 
Putting your digital menus onto your restaurant TV screen: simple!
If you'd like to see how easy it is to create a digital signage menu board in your restaurant, start with a 14-day free trial of ScreenCloud at: screencloud.com/getstarted.
Ready to get your organization connected?
Connect your first screen today with our 14-day free trial
ideas