If you went into a hotel five or six years ago, the digital screen strategy would have been pretty high-end. TVs in rooms, monitors at check-ins sharing the news and an advertising billboard or two. They were way ahead of the curve.
Then the rest of the world caught up.
Now, many hoteliers are fighting to bring back a level of innovation. One of the ways they're doing this is through digital signage. But again, to really move forward into a new connected hotel space, this means more than just putting a few screens up on the wall.  
In this post we look at 9 ways you can implement digital signage right now, to make your hotel more interesting, innovative and responsive to customer needs.
1. Automated check in
Check in is a pain point in the hotel visitor journey, there's no doubt about it. If you can make your digital screens both entertaining and useful, surely this reduces any negativity associated with that crucial first impression?
Think of it this way: a visitor enters your hotel. Their eye is naturally drawn to the digital screen on the wall. Of course they know they can use the regular check in desk if they want to, but they can use the screen to check in too. If the queue's too long or they're in a hurry, check in could be completed in seconds. Leaving them the time to explore, dump their bags and work out the next plan of action.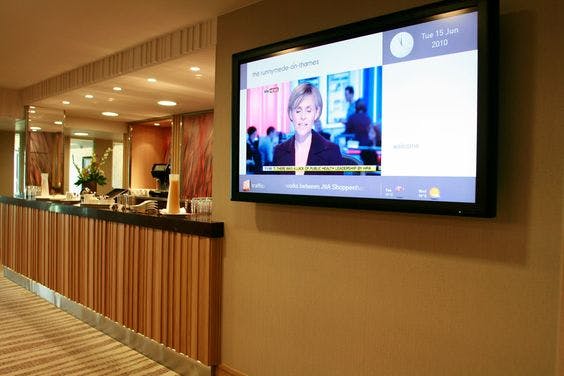 The beauty of digital signage is that when no one wants to use the screen (check in usually occurs within a short time period for most guests), it reverts to whichever playlists and schedules you've set up.
One screen: multiple great first impressions.
2. Real time welcome information
A great guest experience requires engagement but taking each customer through the list of selling points could take a while. In peak periods, digital signage becomes another arm of staff members ready to fill guests in on everything they need to know.
Real time welcome information displayed on screen, could include check in waiting times, restaurant opening hours, local travel updates and even upgrades or offers available. While guests are waiting to check in, or for a taxi, they get prime viewing seats on everything your hotel has to offer.
This information can be updated as often as needed, too. With a signage system like ScreenCloud, you could set up a Google Slides presentation of key information. If something changes, there's a delay or you're fully booked, it would take two seconds for someone to open the presentation, update the information and get it showing on screen.
3. In-room services
What do you expect when you turn on the TV in a hotel room? At best, you might see a "Happy Anniversary Mr & Mr Smith" message, at worst a simple "Welcome to the hotel" homescreen.
Hotels still using these bland, irrelevant displays are missing a trick. With the rise of cloud-based digital signage solutions every screen in the hotel can be controlled from one central system.
This makes grouping screens and applying changes to them all simultaneously, super easy. On the flip side, personalization is far more achievable. For example, wouldn't it be more engaging if, on entering your room, you saw a personalized welcome message, plus the hotel's Instagram feed, plus the latest headlines, plus a live dashboard of travel information?
All possible, all easy to set up.
This information is genuinely useful. It could also be tailored depending on the guest's purpose. Staying for business? Show travel information, the hotel's conference and business facilities and the latest world headlines. Arriving for pleasure? Why not list the nearest restaurants, the hotel bar opening times and a list of Yelp reviews from recent hotel guests.
In-room services should be tailored and above all, interesting, if you don't want guests to turn the TV straight off.
4. Personalized concierge service
The idea of the concierge service in hotels is that you have any information you may need at your fingertips. But the concierge is only human (at the moment any way). As much as they swot up, you could still ask something that throws them. When you introduce a digital screen, both the concierge and the guest, have the information they need at their fingertips.

It also means that the right person is on hand at all times to answer questions. The hotelier doesn't have to worry about break times, or having a concierge with specific expertise because the digital screen has it all.
5. Wall art
The Cosmopolitan of Las Vegas recently installed eight floor-to ceiling videowalls that played a stream of mirrored videos, giving the illusion of a much bigger space. This content is also paired with photography and film from local artists, that tell stories and most importantly, get all eyes on the screen.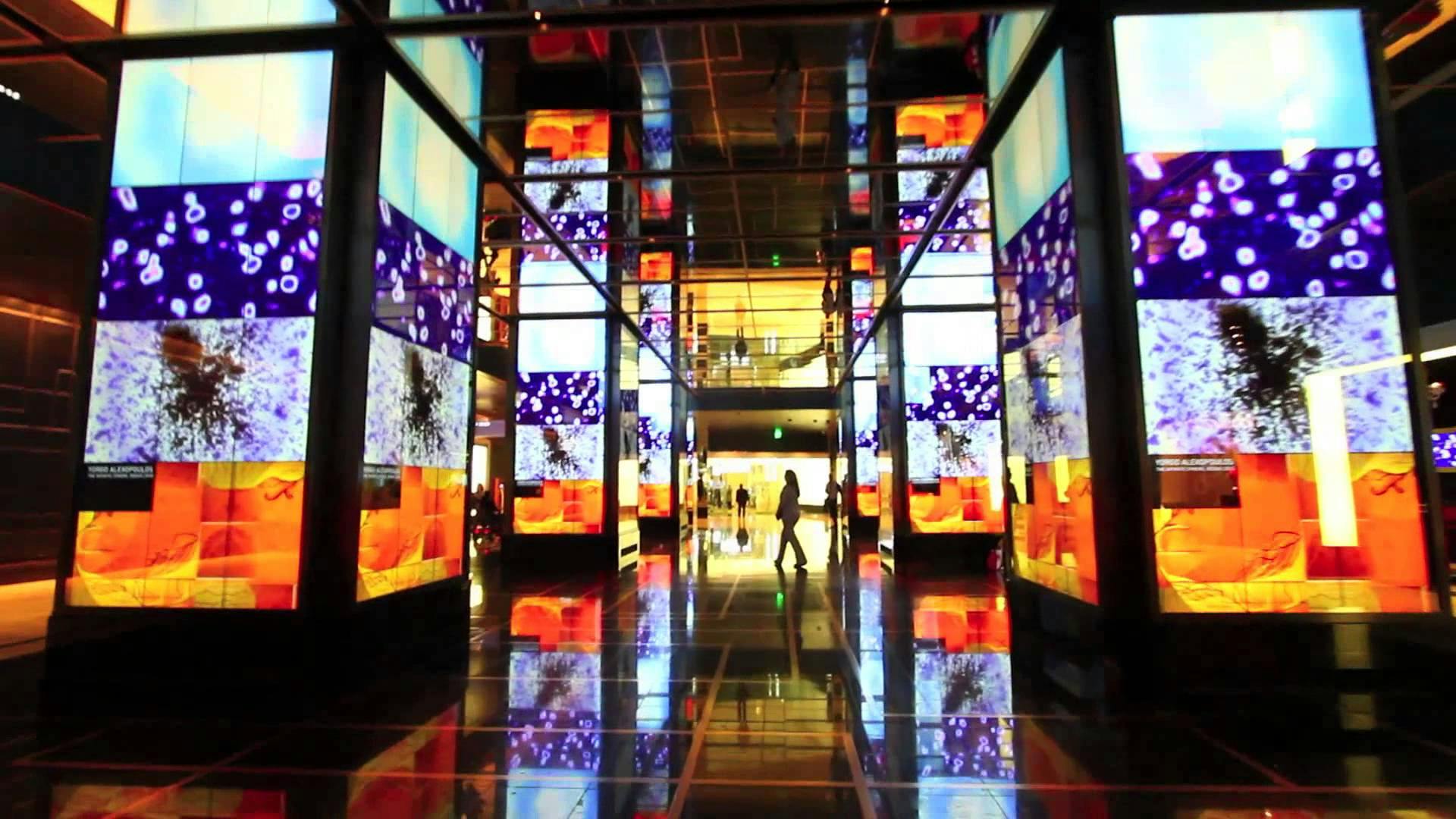 While digital screens are great at providing information, we shouldn't ignore their role as flexible art displays.
In healthcare, digital wall art is being used to inspire better health and reduce nerves. Within a bar area, restaurant or ambient space, screens are a great way to create a specific look and feel that will set the scene for guests. Their flexible nature means you can create seasonal displays, turn your walls into a specific setting depending on who is in the hotel at that time or change the look and feel of your space as often as you like.
6. Travel information
When we're travelling time is often of the essence. This means travel delays can be a real pain and can scupper even the most well-organized of plans. Digital signage sharing real time travel updates can make a huge difference to the guest experience. If on check in, inside the hotel room or as leaving, guests can view live travel updates from nearby buses, trains, subways, trams and more, they can organize their plans much more effectively.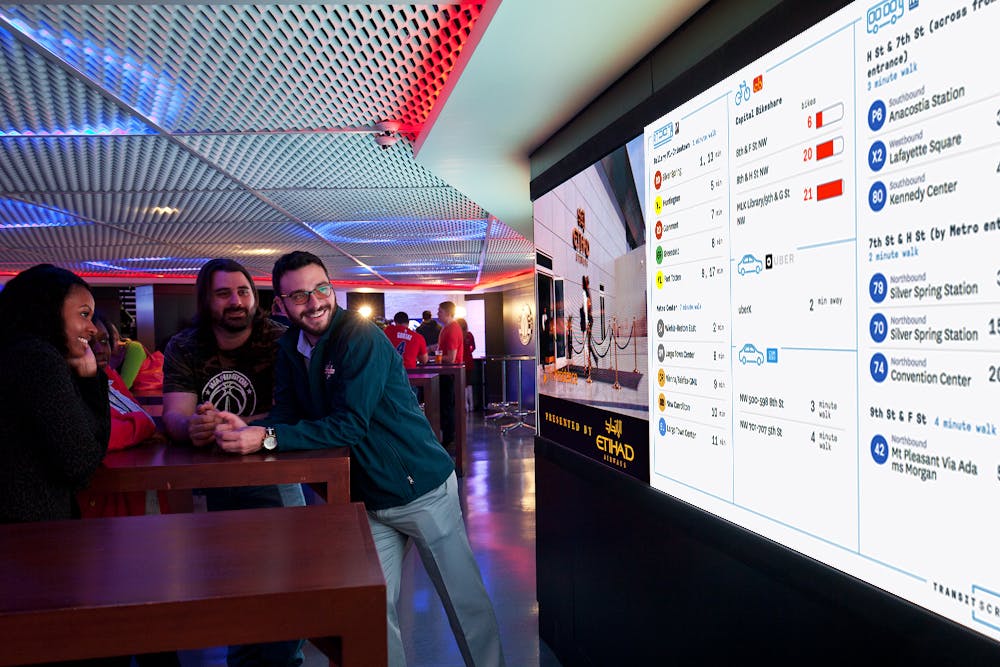 Apps like TransitScreen even show transport options such as Uber and bikeshares, so the guest can adapt their stay with the transport that suits them best.
If you can give your guests the right travel information, as it happens, for free, what is there to lose?
7. Emergency notices
Digital signage is a great emergency response tool. When there are incidents guests need to know about, sending notices out across all screens within a network is like flicking a switch. This is a faster and more efficient public way to get everyone within the hotel to recognize a potential danger or hazzard.
Written messages can be combined with audio, to reach even those with limited sight or hearing ability. Notices can be prepared in advance (for example, in anticipation of adverse weather) or can be written, uploaded and sent on the spot. For years we've seen hospitality become victim to paper signs and messy communication tactics in times of fear. Digital signage is a network with many other uses, but one that in an emergency, can become your most vital communication tool.
8. Advertising
We're never more engaged than when the information we're viewing is useful, right? Paring super useful content alongside advertising will mean that viewers don't feel like they're being bombarded. At the same time, advertisers receive high returns on view rates.
Split screens or playlist scheduling are two ways to do this. In the former, you can use zoned screen displays to pair advertising content alongside ambient information. The latter, allows you to schedule truly useful and engaging content mixed up with advertising displays from sponsors.
Hoteliers also have the advantage of being able to make advertising content more useful. Local restaurants, bars and attractions can place ads on digital screens to share offers, information and directions to local haunts that actually, hotel guests might be quite interested to see.
9. Entertainment
Digital technology must keep evolving if it is to be useful. News and information on digital screens was only going to cut it for so long. Now, guests turn to screens as a source of personalized, relevant entertainment. With the right broadcast license, this could mean playing a film from Netflix in the waiting area of a hotel.
It could mean adding a YouTube playlist of videos, guides or travel blog reviews. When you want hotel guests to linger longer in a hotel bar, lobby or restaurant, or when you want to ease their perceived wait time, entertaining digital signage content is the way to go.
Take a look at our App Store for ideas; there's plenty to keep guests occupied.
Set up your digital signage strategy today using our guide for hoteliers, or get started in seconds at signage.screen.cloud/.