In ScreenCloud we've spoken to a lot of different companies, making great apps for great screen displays. As you'll see in our App Store - we have a whole host of them. Then sometimes we come across one that we think is the missing piece, the type of app that is universally useful and an all-round great piece of content to display.
TransitScreen is one of those apps. 
TransitScreen displays real-time departure times for all of the transit options near your location — bus, rail, subway, bikeshare, carshare, rideshare, etc. This is not your standard travel app, no siree. It has all of the standard options, your subway times and your bus timetables but it also adds in the latest travel options for your area.
Trying to get fitter? See where the nearest bikeshare is to your office. Don't fancy your walk home? Grab an Uber. These choices make a big difference to your customers and employees who perhaps don't want to be tied to driving or riding the subway. It gives them options that would likely suit any scenario or lifestyle. It also means they don't have to download multiple apps, or even have an internet connection on their phone to get the latest information. 
With TransitScreen, you choose your areas and the design of your dashboard, then create a beautiful big-scale display that combines all of the travel means your customers or employees might be interested in. 
Here are some of the other benefits we've discovered from having digital travel boards up in any office or store scenario.
1. Help employees get around more efficiently
Transport and how we get around is a big consideration but one we rarely collaborate on. How often have you had employees turn up late because of travel issues? Flip this over and how often have you felt frustrated because you've missed the bus, train or subway and have been late to a dinner date or work as a result?
It happens all the time, adding more stress to our day than we realize. The average American spends 25.4 minutes commuting and in Metropolitan areas, travel time can be as long as 90 minutes. When you consider that researchers have found a significant link between travel and exhaustion, and that commuting for anything over 20 minutes makes you more stressed, you begin to see the problem.
So what can we do to help our employees feel less stressed and reduce their commute time? Sure we can introduce flexible working measures, remote working and so on. But for the days where they really need to be in the office, a digital signage board showing the latest travel information could help.
First off, it shows delays and timetable changes, saving any missed-bus stress. Secondly, it shows a myriad of options, from car sharing, to bike sharing, buses, trams and subways. This could open the door to transport methods your employees didn't even know existed! The world of transport is changing, cities and ecosystems are getting smarter (just look at Uber) so why shouldn't you be the first to highlight it?
2. Provide genuinely useful travel information
How often are the digital screens around us truly useful? Advertising content or sales figures all play a purpose, but travel information is genuinely useful and relevant to pretty much all of your staff members or customers. 
Employees use your digital screens to figure out the best way to spend their time and travel becomes secondary - a way to start and end the day successfully, not hinder it.
In a store, hotel or restaurant the same is true. Your patrons don't have to stand tapping their foot impatiently as they wait for a coffee because they know they've gained 10 minutes from a late-running bus. Similarly, you can help any customer to get home safely, through a wide means of available transport methods. 
When your screens are useful more patrons and staff members are encouraged to look at them which leads us on to….
3. Create additional revenue streams
The power of digital signage today is that you can easily compile different forms of content into one playlist or schedule, on a single screen. For a low investment you get to share social media, news, meeting booking information, targets, sales figures and of course, digital travel information.
When you think about the content your audience wants to see you tap into something that most marketing mediums are missing today, the ability to be useful. If your customer knows that your digital screens are where they can get up-to-the-minute travel information to help organize their day, they're guaranteed to want to view them. Unlike the advertising screens on the subway or in other stores, they know that it's worth their time. They'll also linger longer, taking the time to sip a coffee in front of the screen while they wait for an update on their train timetable.
This gives you a powerful branding opportunity and the chance to generate revenue.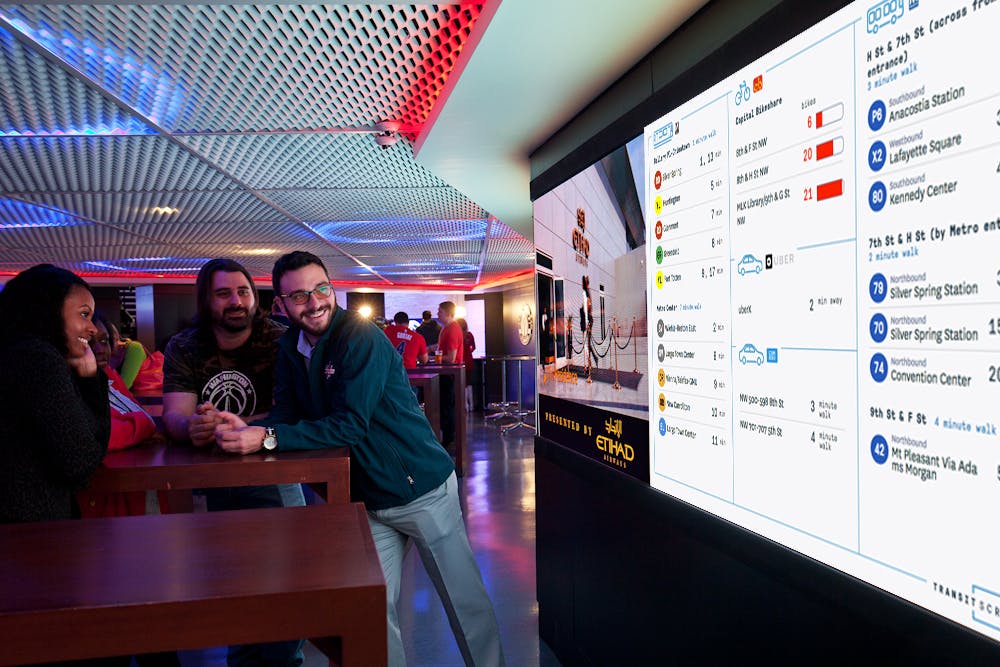 4. Improve the social responsibility of your business 
One of the reasons we were so excited about partnering with TransitScreen is their mission to help communities make informed, sustainable decisions that improve quality of life within cities.
When you think about it, we're making similar decisions in every other area of our life, whether work or personal. We recycle, we reduce food waste, we're given the opportunity to sign a petition online, or donate through our Facebook page.
How we travel should be a similarly socially-conscious decision. Businesses that support this will be a far more reputable choice than those who don't. Coffee shops that help you cabshare will be a firm choice over those who won't. Studies show that 81% of consumers will make personal sacrifices to address social and environmental issues. Why not capitalize on this by helping your consumers have the option of a better way? Using digital screens to show transportation choices at a glance, could help them do just that. 
Business meetings also become more efficient when you know the quickest or most effective route and no one wastes time or money paying for expensive travel means when there are better ones available.
5. Create a new travel culture for your company
Digital signage screens already make a great first impression and talking point for staff, customers and anyone passing by. This naturally makes them an advocate for your company culture, representing a firm statement about who you are and your key brand messaging. 
If I walked into an office today and saw a live departures board of the travel options available to staff members, I'd be seriously impressed. Wouldn't you? It would make me consider who this company is and what else they might do to make the lives of their employees (and their cities) better.
In a coffee shop or restaurant, I would unconsciously understand that this is a place that cares about how I get home, or that wants to provide me with genuinely useful information, alongside the free Wi-Fi and comfy seats already offered along with my cappuccino. 
Employing Digital Travel Boards in your Business 
Our goal is to enable you to make better digital signage decisions for your business and offer you content choices that do more than just look good. TransitScreen's digital travel information that updates in real time and shows a wealth of choices, does just that.
If you're interested in adding TransitScreen to your digital signage displays head here to install it with your ScreenCloud account.