Remember when it wasn't possible to book a vacation without going to your nearest travel store? With online booking, the way we access travel has changed. Yet, there's still a place for travel agents. They have more knowledge, they can answer human concerns that Google perhaps can't, and for those who aren't internet-savvy, they make it much easier to manage a new trip.
One pressure that travel agencies do face, is how to stay relevant as a physical business in a digital world. One of the ways many travel agents are doing this, is through digital signage.
Digital signage in your travel agency
Digital signage, the art of using screens to share content in your travel agency closes the gap between online communications and in store ones. It also has a huge amount of benefits.
1. Ease of changing information
Paper printouts, brochures and signs are all costly to create. By the time you've had them designed, proofed and sent to print, it's likely the information is already outdated. With digital signs, you can add, change or remove information whenever you like. So if a hurricane hits a popular coast, you can add a safety notice, or pull it from your advertising. Similarly, if there's a new destination you really want to push, it's as simple as uploading an image or creating a notice and you're ready to sell, sell, sell.
2. Different content for different locations
If you're a travel agency with multiple locations, the type of vacations visitors access in those locations may vary. Digital signage gives you a unique ability; one way to manage all of your digital sign communications but the ability to set up different content in different areas. What you show on a screen in LA, could be completely different to what you show over in New York and you know what? That's totally doable.
3. Repurposing content you already own
We get it, digital signage seems like another marketing tool you have to think about, right? Well here's the thing, digital signage content can repurpose a lot of the content you're already creating. Have a great website? Get it up on screen. Using social media? Share those updates with your real-life audience. Customer quotes and testimonials can be added to your screen by simply dropping them into a Google Sheet.
Types of digital signage content to share in your travel agency
If you're thinking, hey that sounds great, but you're still wondering exactly what you can show on screen, here are a few ideas that other travel agents are using in their store windows.
1. Share information
One of the easiest ways to start your content flow (even when you don't have any) is to share general information that's going to make people stop and linger near your screens.
This could be: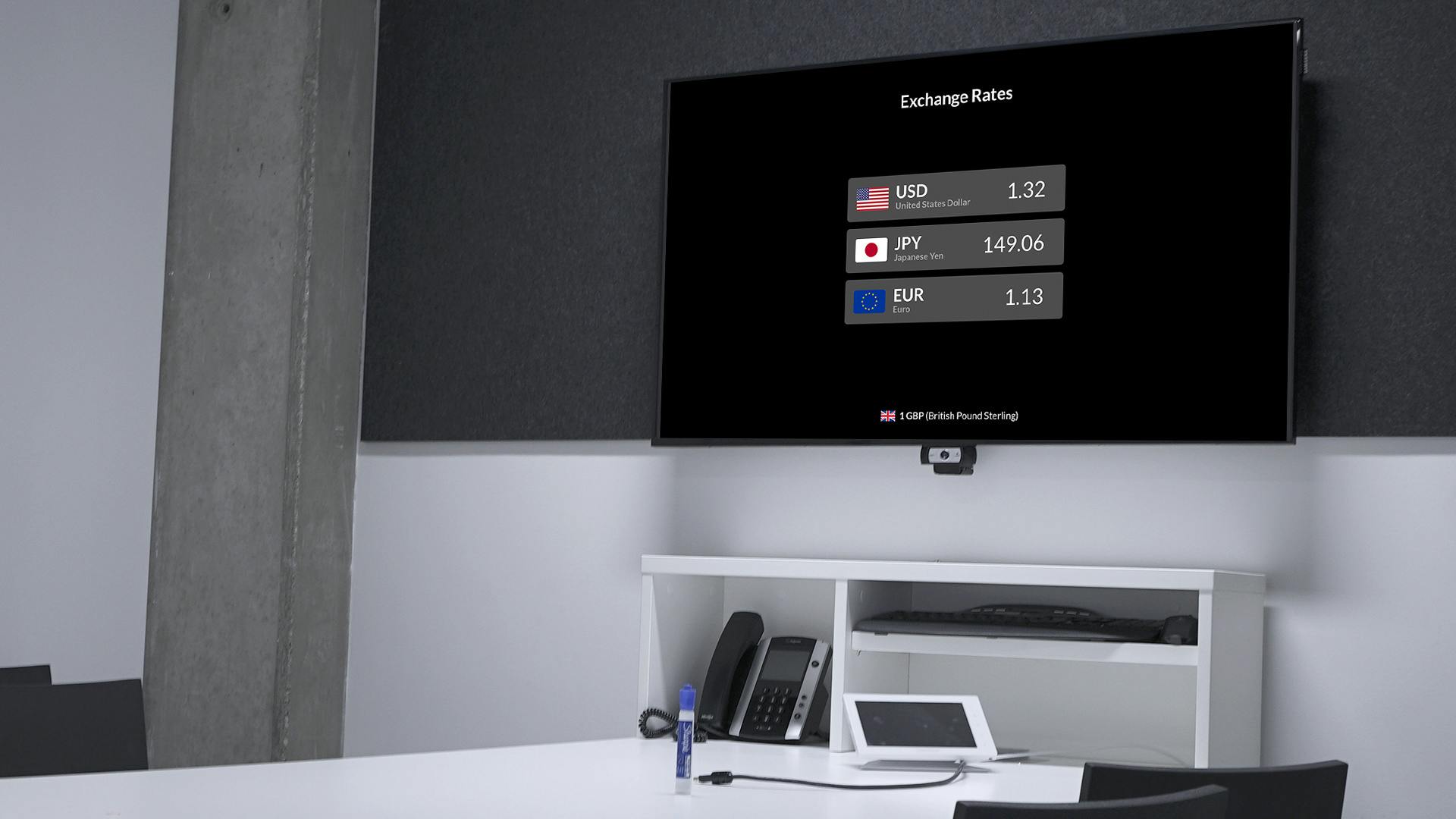 2. Visuals
Large, high-resolution images and videos attract attention. According to studies, digital media in public venues reaches more customers than videos on the Internet or Facebook. More importantly, 8/10 customers have entered a store because of a digital sign catching their interest.
This is a powerful reason to set up your best photos and videos to capture the attention of all passing by. Apps that help make this simple include Dropbox Gallery, for adding any images you have saved to your digital signage screens and video apps such as Vimeo and YouTube, for sharing video playlists.
3. Reviews and feedback
Online, it's likely most customers are going to check out TripAdvisor reviews, so why not let them do the same in store? Using the TripAdvisor app you can select a hotel or location and choose a star-rating of reviews to show.
If you have specific customer testimonials, or feedback from vacations, you can also easily set these up to display using Quote app.
How to set up a digital signage display for your travel agency
Now you know which content to use, it's time to set things up. Here, we take you on quick spin of the three areas required to set up your easy-to-use digital signage solution.
1. Which screen?
When it comes to choosing a screen, we want you to be able to get going on hardware you already have. If you happen to have an Android TV (or are looking to invest in one) you can download the ScreenCloud app straightaway from the Android App Store.
If you have a regular TV you can simply order an Amazon Fire TV Stick 4K or a Chromecast with Google TV which will connect it up, so that you can download the correct app for your screen. If you would like a device that is more digital signage ready and has as minimized security risks, quicker deployment and overall faster performance, we suggest taking a look at our Station P1 Pro device.
ScreenCloud OS is a custom Linux-based platform designed to provide the best digital signage experience with ScreenCloud. Unlike other operating systems, when you turn on a device powered by ScreenCloud OS, it boots up and just runs ScreenCloud's software. Similar devices like Intel NUCs or the Asus Chromebox 4 should do just fine as well.
If you need any help deciding, our Hardware Selector tool is perfect for the job.
2. Digital signage software
Once you have your hardware setup, downloading your software is easy. Head to one of the App Stores below and search "ScreenCloud".
Once the app is downloaded you'll need to enter a pairing code. Visit signage.screen.cloud from your laptop or desktop and set up an account, with a 14-day free trial.
Then select "Add Screen" to enter your pairing code and link your account with your screen. That's it folks, now you can manage content and send it to your screen ready to play.
3. Apps and choosing content
ScreenCloud has two primary options for setting up content. First up, you can use content you already have and love. This could be videos, images or anything you've created.
ScreenCloud supports file types such as jpeg, gif and pngs as well as Office and iWorks formats so you won't need to do anything other than click 'upload'.
Secondly, you can use one of the many apps we have available in the  ScreenCloud App Store. As mentioned above, there's a huge variety to choose from that will help you achieve your content goals, fast.
Get started
Many travel agents didn't see the online craze, that would change the way they did business forever, coming. With the right mix of online communications and in-store ones, using tools such as digital signage, you can be sure you never get left behind again.
We're ready and waiting to help make it happen. Grab your free trial of digital signage software ScreenCloud at signage.screen.cloud.