With transport apps on our phones and real time maps and congestion information available at the click of a button, becoming a passenger has never been easier.
From commuters to tourists, passengers, and just people going about their everyday business, it makes sense to make travel information available and easy to consume.
Enter digital signage.
Digital screens, positioned in key locations, can serve customers, staff and passers-by with the travel information that makes their day that little bit easier.
Here are some of the ways real time travel information, delivered via digital screen, can help improve travel for everyone.
Engaging information
We're never more engaged than when the information we're viewing is useful, right? Whether you're in the office, waiting for coffee or visiting a store, most of the content shown is ad-heavy. This may look great from a brand perspective, but is it truly engaging the audience? Probably not.
Yet travel information is relevant to pretty much everyone. Who wouldn't want to be shown relevant, timely information on the buses, trains, trams or Ubers around them at that moment in time?
This sets a precedent: when you look at this screen, you're shown useful information. This makes viewers much more likely to return, view the screen for longer and take more note of any corresponding information lying alongside.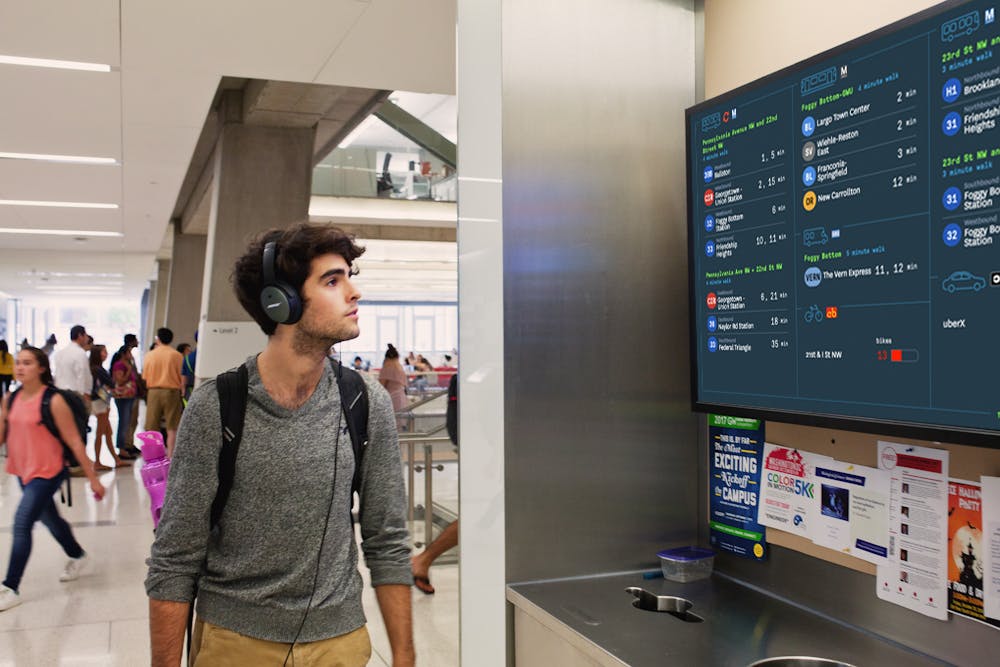 Reduce perceived wait time
There are a lot of waiting points when it comes to travel. Waiting for a transfer, delays, queues—all make for a tedious experience that won't seem to go any faster. Digital signage in stations, airports and train stations provide entertainment for passengers and travelers who are waiting. Again, digital signage providers should be thinking out of the box here. For years we've been subjected to bland ads that go to the highest bidder. Today, there's no excuse not to be providing truly engaging digital signage.
From sports live scores to news, travel updates, social media walls and more, you only have to look in our App Store to see the wealth of variety on offer.
Digital signage cuts perceived wait time by up to 35 percent, which makes a big difference during a two- or three-hour delay.
Deliver travel information: in the moment
Looking at boards at a train station would help you to know that your train is delayed. As would checking the app. But until we get in front of the travel we're taking, do we truly keep checking for updates? Most of us check once, leave and assume everything will be okay.
Here's where digital signage real time travel information makes a difference. If city center coffee shops, bars and restaurants offered real time travel information, everyone could be more aligned with their travel plans.
If offices offered employees a real time travel board or Google Traffic update of what's happening around that office, then home time and lunch breaks could be planned much more effectively. Staff could finish earlier (or work later) to optimize the best time to travel. As a result, employees would be happier, healthier and spend less time stuck in traffic. Now what's not to like about that?
Improving the travel ecosystem
As well as individual benefit (and there are lots), improving how and when we travel would make a big difference to overall pollution and congestion.
The shift of static signage that doesn't change to digital signs that can change in seconds makes a big difference to the flow around airports, train stations and terminals.
Self-check-ins reduce the need for as many staff while providing key information. Live update travel boards help offices, customers and even staff to see changes that could affect congestion.
Studies show that 81% of consumers will make personal sacrifices to address social and environmental issues. Why not capitalize on this by helping your consumers have the option of a better way? Using digital screens to show transportation choices at a glance could help them do just that.
For more ideas on how to use digital signage live travel boards, check out the options in our App Store such as TransitScreen and Google Traffic.