Publish content to your screens directly from Microsoft Teams
Learn More


How To Set Up a Digital Signage Strategy For Your Hotel
Digital signage and hotel environments are a dream match! Let us help you create your own strategy to make digital screens part of the furniture.
Digital screens are big news when it comes to the hospitality sector. From the mobile screen in your visitor's hand, through to the digital screens on the wall as they take their first whiff of that delicious hotel scent (you know the one). Technology is becoming an expectation of the customer journey which is great news! Particularly when it's easier than ever to get set up and embrace technology trends, including digital signage, within your hotel landscape. 
In this guide we'll show you how to set up a digital signage strategy for your hotel, how to produce content ideas and even the hardware you'll need, to get plugged in within minutes.
1.What hardware do you need for hotel digital signage?
It may surprise you that to set up your digital signage solution you can use any TV screen you currently have lying around. Chances are in a hotel, you already have at least one. With ScreenCloud you can use a smart Android TV with no additional hardware needed - simply download the ScreenCloud app from Google Play (more on how to do this in step two) and you're ready to go. However, if you don't have an Android TV don't worry! You can pair your regular old TV with a media player like an Amazon Fire TV Stick 4K ($40) or a Chromecast with Google TV($50) and you'll have turned your dumb screen smart!
But if you're leaning more towards a digital signage ready device, then our ScreenCloud OS device, the Station P1 Pro, is one of the best options. There are other options too if you prefer Windows or Chrome OS as your operating system, such as the Intel NUC Celeron or Asus Chromebox 4. 
If you need more help selecting the right media player for your regular TV check out our guide on the best media player options for hotels on a budget. 
2.What software do you need for hotel digital signage?
If you're ready, we're kind of about to blow your mind. You see, traditional digital signage (the type you might already be using) relies heavily on commercial-grade screens along with DVD players and USB sticks to power them. Otherwise, expensive media players and digital signage systems manned by an IT expert. These make up the 'software' part of your digital signage solution or in simpler terms, how you get your content up onto your screen. 
This is a positively ancient way to manage digital signage. Why? Because it takes up space (DVD players do not look fancy attached to hotel walls) and also time. Burning DVDs, downloading content onto USB sticks or waiting for media player updates - all lengthy processes that can be avoided.
This is where a cloud-based digital signage software system like ScreenCloud comes in. With ScreenCloud (and similar software products) you manage all of your content from your laptop. This means you can change content, delete playlists, edit schedules and update everything from wherever you are - without needing to touch the screen in question.
This makes it flexible for anyone (from anywhere) to manage your digital signage solution and also for you to keep it up-to-date and not let the content become stale. 
To set your screen up with ScreenCloud, all you need to do are a few simple steps:
First, download the ScreenCloud app
Where you download from will depend which hardware you are using but here are some of the app stores where you can find the ScreenCloud app hanging out:
Secondly, pair up your screens
Once you've downloaded your ScreenCloud app of choice, you'll see a pairing code that looks a little like the below. 
To use this, you'll need to head to our website https://screencloud.com/signage and set up an account. Once you've logged in (and hopefully taken advantage of our 14-day free trial), you'll see a screen that looks like the below allowing you to 'add screen'.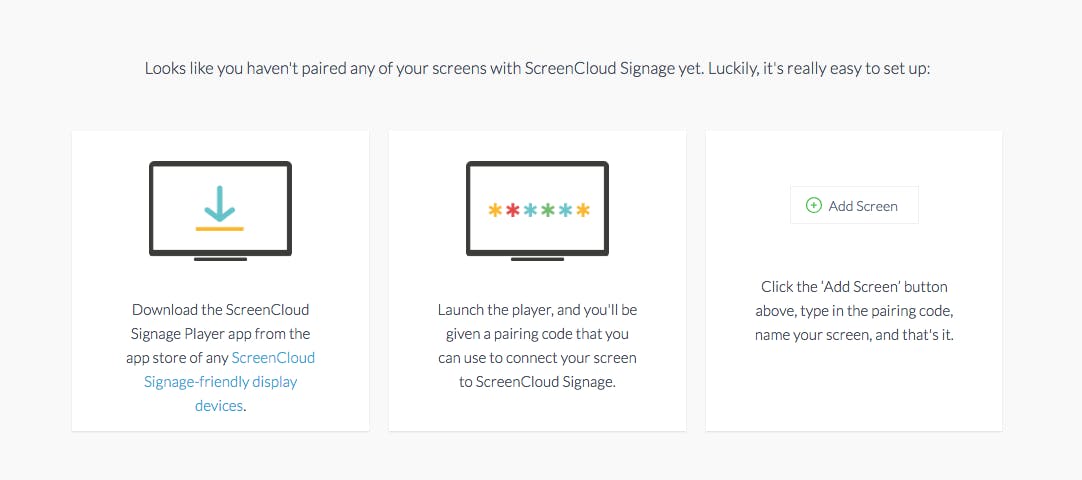 Enter the pairing code and that's it! Your screen is hooked up to your web account and you can begin controlling what's shown. 
3.How can you create and upload content to your digital signage network?
Once you've downloaded the app and paired the screen you can begin setting up content. Just log in at https://screencloud.com/signage and use the easy interface to upload images and video files, as simply as you might upload an image to Facebook. 
ScreenCloud allows you to upload files from wherever they're saved - your computer, Dropbox, Google Drive, OneDrive and so on, so it's easy to manage your brand content. ScreenCloud also supports the majority of file types including jpeg, gif, png, and svg, PDFs and Office/iWorks formats to make uploading your content easier.
Once uploaded, you can organise content into playlists and schedules, allowing you to change the content at different times throughout the day.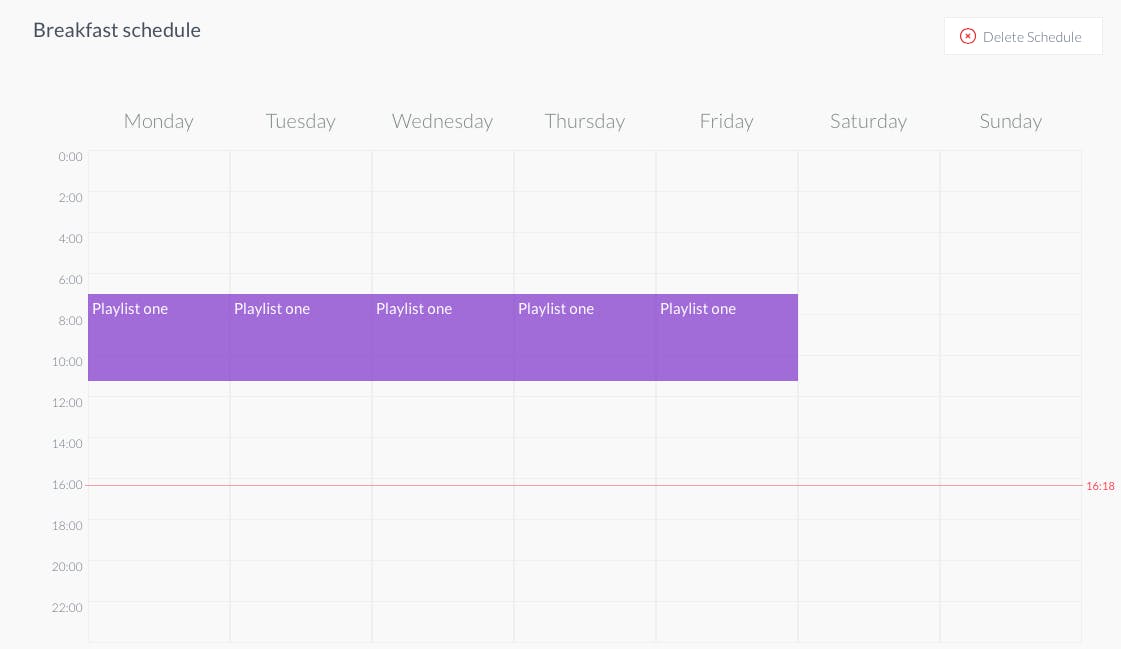 This means that on checkout you might have useful information and directions, then later in the evening you can showcase exciting events taking place at the hotel or nearby. 
4.How can you create content that matters to your audience?
ScreenCloud comes with one powerful benefit - an App Store full of free apps that allow you to create content your audience will love without you or your marketing team having to do a thing. (Except take the credit of course!)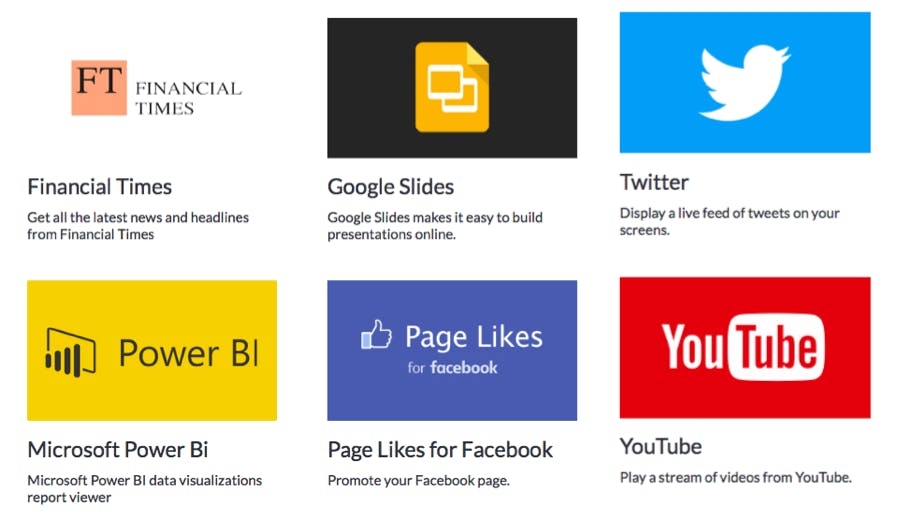 From creating visual social media dashboards where all of your best content is displayed, through to weather apps and news headlines to help your visitors see exactly what's going on during that minute in time. You can even create digital menu boards for your hotel restaurant and cocktail bar, or set up a world clock display.
The App Store is designed to help you showcase the very best content with no design required, so that you can create beautiful in-house digital signage to showcase across a whole host of digital screens.
Are you ready to begin implementing a digital signage strategy for your hotel? Head to ScreenCloud and sign up today. 
Ready to get your organization connected?
Connect your first screen today with our 14-day free trial
innovation