We spend a lot of time making sure our brand looks great to the outside world. Websites, social media, shopfronts, all are great displays that show customers, employees and potential employees what your company is all about. Which had us thinking about internal branding. When it comes to showing off who we are and what we do internally, do we make the same effort? Probably not.
So many offices have screens up already (or static signs) but they're lifeless and don't speak in the same language as the people viewing them. Unfortunately, a great front door can't hide a dilapidated front room. When it comes to connecting with every single person in the company, internal digital signage works a treat and is just as important as showing off to the outside world.
It's also ridiculously easy to implement. If you're using a digital signage system like ScreenCloud, it can be updated from anywhere using your own collateral and an App Store that's bursting with content. 
And if you need content ideas that do more than just look pretty? Well we have some of those too.
Goal one: keep staff connected to your company
Your goal is to: keep staff up to date with the latest communications
You use: noticeboards, Microsoft Power Bi, Google Slides
According to marketing studies, the channels most commonly used to connect with employees are email, a company intranet, static posters, social media and internal messaging. 78% of companies don't use 'business television' (i.e. digital signage) to connect with their staff. Yet digital media in public venues reaches more customers than videos on the Internet or Facebook. The same could prove true for internal use as well, helping your company to do something that not many other companies are doing right now. 
Enter your most trusted apps from the ScreenCloud App Store - Noticeboard, Microsoft Power Bi and Google Slides. Now of course, you can use any apps you want to keep your staff connected and you can also upload your own content. But these three are a great place to begin if you're just getting started.
Google Slides allows you to showcase anything from customer testimonials, to the latest sales figures. Microsoft Power Bi creates rich visualizations of your company data for all to see. Whereas Noticeboard allows you to create fun and bespoke notices for your team - just upload a message, choose your theme (or create your own) and you're ready to begin communicating through a more interesting format.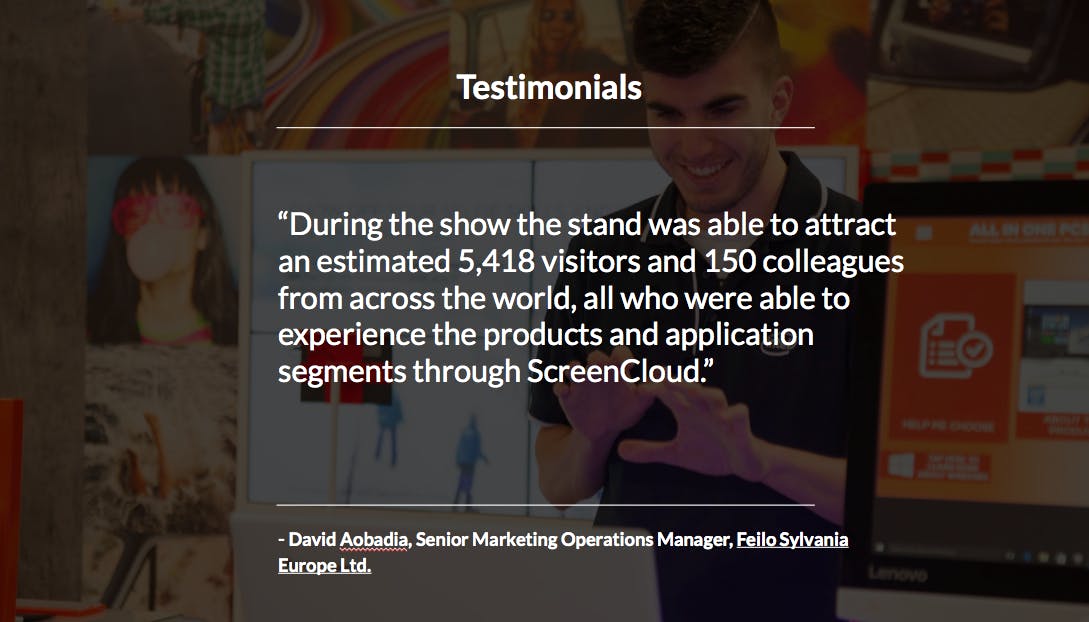 Goal two: impress potential employees
Your goal is to: impress potential new staff members visiting your company
You use: Google Slides, Tripadvisor, Foursquare
The interview process can be seriously intimidating and of course as the interviewee you always arrive a little bit early. Rather than feeling stumped about what to do with yourself while you wait (does it look blasé if I'm on my phone, too keen if I pick up this company brochure?) wouldn't it be nice to have something to look at?
Even better if it's something I can use to pick up a few new things about the company I'm potentially about to start working for. 
Providing potential employees with an insight into your company is just as important as them providing you with an insight into who they are and why you should hire them. To do this, you could use your latest company reviews from Tripadvisor, Foursquare or even a Google Slides presentation showing your latest customer testimonials.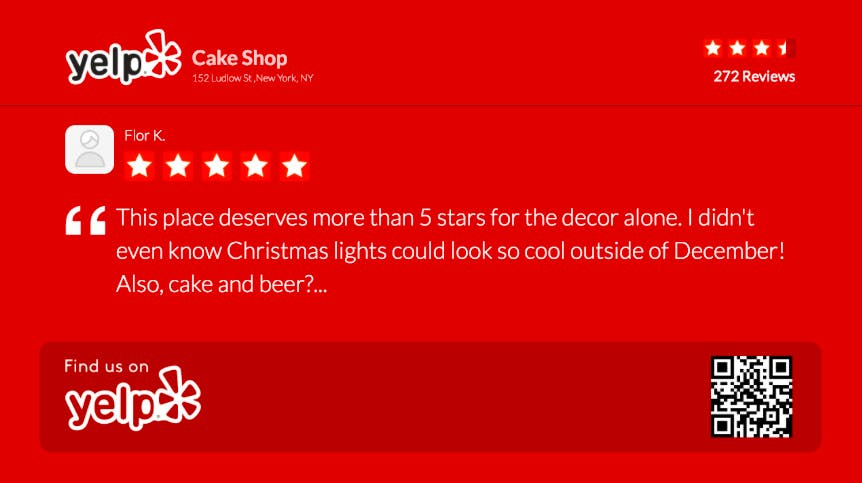 Goal three: direct and manage
Your goal is to: provide information such as wayfinding and meeting room bookings
You use: AskCody
As well as communicating more effectively, digital signage can also be used internally to help processes run more smoothly. I'm talking about everything from how your employees find out about room changes to how you organise who's using what space when. 
Of course we have an app for that too. Our awesome partner Ask Cody lets you nail down your daily meeting room activity. With its simple booking system integrated with your Microsoft Exchange, Outlook or Google Apps for Business accounts, you get a clear overview of who's using what, when. They've also created this great guide which tells you how to get setup in minutes.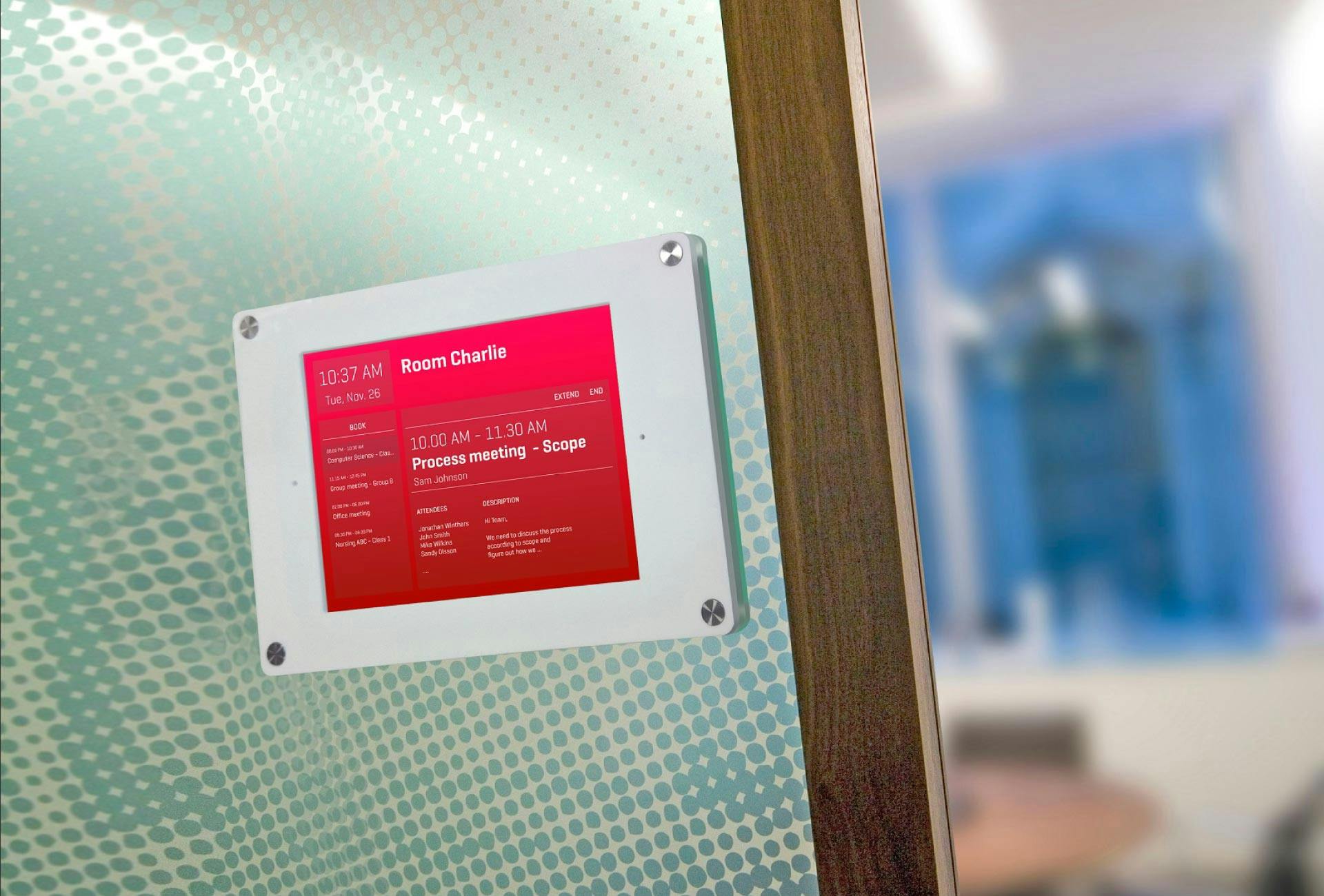 Goal four: showcase company data
Your goal is to: show off the latest statistics, figures or metrics from your organization
You use: Google Slides, Dash 
We're swimming in a sea of data right? Digital signage can help separate this and make it much more visual for your audience. Digital signage dashboards are an easy way to do this and can be pulled straight in from our App Store. Best of all, these are crazy customizable so you can showcase anything you like - whether that's company data, the current baking champion or your latest social media numbers.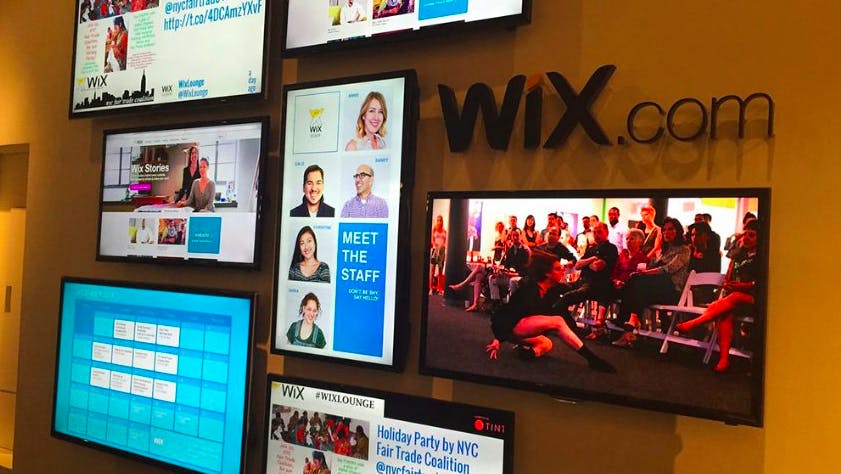 Goal five: provide menus that entice employees to eat in
Your goal is to: increase purchase rates for your office cafeteria 
You use: digital menu boards, Noticeboard, Page Scroll
If you have an office cafeteria you'll know how hard it is not to become tempted to pop down for breakfast, lunch and dinner (not to mention elevenses). Digital menu boards are one of our most requested digital signage options because they take standard menus and make them much more visually appealing. Which is very important when you're hungry and want to make a decision fast.
Using our own digital menu templates, or those provided by one of our app partners such as DS Menu you can make your office cafe come alive with powerful digital content. Upselling products, providing nutritional or allergy information and helping your staff to make better choices which they'll feel better for in the long run. 
Goal six: interest and inform
Your goal is to: provide interesting information while visitors wait
You use: world clock, CNN, stocks and currency
One of the biggest blockers of digital signage is companies not knowing what to show on screen. This is where ScreenCloud provides content for you, through a series of apps which pull in the world's most important information. News, world currency rates, stocks and weather reports are of general interest to everyone. They're also super useful to glance at as you leave the office, or even enter it, as a talking point with colleagues and prospects.
This is where digital signage zoning comes in handy too. With our zoning tool you can create a dynamic screen that creates sections for all of the content most important to your audience.

 Goal seven: manage workflows
Your goal is to: allow employees to focus on the day's tasks, from anywhere in the building
You use: Dash, Google Sheets
How many project management tools and systems have you implemented that get looked at once and then left? On our desktop PCs and laptops we have a series of systems, apps and web-apps all vying for attention. But one of the latest trends in digital signage is using the TV screens in your lobbies and receptions to showcase this information.
When you have your Trello board up in the office reception, it's easy to scan a project and see what's left to do. It means you can hold your morning scrum in reception while you grab a coffee or on your way out the door to a meeting. In a nutshell, it carries through your most important company information to the place where everyone can see it.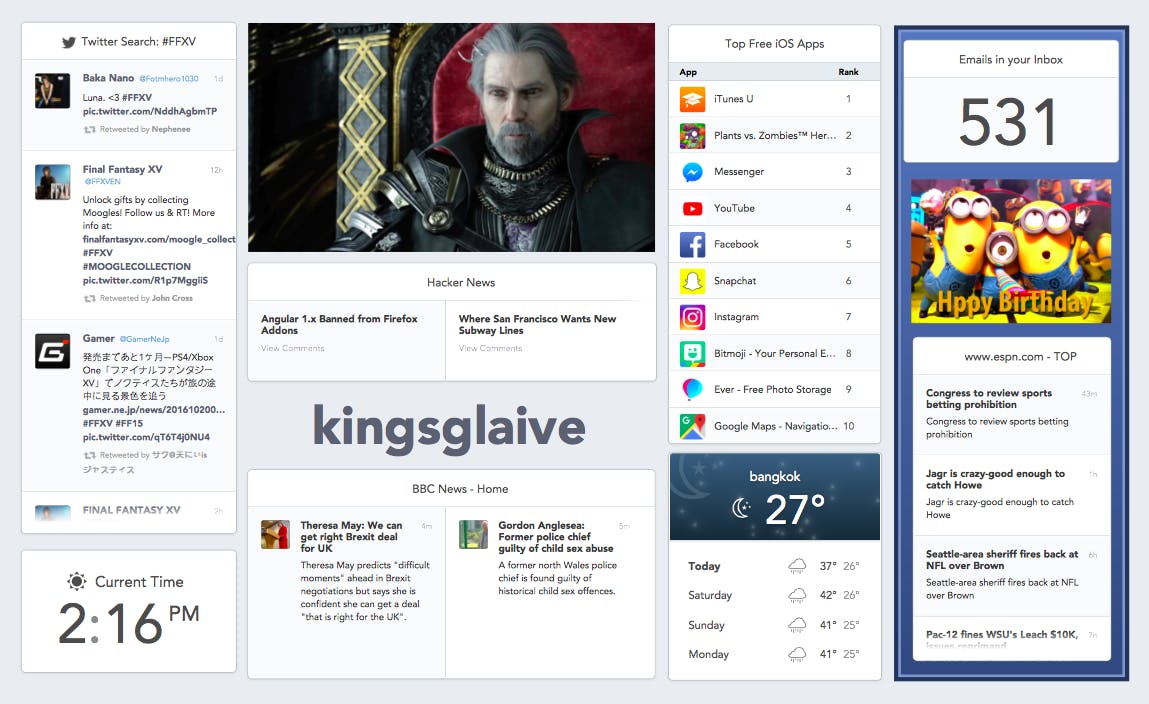 An awesome office dashboard created by our partner Dash. 
Goal eight: increase company culture
Your goal is to: enhance the vibe of your organization throughout your office
You use: dash, TINT, YouTube
There is a huge statistical case for working on your company culture. You may think it's just for startups and Silicon Valley, but with links between employee happiness and productivity as well as good communications and active employee engagement, it has a long-term effect on anyone prepared to embrace it.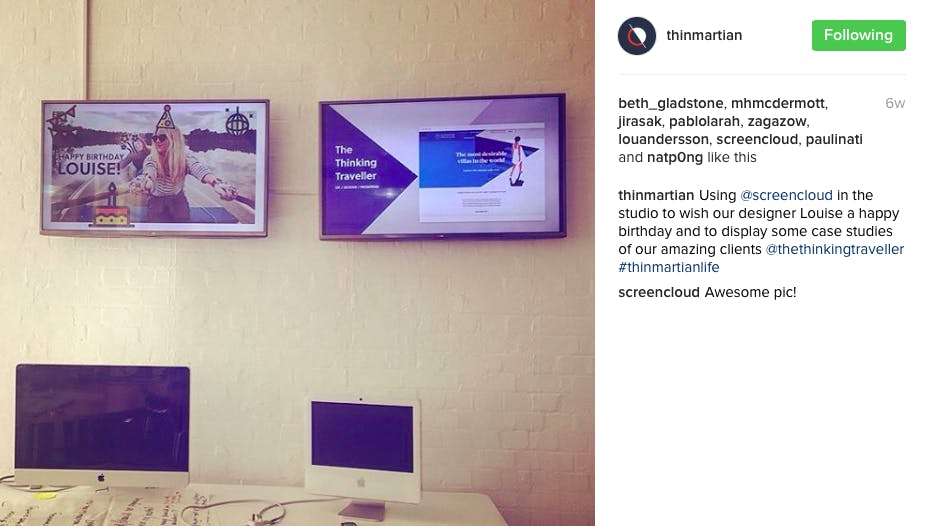 To showcase your company culture through digital signage you're rich in options. YouTube playlists which show off team days out, through to social media dashboards and internal intranets; all are possible through your latest TV screen display. Even creating a fun birthday message, or the announcement of a new office dog could do wonders for making employees feel like they belong and have a work community that cares.
Lobbies and receptions: worth investing in!
Lobbies and receptions are the first thing employees see every time they enter the office. They're the first thing a visitor, customer or potential employee sees when they walk through your door and as we know, first impressions count for everything.  
They're often a blank canvas and as we mentioned, only around 12% of companies are currently making the most of them.
To make all the difference, it's time to go digital and invest in powerful internal communications that actually achieve goals and make people happy.
To start with digital signage, sign-up for our 14-day free trial at https://screencloud.com