In recent blog posts, we've discussed the importance of brand consistency in franchise marketing as well as the incredible benefits of digital signage. By putting the right screens with the right content in the right places, you have a powerful tool to promote your franchise brand, from sharing exciting offerings to engaging and communicating with customers, and ultimately, driving sales.
Once you've grasped the impact of digital signage on your franchise business, it's time to turn that awareness into action! In this post, we'll provide a comprehensive guide on how to set up beautiful digital signs using our simple, effective, and budget-friendly tool, ScreenCloud.
How to set up digital signage within your franchise
1. Choose the best hardware for your franchise
In the old days, digital signage hardware was notoriously expensive. Early users also dealt with other headaches such as having to coordinate with multiple vendors and costly monthly maintenance fees and dedicated staff, which can quickly eat away at the return on investment.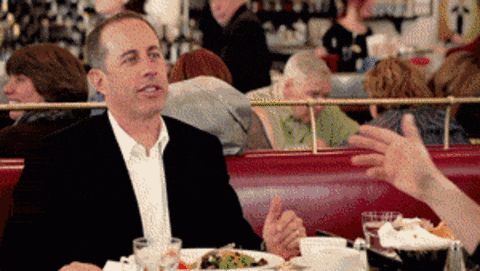 Today, digital signage is cheaper and easier to operate than ever. ScreenCloud is built to integrate with affordable commodity hardware and media devices. We empower franchisors and franchisees to adopt whichever hardware solution that best fits their specific needs and budgets.
Take a quick look around your franchise gym, restaurant, or bar: do you have TV screens that could be used better? If so, determine whether it's a smart TV, meaning it's connected to the Internet and offers a range of online features. For instance, if you have a smart Android TV, you can download the ScreenCloud app directly from Google Play—no additional hardware needed and you're all set with the first step. Simple, right?
If your TV has a standard, non-smart screen, no problem! You can pair it with a smart media device like an Amazon Fire TV Stick 4K ($50) or a Chromecast with Google TV ($50) and you'll magically turn it into a smart screen. Or if you want a more digital signage ready device that comes with business features like faster deployment and increased security, you can take a look at our ScreenCloud OS device.
If you need further help in finding the right device for your business, head over to our hardware selector tool.
2. Set up your digital signage software
Unlike traditional digital signage software, ScreenCloud doesn't rely on DVD players or USB sticks to get content on a screen because we know these methods are inefficient and hard to update. For instance, if you need to change your franchise menu daily, it's painful to create a new DVD or manually copy files to and from USB sticks every day. The easier the software is to use, the more likely franchise managers are to make the best use of it, ensuring the content is always up-to-date and relevant.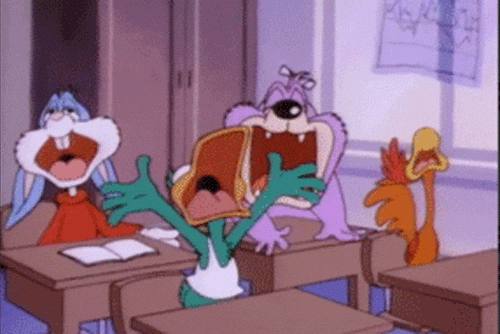 With ScreenCloud, displaying your content on a screen is a piece of cake. You can manage all of your content at your fingertips from anywhere. To get started, simply download the ScreenCloud app from one of the following stores, depending on your media device:
Once you've downloaded the ScreenCloud app, you'll see a pairing code that looks like this: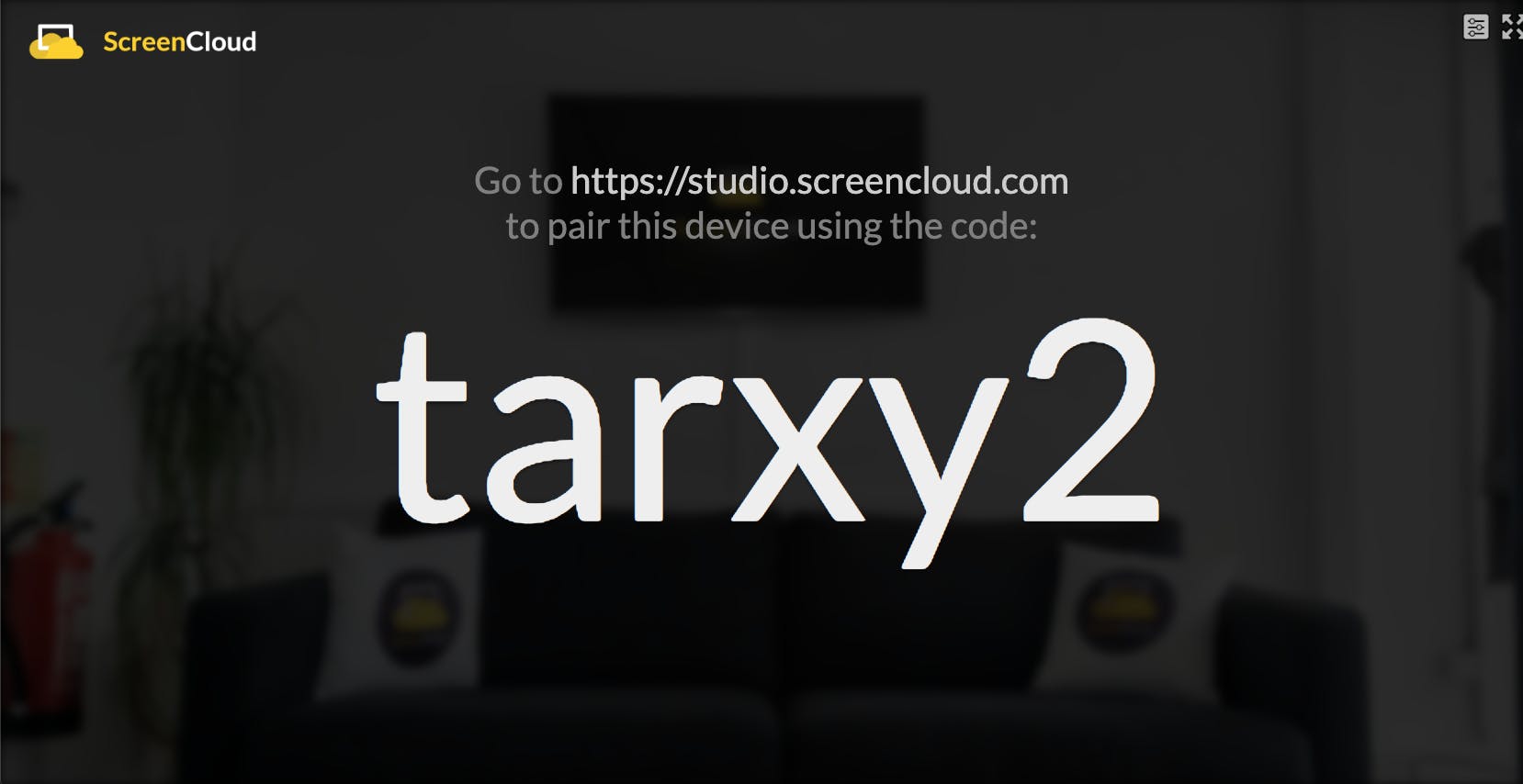 Next, go to http://studio.screencloud.com/ and create a new account(we offer a 14-day free trial). After you've logged in, navigate to the Screens section(see below), follow the instructions to enter your pairing code and voila! Your screen is now ready to show whichever franchise content you want to display from your web account.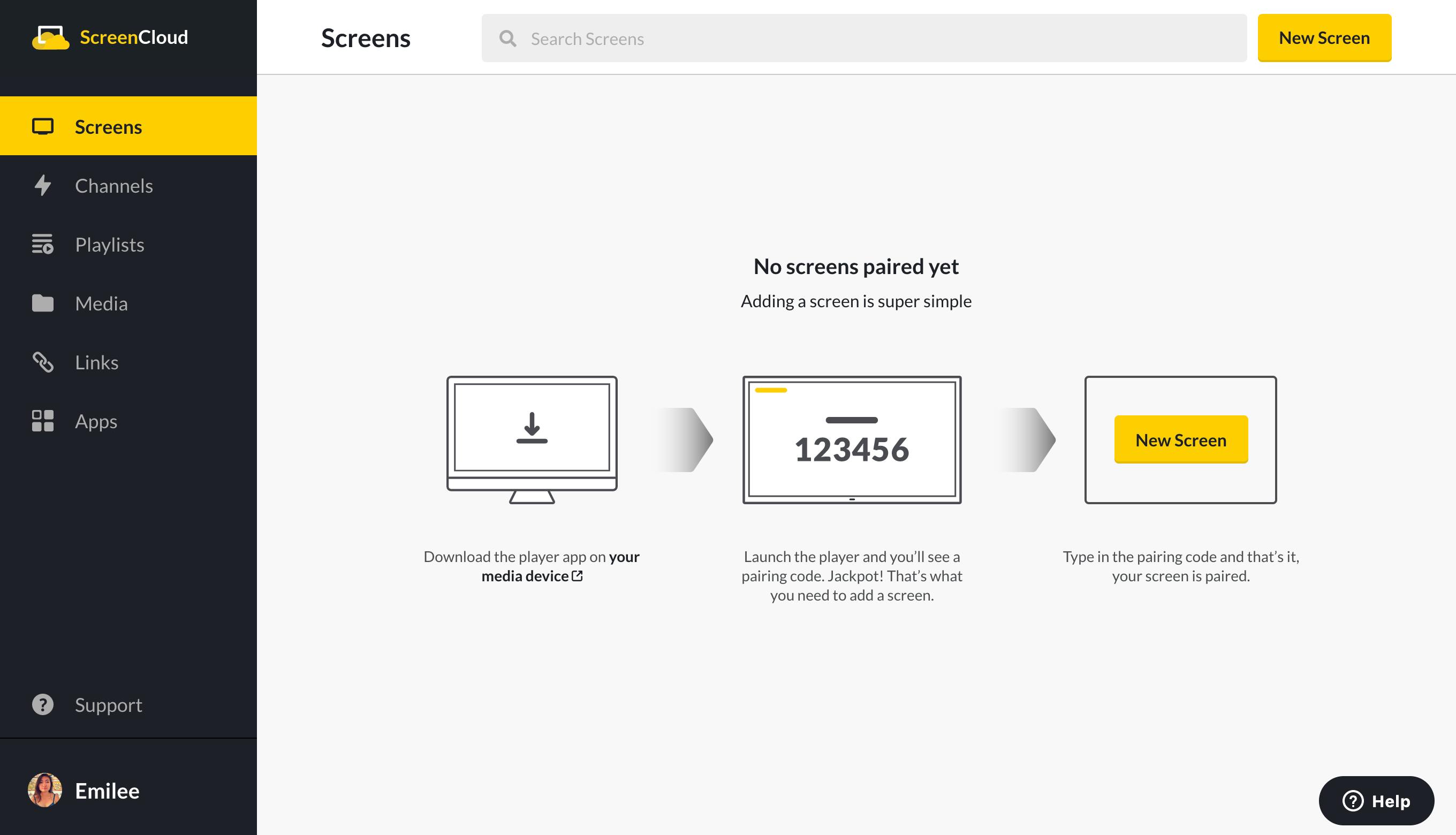 3. Set up your franchise's content management
Central management
We know large franchise organizations are often spread across multiple locations and each franchisee has their own budgets. At the same time, we understand that franchise owners want a central system to manage content assets and make sure everything published by a franchisee is on-brand. As a result, we offer a few unique features within your account settings to accommodate your franchise needs.
Spaces: Each Space is a collection of screens, channels, playlists, and media files available to a specific group of users. 
Groups: These are teams of users. You can give Groups access to any number of spaces with fine-grained roles for the space such as manager, creator, and viewer. Groups can also be given organization-level permissions such as admin or viewer.
For more granular details on these features, check out this guide.
Now, let's look at a scenario where you can apply these features for your franchise. For example, your restaurant business has locations in Boston and LA, so you could create Spaces for Boston Restaurant, LA Restaurant, and Franchise Marketing Offers. Then you can create different Groups with permissions to access one, multiple, or all spaces. The Boston Team Group would have access to Boston Restaurant and Franchise Marketing Offers Spaces, and the LA Team Group can access LA Restaurant and Franchise Marketing Offers Spaces, while the Head Office Group can access all three Spaces. This ensures that franchisees only have access to the content they need.
As a franchisor, you can also take advantage of our Multiple Billing feature under the Billing section. Since each franchisee has their own spending budgets, this feature allows you to set up multiple billing accounts associated with specific Spaces and file invoices for each franchise location separately. 
Please note: You'll need to give admin permissions to franchisees for them to access billing and enter their payment information, so it's a good idea to set up a Billing Group that includes all franchisee owners and give this group admin access.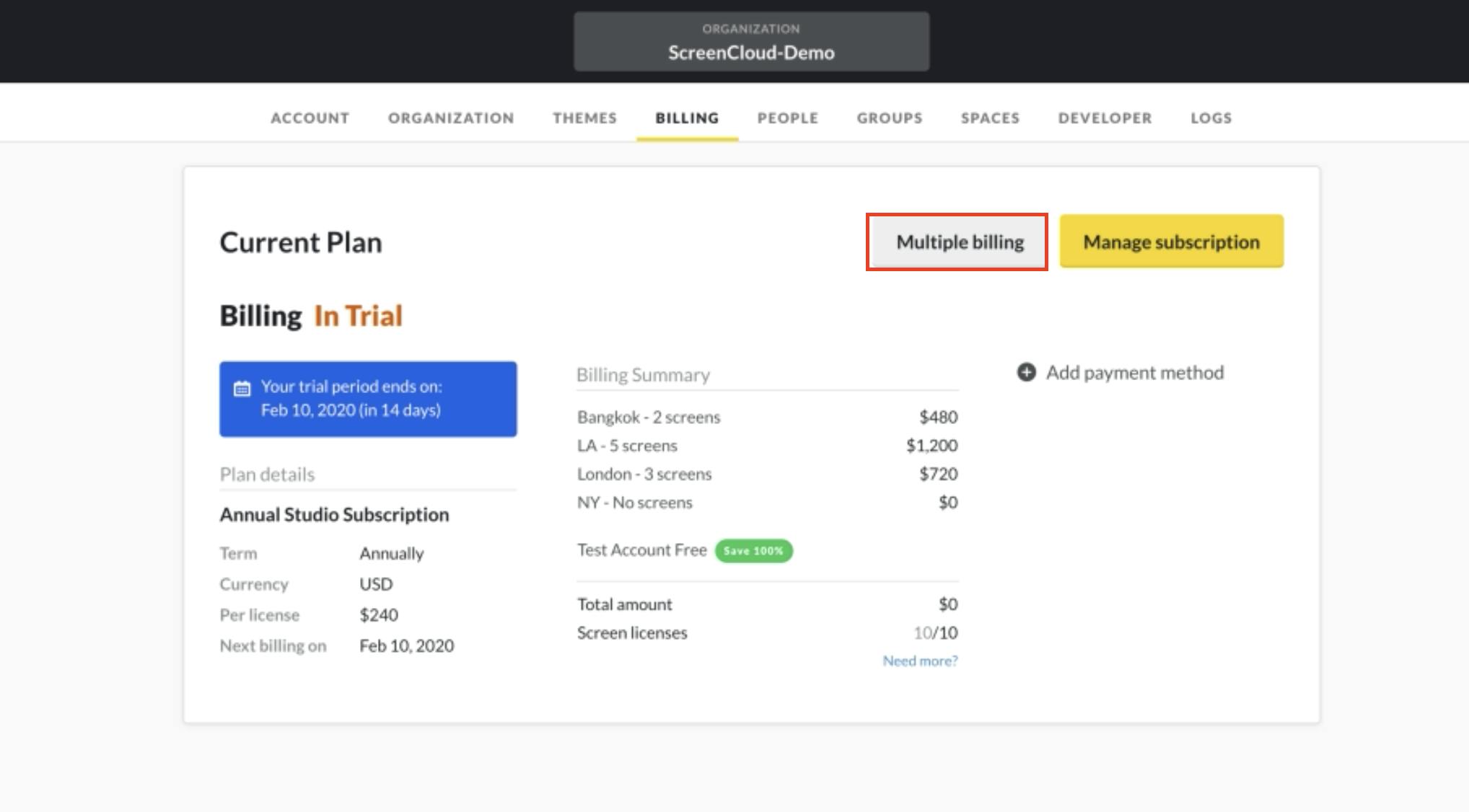 Another way for franchisors and franchisees to manage content with ease is with Playlists and Channels, which are essentially ways of grouping content. The main difference between Channels and Playlists is that you can nest various Playlists and/or any media types within a Channel. Channels give you the power to choose what content to show and when (using the advanced scheduling feature). You can access custom themes and many screen layout options. You can also organize your content by theme, department, or any other way you like. 
Channels allow franchisors to see all content being shown in every location while allowing franchisees to add their personal touch and tailor their marketing approaches to better serve their local markets. For example, a restaurant franchise might have a central Playlist called Franchise Marketing that contains the marketing messages that franchisees need to show in their restaurants. But each franchise location might want to create a separate Channel. A Boston Restaurant Channel could include the Franchise Marketing Playlist along with local content customized for special events such as Boston Marathon Offers and Boston Restaurant Week Playlists.
Controlled branding
One of the areas that determine franchise brand consistency is visuals, i.e. themes and images. It's easy to fall into the trap of thinking that you need to spend a lot of money on hiring a designer in order to create beautiful marketing content (you might have done this already). But if you're a ScreenCloud user, we've got an easy, free solution for you!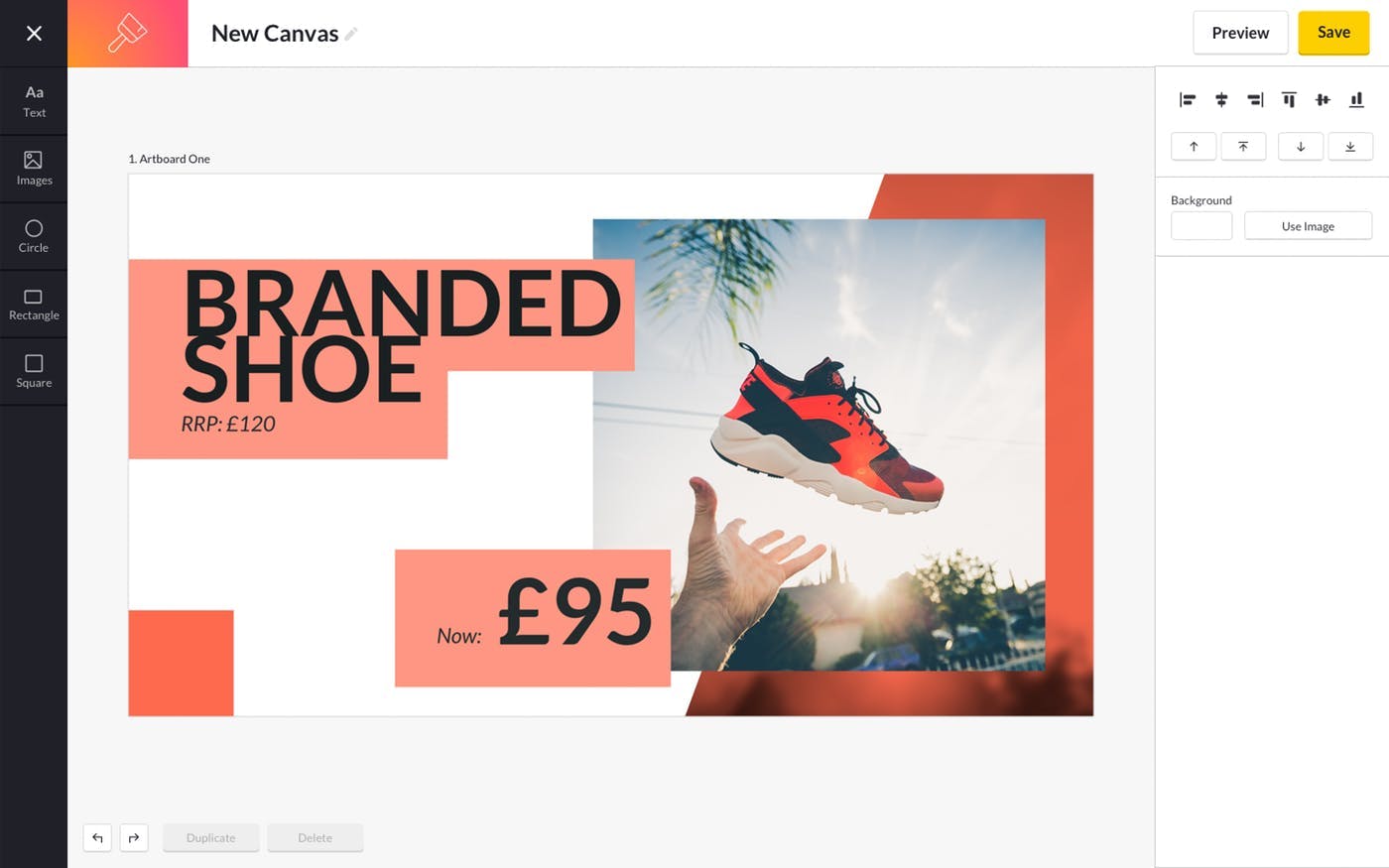 With our recently launched Canvas app, we provide all the essential tools to create eye-catching, screen-ready content(such as posters, notices, and promotional offers) that meet your brand guidelines. Franchise owners can create ready-to-use marketing templates using Canvas and share them with franchisees, ensuring the brand logo and color schemes stay consistent every time a franchisee rolls out a new promotion for their local market.
Easy content creation
An incredible benefit of using ScreenCloud is the ability to add and show content from almost any source you can possibly think of. You can upload videos, images, promotional posters, and many more from your computer or laptop. You can also make use of our 60+ free apps in the ScreenCloud App store to syndicate content from a multitude of online sources. 
Why not display your customer testimonials in your franchise restaurant using TripAdvisor, Foursquare, or Facebook Reviews? Positive social proof helps establish trust in your customer's mind.
Did you know that almost 30% of customers consider digital menus as an influential factor in their buying decision? Time to move away from the old school printed menus (and save trees) and move on to digital menu boards using one of our apps. You can create a striking, instructive menu board without a hitch and easily adjust food items throughout the day to reflect availability. Give it a go, you'll be surprised at just how effective digital menus are at informing and engaging with your customers and improving their overall in-store experiences.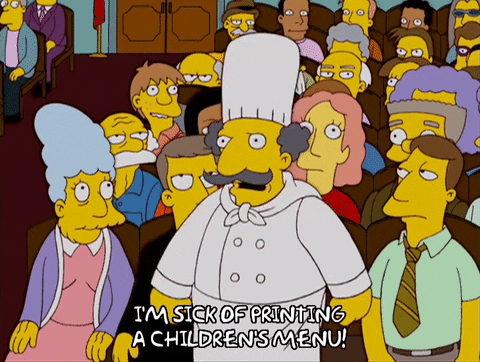 4. Manage content from anywhere
Smart preview
ScreenCloud's smart preview feature enables you to see what your content would look like on a screen and to identify any errors so that you can correct them accordingly. In other words, it prevents you from displaying distorted images or inaccurate information to your customers—no embarrassing mistakes made! With smart preview, both the franchise owner and the franchisee can see what's being shown on any screens from anywhere at any time.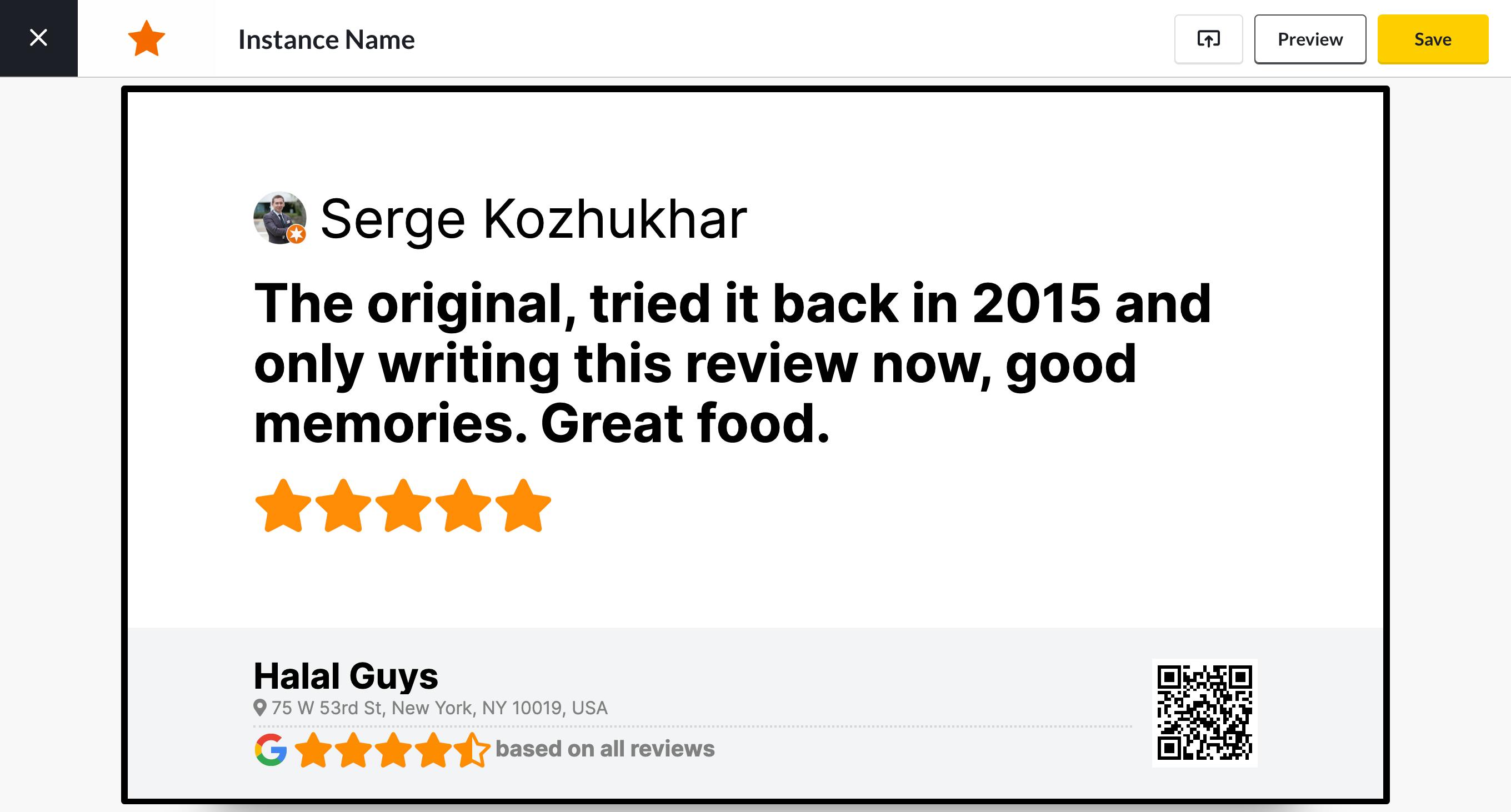 Keep track of screen status
You no longer need to physically find and look at each screen to check what it's showing. With ScreenCloud, both franchisors and franchisees can easily see if a screen is on or off, and what's being displayed, all via the website. Just take a quick look at how Stephanie Drew, owner of Burn Boot Camp North Durham a ScreenCloud customer, effortlessly manages her screens even though she doesn't live on-site or near her franchise location.
Manage on the go
If you're passing your franchise store and want to change a piece of content or quickly add a "Store Closure" notice, you no longer need to run to your laptop or return to your office to make this happen. To make managing your screens as simple as possible, ScreenCloud has a fully functional mobile site that lets you do everything on the go, from changing and casting content to checking screen status.
Ready to apply digital signage to your franchise and elevate your in-store customer experience? Give our 14-day free trial a go or find out more at https://screencloud.com/franchises.