Publish content to your screens directly from Microsoft Teams
Learn More


8 Marketing Strategies for Healthcare Organizations
How to stand out and capture more attention from your audience.
In healthcare, it's not always easy to jump on the latest marketing bandwagon. There are regulations around what you can and can't say; you're often talking about sensitive subjects and the power of online means once something's on the 'net, it's there forever.
As a result, many healthcare companies we speak to are passionate about finding and unpicking the latest marketing strategies. They're desperate to find new ways to market their healthcare organizations and want the best techniques to make their ideas a success.
In this article, we'll show you eight ways that even the strictest of healthcare organizations and hospitals can be the first in mind and presence of their customers.
1. Use messaging apps
The world of your customers is noisy. There are TV and radio ads, email, social media and a lot of it just gets blocked out. You know what doesn't? Text messages. Text messages are one message medium likely to be opened with minutes of being received. That makes them a great way to communicate with patients on the really important stuff. This could be letting them know about something time sensitive (an appointment slot has just become available), a deadline for a treatment such as a seasonal vaccination or a reminder that they may be about to run out of medication. As long as the information is truly useful to your audience, they'll probably be happy to dish out their cellphone number. Similarly, messaging apps are a great way to create new target lists around niche communities. For example, a group of elderly patients concerned with getting the flu could be added to a WhatsApp or Facebook Messenger group that provides them a weekly tip or update. According to some sources, 9/10 doctors in Brazil are already using the channel to communicate directly with patients.
This guide from WhatsApp shows you how to setup and manage a broadcast list, which could be your next marketing strategy to cut through the noise.
2. Set up digital signage
Often, marketing strategies for healthcare organizations only focus on online channels. When that happens, so many opportunities are missed. Digital signage, for example, has proven time and time again its effectiveness when used within a healthcare setting.
Imagine having your own private TV channel that only your patients could watch. Imagine that when they sit down to watch it, all other distractions are removed. There are no smartphones to look at, no laptops to open, no friends to chat to and no other channels which can be flicked over to.
That's effectively what digital signage in your healthcare organization is. A private, highly-attractive digital content stream that your patients are enticed to watch. There are a huge number of benefits of using digital signage in healthcare, not limited to reducing perceived wait time, providing education and even to improve patient welfare.
Some of the ways you could use digital signage in your healthcare marketing strategy include:
To amplify social media using social media dashboards, tweet walls and Instagram galleries in patient waiting rooms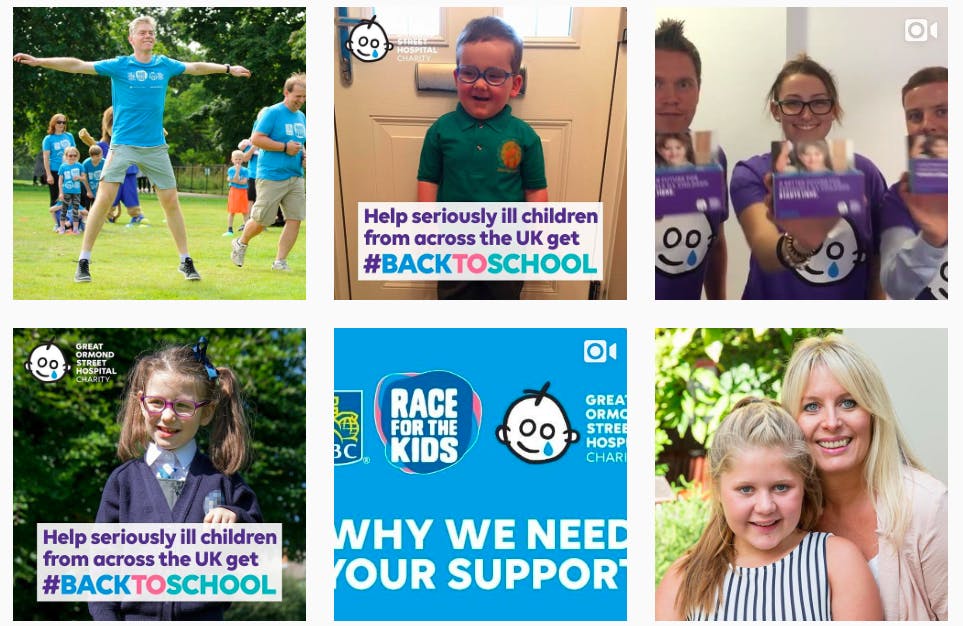 Great Ormond Street Hospital's Instagram feed is one example of content that could be repurposed for digital signage.
To provide live news, travel information, world clocks and other forms of content useful to your audience
The ability to set up digital noticeboards quickly with key information, wait times and emergency notices using a tool like Noticeboard app
YouTube video playlists with relevant health and medical information, led by your organization or others
Branded content and advertising displays from carefully selected partners, which help to increase healthcare revenue
Image galleries and information about your staff, helping patients to familiarize themselves with doctors and nurses to feel more connected to your hospital
Digital signage is highly adaptable which makes it one marketing strategy that can work within any healthcare space. You get to moderate (and change) the content, so you can be sure what your patients are seeing is timely and relevant. The possibilities are endless.
3. Test influencer marketing
Influencer marketing is a huge trend in business-to-consumer brands who are looking to increase validation for their products or services. Influencers are traditionally those who have built up a community or audience based on their personal brand.
One good example of how this can work in a NFP scenario is Boxed Water's partnership with the National Forest Foundation. Using the hashtag "#ReTree" Boxed Water promised to plant two new trees for every image containing its water posted on Instagram. They worked with hundreds of influencers across the world to get the hashtag trending, encouraging more than six million photos to be published.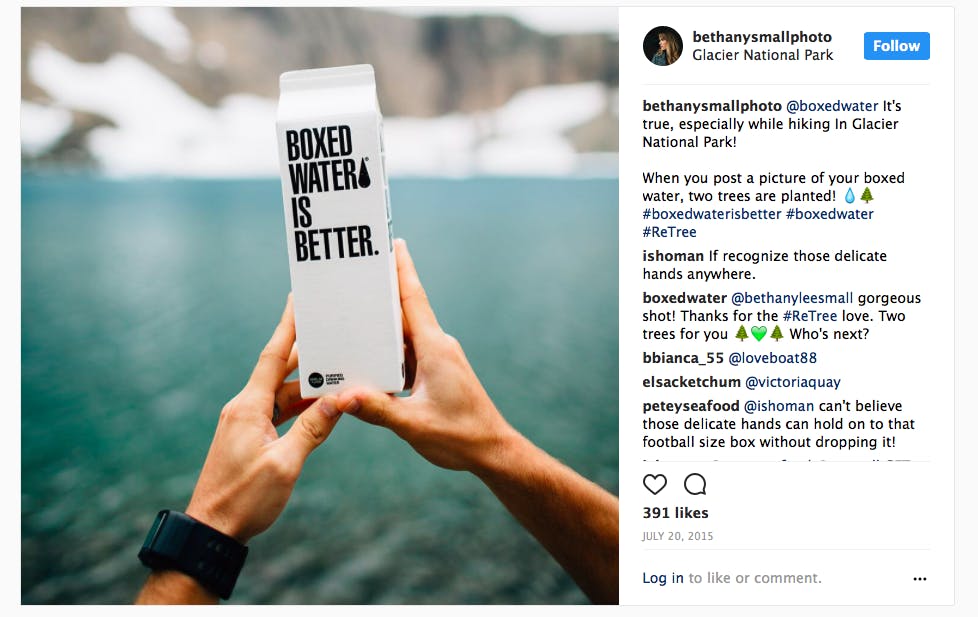 This article has a great list of medical influencers and hashtags which can be joined to spread awareness and reach. The trick is to get inventive and come up with a campaign that influencers will buy into, and that will truly surprise, delight or educate potential patients. There are also many influencers out there who have built entire followings based on their experience of a specific condition. These influencers have a niche audience, all of whom, are experiencing or are close to someone experiencing a specific disease or diagnosis. Pairing up with influencers could be an accessible and effective way of getting content and new treatment ideas in front of a huge target audience.
4. Create lead buckets
It's pretty difficult these days to get audiences to sign-up voluntarily to receive information. Inboxes become filled at an alarming rate, and there's so much spam that people are wary of anything which may add to the noise.
Lead buckets are a type of exchange you can create with potential patients where you swap something mutually beneficial for the chance to gain their details and be in contact with them.
This could be the offer of:
A free health consultation
An invite to an event or workshop
New research or information before anyone else
A dedicated or niche patient group
An eBook or whitepaper to read

A free podcast and guide to running given away by the UK's NHS.
The idea is to create a piece of content or offer that your audience sees as the same or more value as letting you say, email them once per month with your latest updates. You'll be surprised how many are willing when they see it as an exchange of information, rather than just a direct sign-up.
5. Increase internal marketing
We're often so focused on our external marketing strategy that we forget about the communications going on inside. A study by McKinsey Global Institute discovered that productivity improves by 20-25% in organizations where employees feel connected.
Then you have employee advocacy. If you have 100 employees, all telling their friends and family how great your healthcare plans are, you could easily reach thousands of potential patients, for free.
A study by Nielsen found that recommendations from friends remains the most credible form of advertising amongst consumers. Why plow all your budget into adverts and brand campaigns when your own employees could be the biggest untapped pool of potential?
6. Create content for niche communities
Healthcare is extremely personal. Unless an issue is affecting us personally, it's unlikely we'll want to read information about it. The most effective marketing strategies are the ones that focus on a specific issue within a niche community. This could be creating an online landing page, a printed checklist of symptoms, a short talk on condition management or even a podcast aimed at carers of those suffering from dementia or cancer sufferers.
Test different mediums for one niche community and when you find the ones that stick, roll these out across other patient groups and areas. The more relevant your content is to a community the more likely they are to both use and share it.
7. Engage with social media
Studies show that 41% of people would choose a healthcare provider based on their social media reputation. That makes a social media strategy feel much more important to your business aims doesn't it? Channels such as Facebook, Twitter, and LinkedIn give you a way to connect with customers outside of their appointments alone. Creating and publishing regular content across these channels keeps you front and mind of center, so that when you are needed patients know where to turn.
Social media also opens up a gateway to your visitors promoting things for you. One great example is a contest organized by Anne Arundel Medical Center where patients were asked to share their best "stachie" (a selfie with a mustache) to Facebook.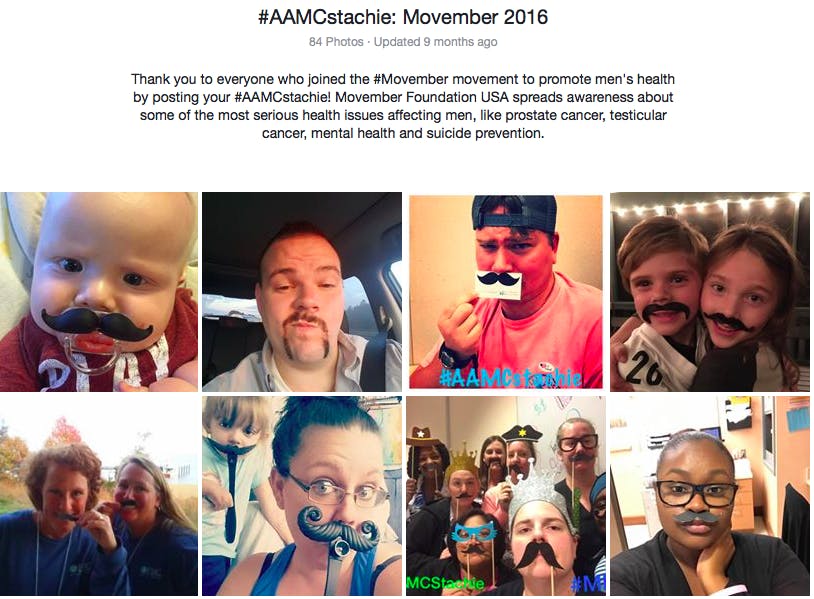 The campaign was to drive awareness for men's health during November, often known as "Movember" month but this allowed men, women and children to become involved. This not only got hundreds of selfie image sharing from potential visitors but it also raised awareness and drove traffic to the center's advice page.
Creative campaigns such as this one are a great way to attract attention across social media and get more shares, likes and comments for your brand.
8. Employ video marketing
Video is currently hugely underutilized in the world of healthcare marketing. As a strategy, it's proven at effectively being able to capture the attention of audiences.
In fact, according to studies, 90% of companies that use video content have a chance of having an impact on audience decisions.
Video marketing can be used to create guides and information packs, to show an insight or "behind the scenes" look at your healthcare environment and to share patient stories and testimonials.
When we see something visual like a video, it's hard to argue with the evidence. This makes video an extremely credible and enjoyable format to watch and engage with.
Some of the ways you could add video to your marketing strategy include:
Youtube - the second largest search engine in the world, YouTube is a great way to seed "how to" and guidance video content for your audience.
Social media - all social media channels now allow you to capture, upload and promote video content. Video is even prized more highly by some algorithms such as Facebook's than any other type of static or image-led content.
Blog posts - video is a great way to illustrate content given in a blog post format and can help raise SEO.
Website - video landing pages allow your audience to really see inside your organization and what you have to offer.
Email - using the word "video" in a subject line is said to boost open rate by 19%.
Check out our guide for how to create excellent video content relevant to your community.  
9. Hashtag campaign
Rochester Regional Health, a health services organisation in the New York area, has set up a social community wall to create a digital neighbourhood that brings hope, warmth, and a spirit of kindness to everyone in their community during the COVID-19 outbreak.  
This organisation encourages its community to post and interact on a social wall by Walls.io, which creates a feeling of solidarity. Especially during times when many must stay in isolation, the social wall offers a way to maintain a conversation with the community and to uplift everyone's mental wellbeing.
By promoting the hashtag #RRHSpreadJoy, they collect images and videos people are posting to support each other.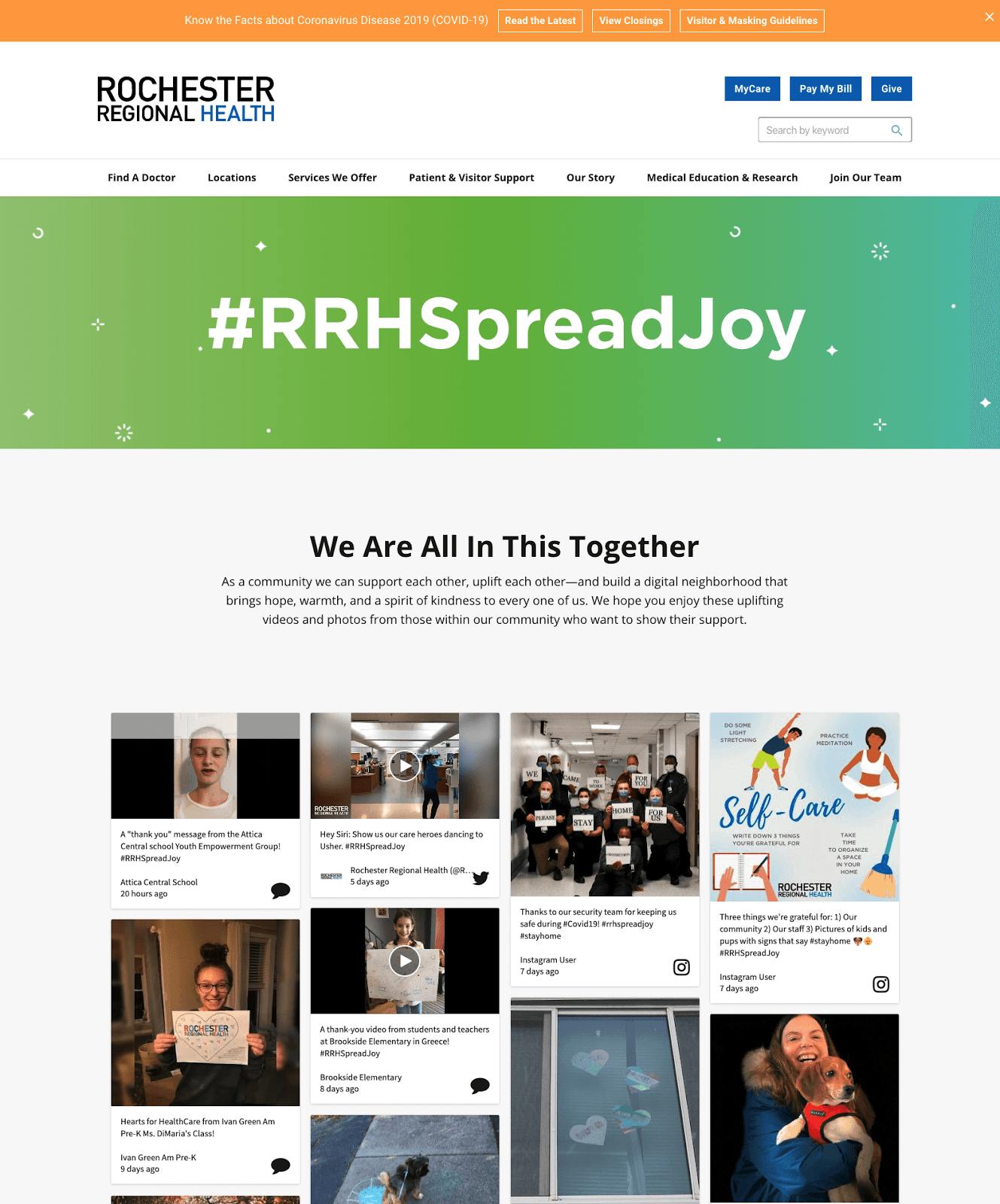 A hashtag wall collects content from multiple social media platforms, which can be displayed on a digital signage at the lobby of any healthcare facility. You can use these screens to share important information about fundraisers and educate the public with tips on how to maintain, or boost, personal well-being.

If you'd like to get started on creating better digital signage content for your healthcare organization, start our free trial. We offer 25% discount on all screens across all accounts for those in the NFP sector.
Ready to get your organization connected?
Connect your first screen today with our 14-day free trial
ideas