The internet of things has such huge potential for the healthcare industry that it even has its own alias: the Internet of Medical Things (IoMT). Devices and applications in this industry improve healthcare, reduce strain on medical professionals, and allow patients to be treated at home or away from hospitals.
Here, we look at 15 examples of IoT-enabled applications that will power the connected healthcare space.
1. QardioCore, an ECG monitor designed to provide continuous medical grade data. Users can wear this device within their normal lifestyle: at work, the gym, or out and about. The data is said to help patients to better monitor health conditions such as high blood pressure and cholesterol. It also sends information into health centers that monitor conditions such as diabetes, heart troubles and weight gain, without the need for physical visits.
2. Zanthion is a medical alert system that is worn by a patient as an item of clothing or jewelry. It feeds into a series of connected sensors which measure the health and welfare of the wearer. If a patient were to fall out of bed, or remain motionless for too long a period, an alert is sent to family or friends who can help.
3. ScreenCloud is being used by hospitals and healthcare professionals already, with applications that are thinking far outside the box of traditional digital signage. Take the organization using video art and digital signage to improve patient welfare in hospitals, with proven effects of lower stress levels and anxiety in patient waiting rooms.

4. Up by Jawbone is a fitness tracker with a difference. Rather than just counting calories and steps, it can be used to monitor all aspects of health, from weight and sleep patterns to activity and diet, to allowing the user to make better health decisions based on data. Some patient reform groups are even using it as a way to support those with weight and health issues from afar or outside of the physical medical center itself.
5. Wireless sensors such as those from Sensor Metrix are being used in hospital refrigerators, freezers and laboratories to ensure that blood samples, medications and other materials are kept at the proper temperature.
6. NHS test beds are smart, connected beds being used in the UK's NHS system that monitor patients and track data. Combining wearable monitors with other data sensor sources, they save money and time, allowing elderly patients and those with long-term health conditions to monitor their progress and issues more efficiently.
7. Swallowable sensors are pretty much what they say on the box: a way for patients to avoid colonoscopies by swallowing a sensor the size of a cod liver oil tablet. This sensor can diagnose problems surrounding conditions such as irritable bowel syndrome and colon cancer in place of more invasive surgeries.
8. Propeller's Breezhaler device is a connected sensor that makes the management of asthma or COPD easier. The sensor attaches to the top of the pump and monitors data each time it's used. This allows the user to collect data on triggers and enable family members and doctors to manage use, all from a mobile app. It is said to reduce the number of asthma attacks and increase the number of symptom-free days.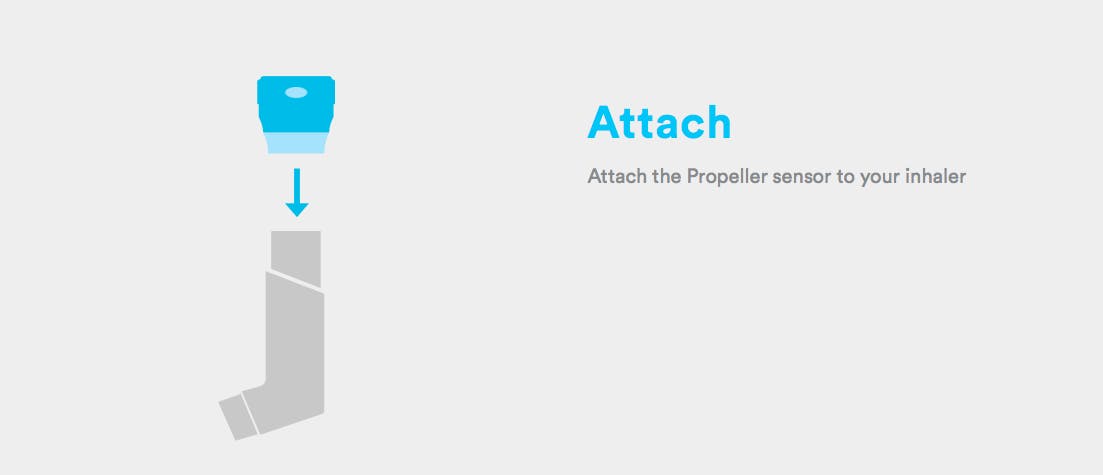 9. Google announced in 2014 that it would be creating a smart, connected contact lens, supported by Novartis. This lens would have "non-invasive sensors, microchips and other miniaturized electronics" that are embedded within the contact lens. These can monitor conditions such as diabetes as well as help to correct sight issues to restore the eye's natural autofocus for those who cannot read without glasses.
10. Takeda is testing the use of an Apple Watch app to help patients with major depressive disorder (MDD). The app will look for symptoms and will allow tracking of moods outside of healthcare appointments. 
11. UroSense is a catheter fitted with a transmitter that can monitor urine output and core body temperature for patients on catheterization. Smart monitoring of these two aspects can help spot the signs of infection in their early stages, therefore creating better treatment plans and prevention. The device also reports on conditions such as diabetes or prostate cancer and feeds this back to doctors and nurses, thus helping to manage the conditions.
12. The Medication Dispensing Service, along with other smart pill-dispensing devices, are focused on patients who may find it difficult to manage medication independently. MDS dispensers pre-fill with the required dosage for a specific day and provides notifications to patients when it is time to take or refill medicines. If a dosage is missed, the information can be tracked and fed back to the patient's doctor.
13. Systems like AwarePoint place IoT sensors designed to track every nuance of the caretaking and caregiving process. This provides location tracking on patients and medical equipment in what they call "location-as-a-service." The system is designed to improve staff and patient satisfaction, streamline asset management and patient flow.
14. The smart thermometer produced by Kinsa has three key purposes: to detect patient illness, provide analysis for better care, and to map human illness through the collection of data. Smart Ear and Sesame Street versions can already be found in many homes across the U.S.
15. Chrono Therapeutics produces medication patches which deliver drugs transdermally (through the skin) at a steady pace throughout the day. This is said to reduce symptoms, as drugs are delivered outside of when patients experience the symptoms and levels are adjusted depending on what is needed at each delivery. This makes drug delivery more personalized rather than a "one fits all" approach to healthcare.
These devices, whether for clinical efficiency, home tracking or health monitoring, all lead to a space where it's easier to monitor and manage health conditions. We're excited to see where they take us next, where apps, wearables, and smart, connected devices become as normal as taking a pill would be.