The benefit of digital signage in the healthcare sector is huge. Just the other day I arrived for the first dental appointment in my new town, only to be faced with a huge queue, stressed staff and no way of knowing where I was meant to be. That initial waiting room experience makes a big difference, and you can imagine how much worse it would be if you added a fear of the dentist to that.
Using digital signage in your dental surgery is a great way of improving patient experience, reducing staff stress and making the dentist waiting room somewhere people actually enjoy going. Digital signage apps that help make content creation easy and a simple CMS like ScreenCloud to set up and manage your content, is all you need to make it happen.
So if you have a couple of TV screens laying around (check out our hardware selector to see how you can easily get them on ScreenCloud), it's time to make your waiting room a little slice of heaven.
5 Ideas for Dental Digital Signage
1. Introduce dentists and their assistants
For new patients and existing ones, using your digital screens to introduce your team members is a great way to humanize dentists and their assistants. Using Meet the Team app you can create a Google Sheet that lists all of your dentists, their job titles, a profile photo and you can even use the quote field to add their credentials.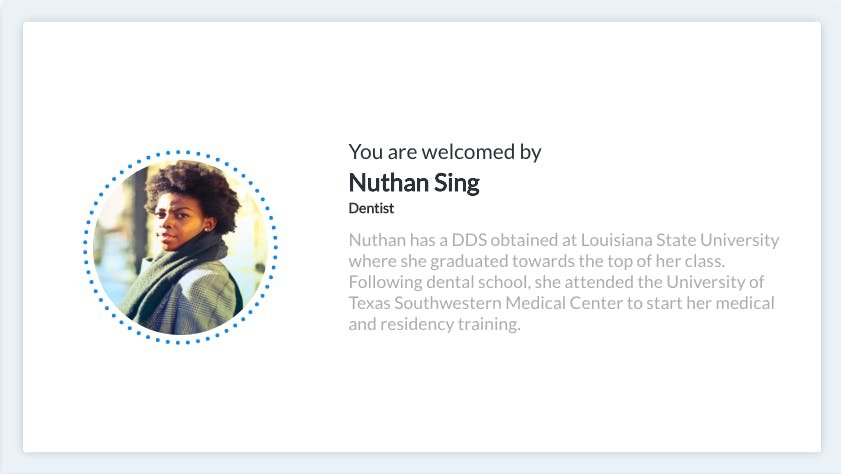 As patients arrive, they begin to familiarize themselves with who they're seeing, building better relationships and helping them to feel more reassured about their treatment.
2. Create digital sign reminders
One thing I always notice about dental surgeries is just how many notices there are stuck around. Okay, this gives you something to read but the information can feel kinda overwhelming and for the staff, there must be a lot of printing, sticking and organizing going on.
Digital screens are your digital noticeboard, where you can easily add text signs and notices to help patients stay in touch with all of the events and updates they need to know.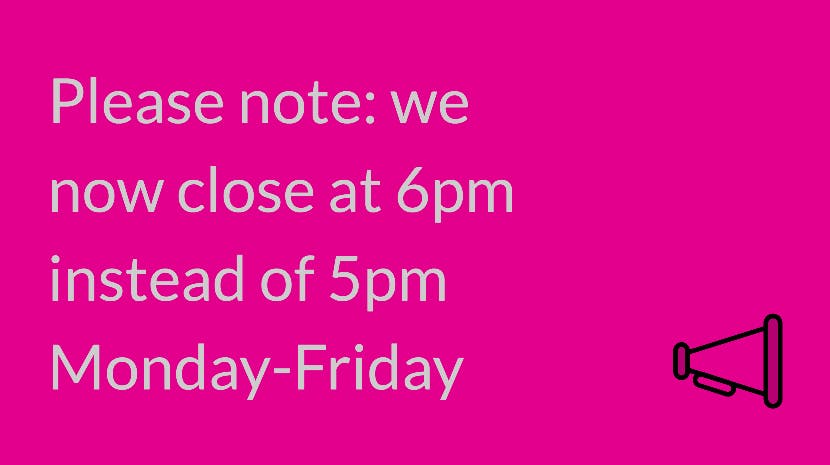 You could also use this to share promotions on treatments such as teeth whitening or straightening services, with a time sensitive offer or the number of spots you have left for that month. Updating digital signs is free and simple, unlike printed ones.
3. Share health advice
Rather than having all of your important hygiene tips shared via pamphlet, use your digital signage screens to share dental advice direct to patients. By rotating key health messages, you can help patients to learn more about good dental habits, while they wait.
You might share videos on the best practice for say, brushing your teeth, or an informational video on why flossing is so important. According to surveys, 75 percent of those viewing a digital sign in a healthcare centre recall at least one message. Being able to read and enjoy messages can also cut perceived wait time by up to 35%.
This type of content can easily be created and shared in Google Slides app, Noticeboard or  uploaded direct as an image or video file.
4. Promote social media
A good dentist can be hard to find and when yours are the best, you want to get the word out there. Promoting your social media feeds in your surgery helps to show off social proof, customer feedback and all of the great content you're already creating for your online audience.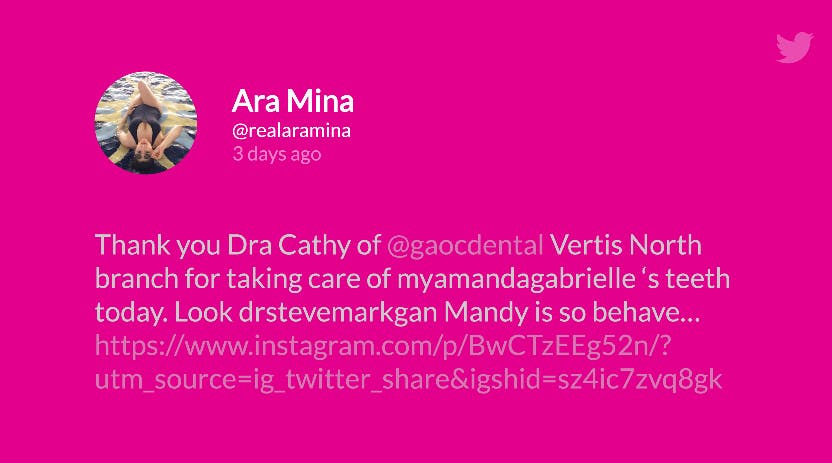 This could be anything from your surgery's Twitter feed, to your Facebook content, an Instagram gallery or a Foursquare review.
5. Ambient content
As well as sharing lots of information about your practice you could also break this up with ambient content. Live news feeds, YouTube videos and more general social media feeds, from events or pop culture profiles, help patients to relax and feel more at home. You could also use your digital signage screens to play music via YouTube or Vimeo. According to studies, patients who listen to music before a dental treatment have fewer stress hormones than those who take medication to calm their nerves.
In paediatric surgery, where your patients are a little younger, children have also been found to prefer having TV screens to watch and music to listen to while in the waiting room.
To setup a digital signage strategy for your dental practice visit screencloud.com/getstarted.