Social media's great and for brands, it allows them to really get involved with their customers. You know what's even better? Social media that everyone can see. It's why some of our top ScreenCloud Signage apps are for Twitter and Facebook - everyone wants a piece of the social media action.
When it comes to a live event, social media is a big piece of the day. It gives your event attendees a voice, is accessible for anyone with a smartphone (i.e. everyone) and it tells the wider world outside of your event exactly why they should be there.
So how easy is it to create a live social media wall for your event and what do you need to consider?
Now of course there are many apps and digital signage solutions that allow you to take a Twitter feed and throw it up onto a wall. Yet as we've learned, this is only half of the story. First, you have to know how to set it up for the best success - should you put your handle, a Twitter search phrase, a hashtag? After all, at a live event you only have one shot to get it right. Secondly, what happens on the day if your hashtag gets used elsewhere, or you get some online trolling right at the crucial moment? Social media can be risky and mitigating any chances of a bad experience is important. Lastly, what if your attendees don't use Twitter - is there another option that will get more people talking?
Enter SocialWall Pro.
The company that has considered all of the questions that are essential to ask when you want to create a successful social media wall. The secret is that they don't just show social media posts on the wall, they also give you ways to have complete control over your social wall content.
Here are what we think are the top highlights for anyone looking to create a live social media wall:
Review all social media posts before they go to your wall
It's a risky little game to send social media content directly to a live wall without checking it first right? Almost like handing the keys to your brand over to someone you don't know. That's why SocialWall Pro have two key features called Manual Moderation and Automatic Filters. Manual Moderation does what it says on the tin - a quick yes or no to every post before it gets shown on your social media wall. If that's a little labor intensive you could set up Automatic Filters instead, to ban undesirable words or even prioritize key people you know will tweet or share great stuff.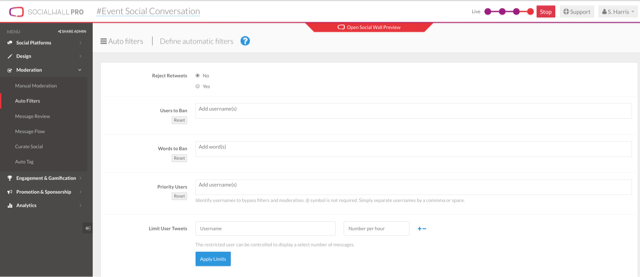 Tag and create content categories
SocialWall Pro service some of the biggest events and occasions in the world - Mobile World Congress and the Australian Open to name but a few! So they get what it's like to want to squeeze every drop of goodness out of the social media activity that goes on in the moment. Their special tagging feature allows you to create and tag categories such as tweets, Instagram pictures and Facebook updates so that they can be sorted and reviewed later. So say you see four great questions from users, sent as tweets, that you want to use. Pop them under a "question' tag and during a Q&A you can easily pull them up onto the screen for everyone to see.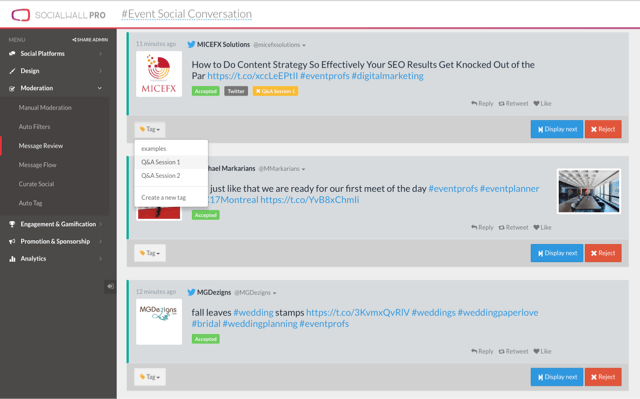 Get full message control
When you're in the moment of an event and your fingers are flexing it's so easy to accidentally approve a message that's not quite right. That's why SocialWall Pro also includes a message review tool, so you can add, remove or edit messages anytime you like - even after they've already been sent. You can also speed up or slow down the message flow to get just the right speed.
Curate any content - old or new
Now comes our favorite feature. The curation tool that lets you grab the tweets that fall just outside of the initial criteria. So say a key speaker tweets a great note from the event, yet forgets to add your hashtag. You can simply nip in, grab the tweet and add it to your wall. Or if you see a great Facebook post that reacts to something happening in the moment, you can push it through to your feed to add to the conversation. This makes managing content in the moment a whole lot easier and ensures you create a feed that's full of the most interesting content possible.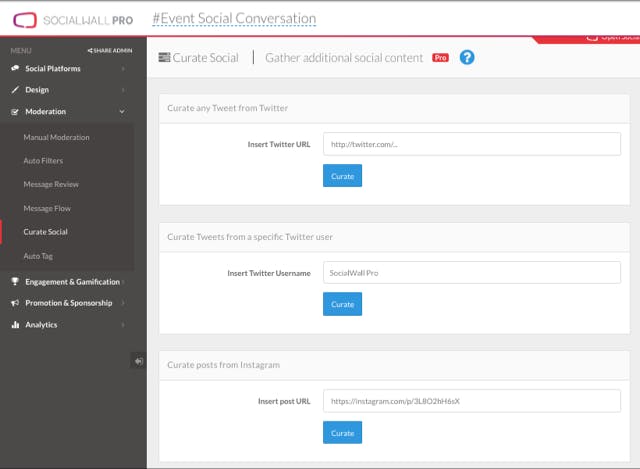 Setting up SocialWall Pro with ScreenCloud
Connecting SocialWall Pro and ScreenCloud couldn't be simpler:
Visit SocialWall Pro and use the free templates or your own custom design to create and set up your social media wall.
Grab the URL of your live social media wall.
Visit ScreenCloud Signage and use the "Add Web Site" button to add SocialWall Pro to your playlist and schedules.
We know you're going to love it, but for questions or feedback give us a shout on support@screen.cloud.