Events are fun and as well as a change of scenery from offices and online communications, they also pose huge potential for showing off your stuff to possible customers. Event organizers are also increasing the pace at which they adapt new technology in order to create a better show. The last few events we've been to? Seriously savvy when it came to the technology on offer. 
As well as exhibitors who are keen to add digital signage, social media feeds and AV displays to their booths, technology is also a huge part of the organization process. As an organizer, you want there to be a huge buzz from visitors and exhibitors attending the show. Technology such as digital signage not only helps improve communication and 'the tech effect' inside the show but it also increases reach outside of the venue walls. 
When it comes to setting up a digital signage network inside your event, here's everything you need to know.
Digital signage hardware for events
Want to hear something great? Digital signage doesn't need a big budget! Signage is effectively the art of getting content up onto screens which means you can use any screens you like.
Perhaps you have some TVs left over from a previous conference or event, or your AV supplier is willing to contra you some to use. If you have Android TVs you're ready to go, simply by downloading your digital signage solution ScreenCloud from Google Play. If you don't have an Android TV then you can make your regular TV smart by adding a media dongle instead, which you can buy for around $20.
For a little more, you can get a purpose built digital signage ready media player like our ScreenCloud OS device, the Station P1 Pro. The Station P1 Pro is commercially built with an aluminum chassis to easily dissipate heat and comes with more security and faster deployment options. For more help, use our hardware selector if you need help deciding what to buy. 
Of course if you have a huge budget for fancy tech such as an LED wall or seamless video screen, you could use this for your digital signage display as well or mix it up and use both types!
Digital signage software for events
Now down to the software. Just like its buddy the hardware, you don't have to break the bank or get in specialist IT teams to manage your digital signage software. We're firm believers that digital signage belongs with marketing. 
This is why we've made our digital signage system as simple as possible so that you can have your software setup in minutes. Here's how it works in a few simple steps:
1. Download the ScreenCloud app
Where you download from will depend which hardware you are using but here are some of the app stores where you can find the ScreenCloud app hanging out:
2. Secondly, pair up your screens
Once you've downloaded your ScreenCloud app of choice, you'll see a pairing code that looks like the below.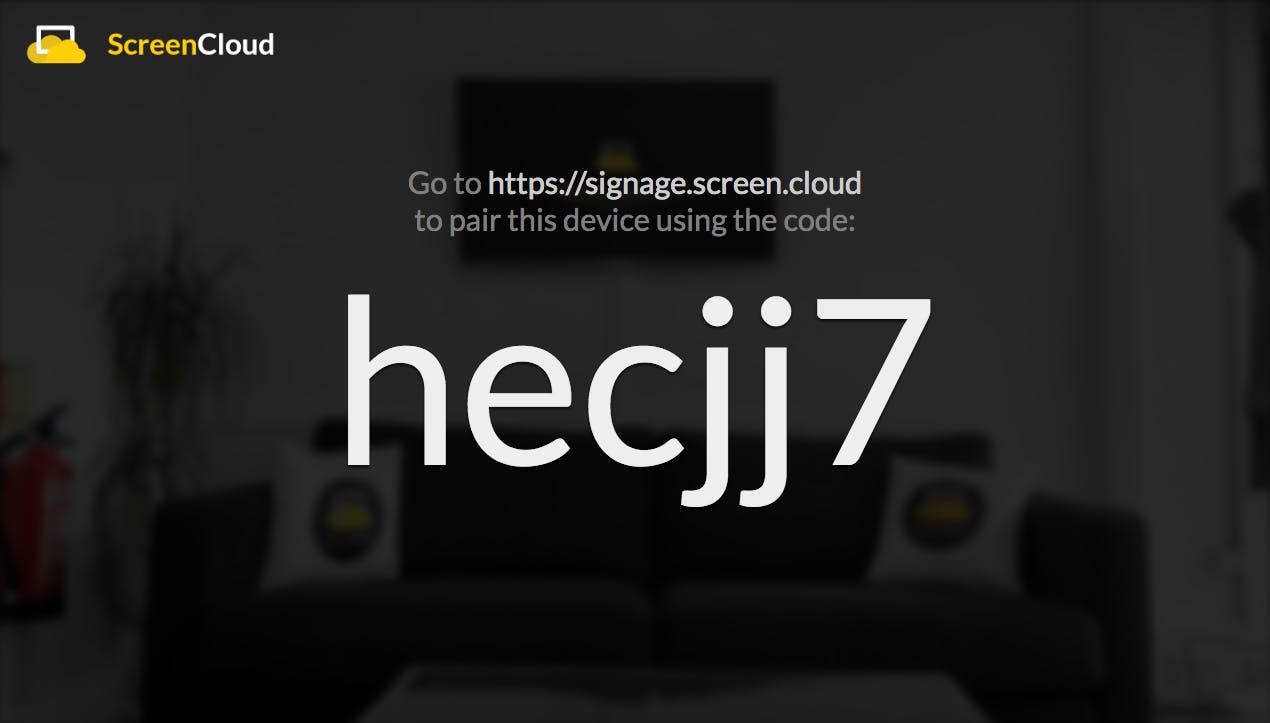 To use this, head to our website https://screencloud.com/ and set up your free account. You get 14 days for free following which, you'll only pay $20 per month, per screen. No contract or commitment if you decide to switch off access once your event has ended.
Once signed up, you'll see a page that asks you to 'add screen'. Hit that, enter your pairing code and that's it! For multiple screens you can simply repeat the process, adding all of your event screens to the same account to be managed anytime, from anywhere.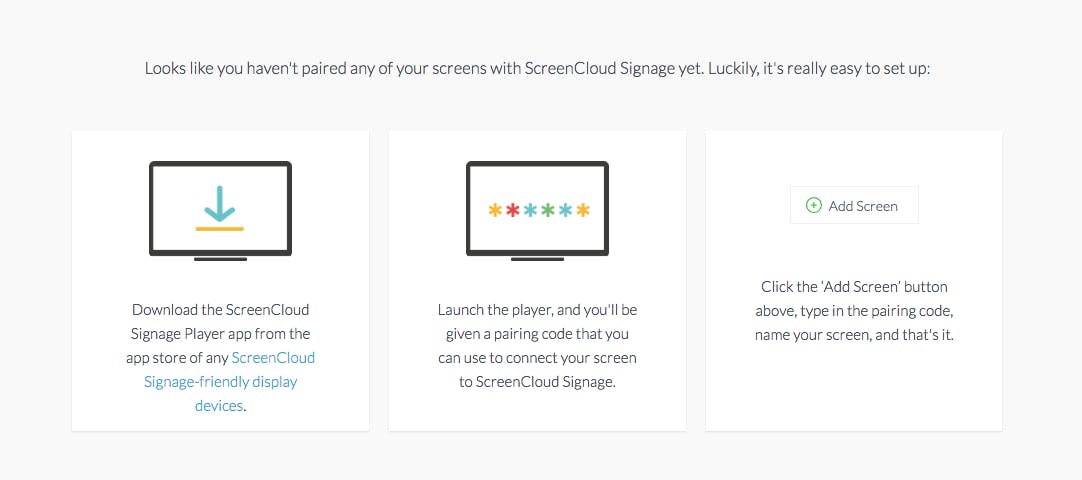 How to setup a digital signage content strategy for your event
Now on to the most important bit. Your digital signage content and marketing strategy. Despite the months, sometimes years, of hard work that goes into them, events often feel like a fleeting moment.
Making a big impression on everyone involved is key and digital signage can help. Firstly, because screens attract attention. We naturally turn to screens as sources of information, showing us highlights, images and useful content that we want to see. Secondly, they anchor every important part of your event into one easy-to-view, accessible network. From keynote speaker times, to social feeds and press announcements.
Here are some of our insider tips on how you can use content throughout your event digital signage network. 
Creating content that matters to your event audience
Digital signage is a canvas you can use to provide information that your audience really cares about. We all love seeing our face or work up on the big screen, so there's that element. Secondly, you can share the content of your exhibitors or visitors. Helping to give them additional exposure, encourage social activity and raise awareness of event initiatives and sub-campaigns. 
Increasing audience participation
Ever held an event or been to one and wished that the audience were more interactive? Digital signage is a low-key, yet effective way to gain that additional level of interaction on top of the event itself. Whether this is through a rich social media wall, the sharing of images from exhibitors and trade show partners, or using the screen to facilitate a competition or gamification element. 
Providing event information and notices
The way digital signs garner attention makes for a great digital noticeboard. Unlike static signs and room schedules which become out of date almost as soon as they're printed, digital signs can be kept fresh at all times. In an event setting where schedules, rules and notices change by the minute, your content suddenly becomes super easy to manage and distribute. 
Your event delegates will turn to social media to ask for help, give feedback and share their experiences without much encouragement. Events have naturally become a place where social interactions mirror physical ones and why not capitalize on this with a digital signage social media feed?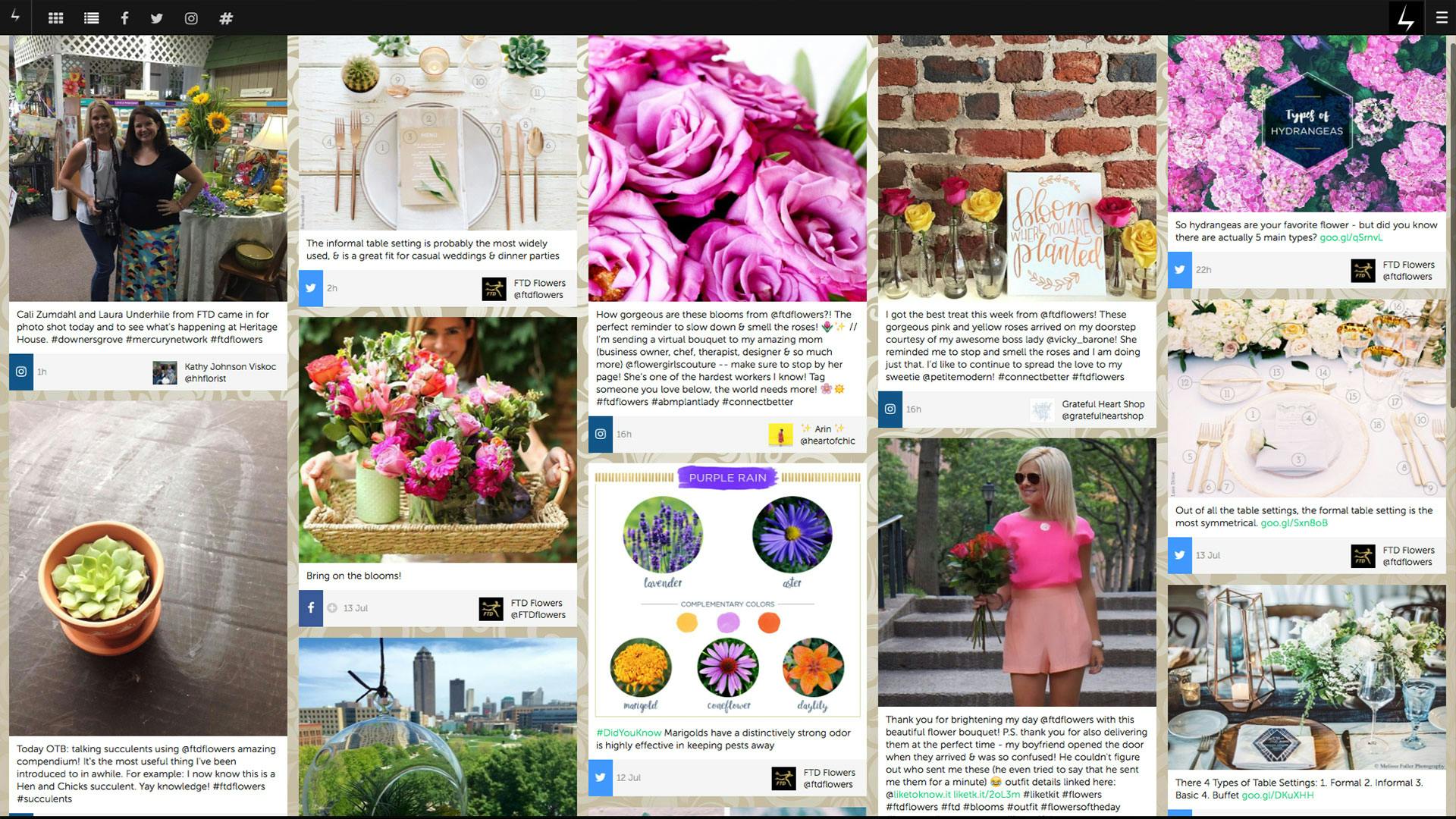 Some of the social media apps we offer that make adding social media feeds to your event networks easy include:
As well as providing event organizers with a powerful network for sharing information, digital signage screens also offer great exposure. Wouldn't your exhibitors enjoy more ways to reach their audience? To make connections with visitors that they may have missed on the tradeshow floor? How about your key sponsor, would you like to be able to reward them in the way of some additional airtime or a chance to interview their key thought leader?
Digital signage offers a wealth of options for your sponsorship and advertising strategies. Allowing your visitors to see relevant, exciting information while exhibitors and partners gain exposure to the right people at the right time.
Scheduled and real time content
Our powerful scheduling and playlist tools mean that you can set content up to run alongside your day. Perhaps in the morning you have introductory messaging to welcome guests and give them everything they need to know for the day ahead. Then later, you add in social feeds as these start to become populated as well as evening events, notices and messages from your key sponsors.
Getting started with a great digital signage event network
Digital signage at its root is basic: screens and content. But its possibilities are endless. Within an event or tradeshow digital signage can help make visitors and exhibitors more involved, provide information and increase social media interaction and general engagement.
Set yours up today in minutes at https://screencloud.com