Walls.io is a paid-for third party app integration; to use it with ScreenCloud, you must first create an account at walls.io. 
Social media and the workplace haven't always seen eye to eye. Many business owners and executives are uncomfortable with the idea of employees using social media at work, having the misconception that it hurts productivity and increases the risk of the company being misrepresented externally. 
But social media isn't going anywhere. Employees are posting outside the office, and often within working hours as well. So it can be an incredibly beneficial tool if you can  find a way to leverage it to your advantage. 
Colleagues and employees are an often neglected group of influencers, and an excellent target group for hashtag campaigns. Why? Because they, like no other group, are invested in your company's success. They're often in direct contact with your most important customers, and will relish the fun of producing and submitting their own user-generated content (UGC); employees are therefore untapped potential brand ambassadors. 
Meet the corporate influencer
Internal brand ambassadors (or, corporate influencers) provide a glimpse into the company's inner workings. They can empower your corporate communications, boost your reputation as an employer, and help you become more authentic and trustworthy as a company. This can affect how potential customers feel about, and interact with, your brand; customers are increasingly differentiating between similar brands by comparing company cultures. 
You don't need to invest heavily in new tech and complicated processes to engage your employees. Instead, you can use tools that already exist : social media platforms, such as Facebook, Twitter or Instagram. 
Social media can be a healthy way of engaging with employees and can help create a sense of community. It's not only appealing due to ease of use and accessibility, but it can also stimulate creativity.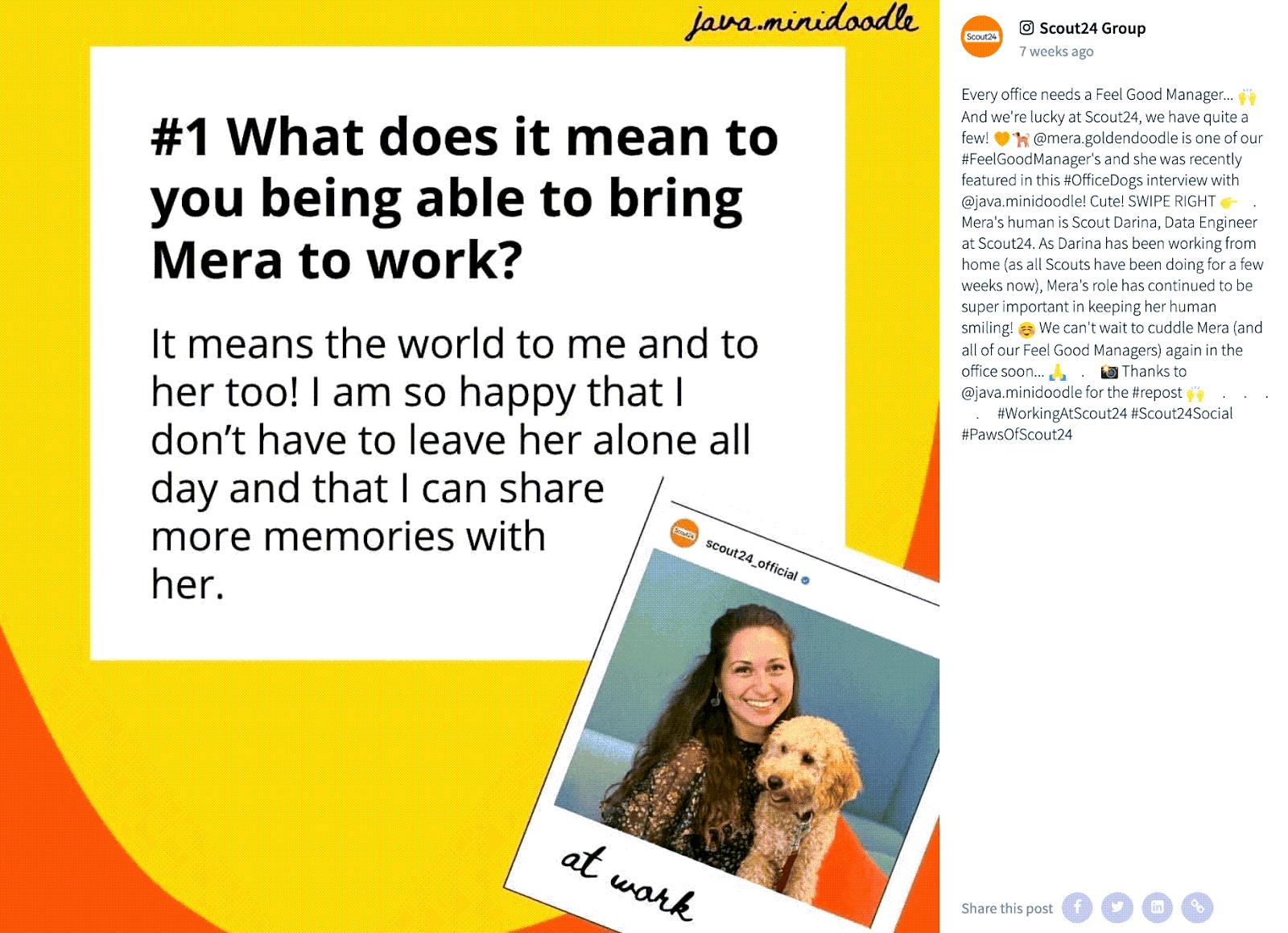 Scout24 allows employees to bring their dogs to work, and they share this perk on a social wall. Source: Instagram 
When you embrace social media at the workplace you give your employees a simple and natural way to interact with the company and with each other. This also provides them with an authentic overview of what is happening – and lets them know that their work is valued.
When you use social media as an engagement tool, it's important to collect the content created by your employees and display it somewhere. You can do that with a social wall.
Social media walls – or social media hubs – collect content from hashtags, profiles and keywords into one unified feed.  One of the best ways to display a feed at your workplace is to use digital signage screens.
Combining digital signage with social walls allows you to update the content on your screens — live and automatically — simply by updating your social media feeds. That, in turn, increases communication transparency and encourages your employees to connect with others and with you.
It's time to stop being afraid of your employees using social media and start making it work to your advantage instead. Here are a few examples of how you can do that. 
Corporate influencer programme
German insurance provider LV 1871 utilised social media to turn their employees into corporate influencers. 
They chose 30 (volunteer) employees to post on social media using the #TeamLV1871 hashtag. This UGC, posts from the official LV1871 accounts, and by the general public, were collected and displayed together on a social wall.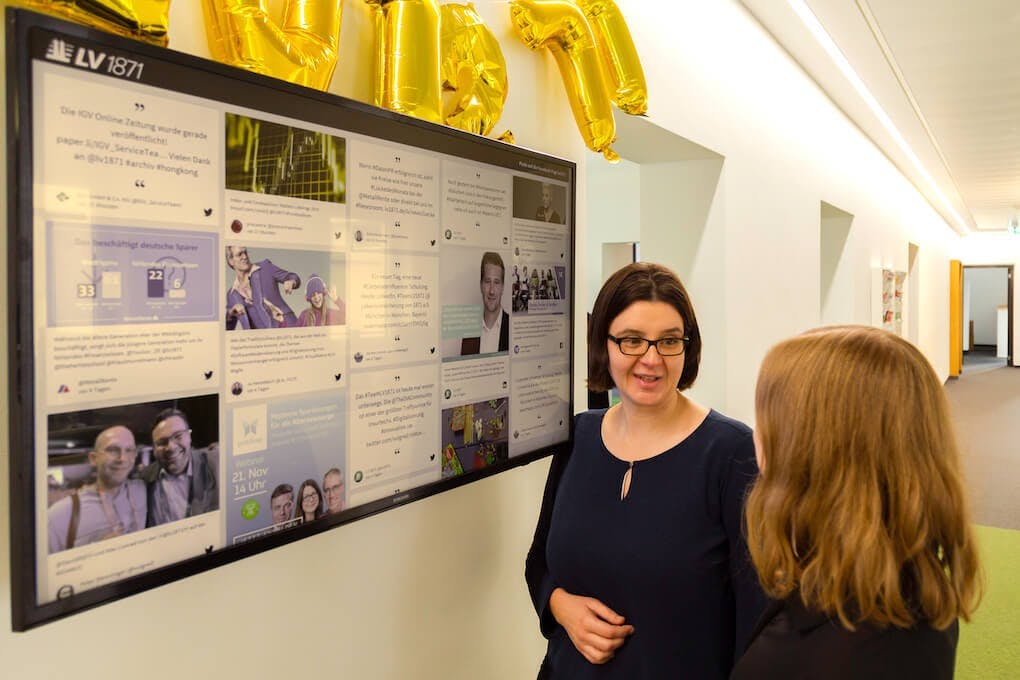 The wall was prominently displayed at the company's headquarters, drawing plenty of attention from employees.
The dashboard that displayed both corporate news and user-generated content was received positively by employees. The wall has become even busier and driven more attention during bigger events. 
As the LV 1871 example shows, running a corporate influencer campaign is a bright and innovative way to keep an eye on what people are saying about the company. It can also help continually improve and evolve the company image presented to the outside world. 
An internal campaign-turned-public
Employee-focused hashtag campaigns can also turn into a public campaign. The #ownie campaign by METRO Cash & Carry, designed for their worldwide event Own Business Day, is a stunning example of it. 
In the first stage, the campaign focused on the company's own employees in all 25 of the countries METRO operates in. They were invited to take pictures with their favourite independent business owners shopping at METRO stores. Social media posts with the #ownies hashtag were then posted on internal channels, and METRO employees could win both rewards and glory for their engagement. Remarkably, some of them posted well over 100 #ownies with their accounts!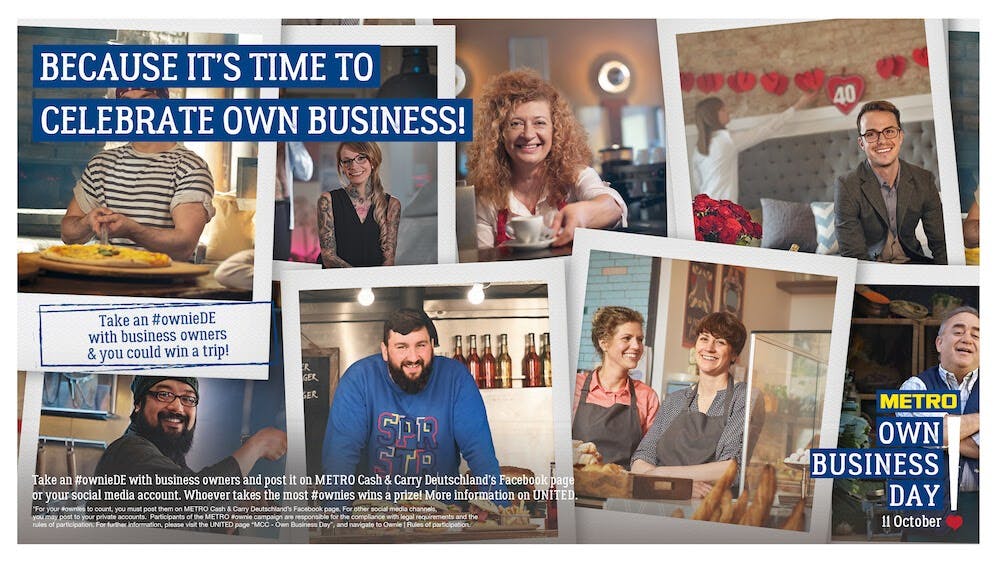 The second phase took the campaign public and engaged more than 19k business owners from 13 countries. It gave both METRO employees and METRO customers a chance to demonstrate pride in what they do, connect with other people, and share the joy of a long-term partnership. And, METRO reached its primary goal of engaging both employees and customers and turning them into brand ambassadors.
Social recruiting
Hashtag campaigns don't just target  current employees but are also an essential part of social recruiting. 
Scout24, Germany's leading digital marketplace, uses social walls to attract talent and win them over before they even submit their application. They use the recruiting hashtag #WorkingAtScout24 for all careers-related content and showcase it on a social wall.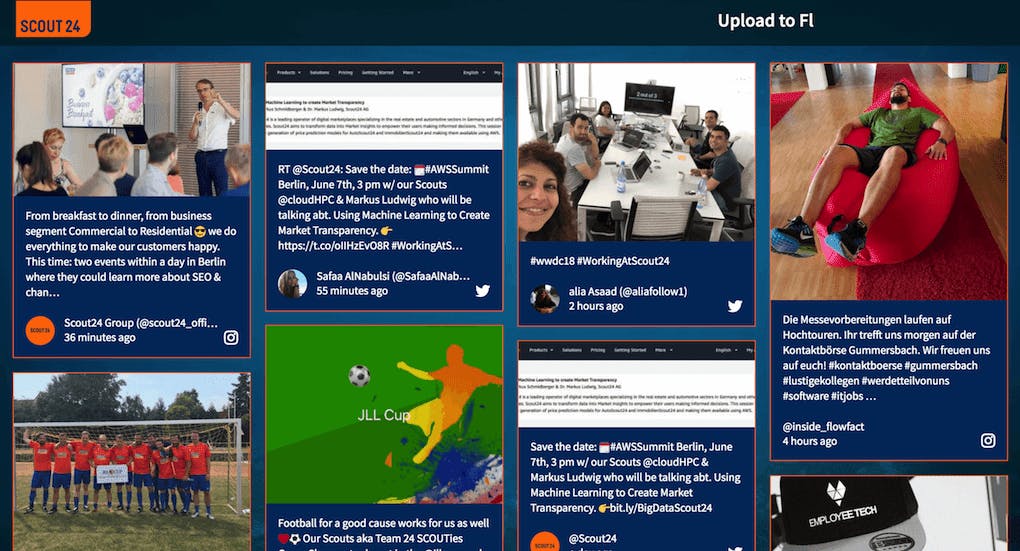 Scout24's recruiting social wall. 
A social wall helps Scout24 spread their core values, showcase additional benefits, and encourage current employees to speak about their experience. Their employees can also share how much they enjoy working at the company. Positive employee content can therefore help  attract new talent, and help manage expectations for applicants. 
As you can see, happy employees are the best advertisement for your company, so it makes sense to allow, and even encourage, them to post about their experience and submit authentic UGC on social media.
If you're only starting to use social media as a workplace engagement tool and are not yet ready for an entire campaign, make sure to follow a few basic rules to succeed:
Don't make posting about the company on social media compulsory. Instead, think about how your employees would identify with the company's content and try to make it relatable, honest and shareable.
Show employees what kind of posts you would like them to share by briefing managers and setting examples. 
Make employee advocacy fun and give something back. 
But most importantly, invest in the positive and inclusive company culture, one that's worth being an ambassador for.
Walls.io and ScreenCloud
Thank you to Aleksandra Petrash – Marketing Partnership Manager at Walls.io – for writing this guest blog for us. If you'd like to see Walls.io and ScreenCloud in action, check out our app guide here. If you'd be interested in submitting a guest blog to us, please send an email to marketing@screencloud.io