Mark McDermott - CEO, ScreenCloud
In a recent live webinar I discussed the importance of employee engagement with our customers, BASF. As the largest chemical manufacturer in the world, employee engagement is critical – yet incredibly challenging. Which meant finding the right solution to create an impactful experience was essential. 
But what actually is employee engagement, and why is it so important?
What is employee engagement?
Employee engagement is no simple matter. Neither is its definition; over 50 exist.
However, according to the Chartered Institute of Personnel and Development (CIPD), engaged workers demonstrate three psychological states:
Vigor
Dedication
Absorption 
Vigor: this is your employees' resilience and how much energy they put into their work even when things get tough.
Dedication: through showing enthusiasm and pride in their work, dedicated employees push harder and push for more.
Absorption: if you're engrossed in your work, your output is likely to be more impactful.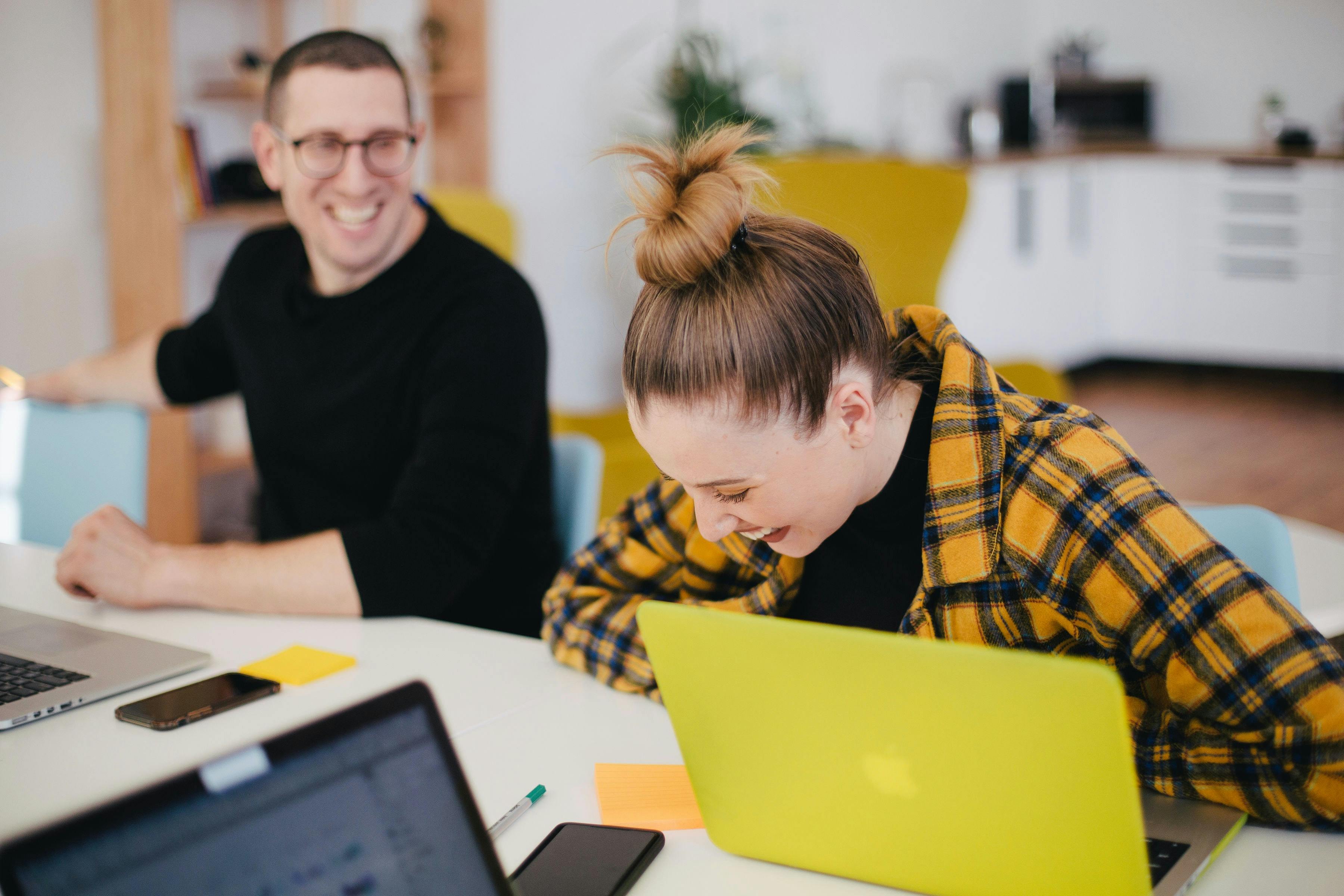 The importance of company culture
Achieving this company culture of vigorous, dedicated and absorbed employees, however, can be extremely difficult to do. Yet it is a critical element of building a modern connected workplace. 
But the real importance is having engaged employees in the first place; strong employee engagement helps fuel a positive, ambitious and inclusive company culture. And this can give you a competitive advantage; having a strong company culture filled with engaged employees not only sets you apart in the eyes of employees, candidates and customers, but it can also have a massive impact on business results.
The impact of employee engagement on business results
As discussed in articles by HR Grapevine, Gallup and Hubspot, engaged employees tend to be happier and healthier – which leads to greater employee retention and productivity. On the flip side, those that aren't are 60% more likely to make mistakes.
But understanding the demographics of that pool of employees – both engaged and otherwise – is also important to take into account. 
Millennials are the dominant generation in the active workforce today. And as with any new generation, they come with different perceptions and expectations. For this group, 67% have said that they feel engaged at work when they strongly agree that the mission or purpose of the company makes them feel that their job is important. And 69% of employees have said that they would work harder if they felt that they were properly recognized and appreciated. 
But here's the most important statistic of them all: companies with engaged employees outperform those without by 202%.
In addition to that, they also benefit from a 10% increase in both customer ratings and a 20% increase in sales. I reiterate the point: employee engagement is critical.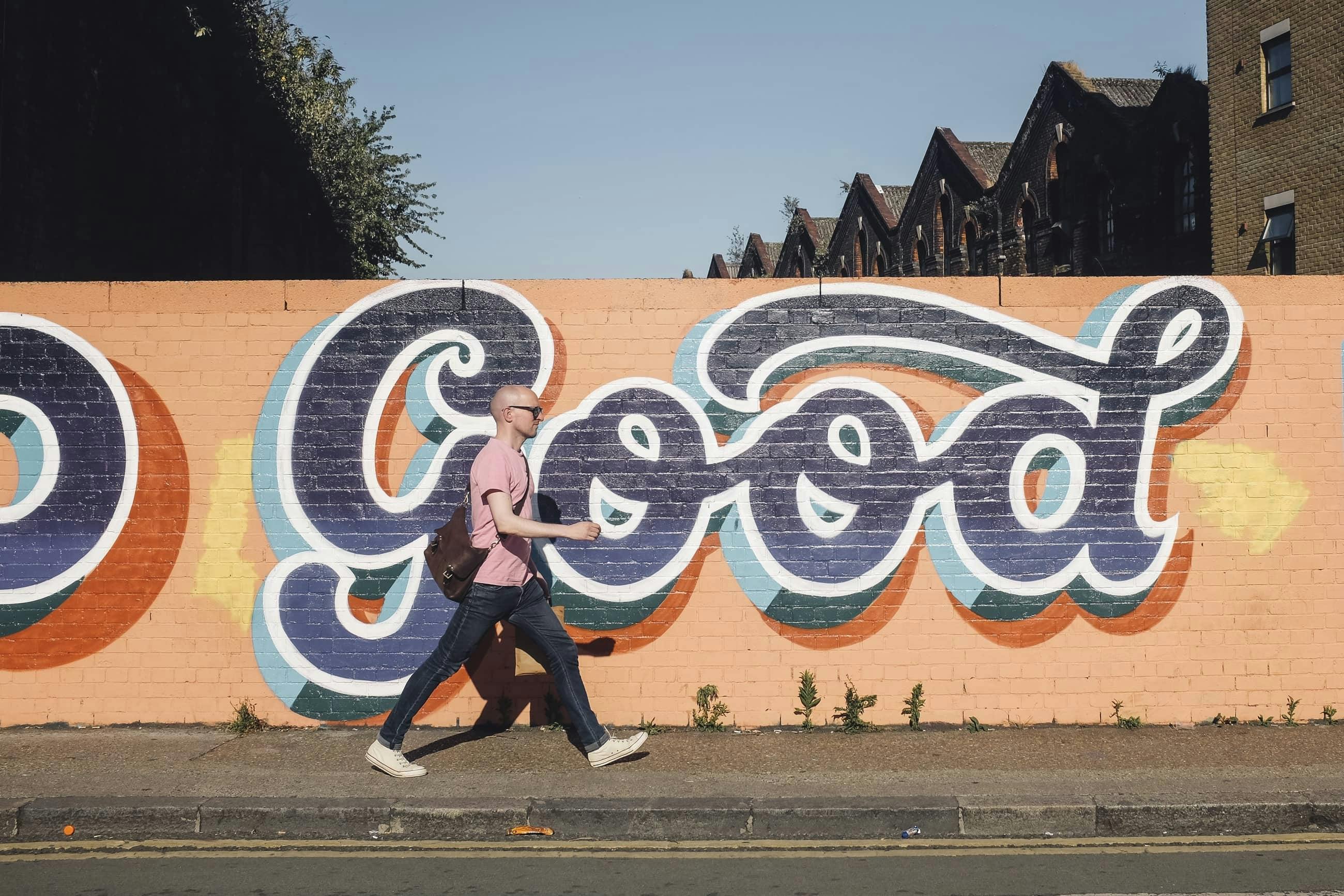 Things to consider when talking about internal comms
Much of creating company culture falls to the internal communications teams, but the impact of those efforts are not being felt; 74% of employees have said that they feel like they are missing out on important information at work, yet only 46% will open and read an internal comms email. That may be because 56% of us are saying that we suffer from email overload.
But what about deskless workers?
Before we even consider how to improve internal comms, you've also got to take into account who the workforce is made up of. 
If you consider that 2.7bn workers – roughly 80% of the active workforce – are considered 'deskless' (that is, working in education, health care, retail, hospitality, manufacturing, logistics etc.), then communicating via email is not the most effective method; this is especially true when many deskless workers aren't provided with company devices and often have to resort to unofficial communication methods such as WhatsApp. 
And to increase that comms challenge, in this post-COVID world many businesses are now turning to a hybrid working pattern. It is engaging within these complex working environments that we really do see the opportunity for screens.
Digital signage and internal comms
When talking with potential customers, we find that a large proportion of internal comms is still spread via word of mouth in meetings or peer-to-peer notices. Then there are physical noticeboards, whiteboards and bits of paper floating about that soon become inconsistent and out-of-date, making them hard to manage. 
Screens are already all around us, in some shape or form. But they're often either blank, barely used or just playing cable news. 
Blank screens in offices and work locations therefore represent huge untapped potential.
The psychology behind digital signage
Put simply, screens ambiently amplify key messages.
Unlike the instant conscious acknowledgement of receiving and reading an SMS or email, the impact of seeing relevant and timely content on a screen taps into unconscious cognition. 
The subconscious mind can process up to 20,000 bits of information simultaneously which makes it responsible for about 95% of all of our cognition. 
This is what makes digital signage such a powerful communication's medium. 
Our visual and auditory senses respond most effectively to subliminal environmental cues, so a sustained audiovisual awareness creates an increased recall ability. Which means that any content you show on a screen will have a greater impact than other methods. We hope to prove this in the new year following a joint study with the Cognitive Neuroscience and Experimental Psychology divisions at University College London.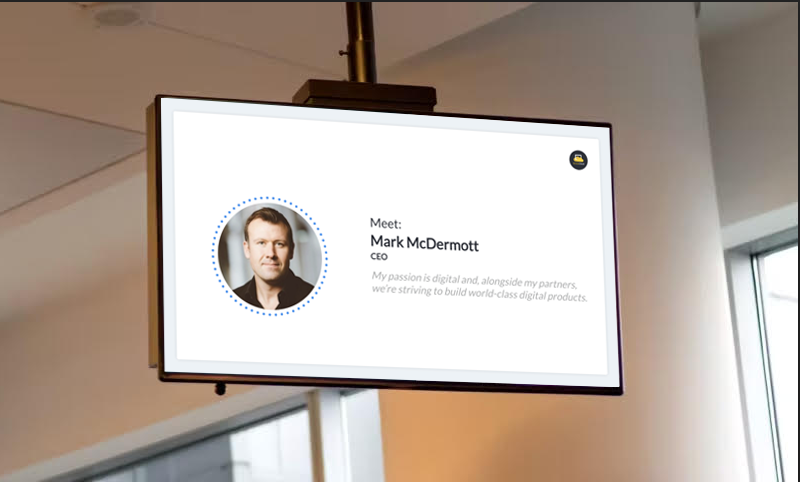 What's the secret to unlocking your screen potential?
Ultimately, unlocking your screen potential depends upon where you are in our constructed 'maturity' model; we tend to group our customers into proficient, seasoned and strategic users of digital signage. 
As a proficient user, your screens are being used to amplify some content. This could be anything from staff announcements to showing localized weather. Moving towards a seasoned user, this is when you start to push that content to specific audiences and being a bit more deliberate about who is seeing what – rather than everyone seeing the same thing. 
But for strategic users – and this is ultimately where we'd love all of our customers to be – they're measuring the impact of their content against their own objectives and KPIs. This is then fed back into the content strategy to refine and improve.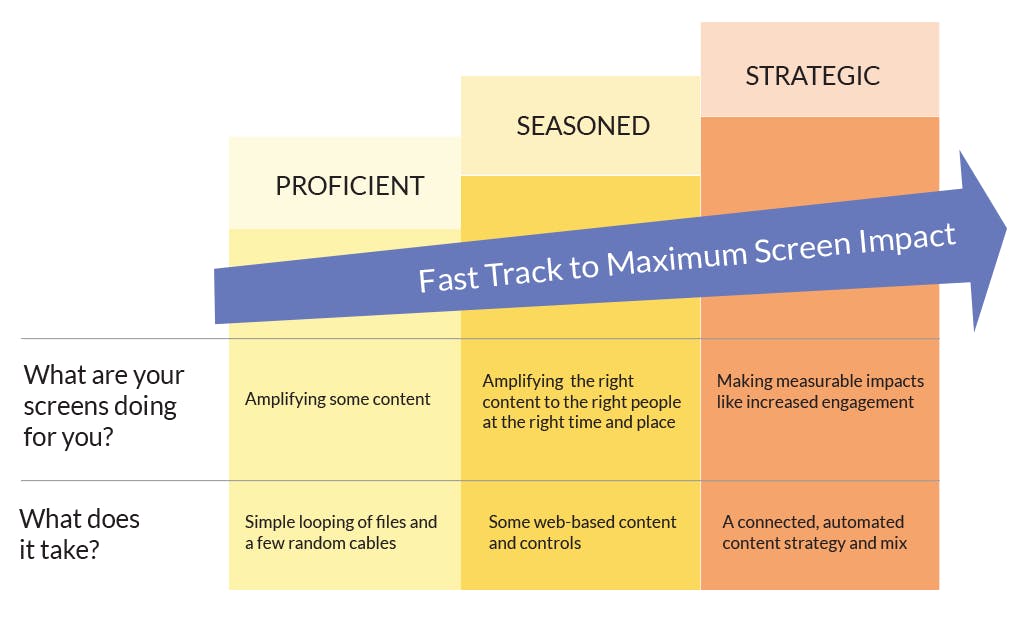 Company TV
Moving up to a strategic use of digital signage takes a lot of work. Figuring out what content to show, when and where can get complex, especially if you want it to be dynamic and impactful. 
As a strategic user you'll need different versions to show at different times of the day and to  different audiences. You might need to lean a bit more on technology and automate some aspects to alleviate administrative burden – especially for smaller teams. 
Which is why we created the Company TV framework. 
Rather than this being a product inside of ScreenCloud, it's a new Professional Services offering to get you to the real 'why' with why you're using your screens – and help you become a strategic user. 
Working together, we can create an integrated, automated and inclusive employee experience, intelligently curating content at both HQ and local level. It's an intentional content strategy that we can develop for your organization's specific needs. 
We can help  figure out how to measure the impact of your screens, and help prove the ROI of using digital signage to create the future of your modern connected workplace. 
But ultimately, it's not about the screen at all. It's about triggering a positive piece of real world action. And that's what lies at the heart of employee engagement.
Want to learn more about Company TV?
If you'd like to discuss how ScreenCloud's Professional Services team can help you maximize your screen potential, request a demo and they can show you how Company TV can take you from proficient to strategic. 
Stock imagery from unsplash.com