2020—what a bizarre year! So bizarre that our loftiest goal for 2021 would be to have 100 people meeting in a room.  
Joking aside, we want to focus on a specific topic critical to the success of any organization, especially during the Covid-19 era: employee engagement. 
As people are adjusting to remote work, trying to create a new normal amid uncertainties, and dealing with increased mental health issues and gloomy economic outlook, keeping employees engaged is harder than ever. Companies, therefore, must take a step back and rethink their strategies to motivate, retain, and communicate with their employees. 
In this post, we'll walk through the employee engagement stats and trends for this year to help you make better and more informed decisions.
Employee engagement statistics
Let's look at the numbers around what percentage of employees are engaged vs disengaged and some factors that increase and reduce engagement.
Employee productivity statistics
One of the reasons why an organization may wish to improve employee engagement is because of its effect on employee productivity. Let's look at some of the statistics and factors that contribute to increased productivity.
Employee retention statistics
As well as increasing productivity, high employee engagement also helps to retain staff. The lower the staff turnover, the less this impacts on both morale and costs within a company. Let's see why that is.
Ways to increase employee engagement
Sweating a little after looking at those statistics? We know it's a lot to digest! Take a few deep breaths. Once you're ready, let's look at some methods you can apply to your organization today to help move the dial from disengagement to engagement, and from good engagement to great engagement. 
1. Praise your team members
70% of employees say that motivation and morale would improve massively with managers saying thank you more. Prior to the pandemic, you can easily share praise on your office digital screens. But that's no longer possible (at least for a while) now that we're fighting Covid-19 and mostly or fully working from home. 
So what are other alternatives for showing appreciation to your team members? At ScreenCloud, our HR system 15Five reminds us to praise our fellow colleagues each week for a job well done. When someone gets praised or a high five, it goes into our Slack #praise channel and simultaneously gets shown on our TV screens or monitors at home using ScreenCloud's Slack app and Embedded Channels.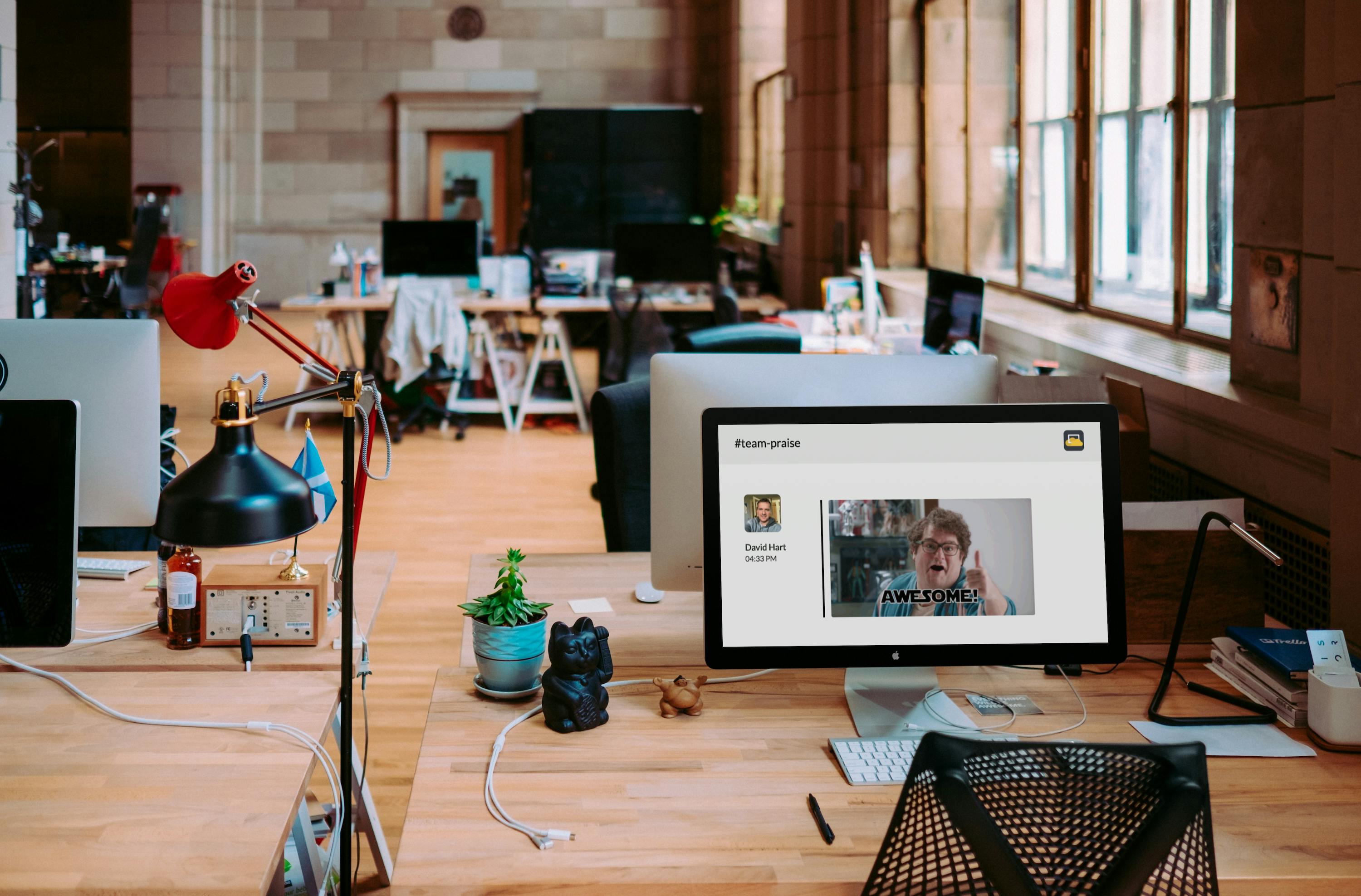 Creating a method to remind your team members to praise each other, then ensuring that praise is visible for everyone to see, increases engagement, and makes your employees feel valued. It is an important aspect of employee recognition.
2. Invest in employee growth and development
Good news: companies that invest in training enjoy a 24% higher profit margin. Bad news: 40% of employees with poor training will leave the company within the first year.
Your employees are the engine of your company. You can't expect them to do their best work without effective and frequent training. It's also natural for people to want to grow and become better at their job. They will immediately look for a way out if they see no opportunities for further career development. Companies that fail to understand and close this gap will ultimately fall behind. 
Sharing training videos on Slack and booking team-wide workshops are a few ways to engage your employees. Alternatively, you can offer stipends to make it easy for employees to pick and choose their own training programs tailored to their specific skills and needs.
3. Improve relationships with direct managers
No matter how rational we try to be (or think we are), as humans we're driven by emotions. In addition to practical incentives like flexible working schedules and learning opportunities, companies should focus on cultivating personal relationships between employees and their managers.   
Almost three in ten employees feel at least one of twelve significant negative emotions as a result of interaction with their immediate supervisor. Poor relationships with managers lead to poor employee engagement and high retention (as the numbers above suggest).
There are many activities to improve the relationships between your employees and managers amid the pandemic, including weekly 1:1 meetings, virtual office lunches, online pub quiz nights, and team outdoor picnics (make sure you follow the safety guidelines). 
During work-related 1:1 meetings, pay close attention to feedback. While giving frequent useful, constructive feedback helps improve employee engagement, it's equally important to ask your employees for their input. When their opinions are heard and appreciated, people feel more empowered and inspired to do good work.
4. Foster team relationships
As well as improving relationships from the top-down, organizations need to work to increase relationships across the team. We use Donut at ScreenCloud to connect random team members and invite them to a Slack/Zoom call (or face-to-face coffee if your situation allows) so they can get to know each other, even if they aren't working on the same projects.
A snapshot of Donut buddies at ScreenCloud before the 'rona era. 
5. Improve onboarding
Effective onboarding journeys have a direct impact on employee engagement, productivity, and retention. Companies with great onboarding processes also achieve 2.5 times more revenue growth and 1.9 times the profit margin compared to organizations with poor onboarding strategies. 
As more companies are opting for remote onboarding due to the ongoing Covid-19 crisis, it's more important than ever to have a structured process in place to onboard new hires and help them set a foundation for success. 
Use tools like DocuSign and HelloSign to make the legal agreement processes easy and painless. Set clear expectations and concrete goals since the get-go. Share a digital handbook and important documentation about the company. Create a Slack channel dedicated to new employees and encourage them to interact and share their experiences. 
Pair each new hire with an onboarding buddy or mentor who can provide ongoing guidance and support. Learning about the experience of a senior team member is a great way to reinforce your culture's values and create a sense of belonging for new employees.
6. Build a strong remote work environment
Let's face it, the office is likely to be dead for a while. In fact, companies like Twitter, Square, and Shopify have already embraced permanent work-from-home arrangements. Creating a stellar working environment for remote employees should, therefore, be at the top of your priority list.
Make sure communication is clear, efficient, and flexible. Set a strong foundation for psychological safety. People will feel confident to speak up and share their honest feedback or crazy ideas if they know that other members won't embarrass or blame them. 
Constant Slack messaging or Zoom calls can interrupt people's workflow and hinder their productivity. It's essential to give your employees time and space to prioritize important work. There are some easy ways to achieve this, such as blocking certain times on the calendar or changing statuses on Slack.  
Last but not least, avoid micromanaging. Treat your employees like adults and trust that they'll get things done. Instead of focusing on the hours clocked or their day-to-day activities, concentrate on their accomplishments and whether they've met their goals or not.
To read our full guide on How to Approach Employee Engagement in 2020 and build a strategy that will engage, retain, and increase productivity in your team, download the ebook for free.