When it comes to implementing a new digital signage network in schools, it's hard, we get it. From speaking to many of our educational customers we know that budgets can be a problem (even with the cheapest, most effective software you've ever found in ScreenCloud) and that buy in can be even harder.
When we spoke to one Head of IT, who told us that it took him eight years to not only get buy-in, but to find a digital signage solution that was fit for purpose within a learning environment, we nearly fell out of our chair. We salute that kind of commitment to better digital communications. we really do. But the truth is, it just shouldn't be that hard to get a new digital means of communications for your students and faculty members implemented. 
The big educational benefits that digital signage provide are right in front of you, or right up there enclosed within a digital screen should we say. 
So in honor of making your journey shorter than those before you, here are six unarguable, big educational benefits of getting digital signage implemented in your school or college. 
Create content that students and staff truly want to see
Digital signage is a network of screens that show deliberate content to those walking by in a passive, non-intrusive way. Unlike email, handouts, lessons and even mobile apps, it's not content that's forced on the student or staff member. Instead, it's content that's designed to grab attention and provide useful information or services to anyone in the vicinity.
This fulfils many a marketing goal, as the content is:
Timely - playlists and scheduling mean that content can be fine tuned to the day of week or hour of day. For example, a digital menu board at 11am that shows the lunch menu or a fire alarm reminder at 1pm on a Friday.
Useful - information on room changes, staff sicknesses, upcoming exam timetables, key dates; all information that is incredibly useful and worth the student putting down their smartphone for. In fact - the only problem we've had reported from our customers is corridor congestion when students get too carried away absorbing messages from on the screen!
Engaging - the beauty of digital signage scheduling is that you can pepper the essential with the engaging. Learning materials and school notices can be interchanged with social media streams and world news. Not only does this alleviate boredom (a 2013 study suggests people will lock on to content for a maximum of eight seconds) it also ensures that crucial first second or two makes the student look up and take notice.
Here are 10 useful content ideas on the type of displays a school campus could take advantage of. 
Adapt and change content anytime, from anywhere
One of the big benefits of digital signage, educational or otherwise, is how quickly you can change a playlist, drop a slide in or add in a new photo. 
This gives you the space to plan strategically against the curriculum and daily learning objectives but also allows you to change the content when the occasion calls. Big open day coming up? Switch your screens to just the highlights in a few clicks. 
This also doubles up as a real time safety board. In the event of an emergency, staff are able to communicate quickly to every area and campus of the school. After the Virginia Tech Massacre, West Virginia University installed 120 digital screens that would assist in protecting students, faculty and staff in the event of a campus emergency. In the everyday, the network would be used for regular communications, but in the event of an emergency the campus staff would have a useful tool at their disposal to spread a message or safety information fast. 
It also creates that moment of connection after a big event or natural disaster, allowing you to send hope and encouragement across the entire school. 
Make student initiation easier and provide wayfinding
How often do we see the same old tired initiation processes welcoming students to what is essentially the biggest part of the next few years of their lives? We totally get that the fanfare comes with practical and financial limitations but this is where your digital signage screens could come into play.
The benefit of having a fitted, digital network at your disposal is that you can use it to change the way you've always done things, without incurring extra cost. On the first day of school, why not create a digital signage scavenger hunt that allows new students to learn about their surroundings? This engages teamwork from the off and is much more memorable than a printed map. 
In the day-to-day, digital signage can provide welcome messaging, wayfinding and maps that help to direct students to places of interest or new buildings. 
One set of screens, multiple benefits. 
Improve learning and align students with world events
Of course, one of the ways we learn more about the benefits of digital signage is through speaking to our customers. Our buddies at Merchant Taylors' Schools, explained how they use content within their digital signage displays in order to align students with further learning materials:
"For example, in the English department we have a screen which shows what's happening within the department, mixed with general news from around the world which sparks debate and topic discussions in class. Our students stop to read the screens and the congestion in the corridors shows that they're taking note of what's on there! The Head of Literacy then uses the screen to promote reading clubs, book clubs, literacy sessions and all sorts of things."
This is just one example of how your digital screens can support what's going on inside the classroom by giving students access to up-to-the-minute information. 
Some of the content you have access to in the ScreenCloud App Store alone includes: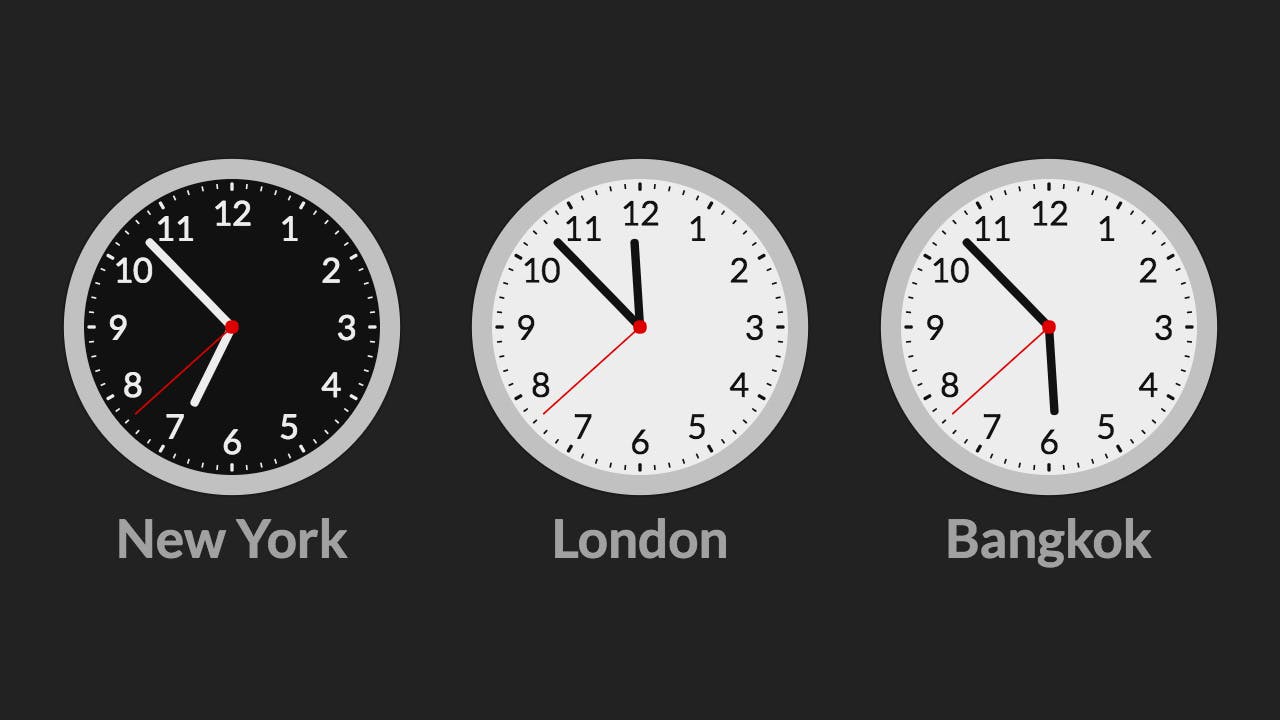 How much benefit could this provide your students if it was shown to them on a regular, glanceable basis? 
Create a content medium that gets noticed 
Studies show that 'digital natives' i.e. our students, can switch media up to 27 times per hour. That's a short attention span right there. If you looked out onto your campus corridors right now how many students would have their faces buried in a phone? 
Here's where digital signage beats most other forms of media; you're working with a screen that students and staff are already accustomed to looking at. Nearly everything we do is digital now, which is why paper handouts and printed letters get a hard time.
Are our students really going to read them or take them home?
With digital signage, you're using a screen that most are already attuned to looking up at. You're also placing them in a space that's usually empty and therefore designed to attract attention, both because of its physical location between classrooms and the time space it occupies between students leaving lessons and starting new ones. 
Let students learn about digital communications, marketing and graphic design 
Another concept we love is this private school who use digital signage to empower their students to learn more about skills such as graphic design and media in creating content that goes on to power their digital signage displays.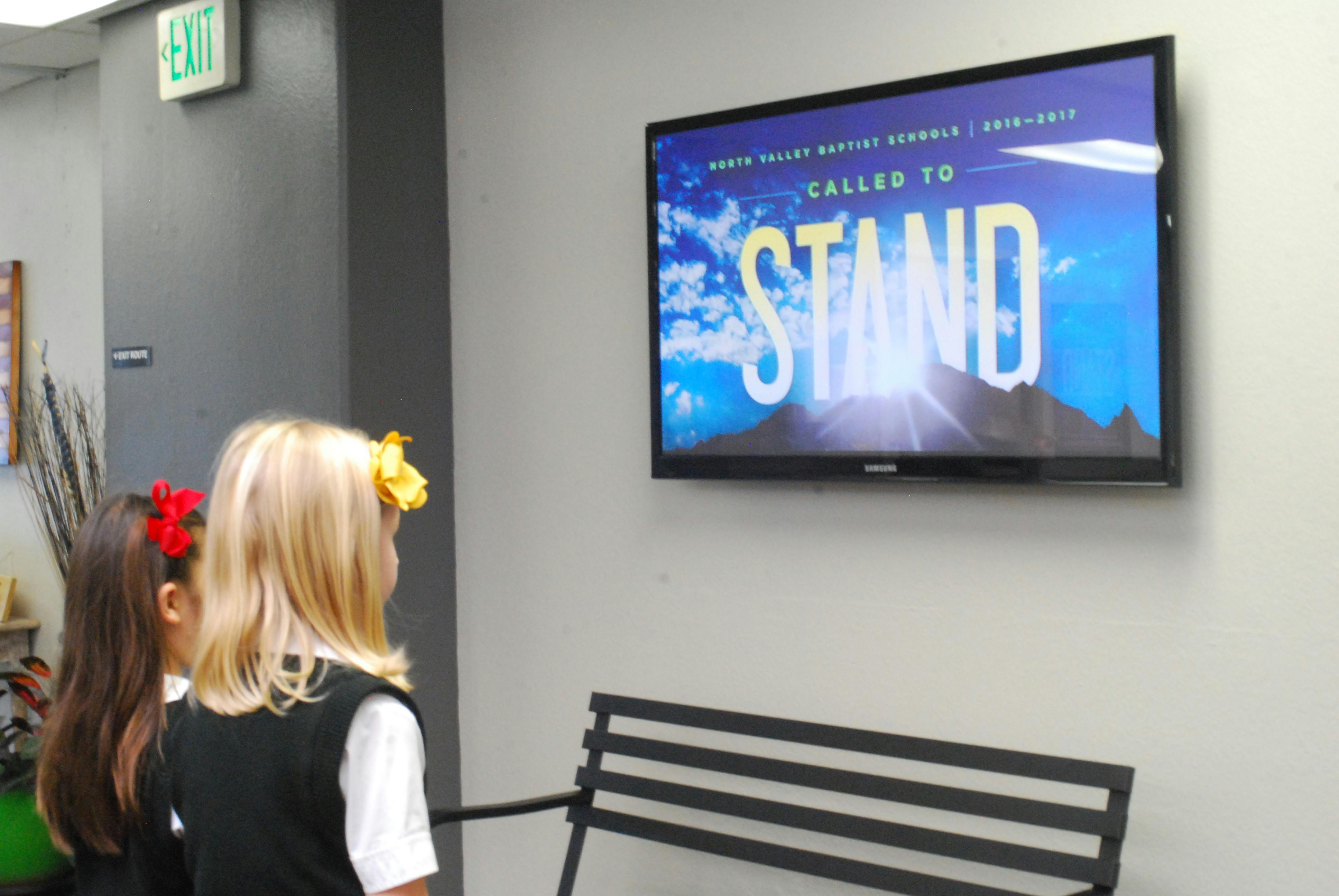 Not only is this cost saving (as all material is created in-house using free tools such as Google Slides and image creation programs) it also gives media students a way to measure their assignments in a 'real world' situation. This helps balance educational learning with real world experience that would be a great addition to any resume.
As their Webmaster tells us, it's also a great way to see each student "take careful, diligent ownership of our screens on campus".
Help your school go digital and give power to faculty members
According to Higher Ed Tech Decisions, nearly 70 percent of colleges have installed digital displays on campus. When it comes to comparing your school to others, digital signage helps you to showcase your selling points and shows parents and potential students that you are a digital school. 

Not only that, it gives more power to faculty members to run their departments outside of their classrooms and in the additional space around them. Screens in corridors can be used to share notes, lesson plans and reading lists as well as departmental social media feeds and last-minute notices. 
Because a digital signage content management system like ScreenCloud is so easy to use, almost anyone can be trained up in it. This reduces a heavy load, usually left to IT and makes content creation for hundreds of screens easy, as the power lies with the individual in charge of it. Changes can be made as and when needed and staff can choose when to power up the screens and when to shut them down, for example saving time during the holidays when the school is empty. 
Ready to give it a go?
Our digital signage content management system is the simplest out there and we offer a 25% discount for all educational organizations. Set up your account at https://screencloud.com then give us a nod at hello@screen.cloud for your discount to be added.