Many of our customers located within education are doing something amazing. They're bringing digital signage systems, full of awesome digital screens, to schools, universities and colleges everywhere. Why are we so impressed by this? As we've mentioned before, schools need to bring their signage systems up to date. Relying on paper notices and missing the opportunity to use digital signage as a way of sparking debate, keeping students up to date with world events and having an up-to-the-minute feed of school information for everyone to view.
Digital signage in education, when made accessible, streamlines communication and makes the sharing of information easy, on a format that everyone is used to viewing. If anything, the only problem with a stellar digital signage network in education is the extra congestion in corridors as people stop to view the screens!
Of course, education is slightly different to most digital signage systems in areas such as retail, corporate environments and venues. Budgets are smaller for one, screens are often chosen on factors such as how difficult they are to turn-off and break, rather than aesthetics and the role out of content has to be super simple and interchangeable at a moment's glance. 
In fact, after listening to feedback from our school customers, the best digital signage software for schools has these five attributes:
Simple to use, allowing anyone to control the screen outside of their classroom door.
Affordable, even when used on a large or multi-screen scale.
A software solution that pairs with affordable hardware.
The means to share and curate content that doesn't put additional strain on marketing and IT departments (i.e. anyone can create content, or utilize content that has already been created).
A digital signage organization that listens and responds to feedback, is interested in helping schools to embrace digital technology and not just in the selling of software packages.
With that in mind, let us introduce you to ScreenCloud Signage. What we believe (and what we've been told by our awesome customers) is an easy and affordable way to implement digital signage within a school environment. 
1.Choosing hardware for digital signage in education 
Let us just say that you won't find expensive hardware here. ScreenCloud has been designed to be used with hardware and media players that are affordable for most educational IT budgets - or the ones you already own.
When it comes to finding hardware for digital signage school systems with ScreenCloud, you have two primary choices:
1.Android TV + the ScreenCloud app 
2.Standard (non-smart) TV screen + cheap media player such as an Amazon Fire TV Stick 4K or Chromecast with Google TV + the ScreenCloud app
In the first instance, if you already have a smart Android TV, you can use the ScreenCloud Android Player app which you can download from the Google Play Store. That's it! All of the hardware you need and you're ready to go. 
If you don't have a smart Android TV, then you can use any screen you have (even non-smart ones), adding a $40 Amazon Fire TV Stick 4K or a $50 Chromecast with Google TV to help make the screen smart. Once installed, you can download the ScreenCloud app from the Amazon App Store (if using the Fire TV Stick 4K) or the Google Play Store (if using the Chromecast with Google TV). Again, we don't want to make it sound too simple but that's it! You're setup with all of the hardware you need and ready to go.
This means that you can make use of screens you've already got hanging around, or you can buy smart ones that have everything you need included. 
In the case that you want to purchase more than one device for your school, we recommend getting a commercial grade media player because of the extra added features that may be more beneficial for digital signage in an educational setting, such as our ScreenCloud OS device, the Station P1 Pro. Commercial grade media players are typically manufactured with a metal chassis to make the device more durable and to help control heat after extensive use. Long term use of consumer grade media players could cause problems in the future if the devices overheat. 
The Station P1 Pro is a great option as its quick deployment methods makes it much easier to set up multiple devices around your campus by simply inserting a ScreenCloud OS provisioning USB flash drive. Now if you ask me, inserting a USB flash drive into 10 devices sounds much easier than manually setting up each individual account and Wi-Fi settings as seen on consumer devices. Secondly, the ScreenCloud OS comes with minimized security risks because it's interface is locked down by design, reducing the possibility of tampering or hacking.
2.Choosing digital signage software for your school
Now the real beauty of ScreenCloud is in the speed and ease of keeping content completely up to date. Static signs are difficult to update and paper notices get walked past without a glance.
Digital screens attract attention, but they have to be relevant for students and teachers to come back for more.
ScreenCloud Signage makes it easy for you to update content, change it and optimize it for ultimate positioning, even when you aren't near to the physical screen.
Here's how:
Upload content
ScreenCloud makes it as easy to upload content to your school screens as it would be to upload an image to Facebook. ScreenCloud allows you to upload files from wherever they're saved - your computer, Dropbox, Google Drive, OneDrive and so on, so it's easy to manage your brand content. ScreenCloud also supports the majority of file types including jpeg, gif, png, and svg, PDFs, powerpoints and Office/iWorks formats to make uploading your content easier.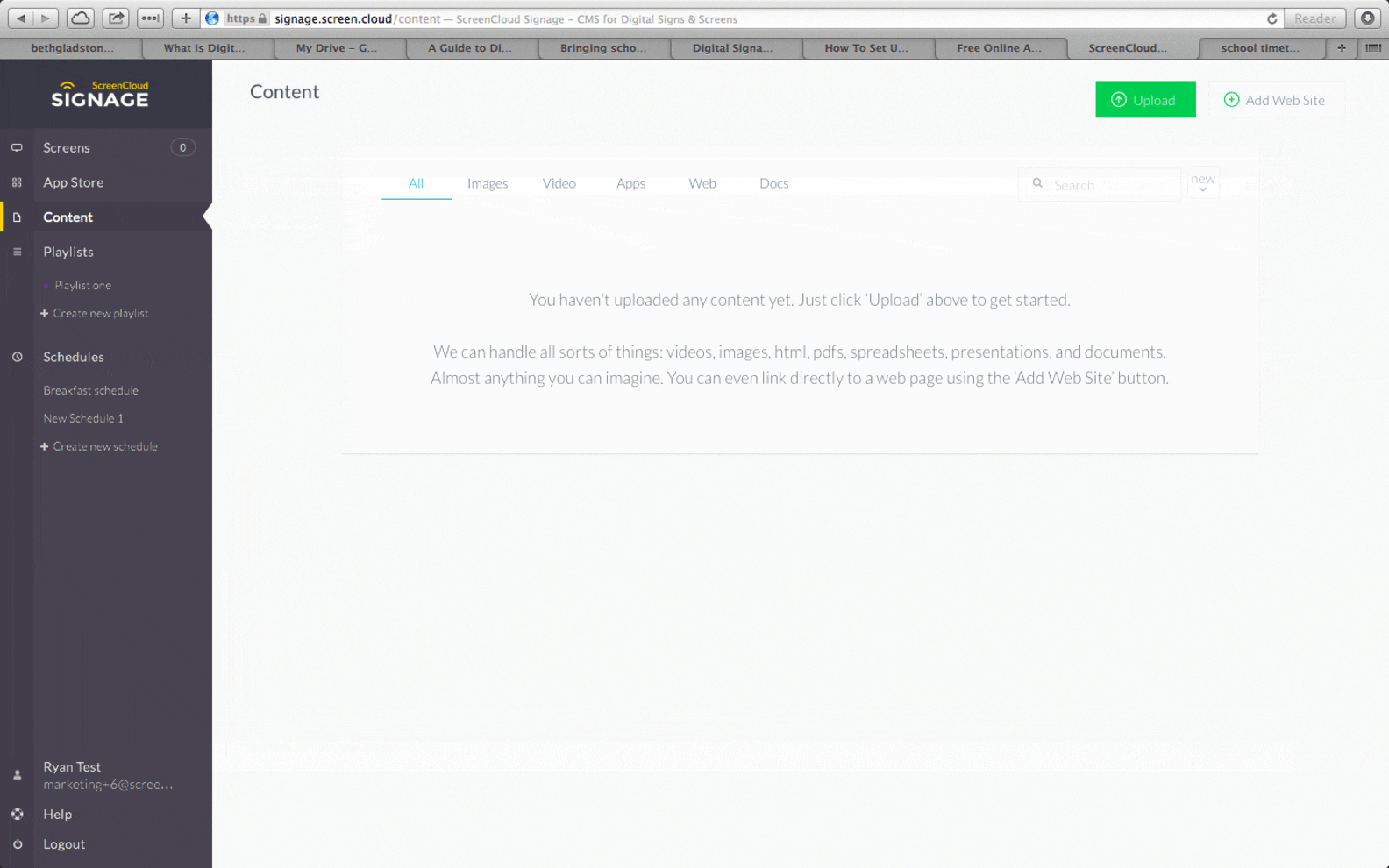 Upload timetables, reels of images, class notices, extracurricular information, student videos and more, quickly and with ease!
Change content anytime, from anywhere
You know what happens. You spend ages creating the latest class timetable, upload it onto your screens and that's it, job done! Or it is until a class gets changed, a teacher is sick or you realize you've made a crucial typo on one of the timings.
With ScreenCloud, none of this matters. Simply change the content and re-upload into your playlist and schedule. You don't even have to anywhere near the screen to do it! Just visit screen.cloud/signage from your laptop or PC, sign in and you have access to all of the content showing from wherever you are. Simples!
Optimize content for your school
Playlists and schedules. Those magic words you've been waiting for. 
With your excellent content and our excellent digital signage platform, all you need now is a way to organize your content and show it in all the right places, at all the right times. This is where ScreenCloud's playlist and scheduling features come in.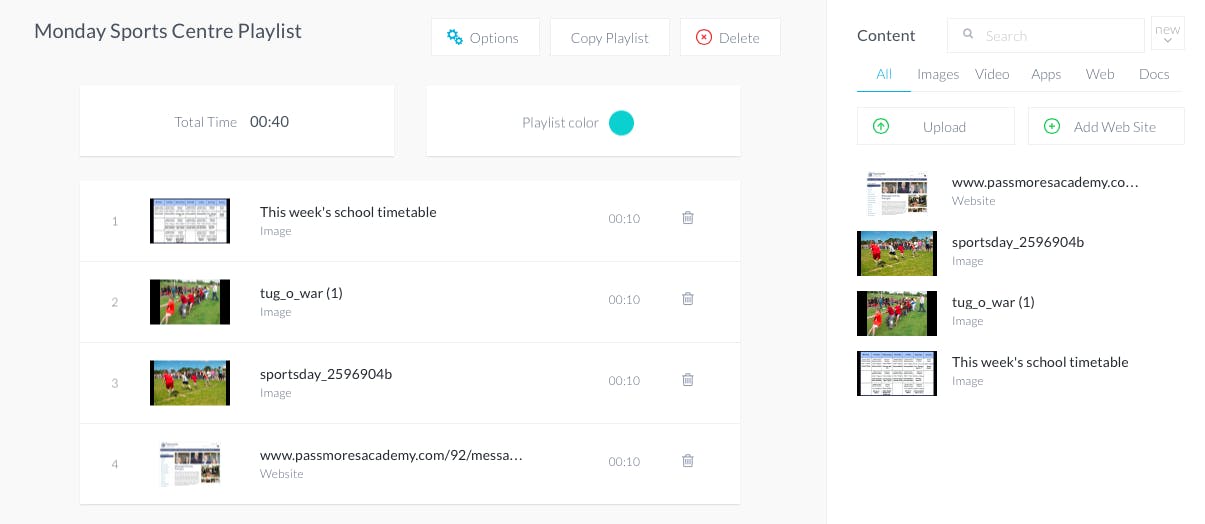 Create playlists for specific days and hours, then fill them with rich content - from school timetables, to images from your latest events and notices or web content. Once your content is uploaded, you set the order in which it shows and how long it shows for. 
Allowing you to tailor-make every playlist shown - one for your sports centre, another for English and another for special events and holidays perhaps?
Once you've decided on the best playlist for each day or department, it's time to create a customized schedule for when it will show.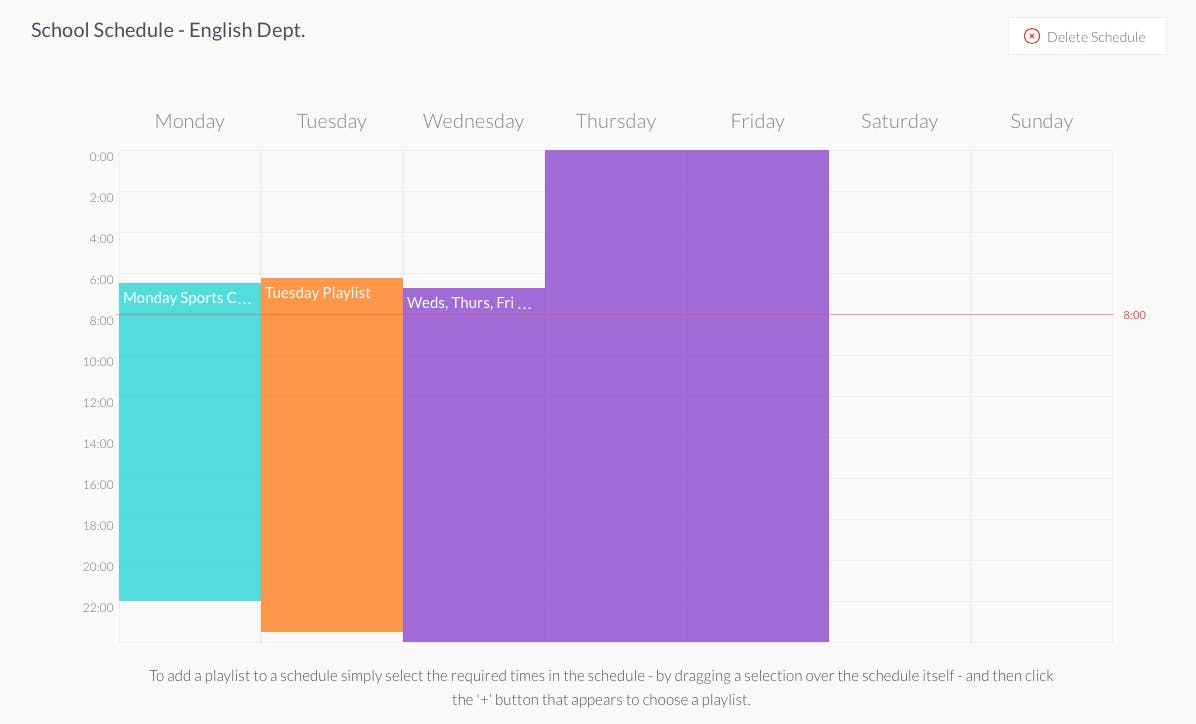 ScreenCloud's scheduling feature allows you to select specific playlists to play on specific days and at specific times. So perhaps you show important information and notices each morning, then images and videos for recess when students have more time to stroll and reminders and extracurricular activities for late in the afternoon.
3.Using digital signage apps
Images, videos and web content are great. But what if you're looking for content that's more dynamic, or for content that's already been created so that you don't have to do a thing?
That's where the ScreenCloud App Store comes in.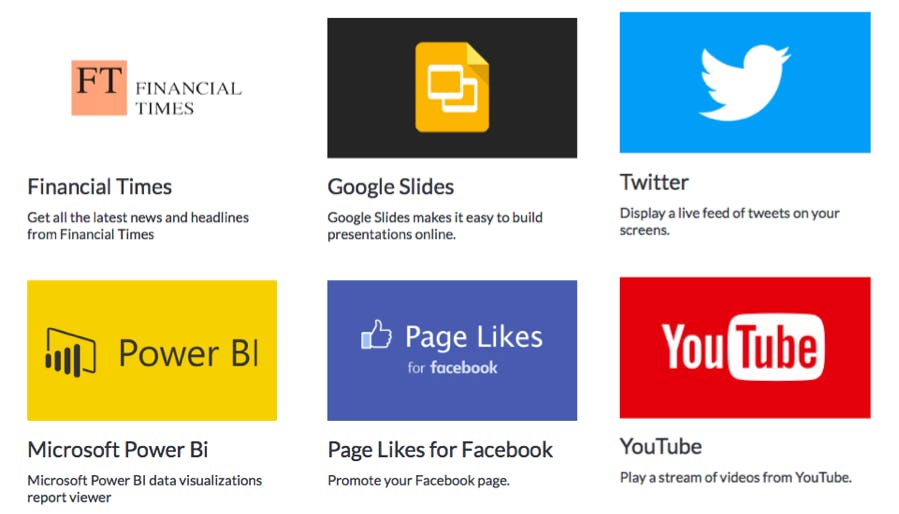 Your school is so much more than lessons and learning. It's a hub for future generations, that will change the way your country thinks and makes decisions in years to come. This is why we believe (and have seen) how students can benefit from staying up-to-date with world news, financial information, geographical updates and more. 
Our App Store gives you the option to add live news streams from channels such as CNN, Sky News, Reuters TV as well as the Financial Times, ESPN and RSS feeds for creating a custom news stream of information.
For the screens outside Economics, you add the latest stocks and currency information. For the sports hall, perhaps the weather and for the lunch hall, a digital menu board filled with rich nutritional information and mouth-watering images. 
Did we mention we have social media too?

Display departmental Twitter feeds, Facebook pages and Instagram galleries, as well as using apps such as SocialWall Pro to create rich social media dashboards that pull together content from every channel.
Social media is no secret to schools; educational departments use it to keep students informed, entertained and feeling like a part of the community. Repurposing this content (that's already out there) for the screens hanging in your halls make it easier than ever to get content flowing. 
So in conclusion…
We believe that digital signage systems in schools should be accessible to all educational facilities. The way this will happen is through making the hardware as affordable as possible, the software useful and the content easy to update and manage.
At ScreenCloud we believe we have all three of these founding principles.
We'd love for you to take a look and see if you agree. We have a 14-day free trial and a 5% discount for non-profit organizations - just email us at hello@screen.cloud when you start your trial and we can apply.