Digital signage is becoming the way to join up communication in education. But that's pretty broad right? What if you knew that you wanted screens, you just weren't sure where to put them or what they might show? Creating content is a whole other ball game and one that not many education professionals have time to pore over.
So in the art of making something simple, well simpler, here are six great ideas for rocking digital signage outside of your school or college classroom doors.
1. News
Schools and colleges occasionally get a bad wrap. While they're busy educating young minds some people are asking: "hey, where's the real world knowledge at?" The stuff about taxes and budgeting and all of the other good-adulting that these young minds are going to have to do one day. Digital signage bridges the gap. Using pre-made apps like BBC News, CNN, and Live News you can show the latest headlines and news from around the world, direct to your classrooms.
Using live news apps, your digital signage screens are always interesting. No one tunes out as such, because the information is always up-to-the-minute relevant. Students get filled in on world events, which can promote discussion in class, while teachers also get a glimpse at outside news. This pairs academic education with real world education and allows everyone to get the best of both worlds throughout the learning experience.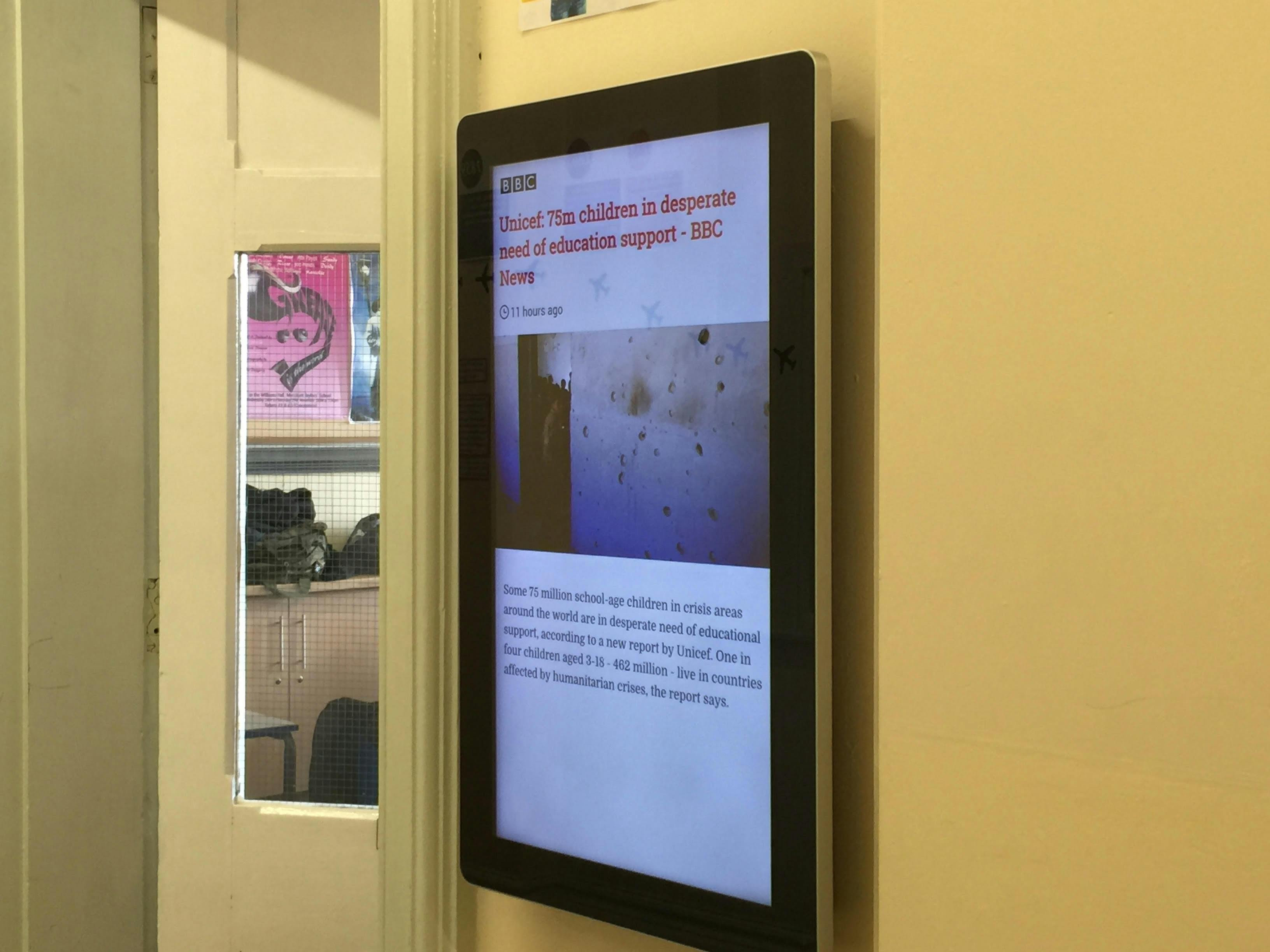 Live news at Merchant Taylors' School.
Many schools have adopted social media to speak to their students and why not? If students are already on channels like Facebook and Twitter it's a natural location for schools and colleges to share news and updates.
Our customer Merchant Taylors' schools use a series of carefully curated Twitter streams from each department. The Head of Literacy uses Twitter plus the digital screen outside her classroom door, to promote reading clubs, book clubs, literacy sessions and department news. Elsewhere, the sports hall Twitter feed shows times when it's free for hire, game fixtures and other sports-related news.

Twitter can be updated on the fly, from anywhere. The Twitter app on digital signage, allows you to set the feed up then leave it running, sharing all of the latest events and notices. This is the easiest way to share news and school updates, direct to your digital screens.
Who knew social media could be so useful?
3. Company website
If you've spent time and money designing a beautiful school or college website shouldn't it be put to work? ScreenCloud Signage allows you to easily add a URL by simply using the "Add Web Site" button. If your website homepage is too long for the screen, you can use Page Scroll app to automatically zoom and scroll the entire length of the page.
This could be anything from your homepage, to your blog post or latest news page.
4. Image galleries
If there's one thing students will gather round for, it's seeing the latest sports or event images shown on screen. Images can be added to your digital screens one-by-one, or in folders using an app like Dropbox Gallery app.
This makes it stupidly simple to add all of your latest images from your school community to your screens. The beauty of Dropbox Gallery app is that you can add the app to your digital signage playlist once, then add any new images to the folder in Dropbox and they'll automatically update.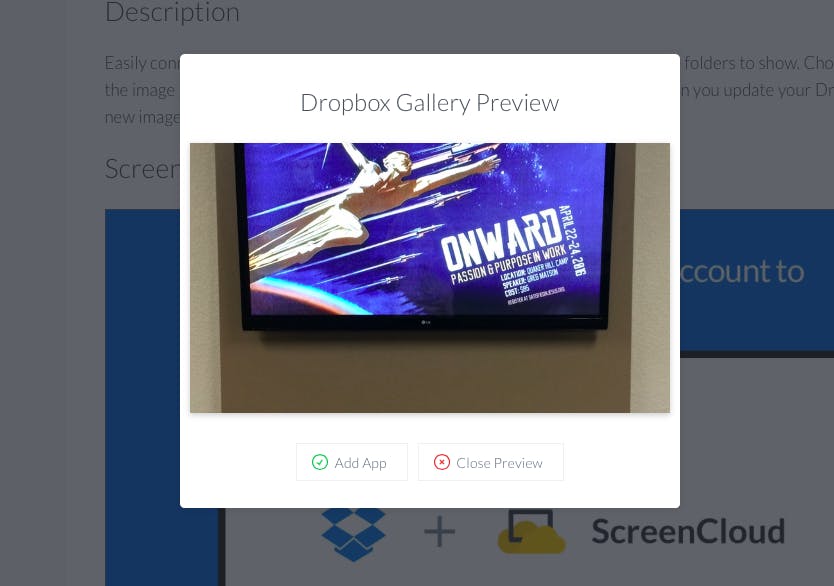 No messing around with the screen, re-programming or having to start from scratch every time you have new photos to show.
Just be careful - we've heard that the school halls can get very congested when images are ready to be viewed!
5. Video
Our first screen viewing experience usually comes from watching TV. Pair that with our evolutionary instinct to keep an eye out for movement and actually, video is an incredibly effective way of pulling attention towards your digital signage displays.
Here, you have a few choices. You can play your own school videos by uploading them in a format like an MP4 or you can import a video playlist using an app like YouTube or Vimeo.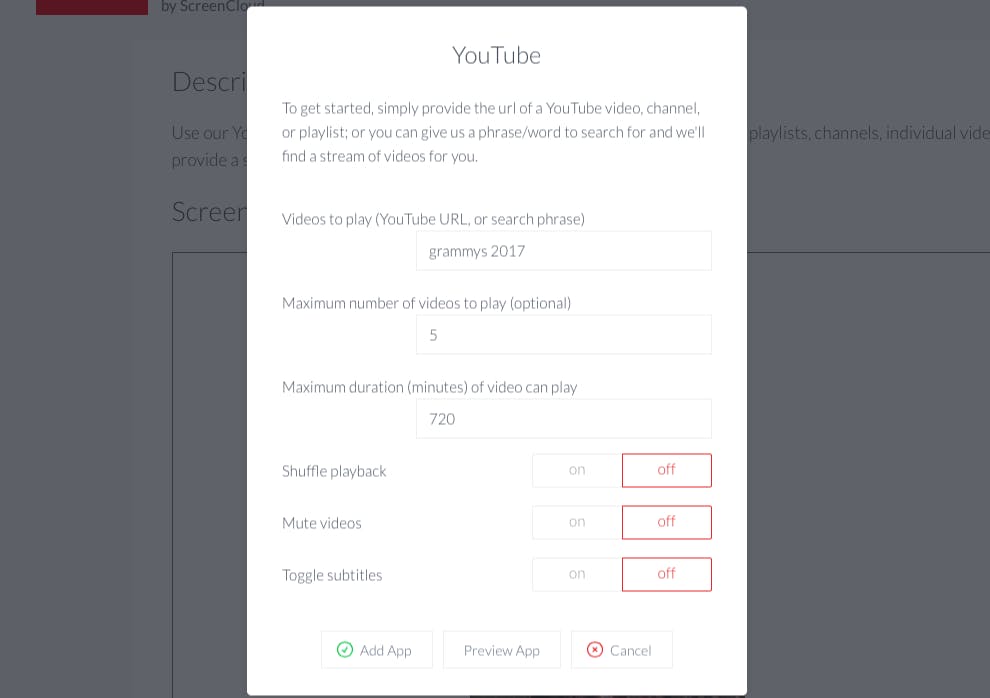 Within the app settings you can choose to mute videos (if you don't want too much noise), set a playlist or choose a video by keyword.
6. Your own creative content
Something we love about digital signage is its power to put creativity into the hands of anyone who wants it. Unlike days of old, digital signage is not difficult to set up. This means content can be changed, tested, added or removed as simply as you might upload an image to Facebook. This makes it the perfect canvas on which to experiment.
You probably change your school board displays every term - but you can change your school digital displays every day.
At North Valley Baptist Schools in Silicon Valley, media students are put in charge of creating great content for their digital signage screens. They get to learn and practice graphic design skills and can show off their handiwork in real-time and get the feedback of teachers and peers.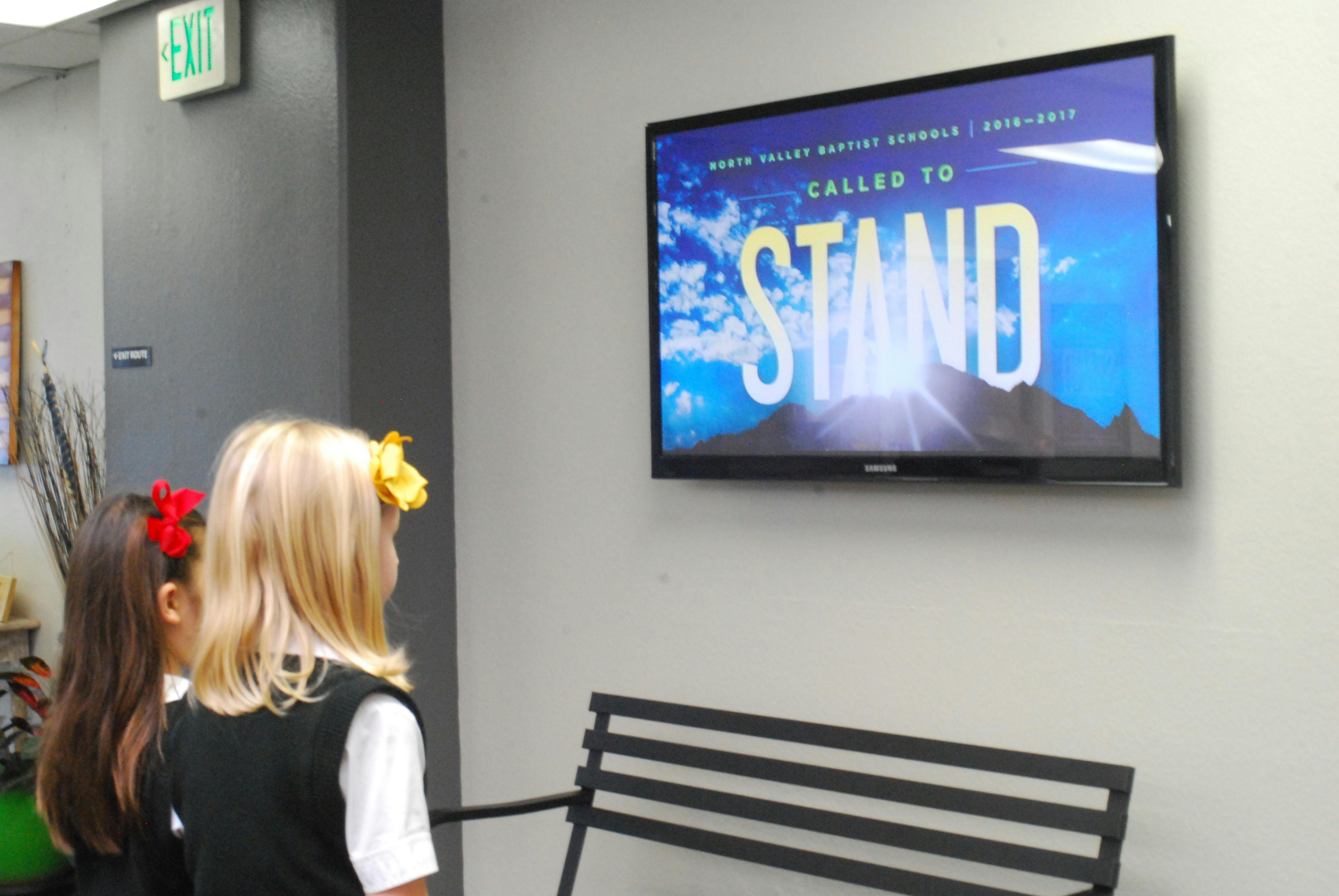 Unlike creating a mock project (which is what usually happens) they get to design for the real world and a screen that everyone's going to see. When students are in charge of digital screens, you can bet they're going to put some effort into them and you get an amazing, visual network as a result.
Ready to test out the content needed for your digital signage strategy? We have a 14-day free trial and a 25% discount for non-profit organizations - get started at screen.cloud/signage.