The world is more online than ever before. Especially after Covid-19. From the lockdowns and social distancing restrictions, digital transformation was revealed as necessary in every area of our lives, from food shopping to even education.
Now that standards have been redefined for a 'new normal' – and a change in our expectations and behavior as a result – it is becoming increasingly important to keep up with the changes. It's not enough to just accept the rapid digital transformation post-pandemic, we need to digitally mature with it.
This is especially true of the education sector. Now that students are returning to campus with an increased digital-first mindset, universities have to follow suit. But how?
Digital signage and the education sector
Becoming a digital-first university means changing how you see, use and think about digital technology. This is the starting point of digital transformation: a technological strategy with a purpose.  
Many schools undergo digital transformation without really realizing it; the switch from blackboard to whiteboard to smart board is an example of this. Conducting lessons via Zoom is another. 
But digital signage's role within the education sector hasn't really been considered. Until now.
Alongside our previous guide on implementing digital signage software in universities, here are some examples of how digital signage can enable your school's digital transformation without worrying about hefty investments in hardware or tech skills.
Digital signposting
One of the beauties of digital signage (and ScreenCloud for that matter) is that it can be edited in real-time and act as a reliable and consistent resource. The most impactful content is factual – and timely – content. And nothing needs to be more correct than signposting.
Digital screens are natural attractors and proven to be effective ones for informing and engaging students. Placing screens in logical locations – like outside of a room, in the corridor or in the canteen – guarantees good dwell time.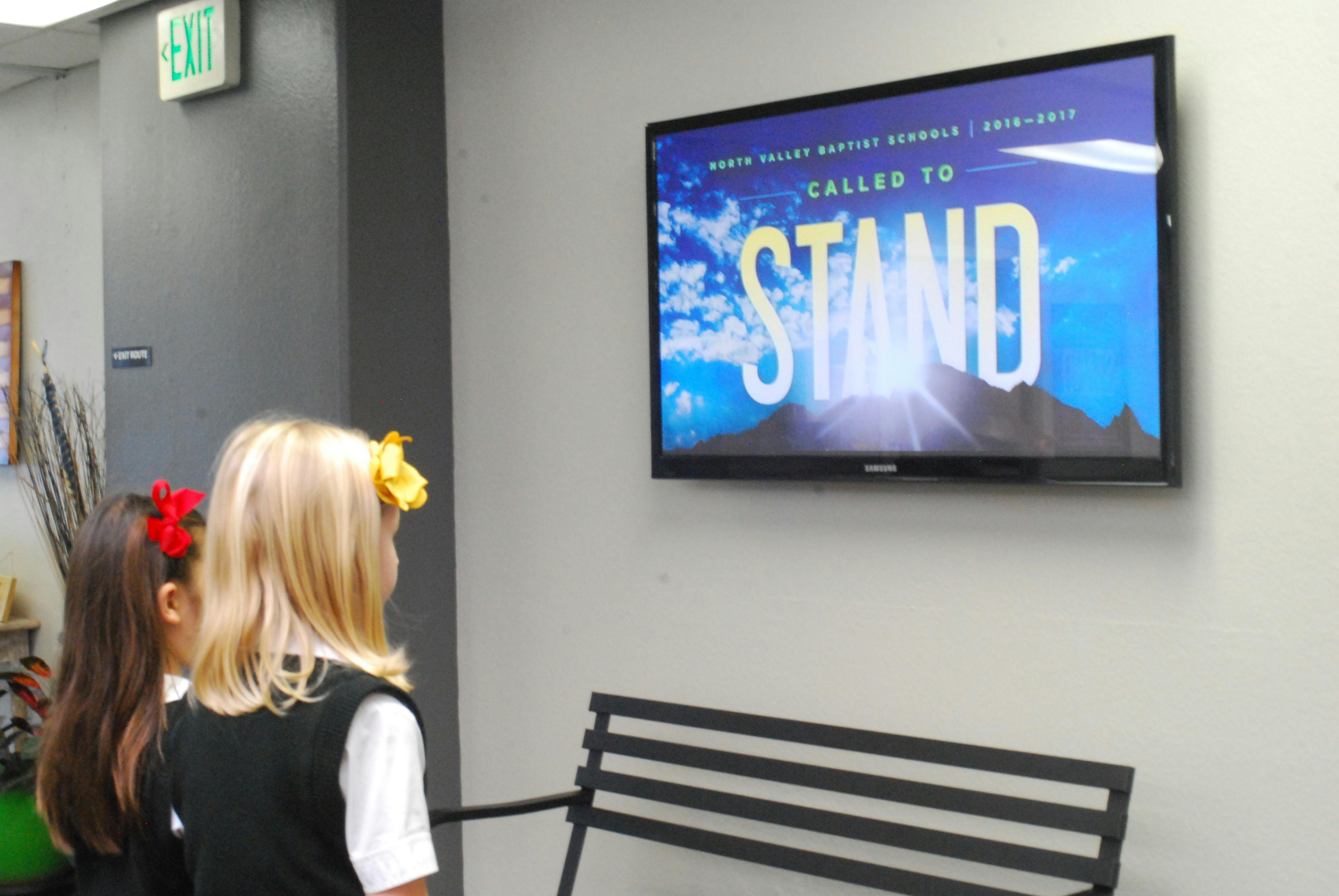 While there are benefits of using digital signage for wayfinding, check out how North Valley Baptist Schools in Silicon Valley uses ScreenCloud for digital signposting:
Informing both staff and students on campus of daily, weekly and upcoming events,
Sharing announcements and reminders,
Recognizing student achievement,
Sharing students' digital projects,
Celebrating school and student milestones,
Promoting departmental social media feeds,
Sharing travel information including bus and train timetables around the school area,
Renting out space within the school to increase revenue,
Sharing information that can promote discussion in class (currency rates, world news etc.)
See our ten ideas for campus digital signage content.
Digital communication
While printed posters and notices still have their place, they don't quite have the audience, affordability, or the urgency of digital communications that we have come to expect post-pandemic. From emergency announcements to simply announcing school-wide events, your school's communication needs to be adaptable at a moment's notice. It also allows for greater interaction with your students by enabling you to show their content too!
The right digital signage solution will allow you to create, curate and upload content from anywhere, or even schedule it in advance to align with your school's academic calendar. With ScreenCloud's digital signage software, you can do all the above and integrate apps like Walls.io or Taggbox to create social media walls and give your posts greater impact. It also allows for greater interaction with your students by enabling you to show their content too!
Having the ability to make real-time edits also mitigates the risk of showing outdated or contradictory content, perfect for keeping your student body, staff, and even potential students in the loop.
Digital campuses
When campuses become digital they begin to speak the same language as the digital-first students. It eases processes and makes physical buildings and centers more adaptable to changing needs. 
Some of the ways digital campuses can be created include:
Corridor displays for announcements or room availability
Secure cloud-based systems for storing and sharing information across every department and area      
Analysis of data and student movement to ensure that learning areas are optimized.
Using sensors and smartphones to be able to change the temperature, lighting and sound of a room for optimal effect
Digital affects all parts of the future university - not just IT. For it to be implemented and implemented well, every area must be considered and ready to adopt a digital-first mindset.
About ScreenCloud
ScreenCloud helps teams in 9,000+ organizations around the world communicate with those who matter most, using the screens on their walls and the content already in their systems. 
ScreenCloud's digital signage can inform students on campus by showcasing social media feeds, emergency alerts, and live broadcasts – or even simply the news or weather. ScreenCloud also offers a discount to customers in education.
Sign up for a free demo and see how digital signage can work for you today.