Please note, Instagram recently changed how users authenticate with their service. If you installed the ScreenCloud Gallery for the Instagram app before 31st March 2020, please log in again with the new Instagram API. In addition, As of August 31, 2020, developers using the Instagram Basic Display API will no longer have continued access to private Instagram account information without reauthorization from the account. This change will require private Instagram accounts to re-authorize at least every 60 days in order for developers to maintain continued access to their current data using the Instagram Basic Display API. This change will only apply to private Instagram accounts; access to data for public Instagram accounts will remain the same.
If you're using the older version of ScreenCloud (signage.screencloud.com) you can download the alternative Instagram app guide here.
The Instagram app from ScreenCloud allows you to create a live scrolling wall of Instagram posts and videos that engage your audience. Choose your Instagram account to show and create a visual canvas of your best work, insights, and updates. 
Through the ScreenCloud Instagram app, you can create a small or large digital signage screen wall that shares beautiful images from the sources that matter, updating in real-time. Whether this is for your office, store, or a one-off event. 
With the ScreenCloud Instagram app you can:
Create a live scrolling image wall of your Instagram posts and videos
Choose a custom theme for your display
Here's how it works:
1. Select and install ScreenCloud's Instagram app 
1.1. Log into your ScreenCloud account and choose the ScreenCloud App Store from the left-hand menu.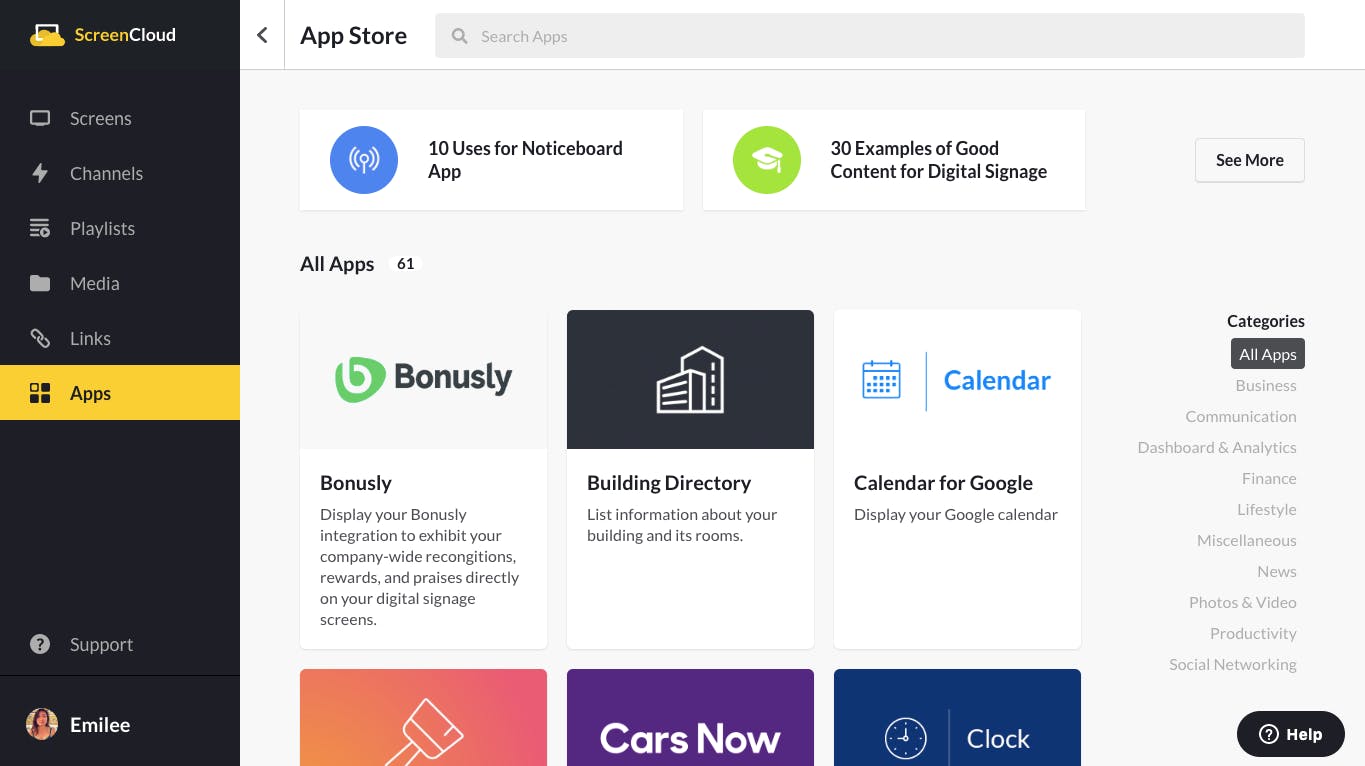 1.2. Search for "instagram" to find the Gallery for Instagram app. Select the app and click "Install App" to add a new instance.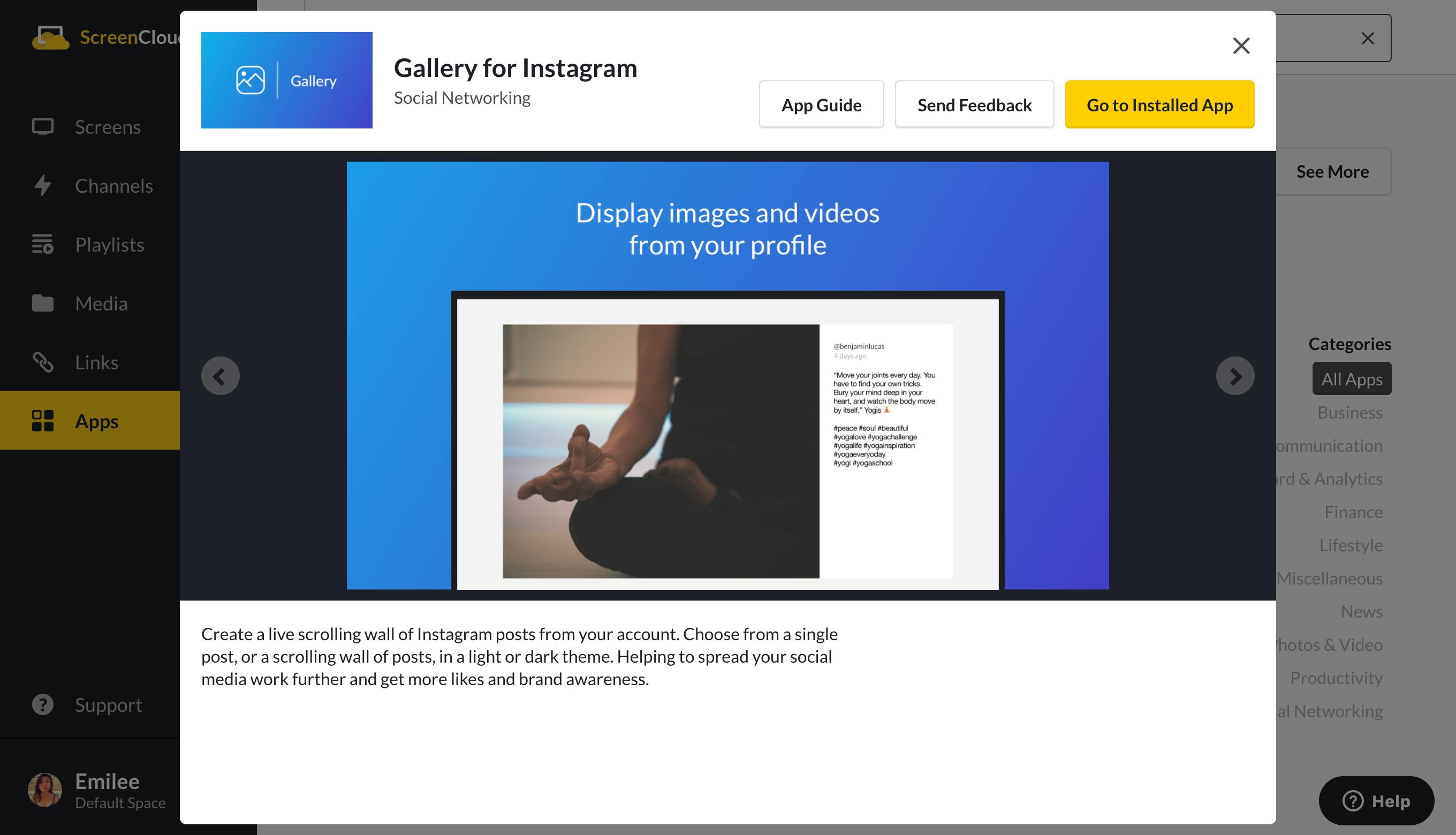 2. Connect your Instagram account 
2.1. You'll need to select "Login" to access your Instagram content. A new page will pop up momentarily where you can authorize ScreenCloud to access your Instagram account. This will allow you to pull through a feed of live, scrolling results to your digital signage social media wall.
A green checkmark will appear in the login button once you've logged in successfully.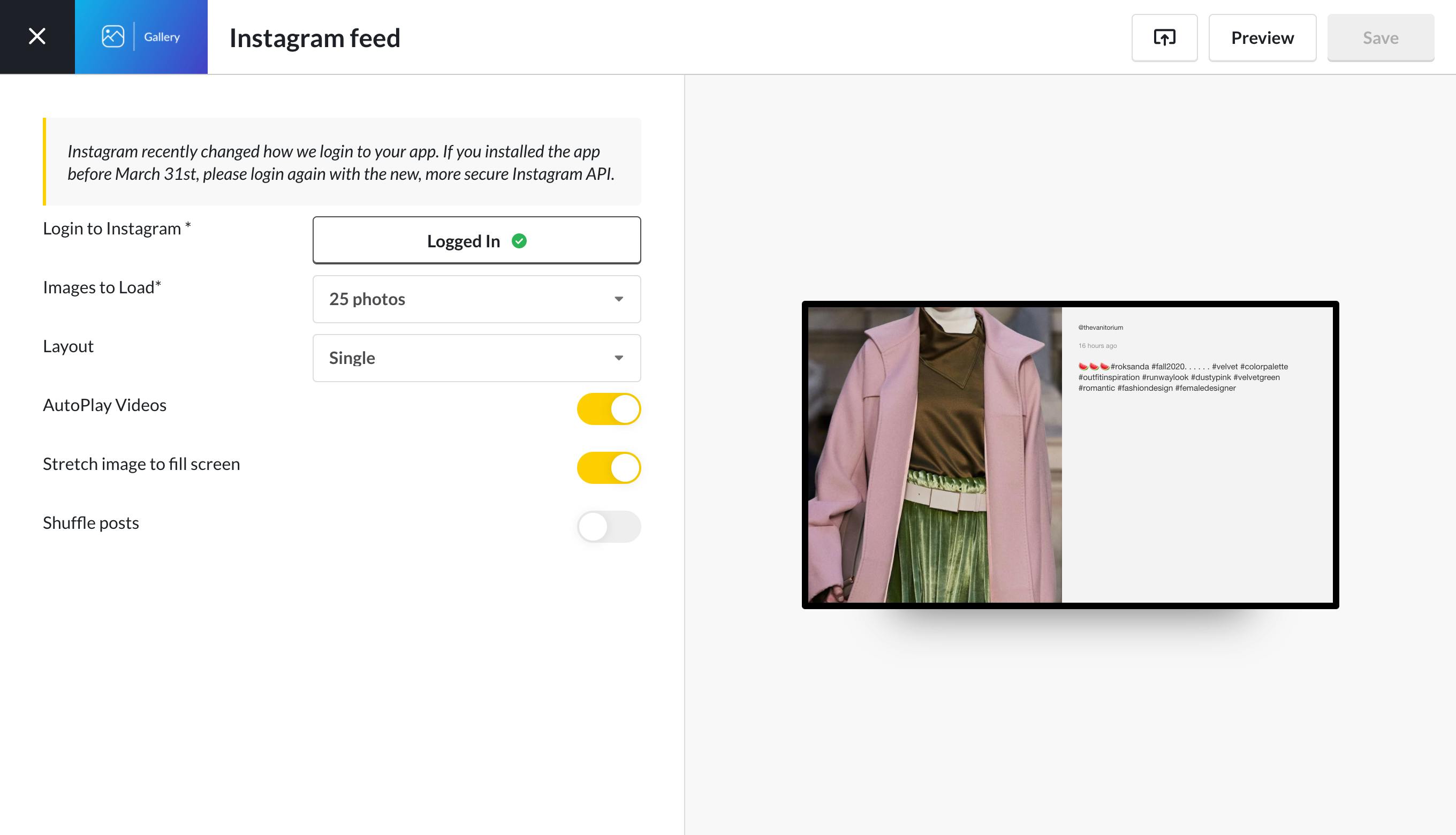 3. Choose your Instagram gallery settings
3.1. Edit the "Instance Name" section to give your new instance a name, for example, "Instagram Feed". This will make it easy to differentiate from other feeds you decide to add in the future.
3.2. You can modify your Settings panel to decide how your Instagram content is displayed on a screen.
Images to Load - If you're using the "Grid" layout this will determine how many images are shown at one time. Options include 20, 40, 60, and 80 photos. 
Layout: "Single" and "Single Card" layouts will show one Instagram post at a time and are the only display options that support videos. "Grid" layout will show multiple images. Hint: we've included some previews of different layouts below for your references.
Display user profile - Only available for the "Grid" layout option. You can choose to display or hide your Instagram username by toggling this button.
AutoPlay Videos - Only available for "Single" and "Single Card" layouts.
Stretch image to fill screen - Only available for "Single" and "Single Card" layouts. 
Shuffle posts - You can turn this on to show your Instagram posts in random order.
Once you're happy with your settings, you can hit "Preview" to see what your Instagram gallery would look like when it's live on a screen. This also helps with that all-important moderation.
Single layout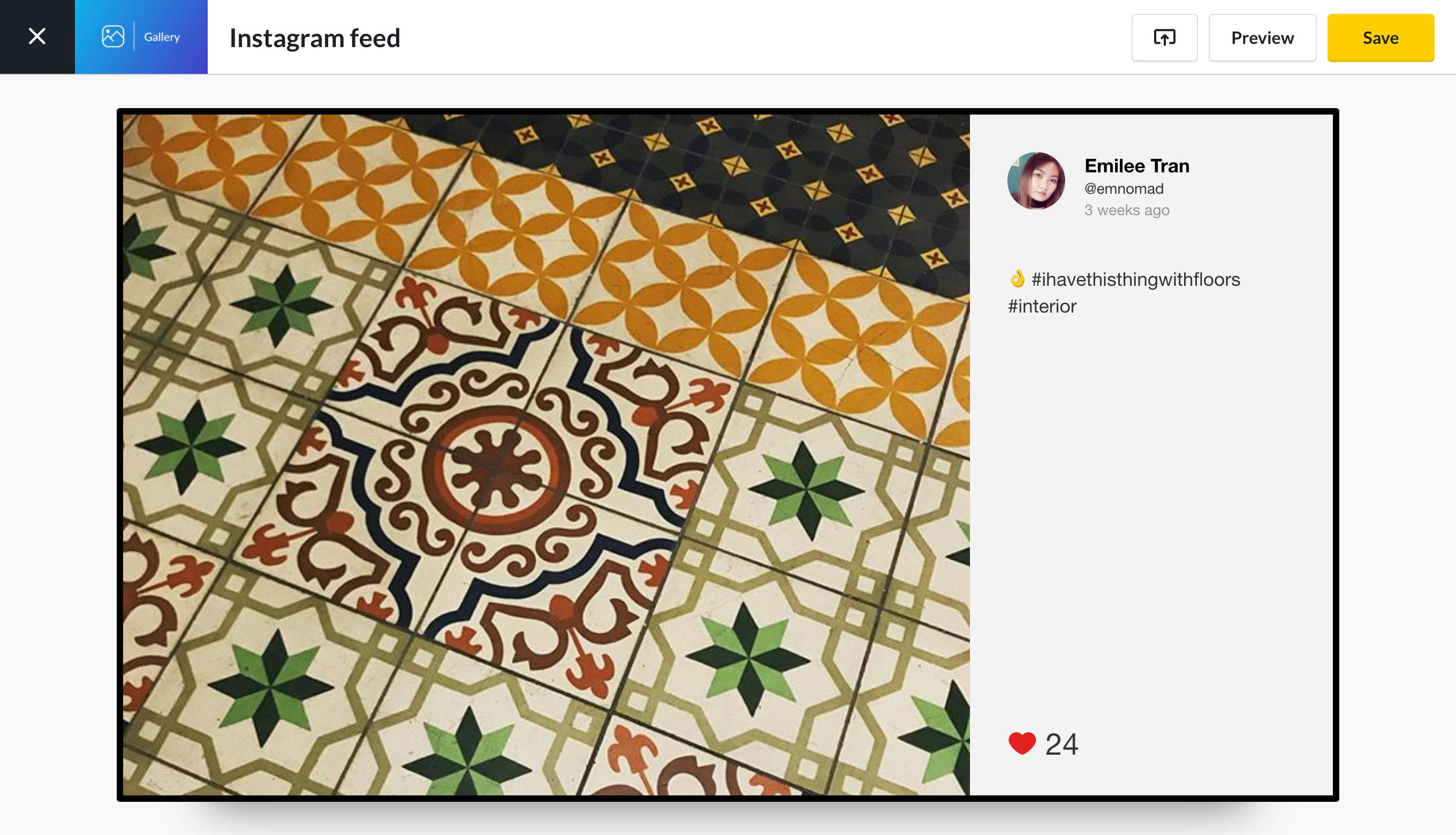 Single Card layout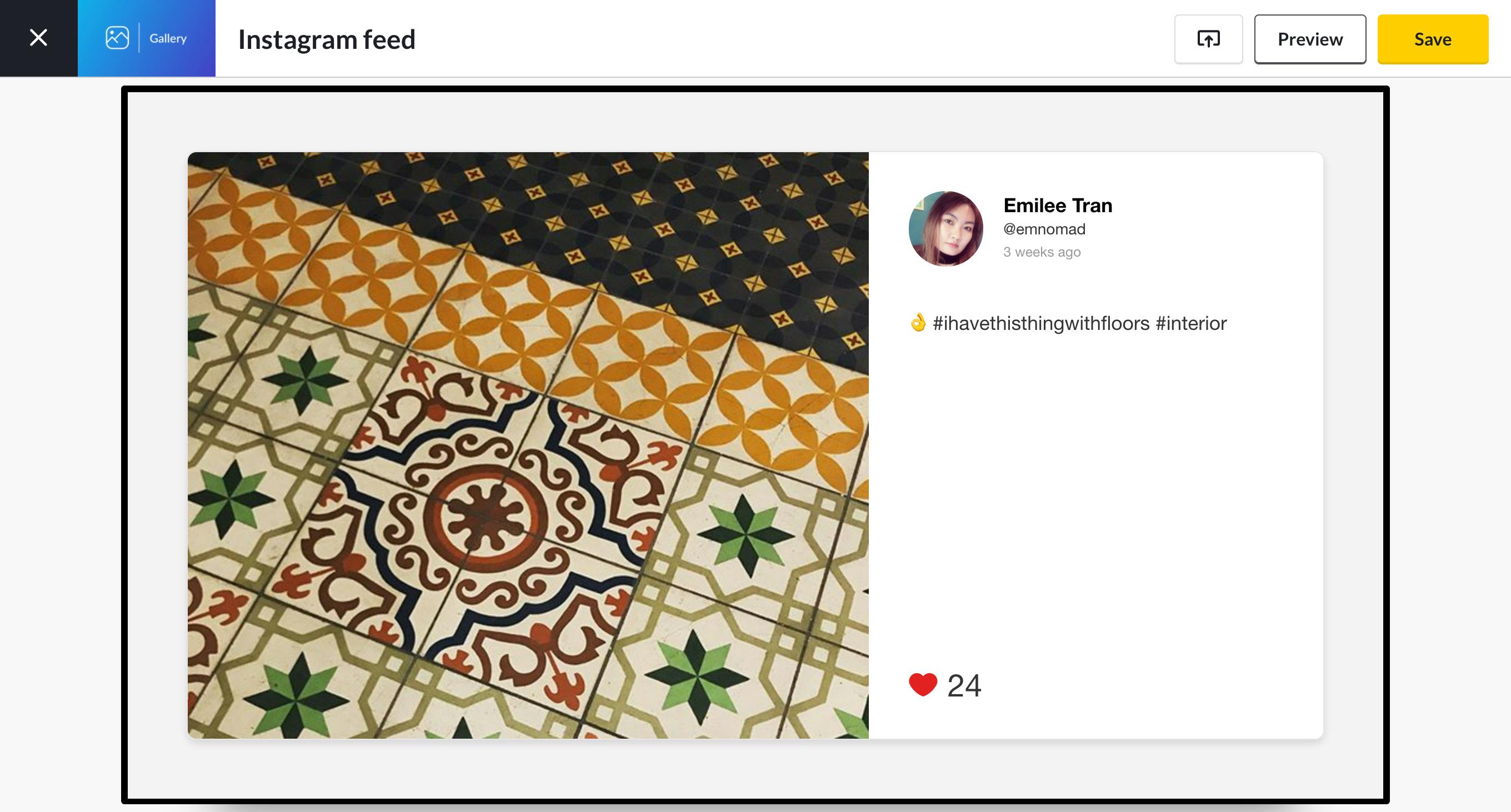 Grid layout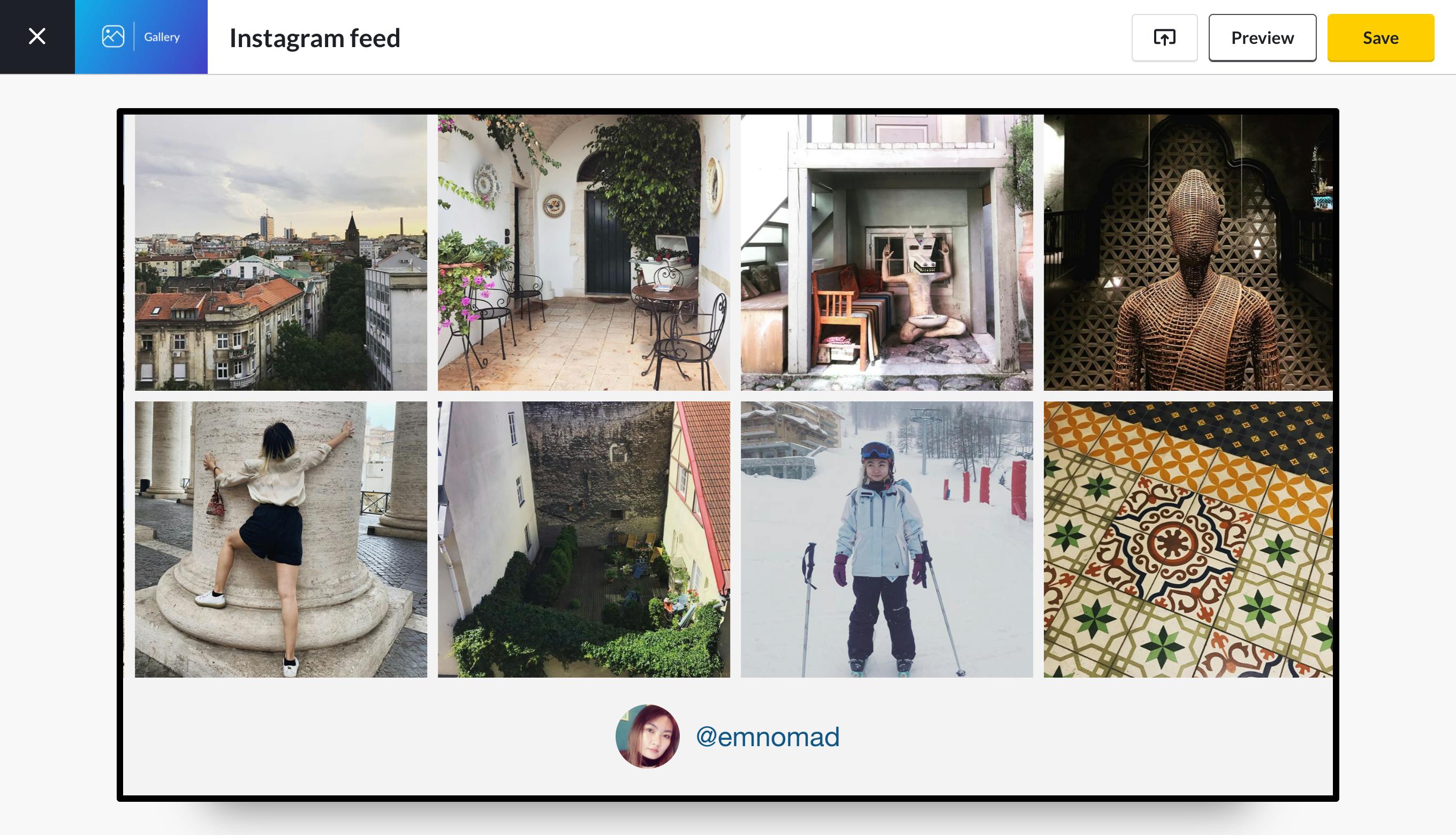 Satisfied with how your Instagram feed looks? Hit "Save" to add the new instance to your Apps panel.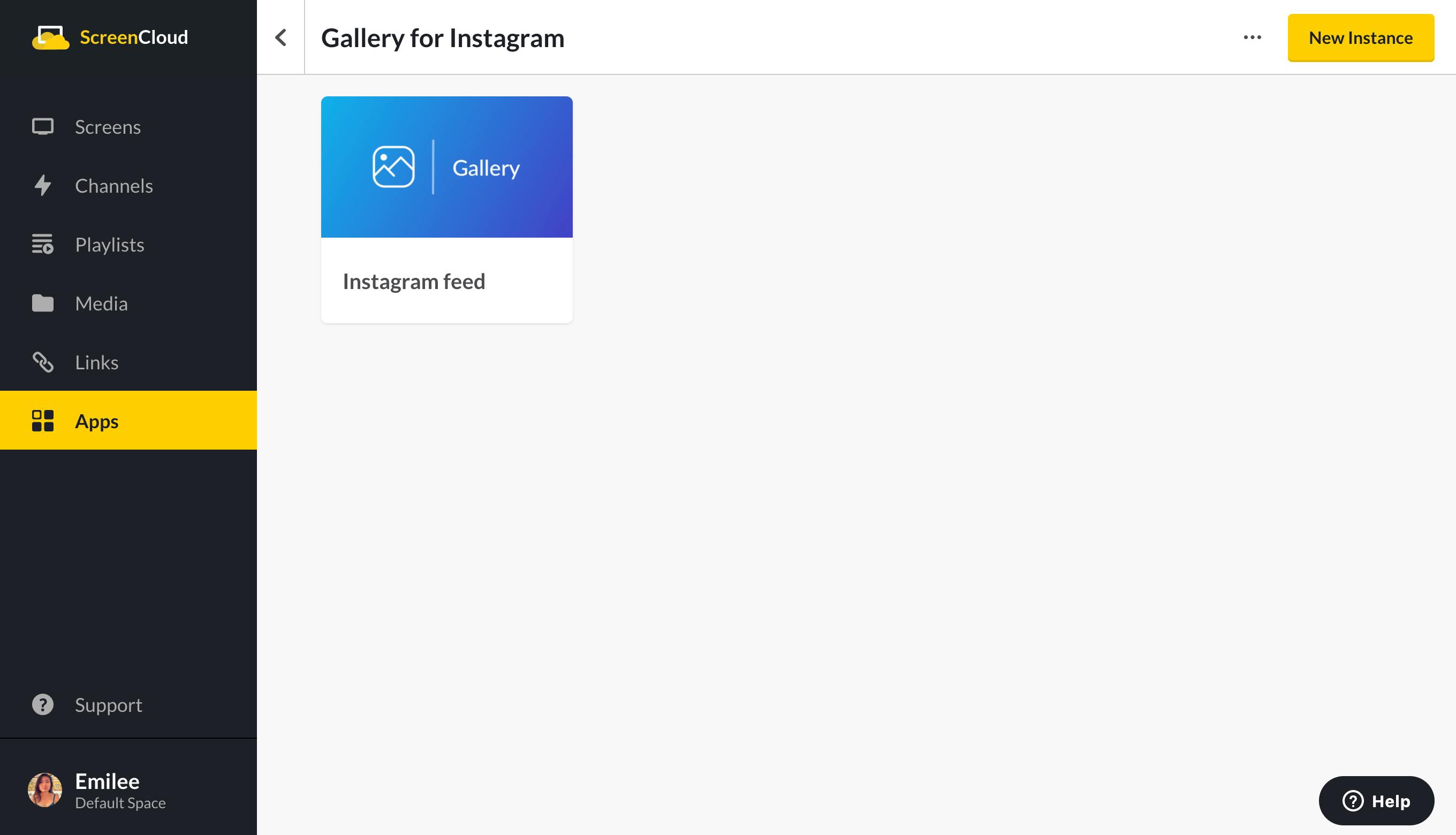 4. Add your Gallery for Instagram app to a Channel
Below is a simple tutorial to help you add your Instagram app to a Channel. You can set how long you wish it to show for and that's it! A beautiful stream of Instagram images utilized in your digital signage display to catch attention in any physical location.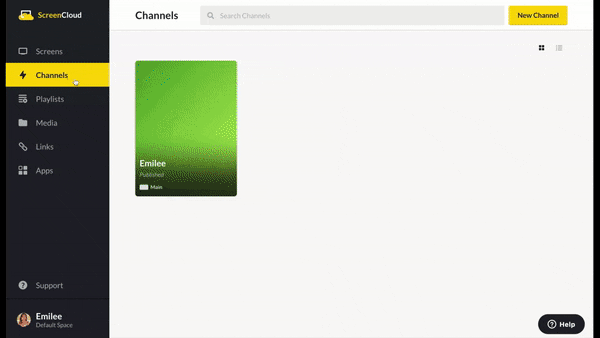 5. Custom brand your Instagram feed
The ScreenCloud Instagram app can be custom branded. You can create and customize your theme in your Account Settings.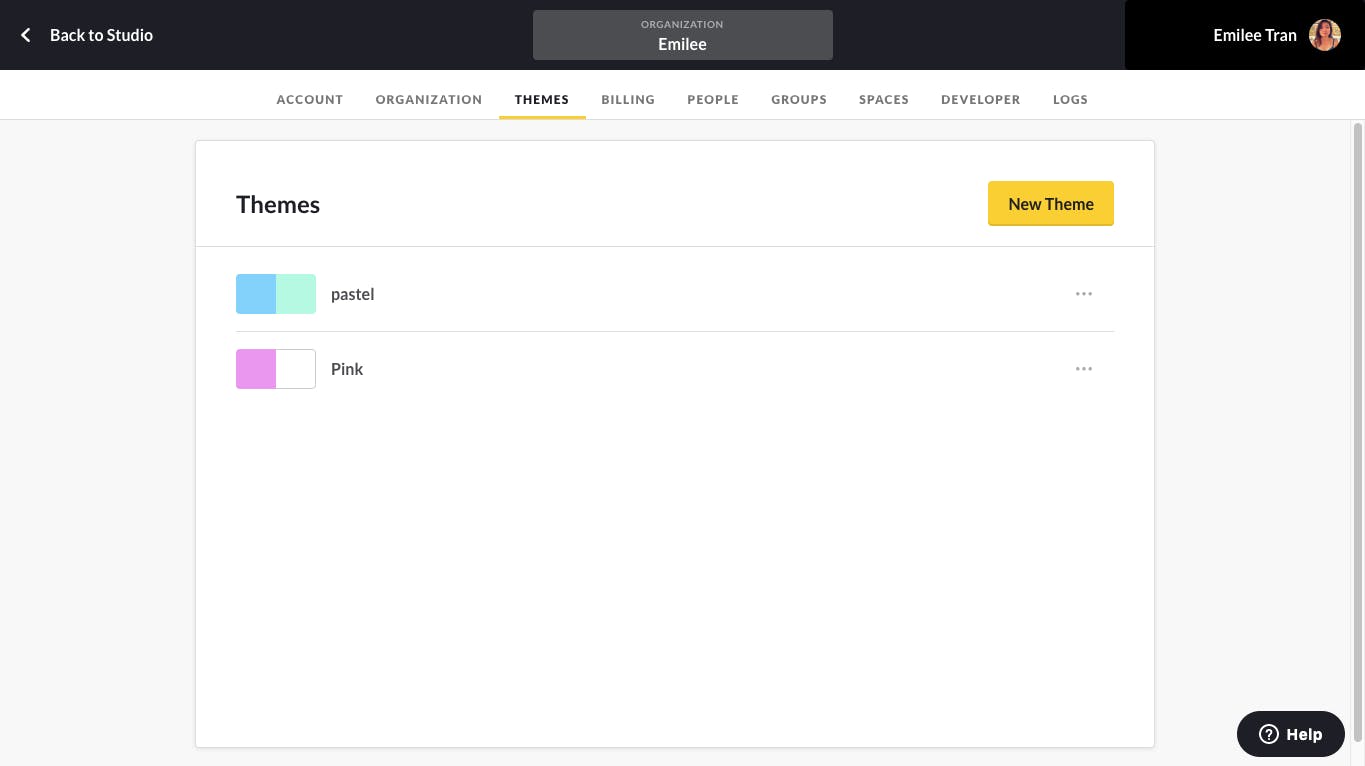 Once created, themes can be added at a Channel-level in order to custom brand apps like Gallery for Instagram. For more information, check out this guide on how to create custom themes with ScreenCloud. 
Frequently asked questions:
Can I display the Instagram app in portrait?
Yes, the Instagram app can be used within a portrait or landscape display.
Can I use the Instagram app as part of a zoned digital signage display?
Yes, when setting up a zoned display you'll see the option to "Add Content". Any Instagram feeds you have set up will be found in this list. 
How are the results ordered?
The images will be shown chronologically once your Instagram account is connected. However, the "Shuffle posts" option in Settings allows you to show your images in random order.
How long is each post shown for?
The wall is a live scrolling feed. To set or edit the time duration within your channel or playlist, select the appropriate playlist or channel from the "Playlists" or "Channels" sidebar and change the time duration next to the Gallery for Instagram app of your choice.
What happens when the end of the feed is reached?
Once all of the posts have shown on the live scrolling wall, the posts begin to show again from the beginning. There's no break or obvious sign to the viewer, the results seamlessly flip back to the start of the feed. 
Why do I have to log in through Instagram before my results can be shown?
In order to show a feed from Instagram on a digital signage wall, you have to log in and prove that you're a user. 
Why are my videos not displaying on screen or auto-playing?
Your Instagram videos only display using either the "Single" or "Single Card" display option. If you're using the "Grid" option, this won't be able to display or play your Instagram videos. Additionally, if your videos aren't auto-playing, you can switch this on in your ScreenCloud Gallery for Instagram app settings.
For further questions, please contact support@screencloud.com.