Twitter and events are quite a pair. To generate maximum value from your event, you want the world to be talking about it. When visitors are having a moment, they often want to share and spread it for others to see. With Facebook becoming less about sharing and more of a content distribution channel and Instagram largely saved for beauty, Twitter is still your best realtime showcase.
Setting up a Twitter wall for your event should be easy - and it is! In this guide we're going to show you how to set up a Twitter wall for just $20, plus all the other nice bits along the way.
It's no use setting up a Twitter wall if no one knows to tweet! Pick a hashtag pre-event plus a primary user handle and stick to it. Here's a pre-show checklist to ensure your Twitter strategy is in place before you even touch a Twitter wall app:
Pick a hashtag that's easy to remember and ties in well with the event - the simpler the better.
Add said hashtag to your account bio - it's where people are going to look for it first.
Start using the hashtag - this means that when your screens go live, they'll already be plenty of rich content to share.
Make Twitter part of your content strategy. Advise key speakers to add their handles to presentation decks, follow event attendees and help exhibitors to promote their offering at the show by retweeting and sharing content.
Think about what you want to show on-stream on your Twitter wall. Most Twitter wall softwares will allow you to moderate the steam before it goes live, but it's useful if you already have an idea in mind of what you want to curate.
With the ScreenCloud Twitter app there's no pre-show configuration needed. This means that once you have the hardware in place (e.g. a screen and your media player) you can set up your Twitter wall software in minutes. 
To set up your Twitter wall you'll need a screen and a way to get your screen online. If you already have an Android TV then you're good to go. All you need to do is navigate to the Google Play Store, search ' ScreenCloud' and download our app which looks like the below.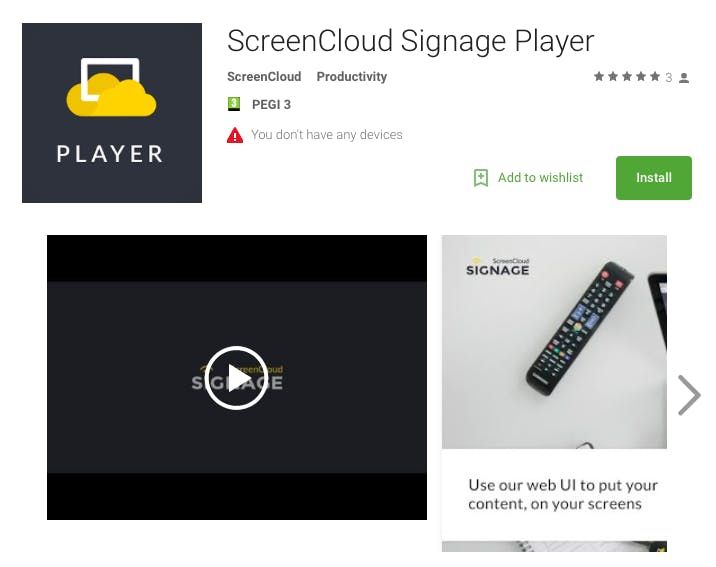 If you don't have an Android TV then you can use a media player such as the Amazon Fire TV Stick 4K (which costs around $40) or the Chromecast with Google TV (around $50), both of which are 'plug and play' solutions to help turn your dumb screen smart.
If you would like to use a device that is built specifically for digital signage, then we recommend a commercial-grade media player like our Station P1 Pro device, or any Intel NUC will suffice. The ScreenCloud OS device comes with ScreenCloud's software pre-installed, which helps speed up deployment and guarantee an experience that's always improving with over-the-air updates. And because it's interface is locked down by design, it has minimized security risks.
Once you have the ScreenCloud app downloaded on your device of choice, simply take the pairing code (which looks like the below) and head to https://studio.screencloud.com/ to set up your ScreenCloud account.
Once paired, you'll see a beautiful dashboard (if we do say so ourselves) where you can add content such as images, videos and URLs, or head straight to our App Store, ready to implement your Twitter wall app.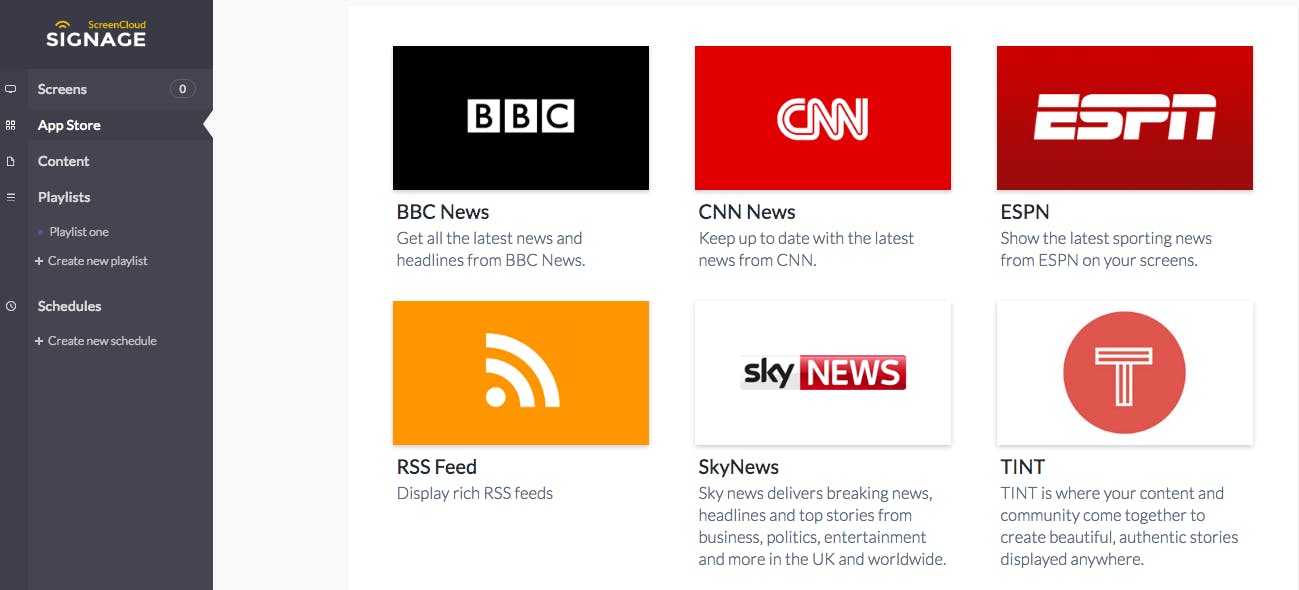 Once you've selected 'Twitter' from the ScreenCloud App Store you'll see a custom dashboard where you can make easy decisions such as the search terms, hashtags or handles you want to display and the duration you want to show them by. You can also turn on our 'safe' filter to drown out any profanities and exclude replies and retweets to clean up your display.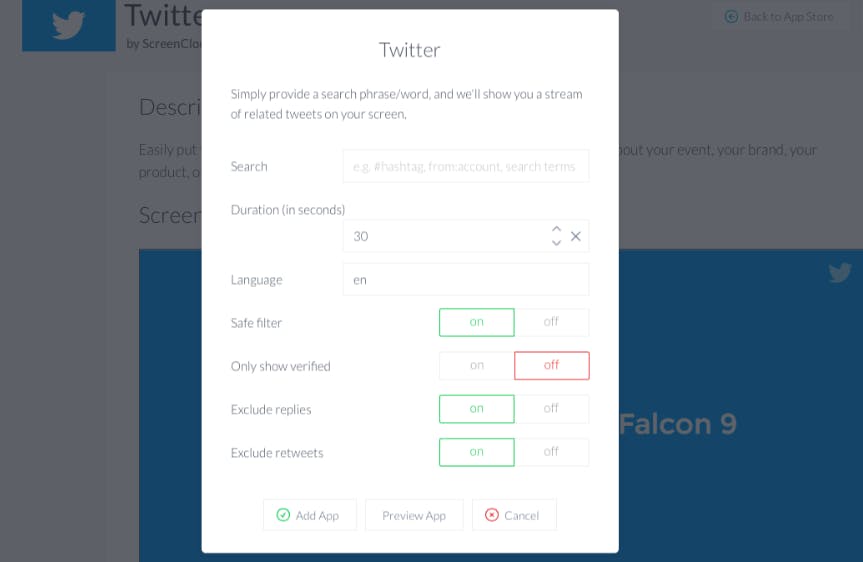 If you want something more visual than a standard Twitter feed you can visit the ScreenCloud App Store where we have partnered with various Twitter wall dashboard providers such as TINT and Strea.ma. 
TINT allows you to pull user-generated social media content into a wall that can be shown at an event, in your office or even on your website. With a variety of themes to choose from, the ability to seek approval from your audience at the click of a button and content syndication across Twitter, Facebook, Instagram and more, it changes the look and feel of your social interactions. Check out our super-cool ScreenCloud theme here to give you an example.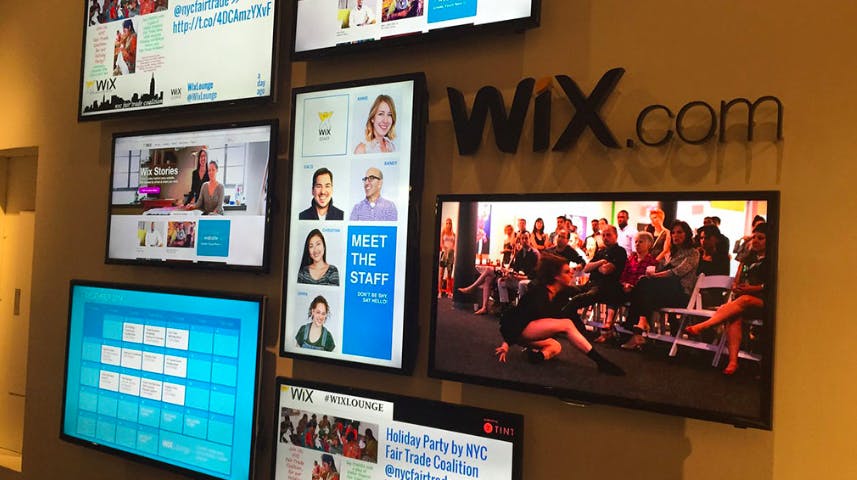 In comparison, Strea.ma allows you to create social media dashboards full of your latest content, as it happens in realtime. For events and exhibitions, this puts the tweets and images of your most important vistors front and center. Using hashtags and handles to curate your personalized stream, allowing you to flick between tiled and single-status view and ensuring you can update from your mobile or PC from wherever you are. Find out more by visiting the Strea.ma website.
Once the Twitter wall app is set up and added to your playlist and schedule - that's it! You're ready to go as soon as your event (and Twitter campaign) goes live. If you want to get really clever, you can also intersperse the latest tweets with updates and news relating to the event, room changes or keynote speakers.
Just add a graphic or slide into your playlist and set up to resume your Twitter feed after a few minutes.
The best part is, that all of the ScreenCloud apps, including the Twitter wall, is included in the price of $20 per screen, per month. So for a single screen or videowall at a single event, you're looking at a cost of $20 and voilà! Your Twitter wall is ready to go and get you some coverage.


To get started with a Twitter wall for your event head over to screen.cloud/signage and start your free trial.