Publish content to your screens directly from Microsoft Teams
Learn More


5 Ways to Use Digital Signage Dashboards for your Business
Dashboards are a seriously effective way of condensing and sharing information. Here's how to get them setup to work for your business.
What's the communication crux of your business? Many of us want to improve internal communications, help get more information to stakeholders or impress each and every person that walks through that door.
You've probably already read the stats that point to the importance of good internal communications, from increased employee engagement to higher retention. We've seen firsthand how it bolsters sales team culture and helps employees buy into the company mission. 
So how do you adopt a great business strategy that allows you to communicate inwardly and outwardly? Digital signage dashboards are a top first move.
One of our powerful app partners is Klipfolio. Klipfolio is the easiest way to keep an eye on the health of your business and share this information across the board.
Here are five exciting ways you can use their digital signage dashboards for your business. 
1. Make a great first impression
Firstly digital signage is highly visible - who doesn't look up at the screen when they walk into a reception or office? Secondly, the benefit of digital signage dashboards is that your information is live and running in the background 24 hours a day, seven days a week. It never goes out of date and guess what? It's interesting. 
Dashboards pull on all of our visual needs, subjecting data to conform to easy-to-understand guidelines. Condensing huge amounts of information and creating a beautiful display out of it. This makes dashboards an ideal candidate for hitting that great first impression with a potential client, employee or partner. 
2. Present KPIs
KPIs hold a lot of weight in boardroom meetings but seem to disappear into the ether as soon as we go back to regular office life. Klipfolio is a great way to present KPI-driven dashboards that stay present and relevant all year round. Upload data you already have from Excel spreadsheets, Google Drive, Dropbox and more or use one of the many app integrations Klipfolio offers to pull in data from project management or social media tools. Craft what KPIs you want to see and once ready, simply add the URL to ScreenCloud and have it live on your screen in minutes.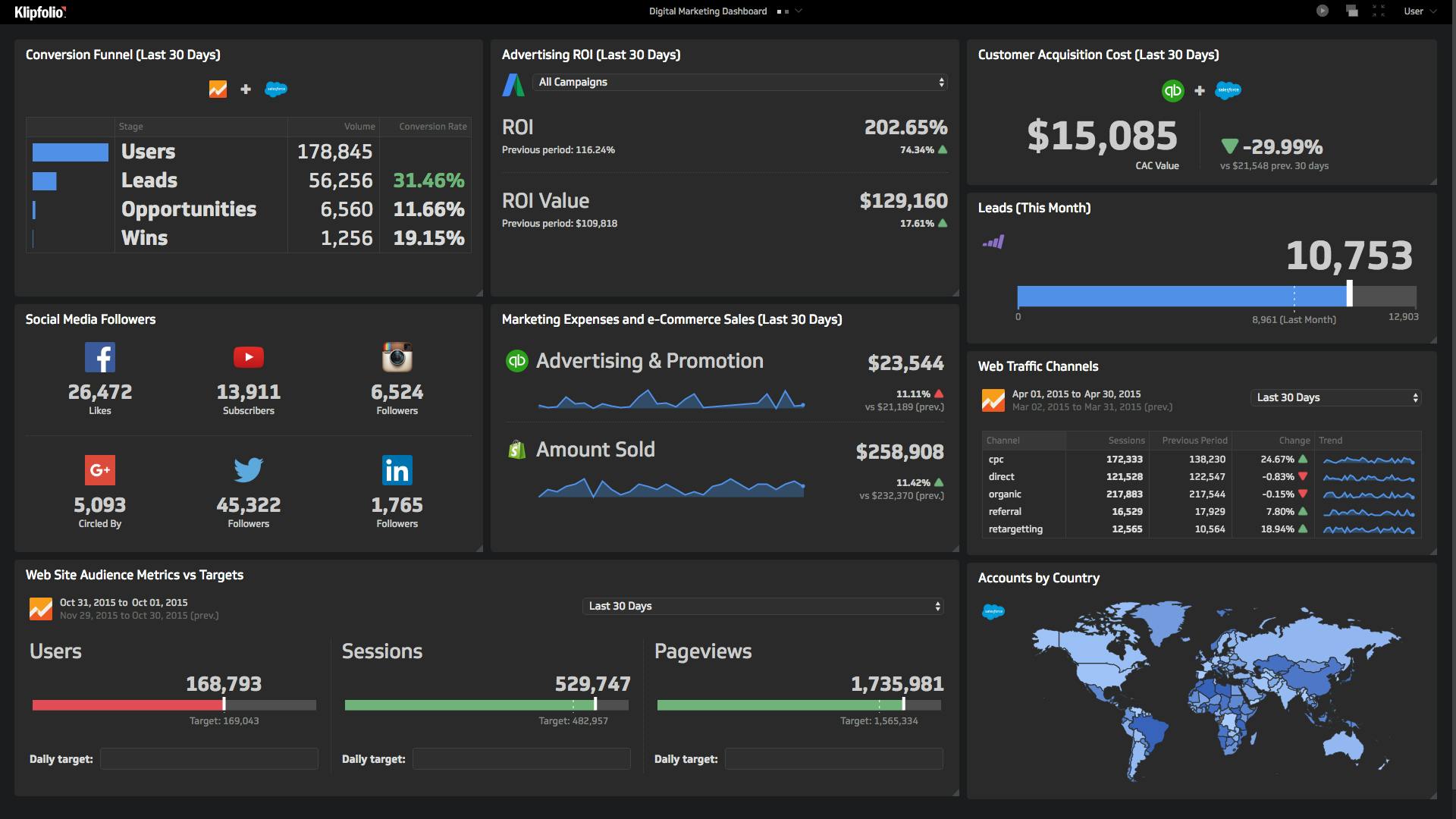 3. Track progress
Over the course of the month or year, how your business works, what it earns and how many customers or accounts it keeps can change at a rapid pace. Help staff to stay on the pulse with a live dashboard that tracks the exact progress of your key metrics. From website hits, to social media followers, account numbers and turnover amounts. Dashboards allow you to condense information and track progress which can be reviewed daily. The more visual your digital signage boards are, the more effective the information will be. Luckily, Klipfolio makes it super easy to use pre-built data visualizations or create your own. In fact, we had our first one set up in minutes!
4. Share team feedback
Your digital signage dashboards aren't all about the numbers. Collating and sharing team or customer feedback is a great way to make employees feel part of the journey and buy into the brand story. Sharing customer feedback or rating scores as a data visualization will boost customer service teams and encourage them to hit those target scores in the moment. Sharing employee data, whether it's something fun like rating the cafeteria food that day or something more serious like feedback on the latest company targets, will all work towards shared culture and higher transparency. 
5. Highlight sales targets
Keeping your sales teams motivated isn't always an easy task. Data visualizations of your targets could help. Easily merge key data from your incoming systems as well as CRM systems such as Salesforce and Pipedrive and from customer service tools such as Zendesk. Create a leaderboard of sales targets, conversations had or meetings booked. All are super simple metrics that can be converted into visual displays and added to your digital signage at the click of a button.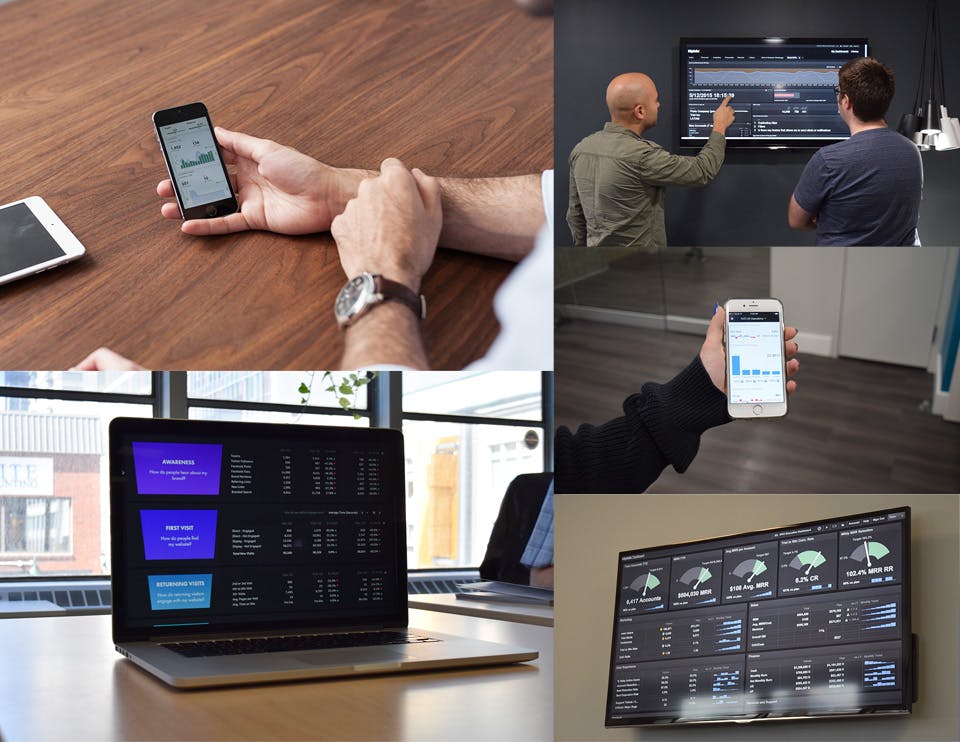 There's a ton of great uses for digital signage dashboards and using them to track the health of your business is just one of them. Best of all, it's super easy to get your dashboards created and up onto your wall - no design, IT or technical skills needed. Simply head to Klipfolio, set up a snazzy dashboard of data, grab the URL and add it to ScreenCloud's 'Add Web Site' button on your content page. Simple right?
Ready to get your organization connected?
Connect your first screen today with our 14-day free trial
ideas