Publish content to your screens directly from Microsoft Teams
Learn More


Playbooks
Splunk, Signal FX and ScreenCloud Dashboards: Predict, Identify & Solve
Predicting the future is about as accurate as asking a Magic-8 ball for life advice; shake it hard enough and you might happen upon the "yes" right when you need it. Or, you could just employ a data and analytics platform like Splunk.
Known as Signal FX until it was acquired by data behemoth Splunk, this monitoring and analytics platform – or, Data-to-Everything Platform for those in the know – is a brilliant BI tool to monitor real-time data at scale. It also happens to be fully supported by ScreenCloud Dashboards for secure viewing and sharing across multiple screens (bet your Magic-8 ball didn't see that coming).
(For a detailed Dashboards set up guide, click here). 
What is Splunk used for (and why is it so important)?
As nice as it would be to run a business purely off divination tactics, for now we'll have to use data dashboards like Grafana, Tableau and Splunk to do the magic for us. 
Splunk is a business intelligence software that allows for real-time observability of cloud-native technologies. On just this one platform you can monitor the whole enterprise application lifecycle, removing data silos so your team works smarter, not harder. For ITOps, it's brilliant. 
Born from the exponential growth in machine data, Splunk visualizes valuable information to drive efficiency and productivity. You only need to look at a snippet of machine data to realise how time-consuming and difficult it is to see patterns or issues within your system's hardware. Plus, a screen full of numbers isn't exactly user friendly. As Splunk doesn't need a database to store its data – making use of its indexes to store it instead – this makes it ideal for searching,  monitoring and examining complex machine-generated data and presenting it in a non-headachy way.
How Splunk works
The beauty of Splunk is that it takes the unstructured format of Big Data and processes it, pulling it from multiple systems in real time and generating graphs, alerts and business intelligence dashboards. 
Overall, it's a relatively simple process:
The Forwarder collects the data and then forwards it to the Indexer in real-time.
When the parsing stage is complete, the Indexer then processes this data, stores it and indexes the data on the disk.
The user then interacts with Splunk via the Search Head.
This is what allows you to investigate, visualize, automate and alert on important business metrics, and to a degree, predict problems before they happen. Less Magic-8 ball, more crystal. Splunk also allows you to incorporate Artificial Intelligence into your data strategy, accepting any data type like json and .csv.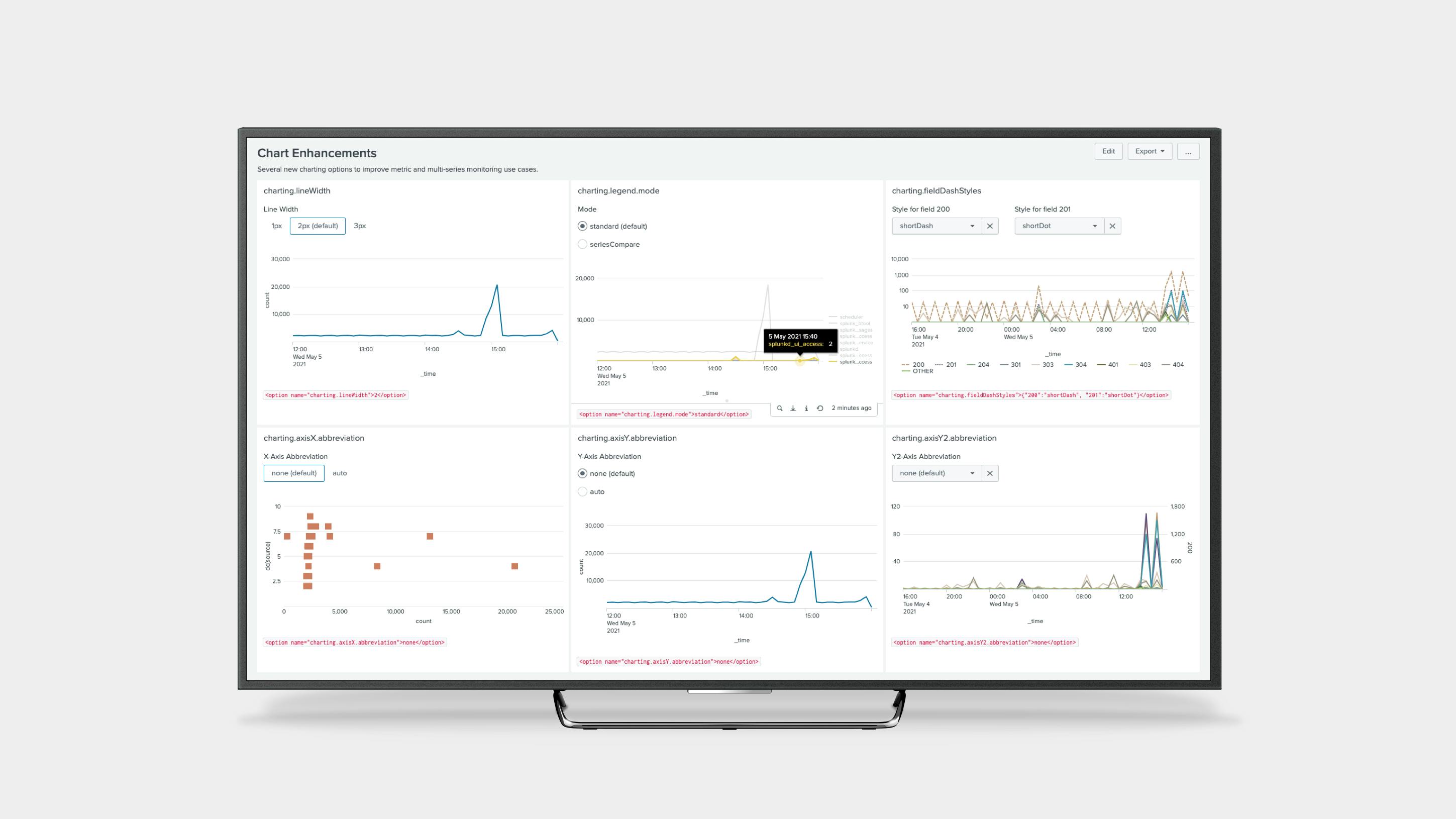 Splunk Features
Splunk can get as complicated as you want to make it, depending on how detailed you want your business intelligence dashboard to be. But ultimately it runs off the following features:
Data Streaming:
Splunk collects, processes and delivers data in real-time which allows you to perform searches, aggregate, filter and mask. It also allows you to stream at scale with support for multicloud environments. 
Scalable Indexing:
Using this AI you can analyze massive datasets across multiple data sources with simple query language, visualize it and then schedule alerts. It makes complex data easy for everyone in the business to understand. 
Mobile-friendly Dashboards:
For those moments that you aren't glued to your desk, Splunk has a mobile-friendly dashboard interface that allows you to act on alerts wherever you are.
Machine Learning:
By implementing Artificial Intelligence you can uncover new insights from your data, which helps with forecasting, predictive analytics, event clustering and detecting outliers. 
How to visualize complex data in Splunk
The Splunk Web Framework app is where you want to be when creating custom dashboards. It's a stack of features built on top of the core Splunk server where you can build apps to run in Splunk Web. You can also build custom apps that interact with Splunk but run on your own web server.
The Splunk Web UI is split in two:
Dashboard Editor:
This drag and drop interface is great for those with no programming knowledge. You can build custom dashboards with panels to show tables and charts, or build form controls like dropdown lists and checkboxes. 
Simple XML:
This is Splunk's markup language, the underlying source code for dashboards created in the Dashboard Editor. This allows for greater dashboard customization in a familiar web developer environment and includes Simple XML extensions and SplunkJS Stack libraries (which enables use of the entire Splunk Web Framework). Depending on what you want to do will determine whether you use the Dashboard Editor or more advanced not-so-Simple XML.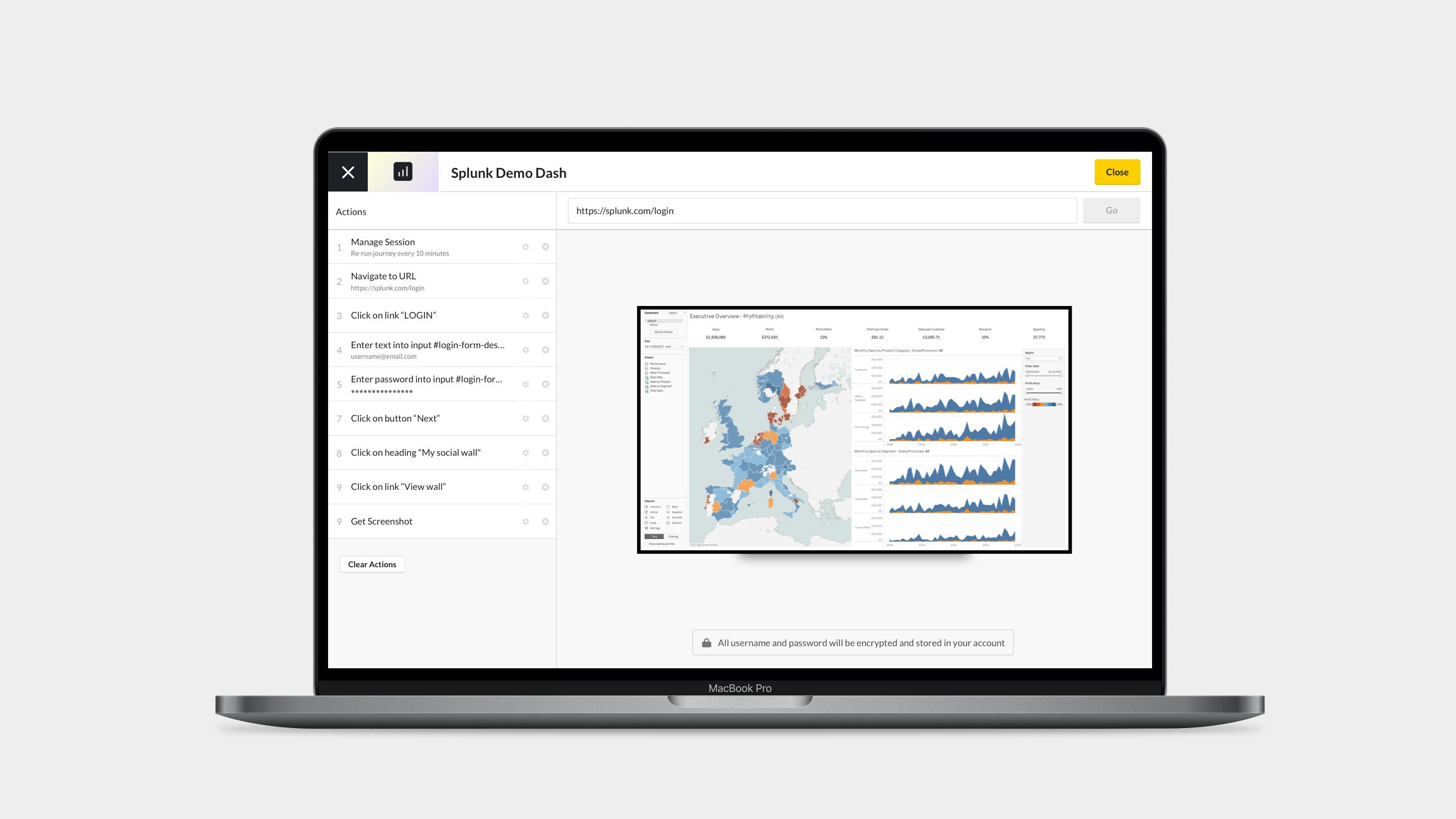 Best practices for using Splunk and ScreenCloud Dashboards
As this kind of complex data sits pretty much at the heart of the business, it's not something you'd want to get into the wrong hands. Which is why ScreenCloud spent two years developing and building Dashboards. ScreenCloud Dashboards is now one of the most affordable, flexible and secure dashboard digital signage solutions on the market, and it works perfectly with Splunk. Here's a few best practices for using Splunk with Dashboards.  
Allow incognito mode
Your browser stores information in Cookies and Local Storage; it allows you to automatically log into websites, remember items you've looked at recently, and even keep your theme preferences. All this makes your browsing experience much simpler.

The service ScreenCloud has created to display your content relies heavily on your journey having been recorded on a clean slate. So, rather than asking you to delete all your browsing history for a particular site, you can simply allow the ScreenCloud Dashboard Recorder to run in incognito mode.

Service account
We've gone the extra mile to make sure that all your sensitive data is completely secure. As an extra precaution, however, we highly recommend using a 'least privileged' service account when setting up your dashboards.

Start at the end
It is often the case that you can navigate directly to your target dashboard's URL. This will ask you to log in, and you'll subsequently be redirected back to your destination. This is both the quickest and most reliable journey you can make in ScreenCloud Dashboards as it cuts out needless actions.

Search
Many dashboard providers offer search capabilities. Instead of clicking through multiple menus, it is quicker and more reliable to search for exactly the content you want to display. We recommend typing in the full name of the content you're hoping to display, as partial search terms may return more items.
Founders' Insight
When it comes to sharing Business Information within any organization, there is a tension between the value of transparency and the need for security. A better informed workforce is a more productive workforce, and a more productive workforce directly impacts the bottom line. But opening the door to your company's most critical data will always be a compromise too far if it means that there is a danger that it could be open to abuse. When we looked at what others in the industry were doing and realized that it wasn't anywhere near what we would describe as 'secure', we knew we had to completely rethink the way data was handled for displaying on screens. ScreenCloud's Dashboard feature is the most secure solution available because anything less is simply not good enough for our customers who need to share their data and sleep at night.
Request a demo
ScreenCloud Secure Dashboards is one of the most secure, scalable and affordable options in the industry when it comes to putting your data up on screens. But don't just take our word for it. Request a demo today.
Ready to get your organization connected?
Connect your first screen today with our 14-day free trial
blog