Running a local business is a tough job, we know that. Having worked with independent restaurants like our friends at Mamuśka!, we've seen how much the pressure is on to constantly adapt your marketing, attract new business and keep the regulars happy.
One thing that's often missing from local business marketing strategies is digital signage. You know, that thing where you get a great looking TV screen up on the wall and use it to share relevant messaging, adverts and social media to entice customers in and get them to buy more? 
It's a game changer. 
Mainly because it works. We have a whole host of stats that show how digital signage increases the purchasing rates of 40% of shoppers because of information served at the point of purchase, and that 80% of shoppers have entered a local store because of it. 
It's also incredibly simple to set up and can be done by anyone. We know chefs, store managers, marketing assistants, store owners and even HR departments who have all set up beautiful, effective digital signage displays in minutes. 
For more help on the techy side head here, otherwise, here are four steps to creating a seriously effective digital signage marketing strategy for your local business. 
1. Create seriously engaging digital signage content 
With digital signage, the screen is but a canvas. It's like Twitter for social media, and this means that it doesn't matter what the shell looks like—it's all about what goes onto it! This makes great content really important. Luckily, we have two great options for your digital signage content which makes this easy.
Firstly, you have the option to upload any content you already own. Images, videos, a link to your site. All super simple to add in your ScreenCloud Signage dashboard.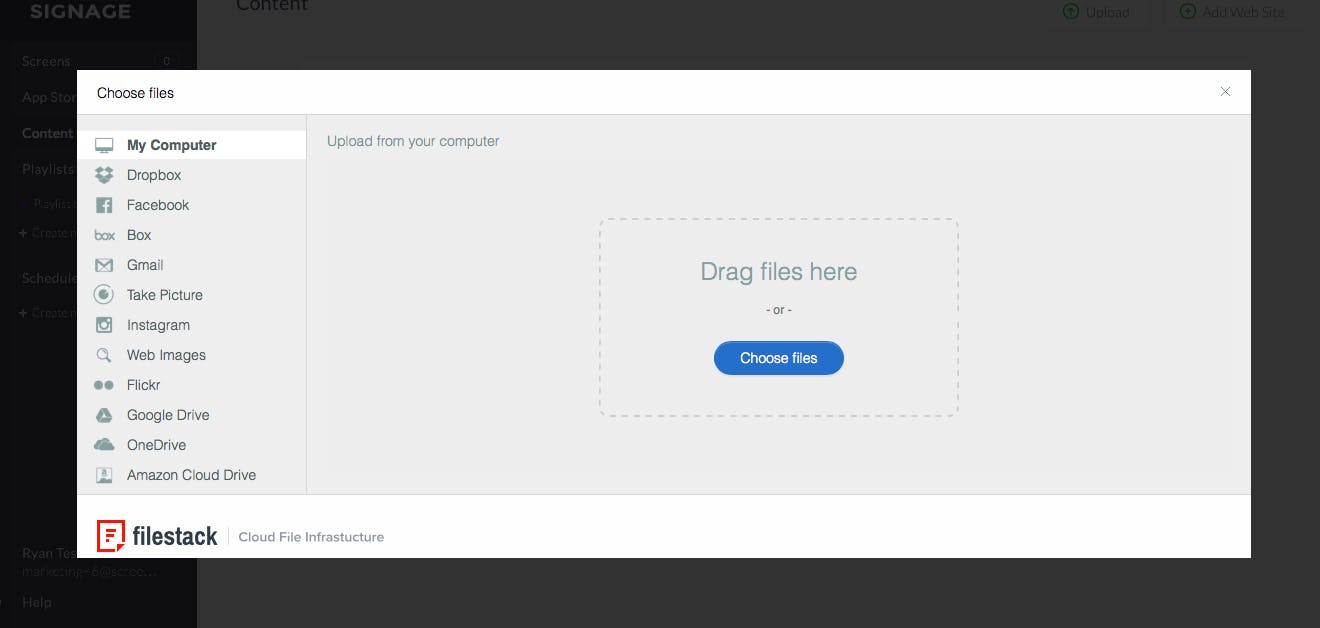 Secondly, we have the App Store, which is made up of tools that help to create content for you and add real-time social media feeds and more to your digital signs. Here are a few ideas of the great content you could be showing in minutes. 
Social media
44% of shoppers admit to social media increasing purchasing decisions. It's a seriously visual medium which taps into our desires and offers social proof that what we want is in demand.
When customers see social media, they're also more likely to follow your brand, Instagram their meal, or tweet their feedback, leading to higher traction across your key channels.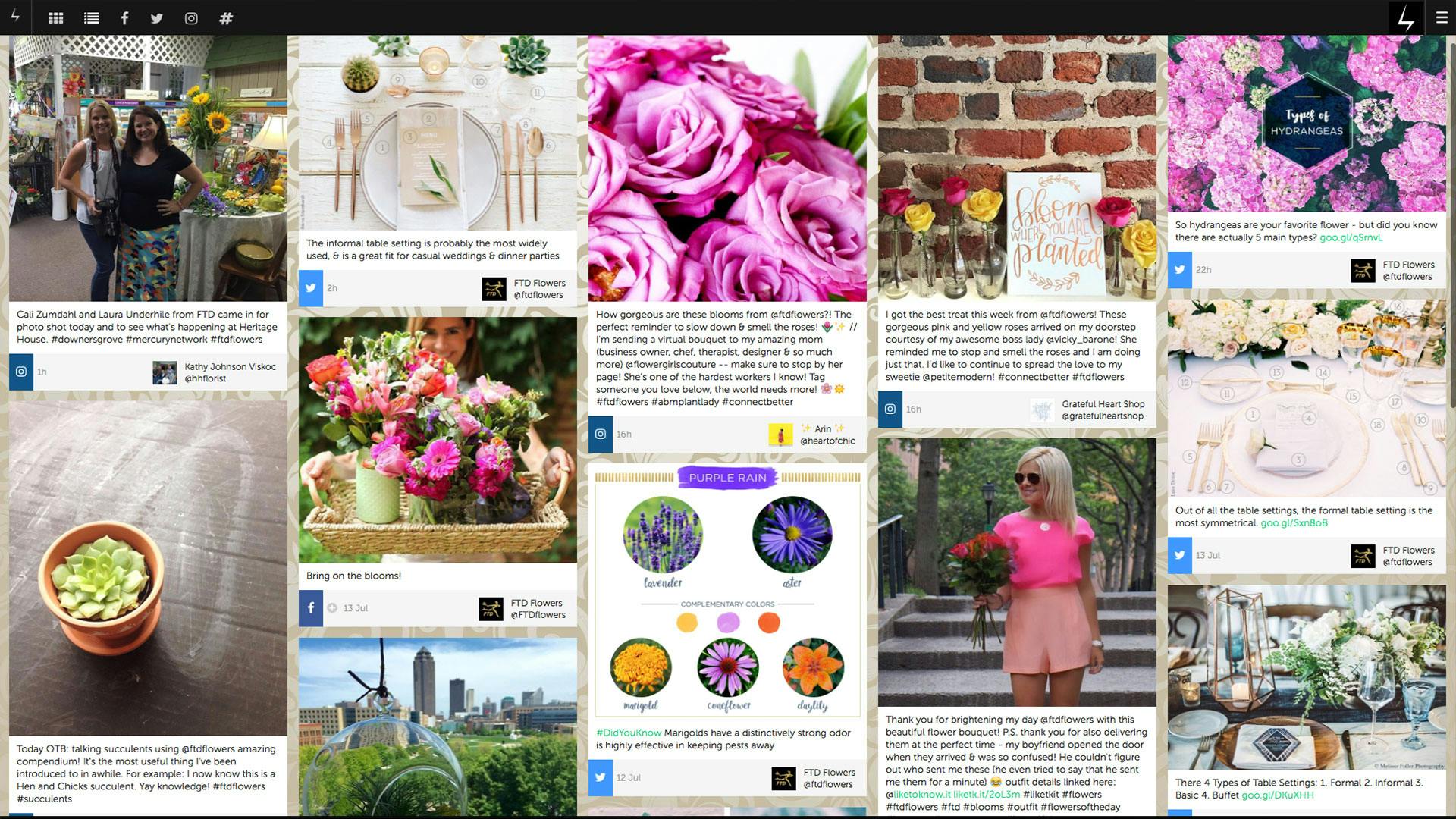 In the ScreenCloud App Store, we offer a huge range of social media apps which get your social media feeds up onto the screens in hand. These include:
User-generated content (UGC)
A great way to connect with customers more is through their own user-generated content. Customer photos, images and status updates are an authentic marketing method that will show off a great experience to other potential customers. 
Research by Crowdtap found UGC to be 35% more memorable than other media.
Incentivizing customers to share their content, whether via Instagram, Twitter or Facebook, is a great way to build up your library. In the App Store, use a social media dashboard like TINT to create a live, scrolling wall of user-generated posts and images guaranteed to impress your audience.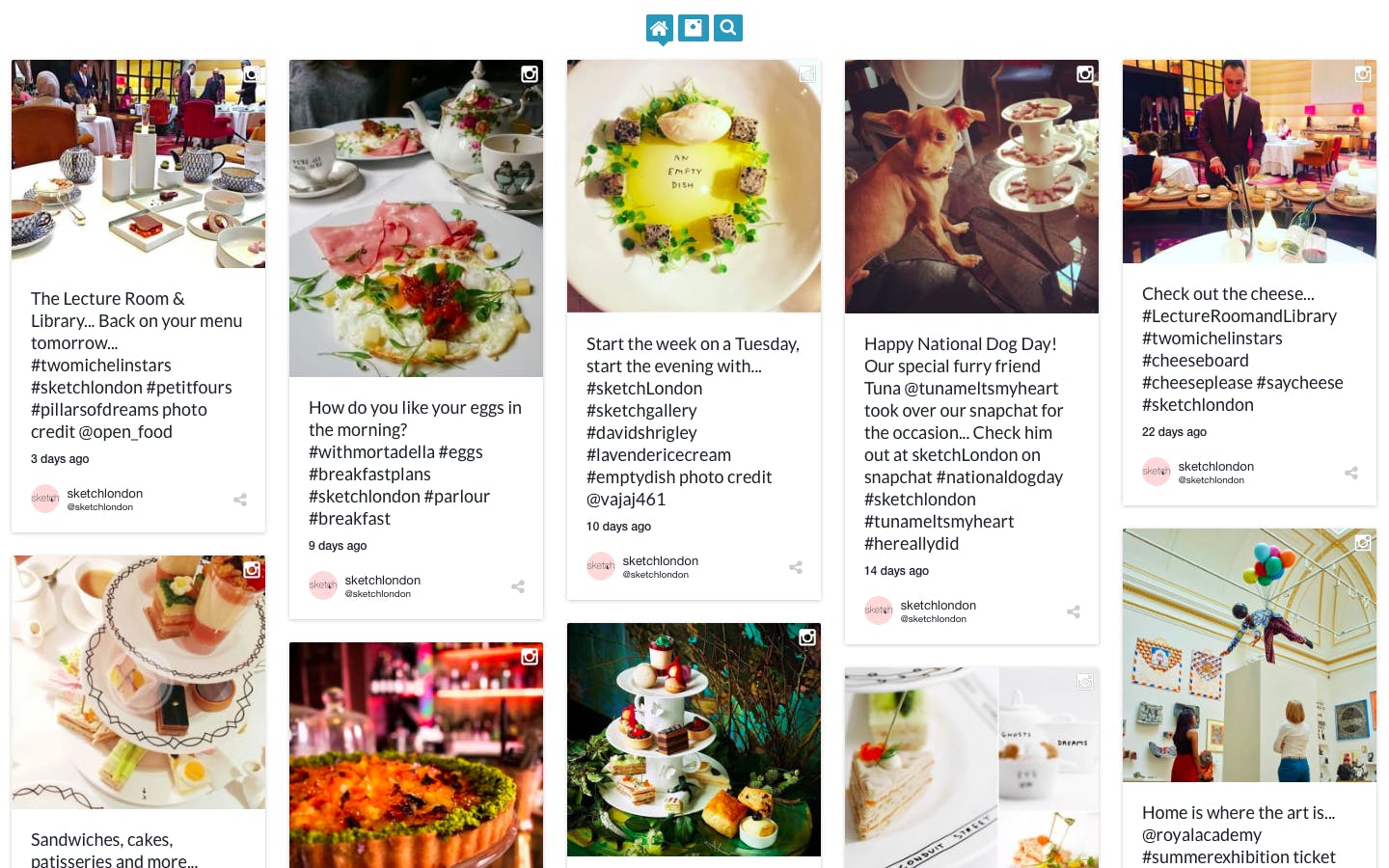 Customer reviews and feedback
According to a BrightLocal study, 88% of consumers trust online reviews as much as personal recommendations. More importantly, 92% of consumers now read online reviews, compared to 88% in 2014.
With digital signage, your customer reviews become much more visible. 
Use Yelp or TripAdvisor to share customer reviews and feedback that your audience will see at that crucial point of feedback.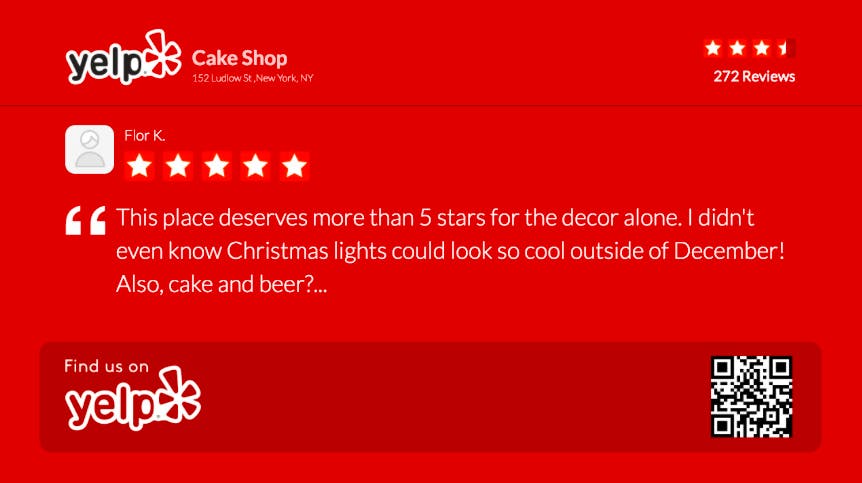 This visual reminder also reminds other customers to head over to the channels and leave a review about their experience. 
Special offers and incentives
Your digital screens are a great, affordable way to share information on offers and incentives. Unlike print, they don't date as simple text and signs can be updated as easily as you might change a profile photo or a status update.
This allows you to get flexible with your offering and more targeted. You can, for example, create a special offer for "#HumpDay" on a Wednesday, create a national appreciation of Moms campaign on Mother's Day, or make items in seasonal periods (ice cream, hot chocolate, etc.) more relevant to your campaigns. 
Advertising of events and space hire
If you're a local business, you have an advantage. You have space, and with space comes a unique offering for your customers. 
Host an event, pop up, or product launch and invite customers down. Then watch the event spread out across social media and spiral in, attracting new business from the family and friends of those attending. Digital screens are a great way to advertise this and keep guests reminded of the key details, attracting both existing customers and those walking by who may happen across the screens. 
You could also offer your space out for hire if you're able to. This provides benefit to your customers and could create an additional revenue stream to your business. Again, digital screens are a great way to share all you can offer with your customers. 
2. Change content regularly
Rebranding a local business is hard work, right? But changing the content on your digital signage screens is super easy. Uploading new images or changing the skin of your Google Slides or social media dashboard can be done in a few clicks.
Studies show that changing content more regularly has higher effect on your audience and ensures they don't get the "glazed eye look" when seeing your content over and over again.
Digital signage is a prime candidate for the "set it and forget it" mindset, where content goes up and is then left to play on loop for months to come. 
Think of your digital signage screens like any other marketing medium. You wouldn't stop updating your social media, the same as you wouldn't leave your website for years without changing or updating the content.
Digital signage runs by the same rules and should potentially be updated even more regularly, given how obviously it is on show. 
3. Target specific customers with playlists and schedules
We harp on this a lot, but digital signage, when used right, lets you target each group of customers individually.
To find out who you should be targeting and when, we recommend answering these quick questions:
How many groups of customers do you have?
What times do these groups visit? Split them into time of day and day of week, if easier.
What is each group looking for?
What are the key indicators that are going to make them want to visit/stay/spend more/sit for longer?
What are your business aims for each group?
Are they on social media? If so, what channels?
Here's an example of how our customer Mamuśka! broke down this type of information.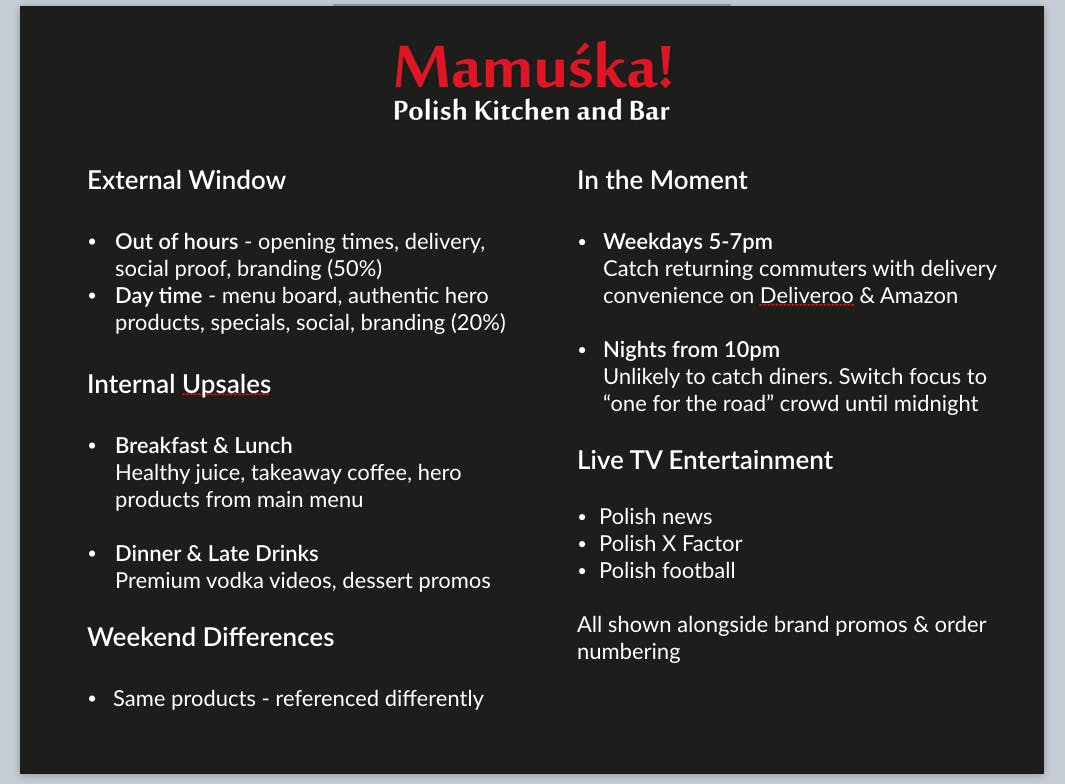 By doing the same, you create a digital signage schedule more easily. For example:
Group A is made up of a young audience who visit early afternoon mid-week and are looking for special offers and coupon codes. They're on Twitter and Instagram but not Facebook, and you want them to refer more business from their friends. Here's an example of a playlist you could create.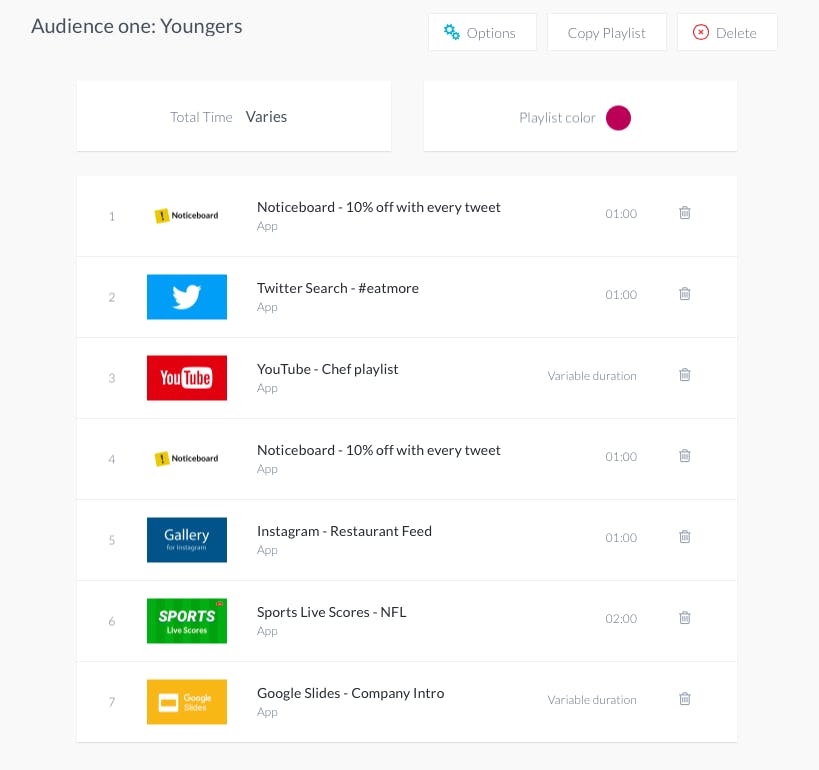 This playlist comes with a special offer, offering them 10% off an order if they make a tweet with your brand handle. The message is replayed twice to ensure it is seen, as we know this audience has a low attention span. 
Then you have your social media channels, which you know this audience is likely to engage with more because they already use Twitter and Instagram. Also, who doesn't like seeing their tweet or image up on the big screen? They're guaranteed to want to share more tweets and images of their meal which, in turn, will get your message out to a wider audience.
Then there's some ambient content from YouTube, videos of your chefs whipping up meals, cat memes and other "second screen" content which doesn't need full attention but is entertaining nonetheless. This includes sports scores for NFL, a game which could be interesting to your audience. As the scores are updated in real-time, it will get more people looking at the screen. Lastly, there's a quick Google Slides set which shows your menu items of the day, including the "must have" dessert to build demand. 
4. Seek feedback and measure goals
You see the potential. Now, how does your local business ensure it's doing the best job possible with its digital signage displays?
It's as simple as asking.
Digital signage, unlike web hits or search traffic, can be more difficult to measure. It's why we often suggest using return on objectives as a way of linking your digital screen content back to your wider organizational goals.
This helps with getting buy-in from bosses and ensures your campaigns aren't left to run wild (or rot) without cause and effect measurement. 
On top of this, it's important to seek feedback from your most important viewers—your customers. When we create content and see digital signage every day, we become immune to its power and benefits. This makes it difficult to step back and analyze.
Is the text too small to read? Does the call to action make sense? Is what I'm asking easy to implement?
These questions can easily be answered by having a quick chat with your customers. Likelihood is, they'll be more than happy to let you know what they think of your shiny new screens. Unlike digital marketing methods, you get instant feedback from real people whose emotions you can read, and you can action the information just as quickly.
This leads to better, more effective and loved displays in the long run. 
Time to use digital signage more effectively
Digital signage has many benefits, but the one we love is that it gets your customers as excited about your local business as you are. Get started today with a 14-day free trial of ScreenCloud—we can't wait to see your campaign up and running!