Please note: From Corporate is now The Connected Company. If you're interested in receiving insightful stories and articles on the future of work every month, sign up here.  
Once per month, we'll send you a newsletter that focuses on the latest thought-leadership, studies, and How-Tos that will enable you to become a workplace futurist.
Bringing new ideas to your table (or standing desk), to help you implement change, have a folder full of pioneer examples, and technology-positive ideas to aid, rather than hinder, your progress.
We're excited to journey with you into the transformation of the modern-day workplace. We hope you'll strap in for the ride.
Insight
What will the workplace experience look like in 2030?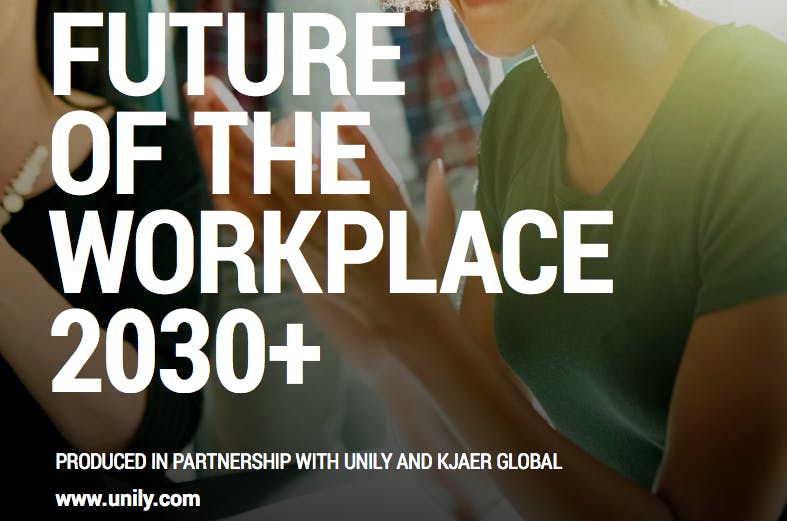 This study by intranet product Unily asks transformation experts to define how the future workplace will set us up for success in 2030. Here's what that could look like.
AI is the method that both supports admin, and reduces "noise" for knowledge workers, helping to increase innovation and productivity.
Head office has become the social hub and diversity is stronger than ever, welcoming those who are neurally-diverse, as well as socially & physically.
"Boomerang employees" are part of the workforce, leaving for a while to travel or explore projects, before returning to the fold.
Employees are supported by "PDAs" (personal digital assistants) mentoring and coaching them for new roles.
How to
Easy ways to automate your office admin
What is workplace automation? There is a lot to learn about the basics of workplace automation, systems you can implement today in HR, Sales and Marketing using simple tools like your existing HR system and Zapier and when to implement automation, and when it's worth avoiding.
Quote
"Trying to squeeze a little more work out of your evenings might reduce your effectiveness the next day enough that you end up getting less done than if you had instead respected a shutdown." 
― Cal Newport, Deep Work
Guides
The mental health first aider
A study taken by the Guardian has found that more than 10,000 staffers within FTSE 100 companies have been trained as "mental health first aiders" to support mental health conditions in the workplace. 
Behind the scenes of Buffer's 10th retreat
Buffer discusses what it learned from outsourcing the organization of its team retreat, using a "resort model experience" and using Buffer's own mobile team to build the Buffer Retreat app.
What Deolitte learned when launching a corporate podcast
Considering a company podcast as part of your communications strategy? It's becoming increasingly popular, with everyone from LinkedIn to McDonalds giving it a go. Here, Deloitte's Internal Comms Assistant Manager Kaylin Duckitt discusses what she's learned about giving everyone in her organization a voice.
Inside Honeywell's "Future Shapers" initiative
What's in a name? Quite a lot if you work at Honeywell. This shares how VP of Enterprise Transformation, Ken Stacherski, used the term "Future Shaper" to capture employee attention. Leading to an increase in inside-out digital transformation for both Honeywell, and its customers. 
What is business transformation?
If transformation is top of your list in 2019, this is a good recap on what it means and why it's important.
If you liked these stories and would like to be the first to see them, sign up for our monthly newsletter.
PS. Thanks to Coline Beulin on Unsplash for the great photo 👍🏻