Let's face it: employees are the new customers. But are they as easy to impress?
This is why companies are placing employee engagement at the top of the list for 2019 as a company challenge. From how to communicate to employees, to how to keep them retained and what makes for ultimate productivity (our bet's on the coffee) we're checking out all of the stats around employee engagement for the year ahead.
Employee engagement statistics
Let's look at some of the trends around what percentage of employees are engaged vs disengaged and some of the factors which increase, and reduce, engagement.
1. In 2015, only 32% of U.S. employees felt engaged in their work
2. 39% of respondents feel that creating a stimulating work environment is an effective way to help engage employees at work
3. Organizations with high employee engagement outperform those with low employee engagement by 202%
4. Employees who feel negative emotions at work are disengaged nearly ten times more than employees who feel positive emotions
5. Employee engagement has remained steady or has dropped in companies monitored from 2007 to 2015
6. The five factors leading to decreased employee engagement in a 2016 study were:
Manager effectiveness
Feeling valued
Benefits
Individual contribution
Trust in senior leaders
7. According to the same study, employee engagement improved thanks to areas such as:
Teamwork
Job satisfaction
Alignment with goals
Trust with coworkers
Retention
8. In corporate organizations, baby boomers are the most engaged age group (77%), followed by those aged under 25 (70%). Millennials were the least engaged age group (67%)
This result repeats across multiple studies, which is why many companies are intent on coming up with millennial employee engagement strategies.
9. For millennials, the top factors that increased engagement were job-specific training and career development opportunities
10. 63% of employees mark compensation/pay as important to job satisfaction
11. Disengaged employees cost organizations between $450 and $550 billion annually
Employee productivity statistics
One of the reasons why an organization may wish to improve employee engagement is because of its effect on employee productivity. Let's look at some of the statistics and factors that contribute to increased productivity.
12. 30% of workers (an estimated 9.7 million people) say feeling anxious or stressed because of high workloads and pressure to perform regularly impacts their productivity at work. While 24% say the same type of stress is related to personal reasons.
13. Highly engaged business teams result in 21% greater profitability
14. Employees that work from home are the least likely group to feel stressed or anxious about work
15. 77% of employees say that flexible working improves their productivity
16. According to employers, 75% believe that offering employee benefits increases productivity
17. 59% of respondents think that lower employee productivity is a sign of low staff engagement
Employee retention statistics
As well as increasing productivity, high employee engagement also helps to retain staff. The lower the staff turnover, the less this impacts on both morale and costs within a company. Let's see why that is:
18. 55% think that stronger engagement would improve their ability to either retain, recruit or carry out succession planning
19. Employees who feel their voice is heard at work are 4.6 times more likely to feel empowered to perform their best work
20. 53% of HR professionals say employee engagement rises when onboarding is improved
21. 70% of employees say that motivation and morale would improve massively with managers saying thank you more
22. 85% of employees said they were likely to stay longer with an employer that showed a high level of social responsibility
23. 12% of employees leave for more money
24. 75% of the reasons people quit come down to their managers
Ways to increase employee engagement
I know what you're thinking: this is all well and good but how are you meant to engage employees? What does it take to move someone's disengaged dial back to engaged?
Let's look at some of the methods you could put into place today:
1. Praise staff members
70% of employees say that motivation and morale would improve massively with managers saying thank you more. One of the easiest ways to implement this in your office is to publicly share praise on your office digital screens. At ScreenCloud, our HR system 15Five reminds us to praise our fellow colleagues each week for a job well done. You know what happens when someone gets praised? It goes into our Slack #praise channel and it simultaneously gets shown on screen using Slack app.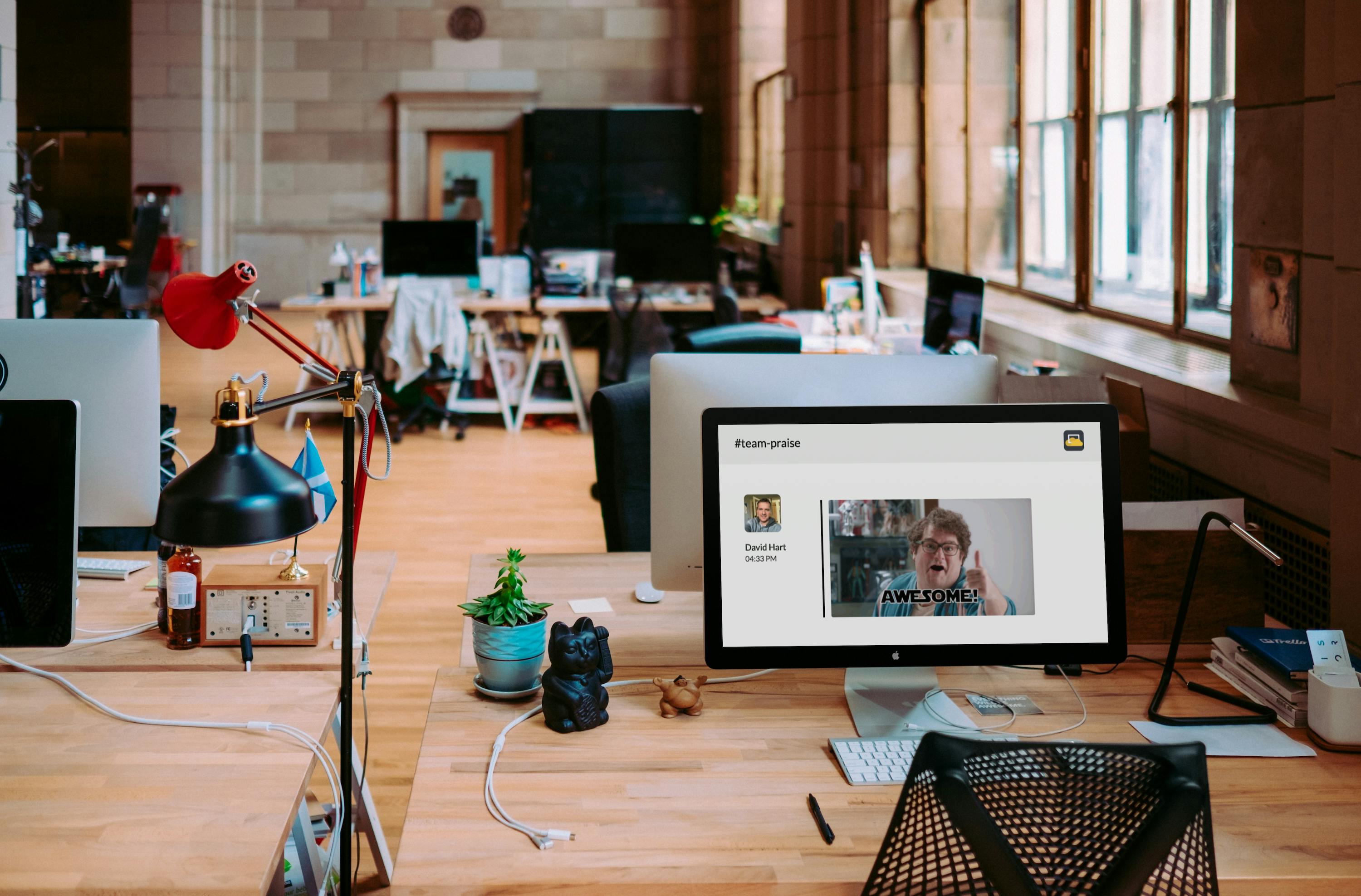 Creating a method to remind staff members to praise each other, then ensuring that praise is seen at three points of visibility, increases engagement and makes team members feel valued.
2. Increase access to training
16% of respondents state training would positively impact their productivity at work. In some organizations training is either missing, or unaccessible. As well as increasing training and development budgets and options, organizations need to increase access to that training.
Whether this is through visual reminders, training videos played around the office or regular reviews that help staff members to know what's available and how to get access to it.
3. Improve supervisor relationships
Almost three in ten employees feel at least one of twelve significant negative emotions as a result of interaction with their immediate supervisor. This repeatedly surfaced as one of the most important factors to employee happiness, alongside trust and respect felt amongst peers.
Improving the relationship between direct reports and their bosses, helps to increase engagement.
4. Improve team relationships
As well as improving relationships from the top down, organizations need to work to increase team relationships across the flat line. Something we use at ScreenCloud is a tool called Donut. This connects random team members and invites them to a face-to-face meeting or a Slack/Zoom call to get to know each other, even if they aren't working on the same projects.
It's pretty hard to get snipey with someone when you've just had a donut together.
5. Improve onboarding
Employee onboarding is one of the big areas we believe is going to get a facelift this year. 53% of HR professionals say employee engagement rises when onboarding is improved. That initial first impression between employee and organization is super important and could make the difference between an engaged employee and someone who never quite feels "in" the gang.
6. Create a stimulating environment
Company foosball table anyone? Many companies are investigating creative ways to communicate to employees, as well as ways in which the office environment can closely mimic other environments that are largely positive; like cafés, coffee shops and the employee's own home. With 39% of respondents feeling that creating a stimulating work environment is an effective way to help engage employees at work, this could explain why you need that extra coffee budget.
To read our full guide on How to Approach Employee Engagement in 2019 and build a strategy that will engage, retain and increase productivity in your team, download the ebook for free here. 
Statistic sources:
1. https://news.gallup.com/poll/188144/employee-engagement-stagnant-2015.aspx
2. https://www.employeebenefits.co.uk/issues/august-online-2017/24-employers-reward-proactive-employees-help-engage-staff-workplace/
3. https://www.business2community.com/strategy/roi-employee-engagement-7-stats-need-know-01573138#zYmqvmb8Hu5gSbRU.99
4. https://www.dalecarnegie.com/en-gb/resources/emotional-drivers-of-employee-engagement
5-8. https://www.quantumworkplace.com/2016-employee-engagement-trends-report
9. https://www.shrm.org/hr-today/trends-and-forecasting/research-and-surveys/Pages/Job-Satisfaction-and-Engagement-Report-Revitalizing-Changing-Workforce.aspx
10. https://www.shrm.org/hr-today/trends-and-forecasting/research-and-surveys/Documents/2016-Employee-Job-Satisfaction-Engagement-Flyer.pdf
11. https://www.conference-board.org/dna-engagement2017/
12. https://www.canadalife.co.uk/news/97-million-workers-say-their-productivity-is-damaged-by-stress-and-anxiety
13. http://www.gallup.com/reports/199961/state-american-workplace-report-2017.aspx
14 - 15. https://www.canadalife.co.uk/news/97-million-workers-say-their-productivity-is-damaged-by-stress-and-anxiety
16. https://www.aflac.com/business/resources/aflac-workforces-report/archived-results/default.aspx
17. https://www.business2community.com/strategy/roi-employee-engagement-7-stats-need-know-01573138#zYmqvmb8Hu5gSbRU.99
18. https://www.employeebenefits.co.uk/issues/march-2018/47-employers-pension-engagement/
19. https://www.salesforce.com/contents/sfdc/impact-of-equality.jsp
20. http://hr1.silkroad.com/state-of-talent-2017
21. https://www.benefitnews.com/news/workers-willing-to-leave-a-job-if-not-praised-enough
22. http://www.ultimatesoftware.com/happywork
23. https://www.themuse.com/advice/10-shocking-stats-about-employee-engagement
24. https://www.inc.com/marcel-schwantes/why-are-your-employees-quitting-a-study-says-it-comes-down-to-any-of-these-6-reasons.html