Marketing and content are pretty synonymous now right? Creating great visuals is part and parcel of getting your audience interested. In digital signage, how the content looks and feels has never been more crucial.
In the past, you would have been stuck behind restrictive tools like Powerpoint or you would need to rely heavily on a designer, who would need Illustrator or Photoshop. These methods don't always match up with our idea of digital signage - that it should be simple, easy to create and that it should look great.
Then we found Flexitive Design Cloud. As digital signage creators we've trawled through a lot of different design apps and tools looking for one that makes life simple. 
Flexitive is a responsive design tool that lets designers build scalable designs quickly and easily. Why does this matter to digital signage? Firstly, because it's such a fast-paced marketing method you don't want the same content sitting on your screens month after month. You need to be agile, adapting content each time you have something new to share.
Clunky design tools make this really, really difficult. 
Secondly, there are plenty of different screen types that can be used for digital signage. Most creative pieces of content are static. This restricts what screen you can use. In Flexitive, it's easy to build responsive designs (as you would your website), allowing it to adapt for any screen size. This makes it easy to create content that looks as good on a huge screen display as it does on a tablet fixed to the wall. 
Here are some of the key benefits of using Flexitive as an easy way to design digital signage content:
Set templates and responsive design
When setting up a new piece of content in Flexitive you can choose a fullscreen template, which caters to all of the different aspect ratios of commonly used screens. This includes 16:9 (your regular, full HD screen) plus other ratios such as 4:3 and 5:3. This takes the guesswork out of designing what size format to build your content to get it ready for your screen. 
Preview your creative across different screen sizes
While building your creative you can use Flexitive's responsive tool to review the content across different screen ratios.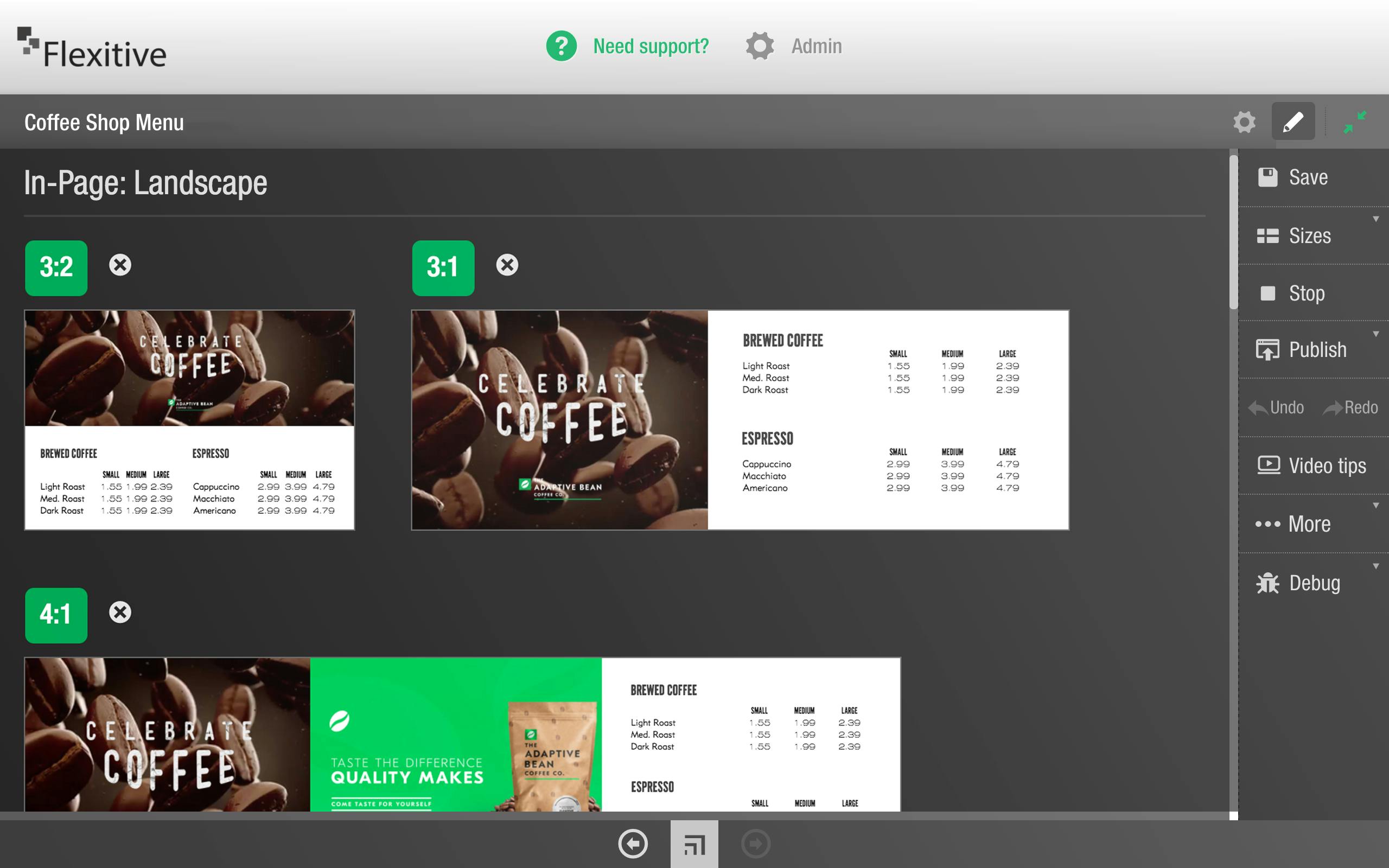 Any edits can then be made in the moment, to ensure your content looks as great on an iPad as it does a full screen. 
Automatically resize images
We're all about saving time at ScreenCloud so when we heard that Flexitive automatically resizes images to be the optimal size for your content we knew it was a winner. This gives more time to your team to focus on the creative and getting the screen live. Elements such as images, video and text can also be replaced easily, across all content forms, with the click of a button. 
Make the most of your assets
Flexitive supports images, video, text and even embedded content such as social media and widgets, giving you full flexibility over what you show. Once your content is live, you can update it and see the results on your digital screens in real time, with no content lag. 
Using Flexitive with ScreenCloud Signage
Dropping your Flexitive collateral into ScreenCloud is easy. Sign up for a Flexitive account and create your content. Once ready, you'll be able to grab a URL which you can then add to ScreenCloud Signage using the 'Add Web Site' button on your content page.
Check out this guide for more details on how to use Flexitive to build creative content for your digital signage displays.