Digital signage displays should be two things: simple and beautiful. Achieve that and the rest will be easy (well almost). The truth is, you don't have to be a design expert or a marketing extraordinaire to create great content for great screens. With these simple tips, you'll have impressive, seductive content to share throughout your office, restaurant, hotel or lobby in no time.
1. Message
The power of storytelling has been used for tens of thousands of years, since the early ancestors of man. According to a study conducted at Princeton University, stories actually shape our thinking and response to what we see or hear. Studies found that while listening to a story, the listeners brains respond in the same way as the storytellers. When the storyteller had activity in her emotional brain region, so did the listeners. When the speakers frontal cortex (the problem-solving area) lit up, so did the others. This means that even when an audience isn't part of the story or privy to the same physical experiences, they can still mirror the emotions and thoughts felt.
Use this in your digital signage displays!
Rather than telling the audience that you have 500 customers, tell the story of how you acquired those 500 customers. Rather than saying you've been around for ten years, tell the story of what that ten years has been like.
To give you an example, watch our story of these sad screens throughout the world who are hungry for content...
2. Movement
Movement in any form naturally catches the eye. As part of our genetic code, humans are programmed to respond to movement and pay attention when a motion catches our eye. While animated screen content isn't quite as dangerous as dinosaurs, the same principles apply. Using movement within your digital signage displays allows you to pull attention from the environment around you. This doesn't have to be expensive video content either - simple transitions between playlists and gentle animations used in headings or text can be just as effective.
According to a study conducted by Intel, animated content, on average, receives 5 times more viewers than static content. The key is to strike balance between movement and simplicity, using it to enhance the message and not distract from it.
3. Copy
Compelling copy is essential in any marketing discipline. Within digital signage displays this is two-fold - firstly, ensuring the type, font and size of the copy is compelling and secondly, ensuring that what it says is relevant.
Here are a few copywriter secrets when thinking about your digital text and headings -
Be succinct
According to an infamous study conducted in 2007, where A List Apart blog dissected hundreds of advertising slogans from the 20th century, five words is the optimum length for a heading (5.3 words if you want to be exact). Folks have an even shorter attention span now than they did back in 2007, especially when their own personal screen device is burning a hole in their pocket, so be sure to make every word of copy count!
No brand names
The same study found that audiences were more receptive to headings when they didn't contain brand names or products. Within a physical setting, your digital signage display will likely already be linked up with your brand so this should be easy. A small cornered logo, or brand introduction page can also give you the scope you need for brand promotion, without going overboard.
Use numbers
If you want your digital signage display to stick, try using a number or statistic based display. According to research from the Stanford Business school, digits and numeric facts make ideas stick and more memorable to an audience reading them. This is reinforced by the popularity of listicle formats now used across Buzzfeed and other publishing sites.
Initial Caps
According to a study by Conductor, 64% of readers favor initial caps within headlines and advertising copy. This is where the the first letter of each primary word is capitalized. Using initial caps is also said to increase reader speed, so you could get more bang for your buck if you only have seconds, or minutes, to make an impression.  
4. Composition
The rules of photography are a great guide to follow when thinking about the composition of your screens. This is where marketers, IT staff and business owners can create design-worthy content with a simple tool like Canva or even Picmonkey. Here are a few composition tricks (did we say tricks, we meant tips) on how to get your composition beautifully on-pointe.
The F Pattern
As you will know from most browsers and popular sites such as Amazon, the left-side of the screen is high-priority when it comes to our reading patterns. According to Nielsen Group, people almost always browse content in an F-shaped pattern. Of course, this is only true for English speaking countries where we read from left to right. In countries where they read from right to left, you'll find the situation reversed - a backwards F if you like. Take advantage of the F by placing any key content, client testimonials or offers on the left-hand side, then save the right for beautiful images and diagrams.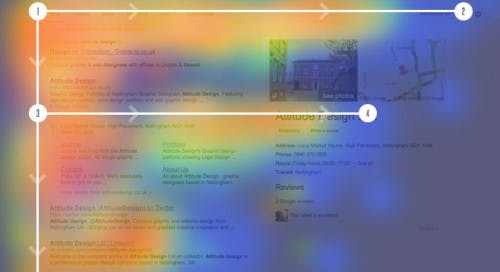 One Direction
The best types of websites and apps make it clear where we're meant to click or enter our information. These are called 'directional clues' and include elements such as arrows which point to elements such as sign-up boxes and buttons and even photos of people that show the user exactly where to go.
Digital signage solutions pages work slightly different, in that the reader isn't expected to click or touch the screen in most cases. However, directional clues still lead your viewer to the area you want them to see, perhaps creating an online call to action from the offline world, where they visit your website or social media channels.
The Rule of Thirds
Let us tell you a secret. Your favorite Instagram accounts? They're using this rule to make their lunch look awesome. That's right, the rule of thirds is so often employed in photograph composition that it's even made fame across social media by bloggers, brands and even just regular users.
As the name suggests, this technique involves dividing your digital signage display into nine equal parts using four lines. This imaginary grid system then allows you to place the most dynamic element where the lines interconnect. Rather than a standard centred composition, this is designed to be much more alluring to the reader and create an overall visually pleasing effect.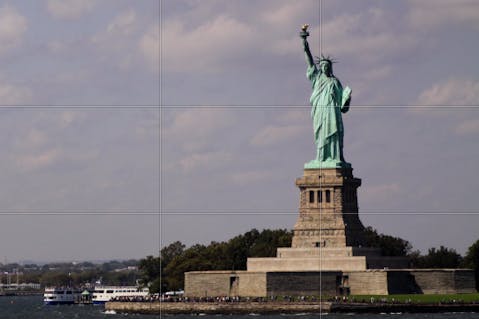 Used in your digital signage displays, it gives you a way to center your key images, text and customer testimonials in the best place possible to attract attention and make your displays more beautiful. And you can also use it to photograph your dinner later.
5. Colors
Colors will often be defined by your brand guidebook, but colors that complement each other will make your displays more pleasing to the eye and ensure that customers view them for longer. According to Kissmetrics, color increases brand awareness by 85%. Just take care when selecting your colors that they aren't migraine-inducing. Here are a few live and die rules for color-picking:
Contrast
There may be a rainbow of colors out there to choose from, but you have to use your rainbow wisely. Choosing a light background, with dark text or a dark background with light text will ensure ease of comprehension for your customers. More importantly, try to avoid contrasting colors that clash. If in doubt, consider the elementary school color wheel as shown below. Unfortunately, most sources will tell you to use complementary (opposite) colors when thinking about 'stand out' messages however, within digital signage these are a recipe for disaster. In digital signage displays, it's often best to use analogous color schemes, where the most closely related colors come together. Most digital signage displays focus on just one to two colors, with one used to dominate and the other to support. If the colors within your brand aren't complementary hues, it's best to use these only as accents when you want to highlight a specific call to action or quote.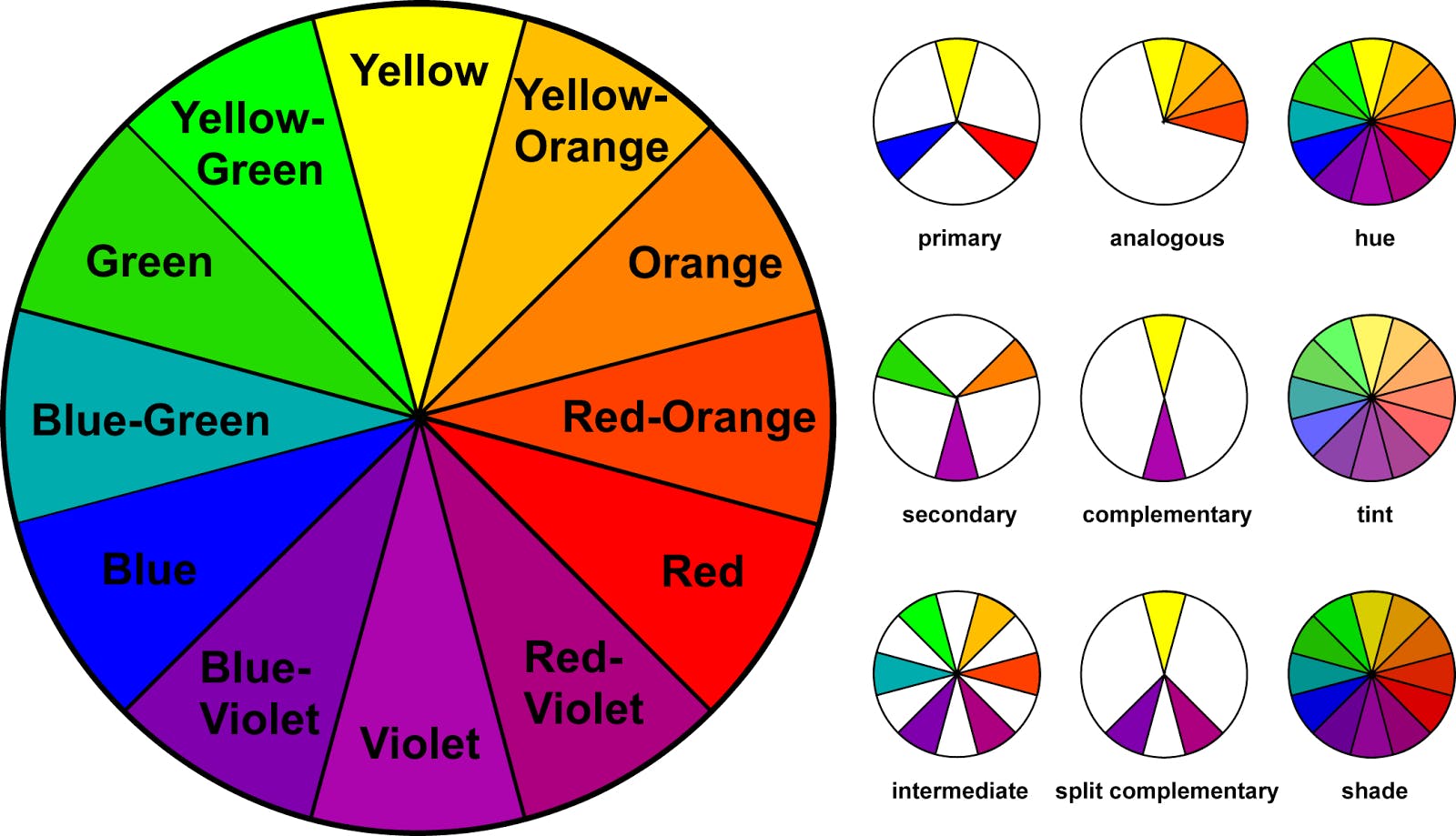 Empty space
Don't be afraid of it! Empty space is a great way to draw attention to your key message (and ensure you don't leave your customers with a headache). Just look how the black space is working for us in our office signage display here…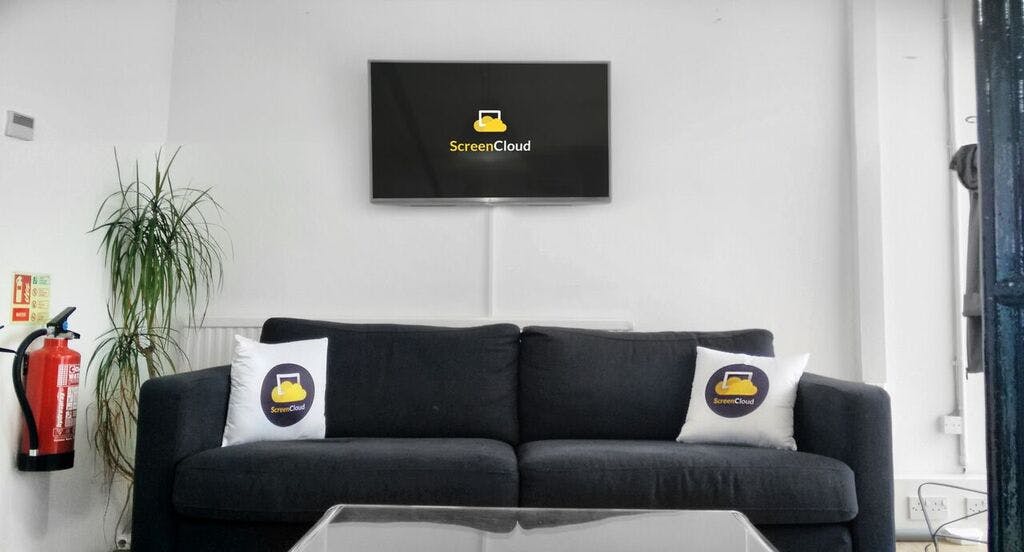 6. Call to actions
Call to actions used on digital signage displays should be clear and concise. You only have seconds to grab attention so you don't want to make your messaging too difficult to decipher. Most importantly, make your call to action rewarding to the customer watching it. What will they gain from buying your product, following your company on Twitter or speaking to a member of your team? Make it worth their while.
Lastly, don't forget to keep content fresh. With our simple digital signage software that allows you to create playlists that can be edited at any time and online, it's simple :-)
Sign up for a free trial here.