At ScreenCloud we're making digital signage simple and accessible for schools, retailers, offices and venues across the world.
It's been amazing to see all the new businesses embracing digital signage this year, from premium fashion retailer SOLETRADER to New Zealand's largest seafood company Sanford.
With the end of the year coming up, we wanted to take a look back at the milestones that made 2017 so great, the features we've added this year to make digital signage easier, and a look at our vision for 2018.  
Company milestones
2000+ Amazing Customers
If we had to use one word to describe this year it's "Growth". We now have more than 2000 amazing customers around the world using ScreenCloud – that's a whole lotta screens!
We also hit the $1 million annual recurring revenue mark a few months ago, which is both humbling and exciting. It really shows that we're bringing value to our users and will help drive another year of development and new features.
A Growing Team
We've grown our Customer Support team to provide more coverage and faster service. We've hired more developers and new Product Managers to build out new features and apps (vote here to let them know what you want to see in 2018).
R/GA IoT Venture Studio Program
The beginning of February marked an exciting new chapter for ScreenCloud as we became one of 10 startups on the R/GA IoT Venture Studio Program. There were a couple of hundred applicants to the programme and only 10 companies got through so it was an honor and a great experience for the team.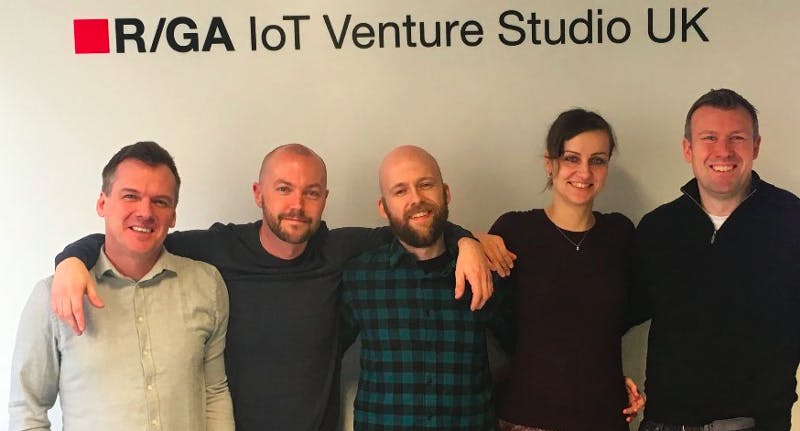 Exhibiting at AWS Summit
In June we were chosen by Amazon as one of the nine most exciting young startups using Amazon technology to exhibit as part of the AWS Summit, where we demoed voice control and other capabilities within the ScreenCloud ecosystem.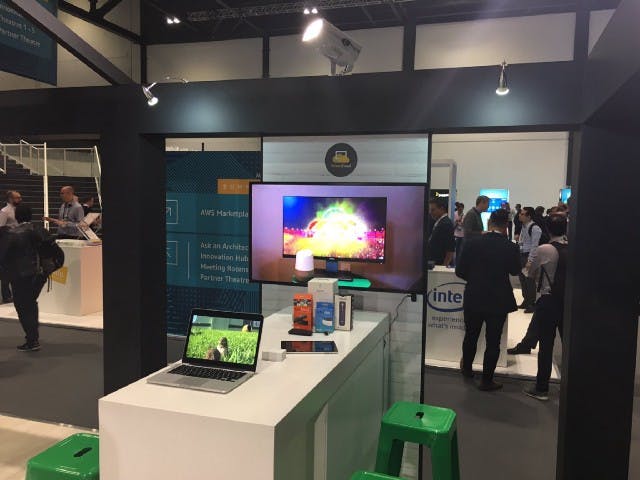 Behind the Screens
In September two of our co-founders Mark McDermott and David Hart released Behind the Screens. A podcast looking into the trials and tribulations of building a global SaaS business from the UK. Every other week since, they've been sharing everything from startup mental health issues, to scaling to $1M ARR and how to create a founding team.
Listen over on iTunes.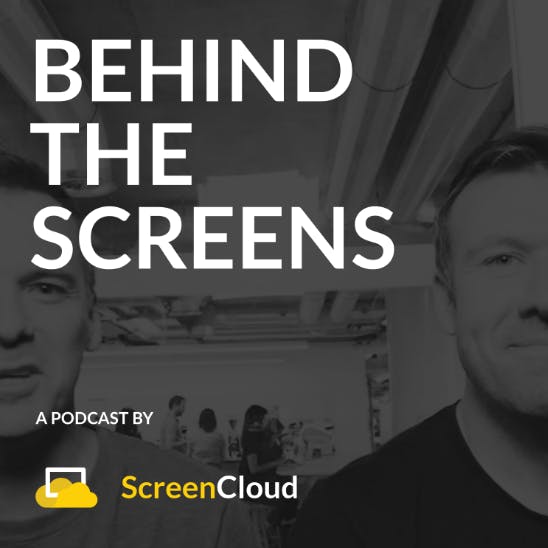 New ScreenCloud features
The way companies use technology changes fast and for that reason, we're developing and improving the ScreenCloud platform all of the time. Some of the new features we were particularly excited to give you this year were:
The ScreenCloud API
It's nice to have an app built for you, but sometimes you need more customization to make that app your own. It's why last month we launched the ScreenCloud API. A way to let developers build ScreenCloud functionality into their own products and to create elements such as screen "takeovers" with emergency notices or impromptu presentations.
App Theme Editor
When it comes to creating effective digital signage there are two key elements you need: ways to make content simple and ways to make that content relevant to your company.
That's why we introduced our App Theme Editor. The editor allows you to customize apps such as Gallery for Instagram, Noticeboard and RSS Feed (as well as a ton more) with your own brand colors and fonts.
From setting different screens with different backgrounds, to customizing departmental content and just ensuring everything you post is "on brand" we're already seeing how popular custom branded apps can be!
Custom Zones
When we first introduced zoned displays to ScreenCloud, we were dubious. Without design skills, we knew how messy digital signs could become when the screen was split into multiple zones.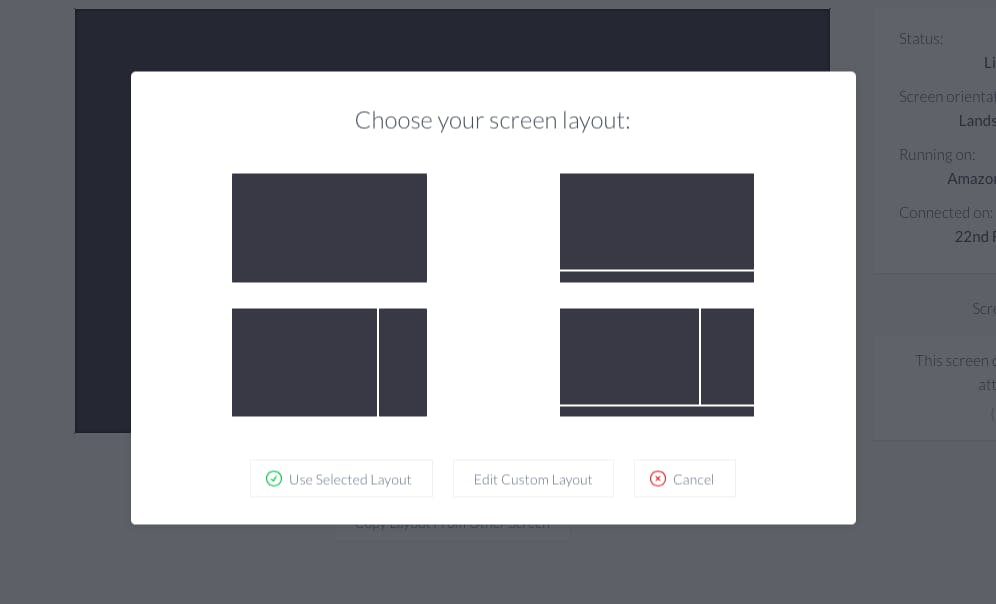 But this year we realized; our customers need the option if they are to work out the most effective display for their audience. So we introduced custom zones, the ability to use one of four preset zoned displays, or to create a completely custom layout.
Find out more about using zoned displays here.
Users and Teams
ScreenCloud means you don't have to be anywhere near the screen to manage it. But you may want different people, teams or campuses to be able to manage different screens, all within one core system.
Enter users and teams.
In June we released the ability to add different users to one ScreenCloud account and to create teams for different members, who can then have access to different screens.
You can even copy data between teams, so that one lot of screens can be replicated in another location.
Find out more about using our team features.
Multiple Screen Management
If you want to use one screen in your office to share company data, great. If you want to use 100 screens to share department details across various college campuses - why shouldn't it be just as simple? Enter multi-screen management.
Including editing multiple screens simultaneously, grouping screens and copying data between them. Full details here.
What's Coming in 2018?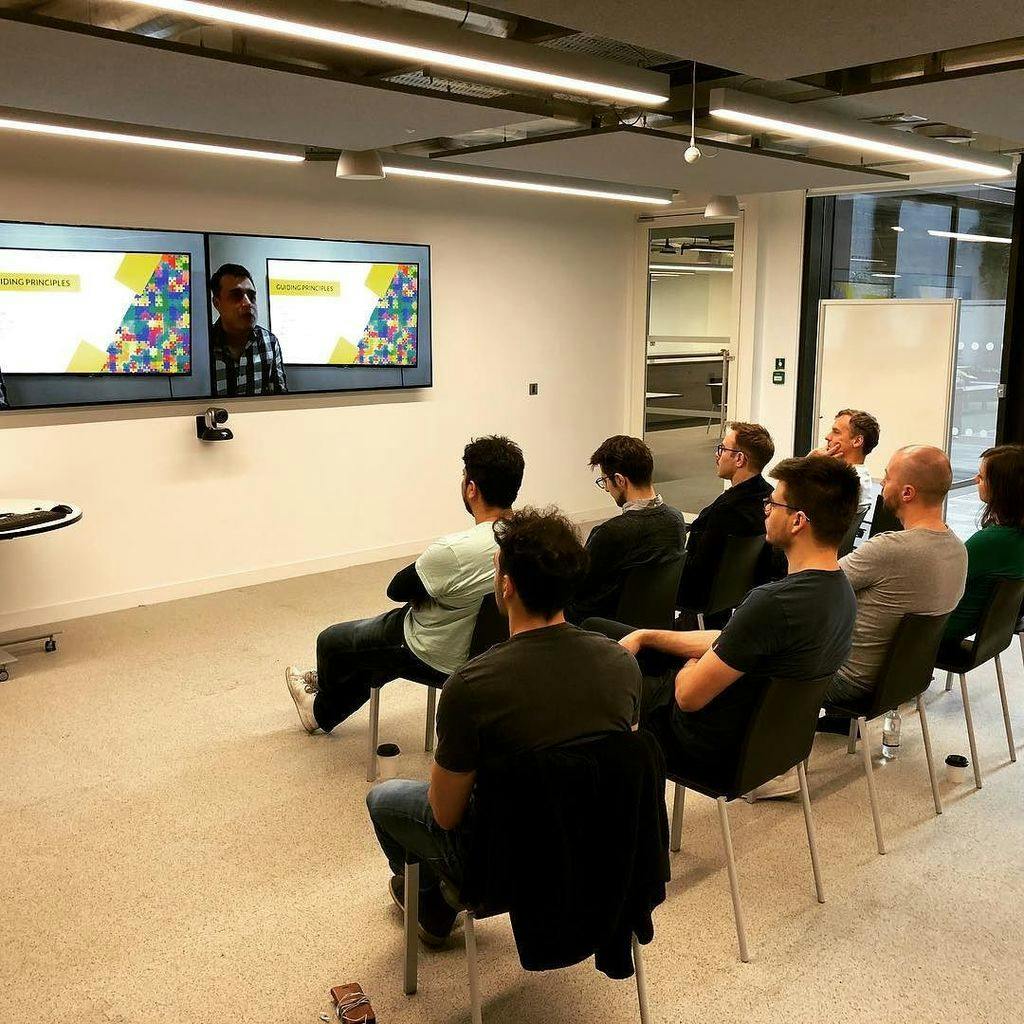 Having recently had our all hands product vision meeting with the ScreenCloud team, we're excited to launch a series of big product updates and developments in 2018. Some of which include:
Signage Redesign
Next year one of our biggest areas for product focus will be a full redesign of ScreenCloud Signage.
Why? Firstly, because we've listened to, and learned from, all of the customer feedback this year. There are features and tools you need which are limited by the systems we're currently using. One of our guiding principles for the new Signage is simplicity - this has always been one of the core benefits of using ScreenCloud and one we definitely don't want to lose!
What we will be introducing is a streamlined system with more scheduling, content and publishing features.
We're also looking to release a management app for mobile, for greater convenience when managing your screen content from anywhere.
Stay tuned, it's going to be amazing.
App Console
As well as developing a ton of new apps for you in the new year we're also going to be creating an App Console, so that our customers can create their own apps.
In a similar format to our regular App Store, developers will be able to upload apps ready for others to use, leading to a greater variety of content choices for customers.
Toshiba Player
Alongside all of our regular players we'll also be introducing one for Toshiba - great news for anyone running, or looking to run, digital signage on Toshiba screens.
Want to help shape ScreenCloud's future?
We're looking to build new apps for the ScreenCloud App Store and we want to prioritise the apps that are going to be of most benefit to you, our customers.
Please help us decide which apps are most important to you by voting in our 1-minute poll.
A Big Thank You
We'd like to thank all of our customers, from those who have been with us from day one, through to our newest members, for helping to make ScreenCloud such a success this year.
As we grow and learn we hope to always service you and your needs ahead of our own and give you the tools needed to create really beautiful, simple digital signage displays.
Seasons greetings from all of the team.
As always, if you have questions or feedback, contact our team on hello@screen.cloud.